Finally, the big day is upon us! The day that we've all been waiting for for nearly three years–the U.S. release date for the Avengers: Age of Ultron movie! Avengers-mania is in full effect, with mountains of high-end and low-end product wherever you look, and Sideshow Collectibles will be adding one more drop to the flood themselves to celebrate the end of the Phase II MCU: the Sideshow Collectibles War Machine Maquette is now up for order! But as much as War Machine rocks, he also comes at a heavy price…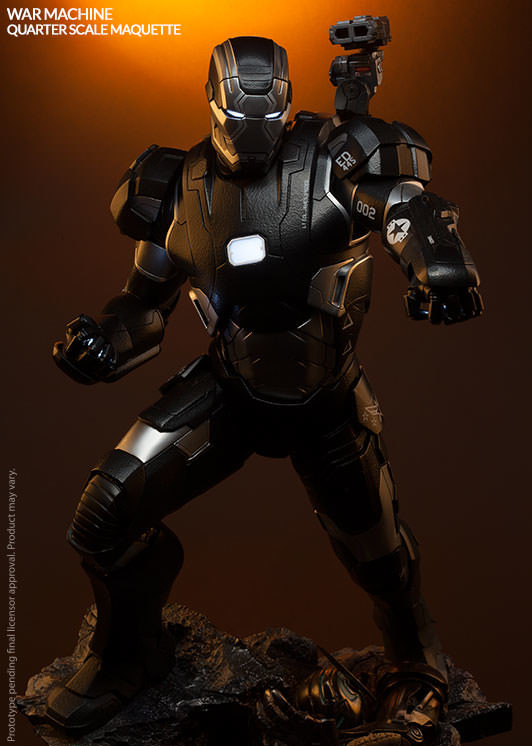 Coming out of the first Avengers movie, one common question among movie-going Marvel fans was,
"Where the heck was War Machine when alien invaders were attacking New York City?"
Clearly, James Rhodes' presence was missed. But it shan't happen again, as War Machine Mark II is now confirmed to appear in the Avengers sequel, Age of Ultron!
As such, Sideshow Collectibles knows what every other merchandiser has figured out: the time is ripe to repaint old Iron Patriot collectibles into new War Machine collectibles!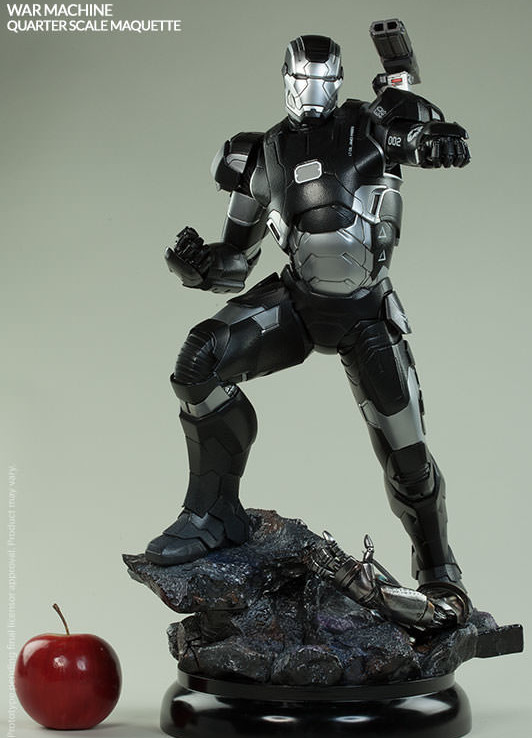 The LE 3500 quarter-scale Iron Patriot maquette went up for sale way back in 2013, and (perhaps due to a generally negative reaction to "Iron Man 3″) is still available for order. So Sideshow Collectibles has decided to go back to the well with Iron Patriot's far more popular brother, War Machine!
There's no hiding it–the 22" War Machine 1/4th scale statue is obviously a repaint of the Iron Patriot statue. But that's okay, because the Iron Patriot maquette that Legacy Effects designed and sculpted is a gorgeous piece, and ever since it was first shown, collectors have actually been asking for it to be repainted into Rhodey's other identity.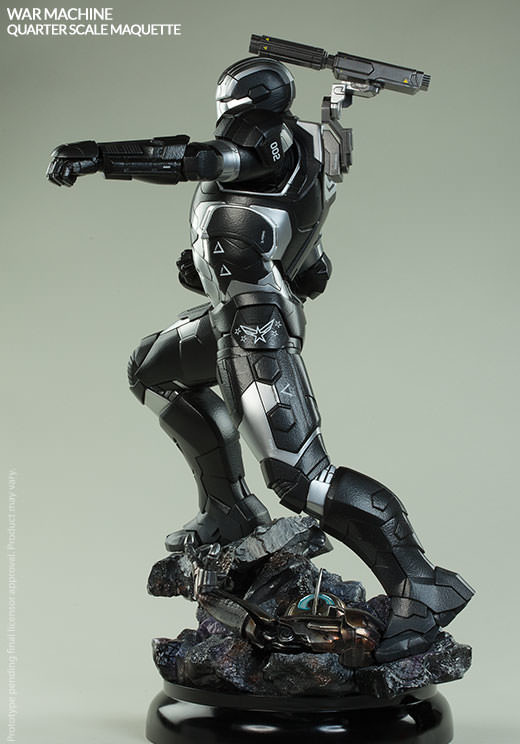 What collectors weren't asking for, however, was a $100 price increase. That's right–whereas Iron Patriot retailed for $399.99, the Sideshow Collectibles War Machine maquette is being sold for a hardcore $499.99. That's almost as much as one of the gargantuan Hulk Premium Format Figure statues! I understand inflation, but this definitely feels like a steep increase (particularly for a repaint of a statue that hasn't sold out after two years).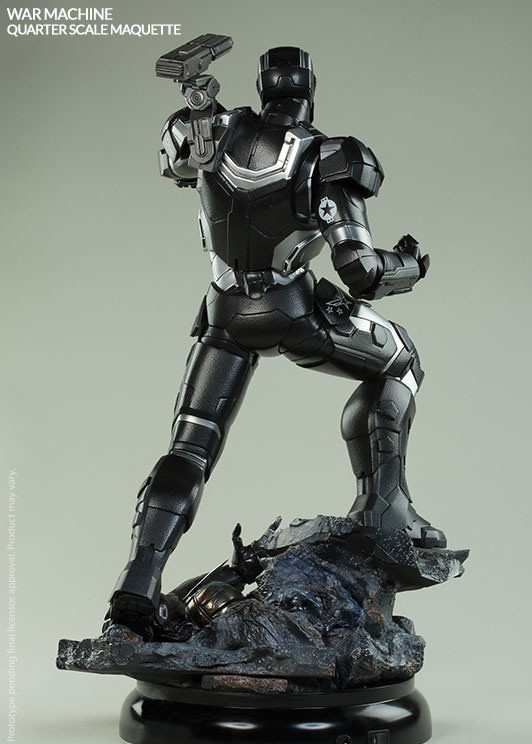 In another move that's sure to tick off collectors, the War Machine 1/4 statue will seemingly not include the swap-out Don Cheadle portrait that came with the Iron Patriot maquette. That seems like a baffling move, so I'm hoping that Sideshow just forgot to list the extra head in the specs and that it will show up once the actual pre-order opens (at least, one would think it would).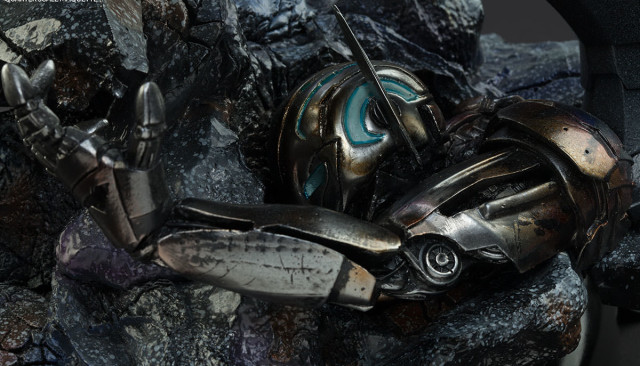 The one thing that's a totally new sculpt on this piece is the battle-damaged Ultron remains on the base. While the base itself is otherwise the same as the one that came with Iron Patriot, the destroyed Ultron parts do look pretty neat–and hey, at least it's something totally new besides paint deco, right?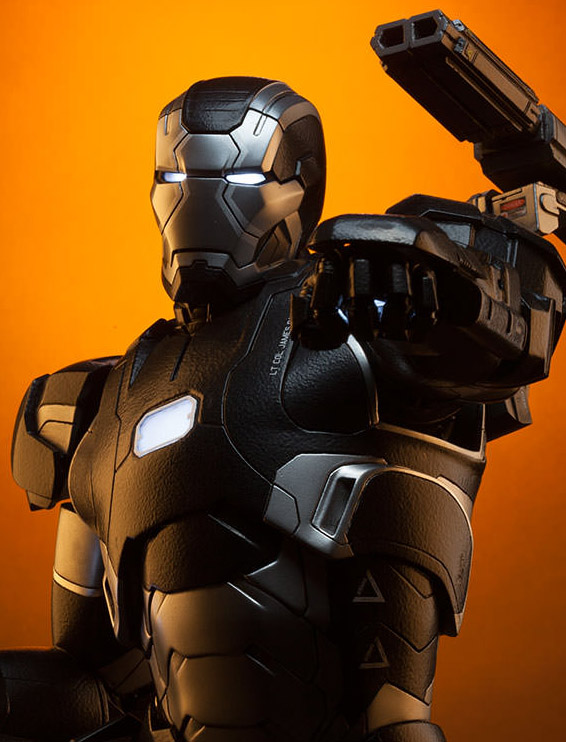 Many collectors ended up being disappointed by the paint applications on the Iron Patriot statue, with the reds and blues of the statue bleeding over into areas that they weren't supposed to. Hopefully there are no such issues with this 1/4 War Machine statue, because its silver and grey two-tone paint scheme looks absolutely
killer
on the prototype.
And thankfully, even if the paint apps do end up bleeding slightly, it won't be nearly as pronounced in grey and silver as it is with the red and blue of Iron Patriot.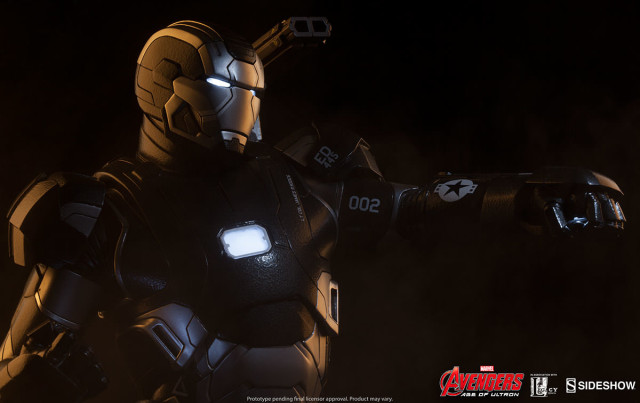 The Sideshow War Machine quarter-scale maquette will go up for pre-order today, with an expected arrival date in early 2016. The Iron Patriot maquette is still available two years after going up for sale, so one would think that Sideshow would make War Machine a bit more limited than the crazy 3500 edition size that Iron Patriot got. I guess we'll see!
Anyone out there planning on breaking out the big bucks to pre-order this War Machine maquette? And how do you feel about the big price increase that this statue has received–legitimate inflation, or obvious price-gouging?