When it comes to sixth scale Marvel movie figures, Hot Toys literally has the market cornered (and with good reason). But outside of the MCU, Hasbro and Sideshow Collectibles are chugging along with comic-based Marvel 12″ figures. And while the two companies didn't overlap at all with their first batches of characters, for the first time we've got a match: the Sideshow Exclusive Thor Sixth Scale figure is now up for order! And he's got one big advantage over the Marvel Legends version: Thor Frog!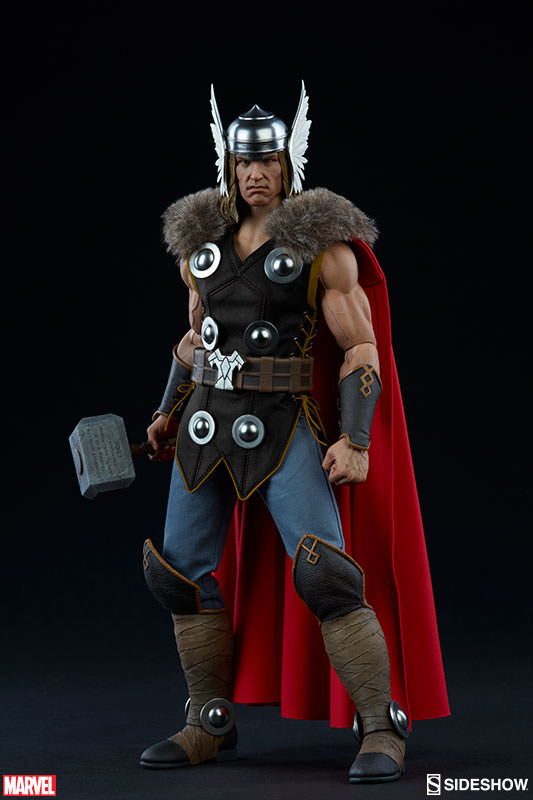 Despite the fact that their Brown Costume Wolverine 1/6 figure (solicited way back in 2015) turned out to be pretty fantastic, I had thought Sideshow's Marvel 1/6 figure line was dead when no new figures were announced for it for over a year… until Daredevil and (an awesome) Ghost Rider went up for sale to kick off 2017.
And now, to complement the Man Without Fear and The Spirit of Vengeance, here comes the God of Thunder! Let's have a look at Sideshow's take on Thor…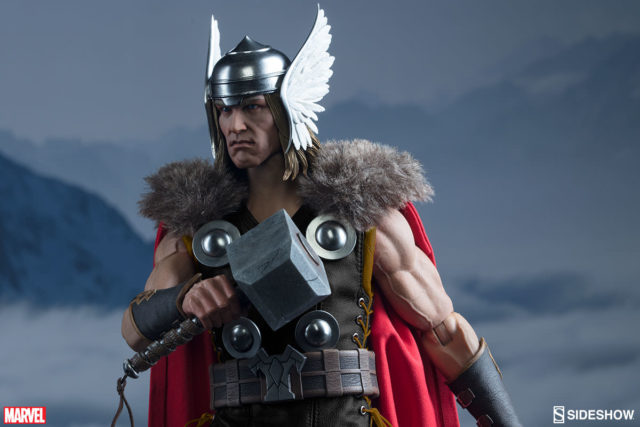 At a glance, it's immediately obvious that whereas Hasbro is giving us a 12″ Marvel Legends Thor that's largely based off of modern interpretations of the character, Sideshow Collectibles is going classic all the way with a Donald Blake-era inspired Thor.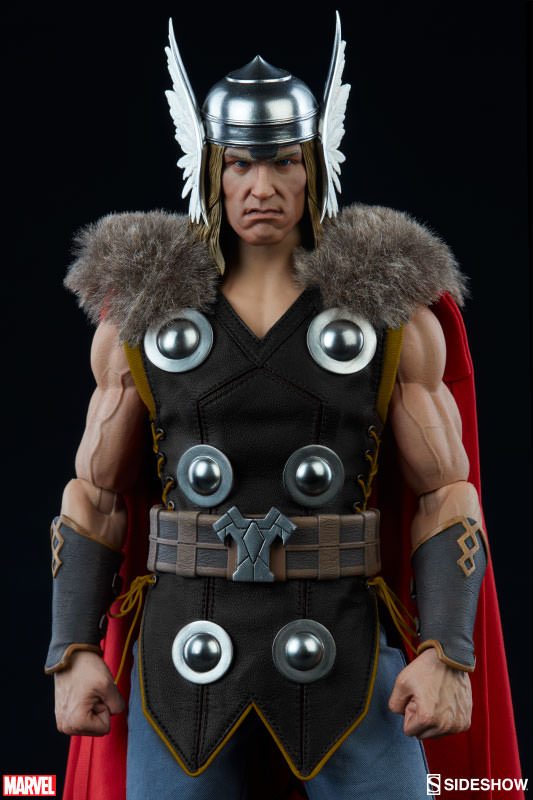 I think this is definitely the way to go, as this version of Thor is a clear contrast to what both Hot Toys and Hasbro are doing with the character.  Modern and movie interpretations change constantly, but the classic looks like this one are forever.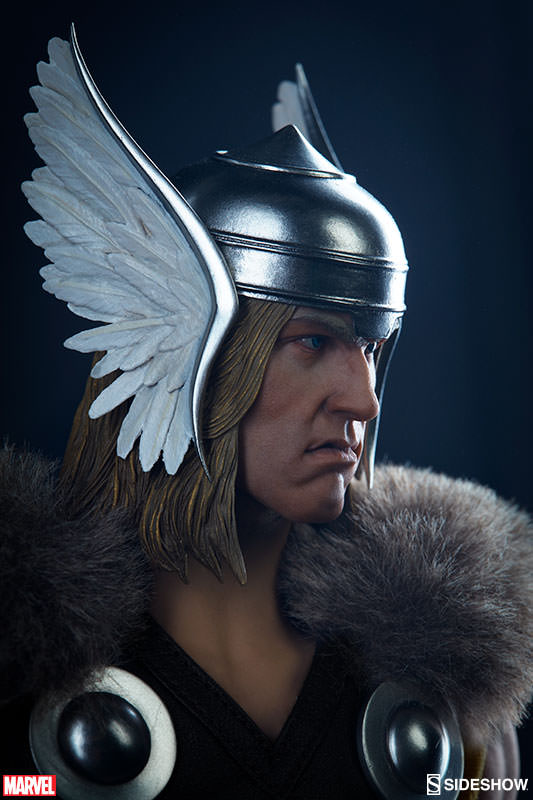 This is no "pretty boy" Thor–the Odinson looks like a hardened warrior through and through here, as opposed to the supermodel-looking Chris Hemsworth from the movies. But rugged-looking or not, Thor is rocking that winged helmet as only he can (although it would have been nice if the helmet was removable).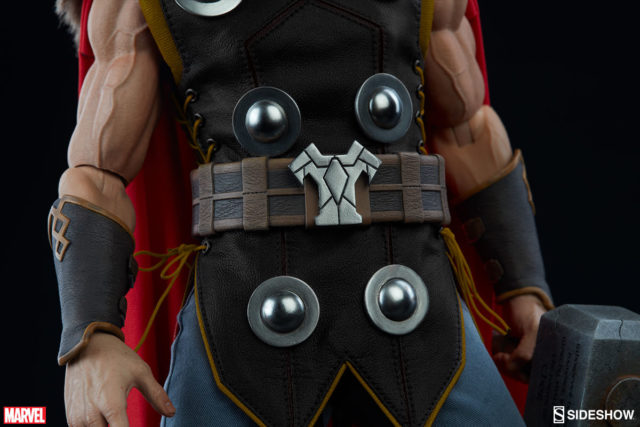 The detailing on Thor's belt, knees and gauntlets looks great–and you've gotta love those ridiculous boots that MCU Thor wouldn't be caught dead in.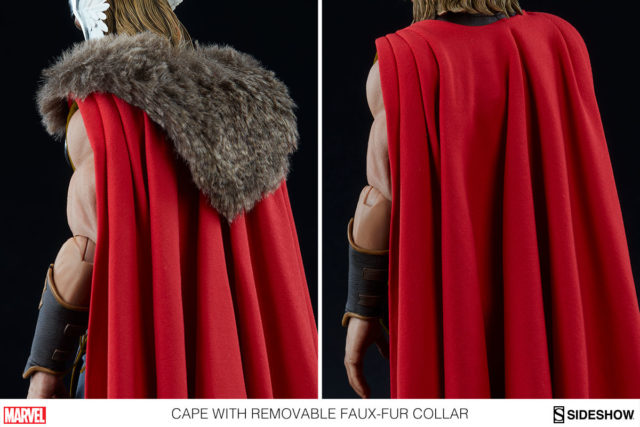 One of the more interesting aspects of this figure is that Sideshow is including a removable faux fur collar for Thor's cape. The fur collar makes Thor feel more "realistic", but it doesn't have any place on Thor as he appears in my mind, so I'm really glad that its addition is optional.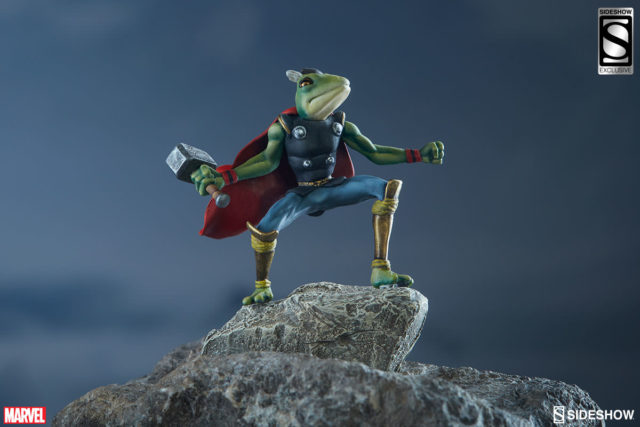 What's not optional–at least for me–is the exclusive accessory that comes with the Sideshow Thor Exclusive: Thor Frog! Yes, "buy this $250 figure early and get a tiny Frog of Thunder figurine".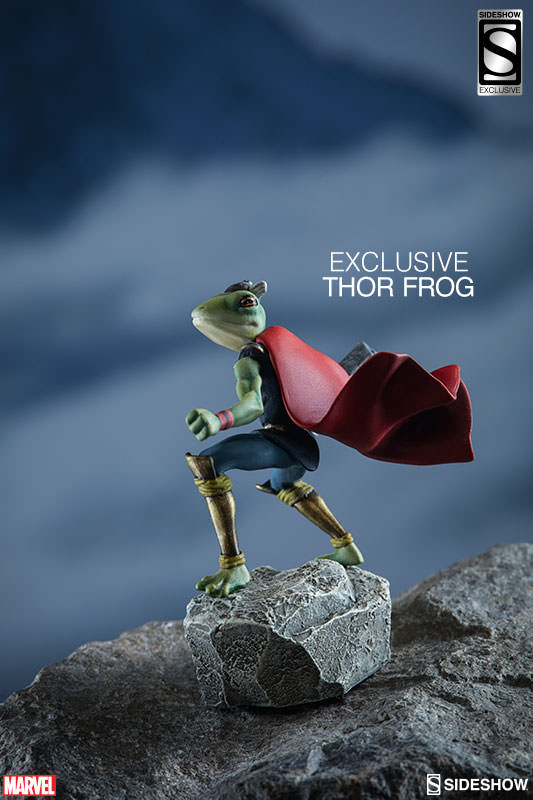 It may sound like a crazy marketing ploy, but I bet that this particular exclusive edition is among the best-selling ones yet in the whole Marvel Sideshow 1/6 lineup: unique character pack-ins tend to promote sales a lot better than just another gun or weapon.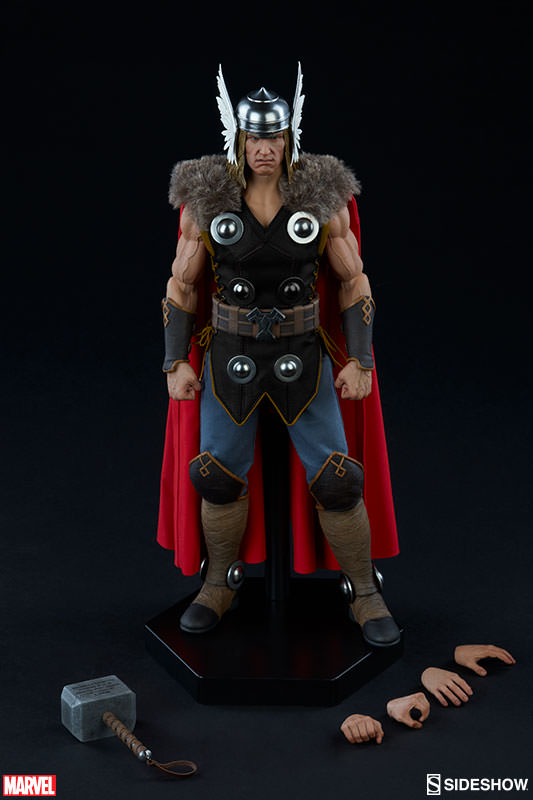 But wait–you heard correctly just a paragraph or two back. The one
major
weakness of this figure (in my eyes) is the price-tag. At $249.99, this is the single most expensive Sideshow Marvel sixth scale figure yet.
Considering that there's no actor likeness to match (since this is comic book-inspired), there's only a handful of accessories, and Sideshow's quality just isn't quite up there with Hot Toys, seeing a price that's higher than what Hot Toys charges for their movie Thor figures is a little, well… shocking.
I think the price on this piece will definitely be a big deterrent for many collectors–particularly with Hasbro releasing a very nice (though very different) 12″ Thor for $200 less themselves this summer.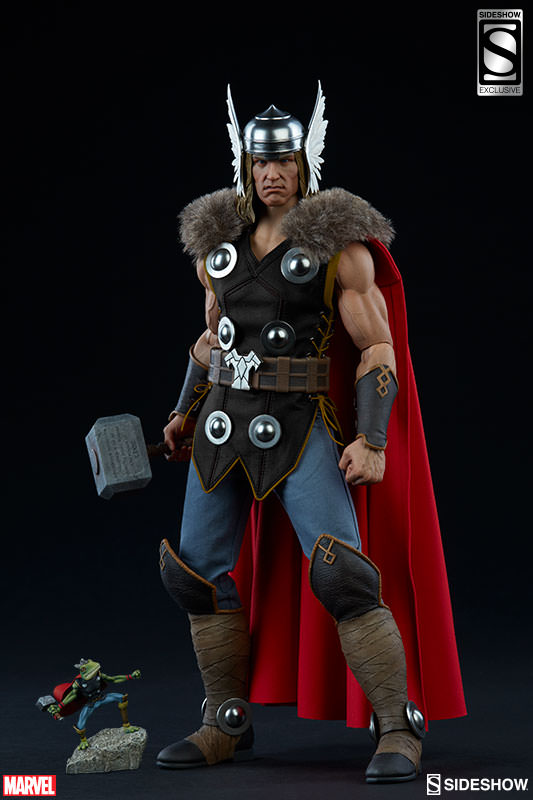 The Exclusive Sideshow Thor Sixth Scale Figure went up for order this afternoon, and is scheduled for release in early 2018. Unless you're keen for owning that exclusive Thor Frog figure (and I absolutely am), then you probably don't need to worry about locking in a pre-order for a good, long while yet.
How do you feel about Sideshow's latest 1/6 Marvel Comics figure, collectors? Do you think this figure is worthy of its $250 price-tag? And independent of the price, would you want this Thor in your collection?