Now that the 2014 Toy Fair is officially behind us and in the history books, I want to jump back and discuss some of the collectibles that I put on the back-burner over the course of the past month. One such action figure is quite possible the single most popular Hasbro Marvel Legends action figure released thus far in 2014: the Spider-Man Marvel Legends Carnage Infinite Series figure! Carnage has had his fair share of figures released in the past, but this one? This one is going to be the bar that all future Carnage figures will have to strive to surpass…
The Right:
Cletus Kasady–Carnage–is one of the few 90's Marvel Comics creations to endure the test of time and prove to be just as popular two decades later as he was when he was first created. Off the top of my head I can't name any truly great Carnage story arcs ("Maximum Carnage" doesn't really hold up today–believe me), but the amazingly cool character design of Venom's offspring have made the serial killer symbiote one of the most fashionable and beloved Spider-Man villains. Thus, Carnage is always a sure-fire top-seller regardless of what line he's released in.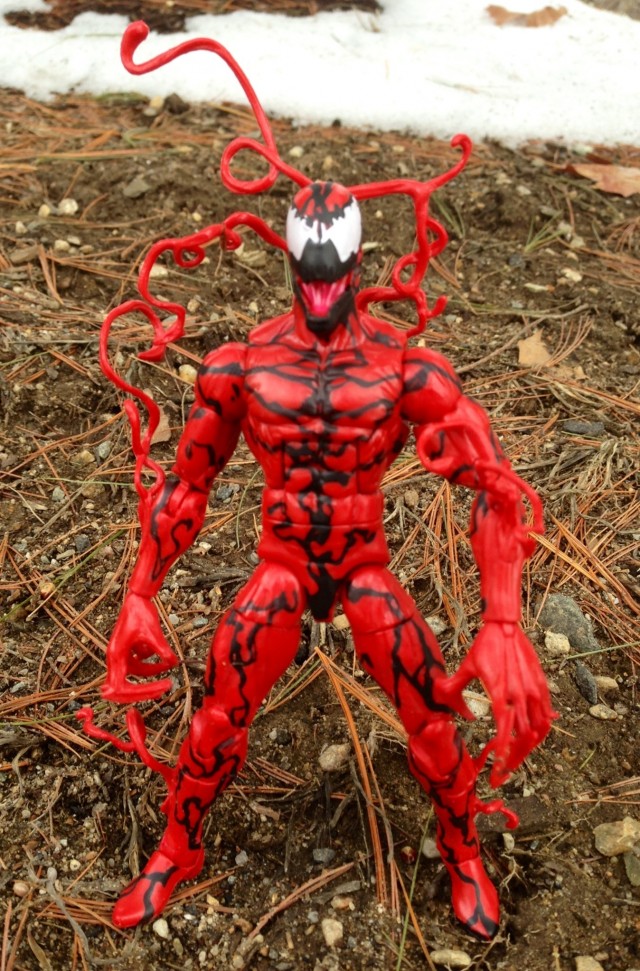 That said, this particular Marvel Legends 2014 Carnage figure has turned out to be quite the sensation, as he's been rarely seen in stores and burning up the aftermarket. Once you actually get this new 6″ Carnage Marvel Legends figure in-hand, it's easy to see what all the hype is about: this figure is fantastic. From Carnage's razor-sharp claws to the symbiote tendrils coming off of each of Carnage's legs and forearms, Hasbro went the extra mile to ensure that this Carnage figure is superior to all of its predecessors.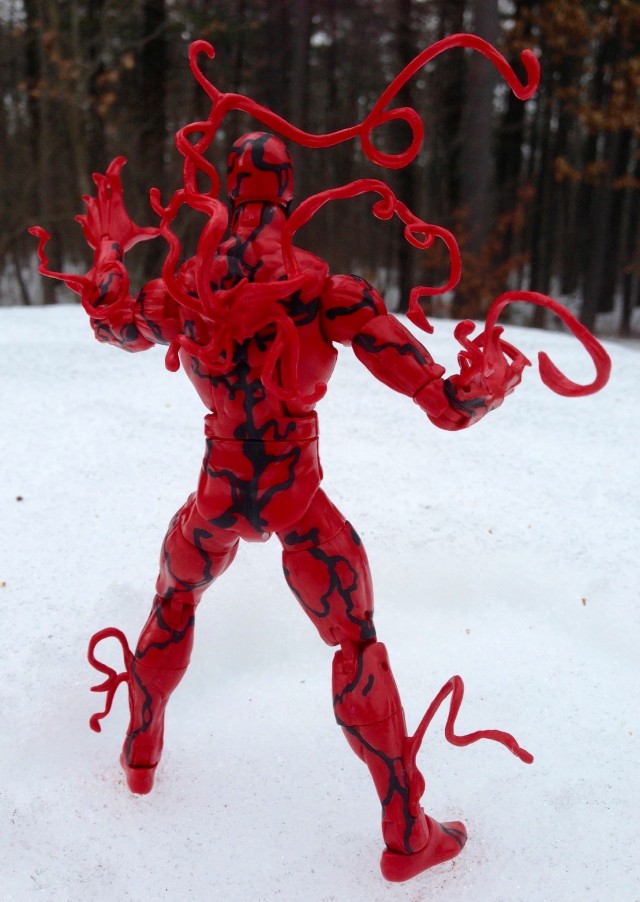 One of the coolest things about Carnage is his bright red and black color scheme, and Hasbro has absolutely nailed it with the paint color choices on this figure. I actually think that the paint deco on this $20 Hasbro Carnage action figure looks better than that of my high-end Bowen Designs Carnage statue and mini-bust!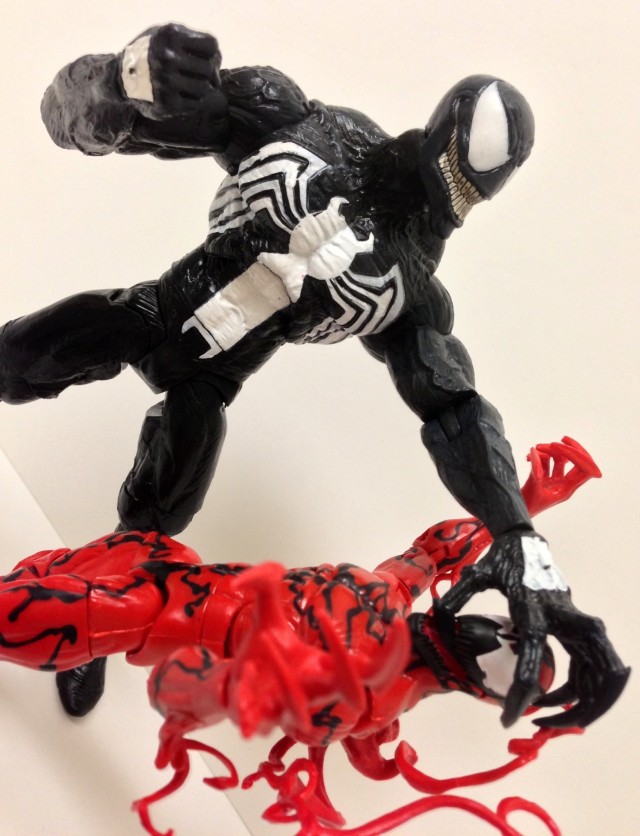 Carnage made his reputation with his insane, murderous ways, and I think the head sculpt is a good representation of Carnage's craziness. I like that Hasbro opted for glossy, pearl white for Carnage's eyes instead of a pure white–it gives Carnage's head a more alien and creepy look.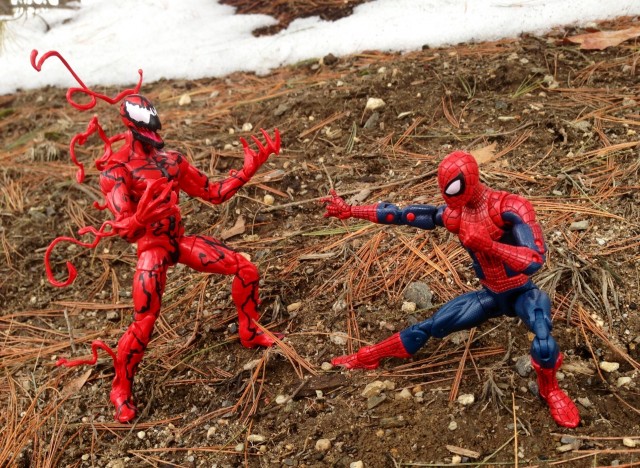 Like most modern Hasbro 6″ Marvel Legends figures, the Marvel Legends Spider-Man Carnage figure is chock full of fun and usable articulation. Carnage is packaging a ball-hinge neck, ball-hinge shoulders, swivel biceps, double-jointed elbows, ball-hinge wrists, upper torso ab crunch, swivel waist, ball-jointed hips, swivel thighs, double-hinge knees, swivel calves, and hinge ankles with ankle rockers. This is unquestionably the most poseable Carnage toy ever made.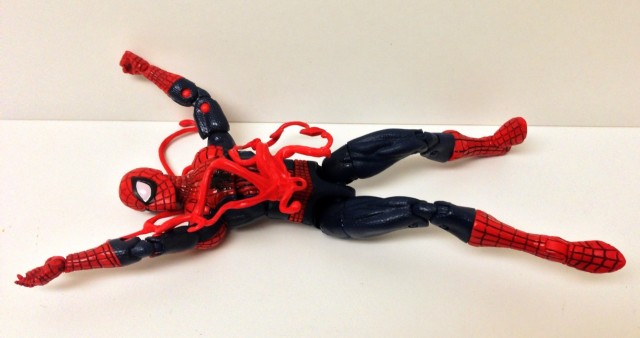 Other than the Marvel Legends Ultimate Green Goblin Build-A-Figure Head and Back Flames, the Spider-Man Legends Carnage figure includes one accessory–a removable "backpack" of symbiote tentacles. This may sound dopey, but it is ridiculously fun in execution! You can rotate and position the tendrils however you like on Carnage's back or else separate the backpack from Carnage entirely so that the symbiote can hunt for prey on its own! Brilliant idea and tons of fun.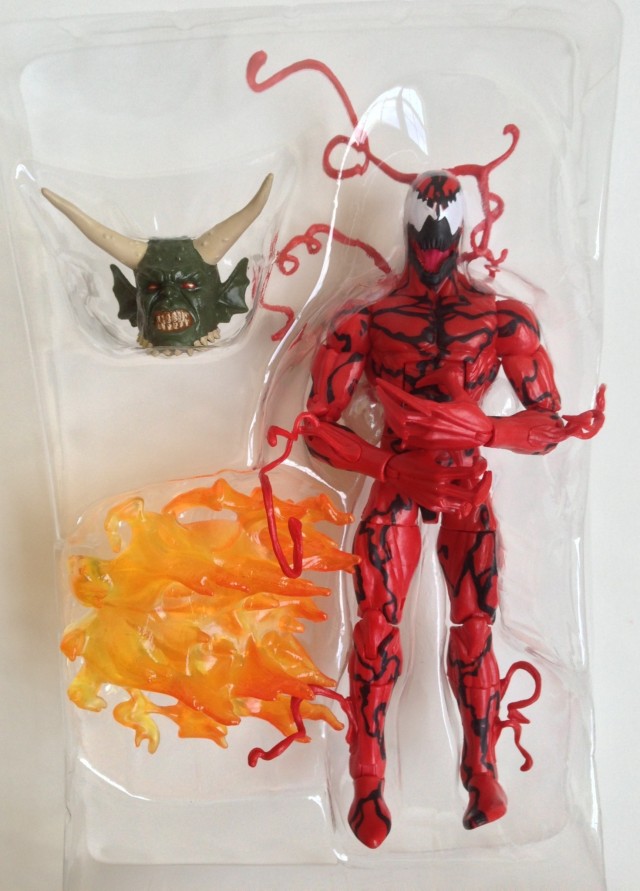 The Wrong:
This is a pretty excellent Carnage figure, but there's two things that I think would have put it absolutely over the top. First, I would have loved some alternate hands. Having the claws is great, but as an alien shapeshifter, I would have loved if Carnage came with a couple of other choices for skewering his enemies with, or even some normal fists. This figure is very light on accessories, and alternate hands would have been perfect extras to include.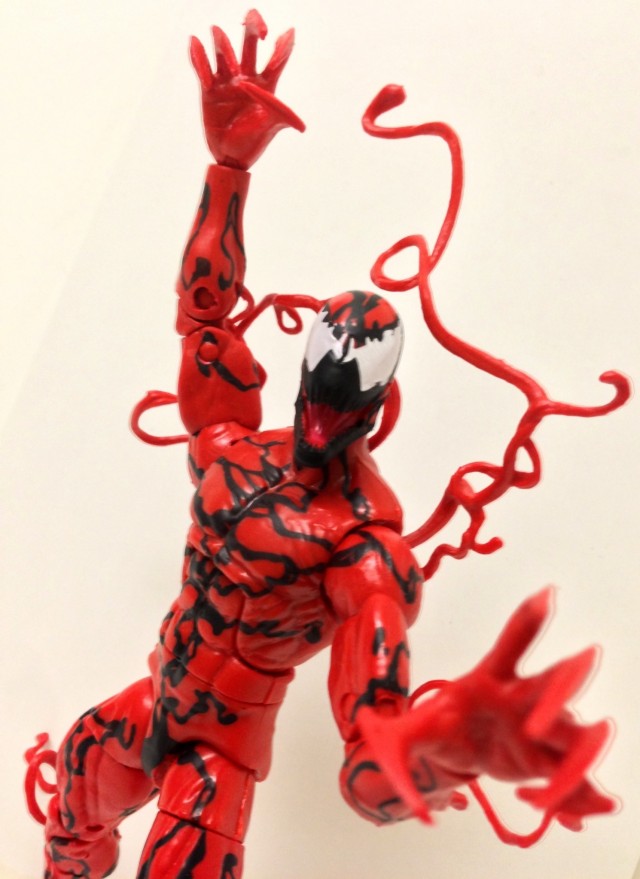 Secondly, I would have really liked a hinged jaw on this Carnage figure. While Carnage typically has his mouth gaping wide, being able to control the placement of Carnage's jaw would have added a bit more personality and intrigue to this figure. These are small complaints, but they do hold Carnage back from being perfect in my eyes.
"Where Can I Buy It?!"
The Amazing Spider-Man 2 Marvel Legends Carnage Infinite Series figure has been a complete pain to find in stores, and Marvel Legends Carnage is selling regularly for $25+ online. Hasbro claims Carnage may show up again in future revision cases, but I try to take everything Hasbro says with a grain of salt. I hit at least two dozens stores every week and have never seen Carnage in a local store–if you should see him on the shelf, you should definitely grab him immediately.
Overall:
If you're a Carnage fan, you need this figure–period. Until Diamond Select Toys brings out a Marvel Select Carnage figure akin to their incredible Marvel Select Venom, this Marvel Legends Carnage simply has no true competition for the title of "Best Carnage Figure Ever". From the paint deco to the extreme articulation to the nifty sculpted-on tendrils and removable symbiote "backpack", this Carnage action figure is outstanding and well worth the $20-$30 he's selling for right now. If you only buy one figure from the whole 2014 Marvel Legends Spider-Man lineup, make it this one.
GRADE: A