2015 has been a bit quiet for X-Men collectors (and by "quiet", I mean "barren"), but there's one company that's really come through for X-Fans: Kotobukiya. The X-Men ARTFX+ line has been a highly well-received treat thus far, with Cyclops having already pre-sold out at some retailers. And the most obscure (and coolest) member of the team is next in line: the X-Men Kotobukiya Magik ARTFX+ statue is now up for order!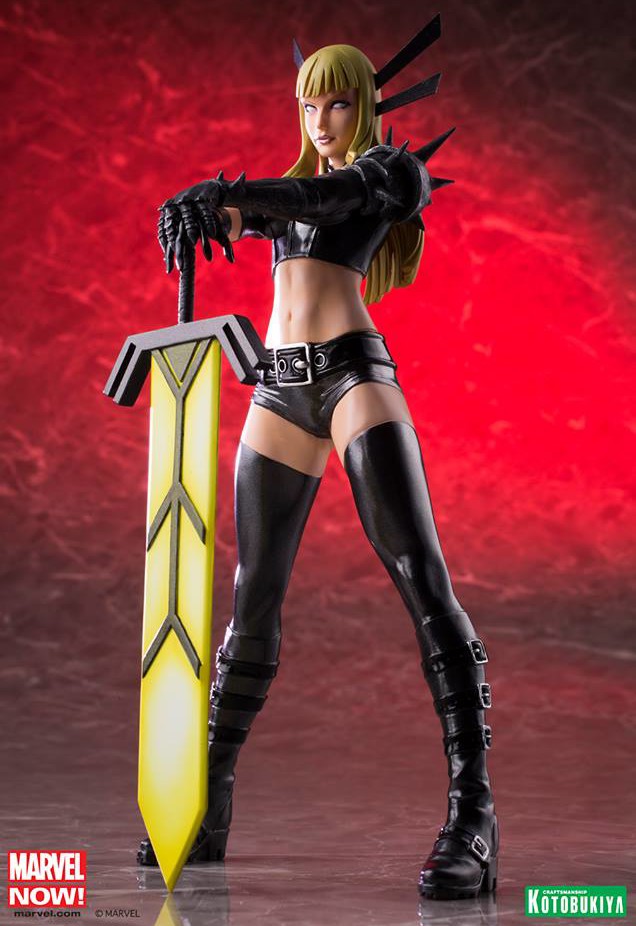 Of all the teams in the entirety of the comic book world, there's one team that holds my heart more than any other: the New Mutants. I grew up in the 80's and early 90's revering the first class of X-Men in-training, and have had a major soft spot for them ever since.
While we haven't had much in the way of New Mutants collectibles in the past few years (I'm still heartbroken about the indefinitely cancelled Marvel Legends Dani Moonstar figure), but there's one New Mutant actually getting some love this year: Illyana Rasputin–Magik!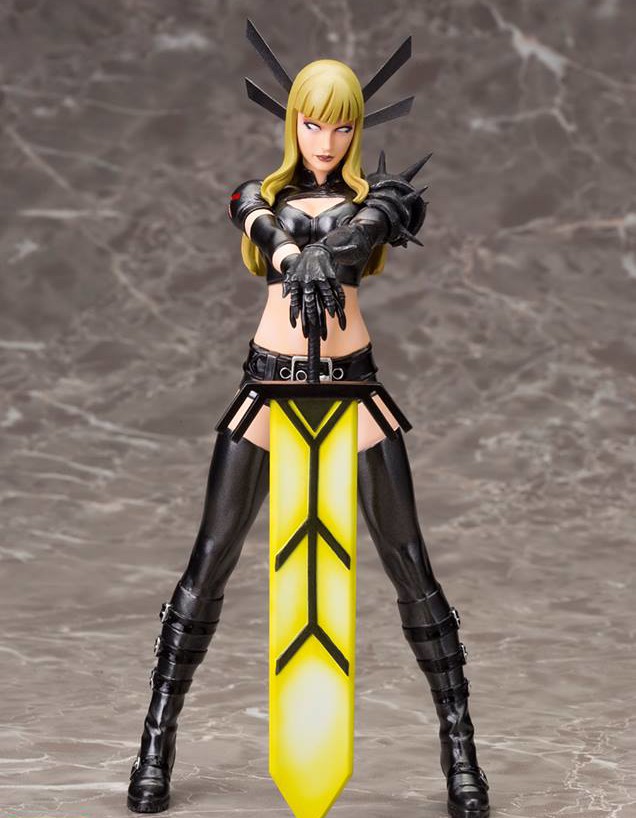 The teleporting, time-traveling demon sorceress sister of Colossus, Magik is unarguably the most popular of the classic New Mutants characters, and also the one who's traditionally gotten the most merch: there's a Magik Minimate, a Toybiz Magik action figure, a Sideshow statue of the Darkchilde, and this year there was even a Marvel Legends Magik for SDCC 2015.
All that said, I genuinely think that this Kotobukiya ARTFX+ Magik statue just might be the finest-looking piece of merch ever released for the character (sorry, Sideshow).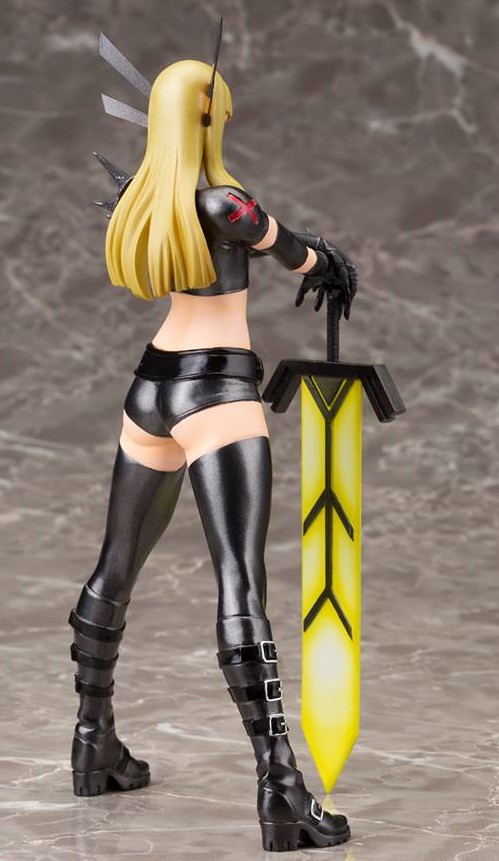 Ordinarily, I cry foul when most female superheroes are dressed up in skimpy black leather outfits with horns. But for Magik…? Yeah–it works. She's a demon sorceress, and this look definitely suits her better than any costume we've seen before. Kotobukiya absolutely chose the right pose for Illyana too–she looks powerful and alluring, yet deadly and ready to strike.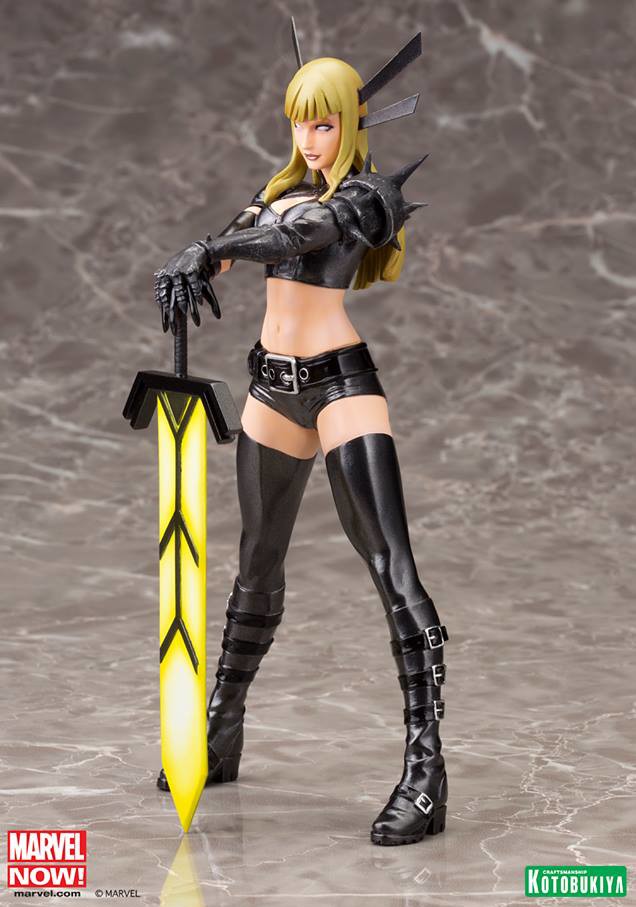 Illyana's Soulsword is a particular highlight of this piece–it's tough to tell for sure from the photos, but it looks like it has sculpted detailing on it as well as paint deco. Regardless, it is unquestionably eye-grabbing in its yellow, black and white color scheme, and makes this 7.5″ Magik statue an ideal centerpiece for the Kotobukiya Marvel NOW! X-Men statue line.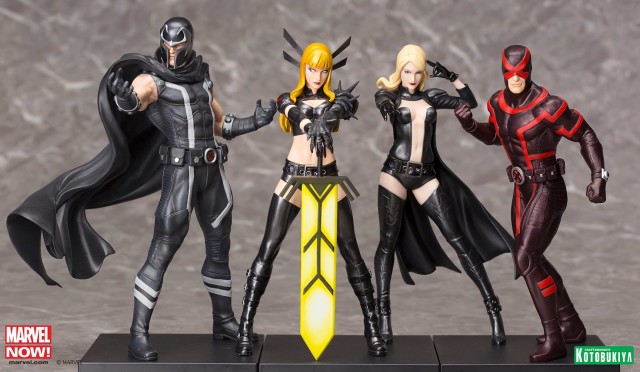 With Illyana now being available for order as the fourth statue in the line, we're now more than halfway through the announced list of Kotobukiya ARTFX+ X-Men statues! Cyclops, Emma Frost and Magneto have previously been announced, while we're still waiting to see prototypes of Beast, Rogue and Wolverine. Based on past trends, I'd expect to see Beast next, followed by Rogue (and then at least two paint variants of Wolverine to close out the series).
Kotobukiya has been asking fans on social media and at conventions what characters they'd like to see added to the line in the future, so let's hope that a second series of Kotobukiya Marvel NOW! X-Men statues will be announced sometime in 2016 (Gambit, please).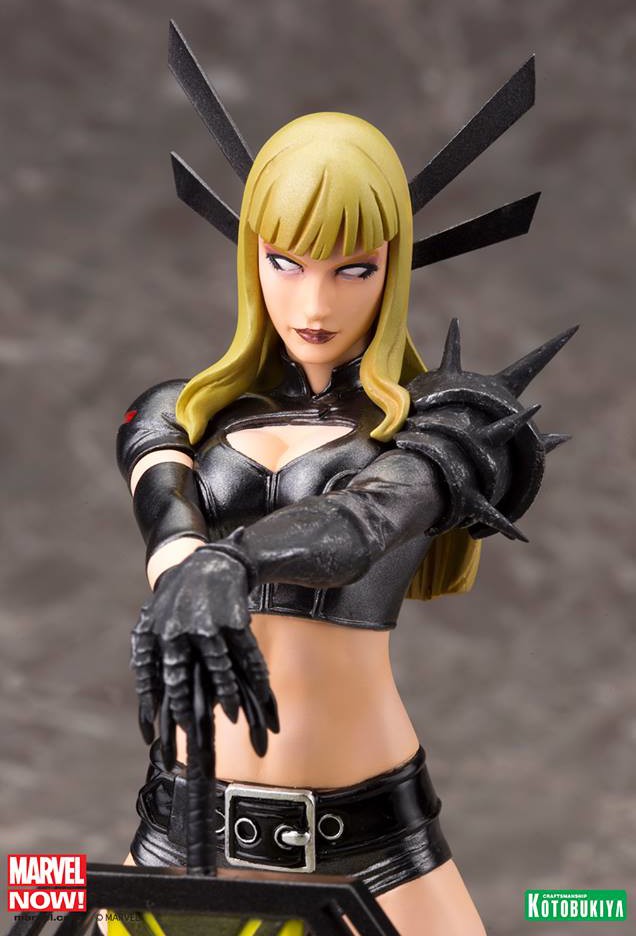 The X-Men Magik Kotobukiya ARTFX+ statue is now available for order, and is scheduled to ship in February 2015. That's a bit of a wait, but at least Cyclops and Emma Frost will be arriving fairly soon to tide us over! I'll post an update once the rest of the painted X-Men statues are shown (likely at NYCC 2015 in October).
What do you think of the 1/10 Magik statue, X-Men fans? Will you be adding the (literally) most demonic member of the X-Men to your statue collection, or are you passing on statues of the more obscure members of this team?