When Hasbro announced the return of Marvel Legends figures, there was perhaps no character I heard more requests (and begging) for than a 90's style Jim Lee Jean Grey figure. Well, it's taken until Wave 5, but the Marvel Legends Jean Grey Jim Lee variant has arrived! Unfortunately, even if expectations hadn't been so sky-high for this figure, I still think that poor Jean would be considered a disappointment…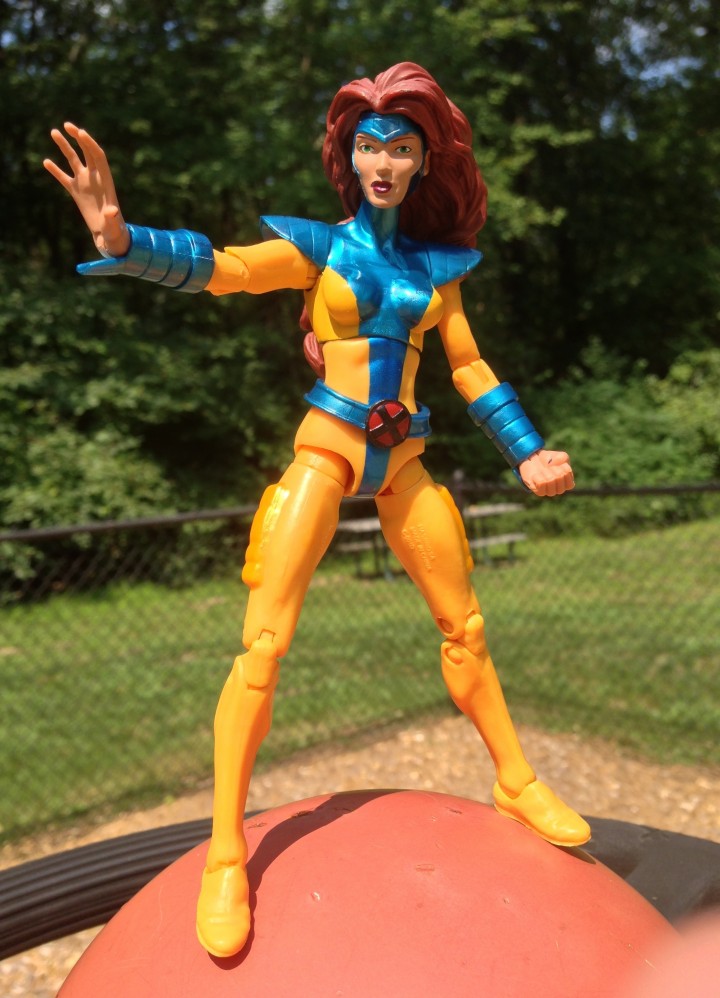 The Right:
Let's start out with a colossal-sized "Right" that absolutely cannot be overlooked: Hasbro has finally released an official Marvel Legends Jean Grey Jim Lee 90's variant action figure. Fans have demanded this figure since the Toybiz Marvel Legends days, and finally their dream has come true. Whatever flaws this figure may have (and trust me, I'll get to them), it's downright heavenly to know that the core Marvel Legends X-Men are one step closer to completion (and will be even closer when the Marvel Legends Jubilee Series comes out later this year!).
I grew up on the 1990s X-Men cartoon series, so this is the iconic look for Jean Grey, so far as I'm concerned (pouches and all). I was very pleased to see that Hasbro added the pouches to Jean Grey's legs, as they're such an important part of Jim Lee's Jean Grey character design (I'm bummed that Hasbro didn't add the blue pouches to Jean's biceps as well, but I'm willing to let that slide).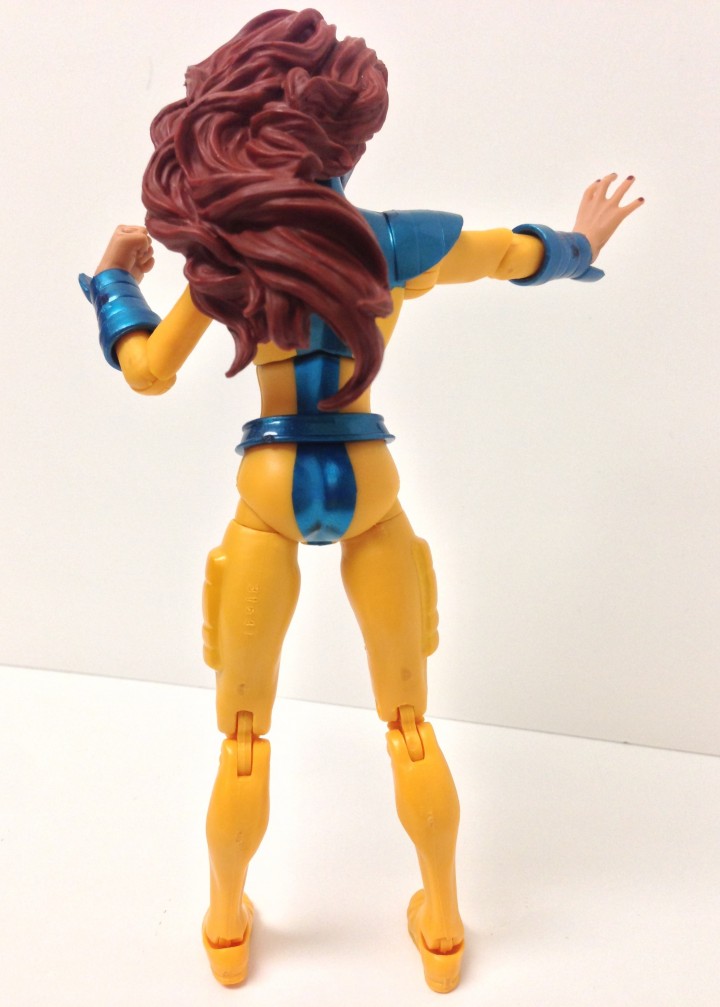 The other detail of this Hasbro Marvel Legends Jean Grey figure's sculpting that I think is a real knockout is the sculpting work on Jean's hair. The hair has its problems with weight and paint deco, but the huge, flowing hair looks spots-on to the source material of the 1990's Jean Grey.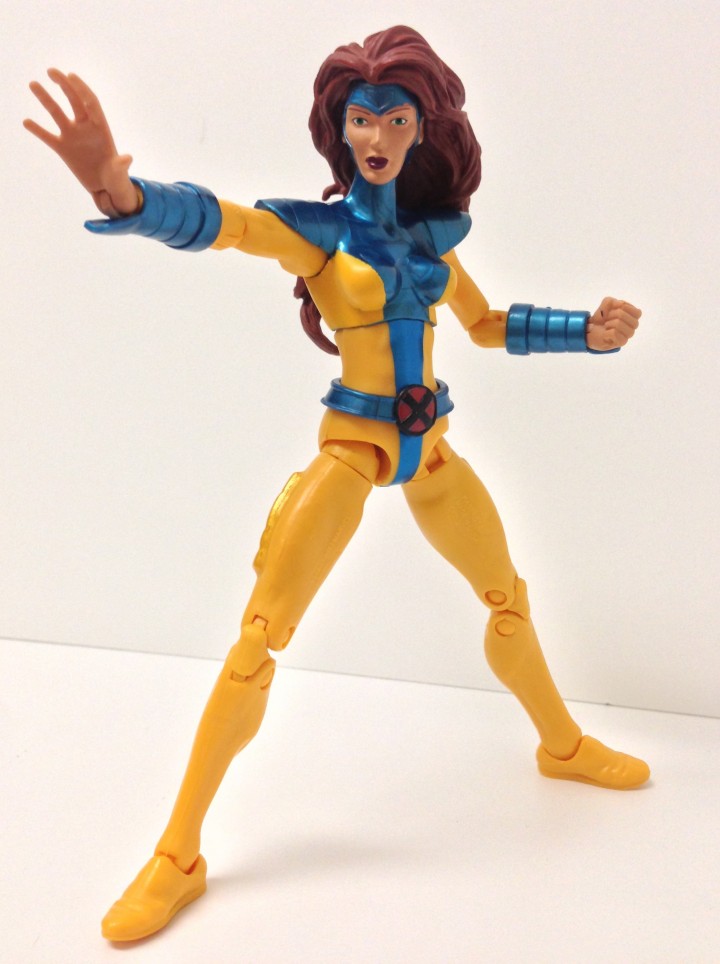 Marvel Legends Wave 5 Jean Grey's right hand is sculpted as an open palm, so you can easily imagine that she's performing a telekinetic force push or something of the sort–a nice character-specific choice to demonstrate Jean Grey's psychic powers. Jean's left hand is sculpted as a closed fist (which is sort of weird, as I don't think Jean Grey was likely to win a fistfight with anybody in the Marvel universe).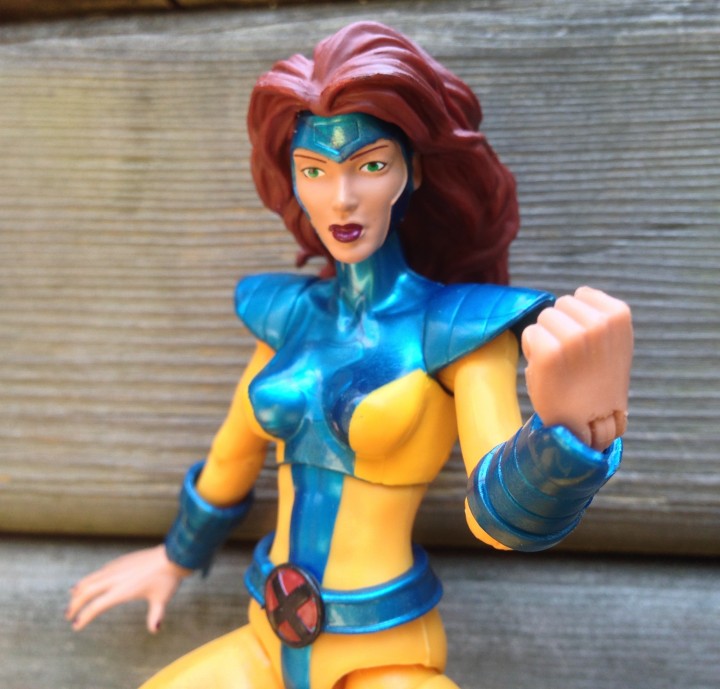 The Marvel Legends Jean Grey Jim Lee variant figure has a decent amount of articulation, but the most revolutionary addition to the figure's articulation scheme is her new ankle rockers on her feet. Earlier Marvel Legends females like the Wave 2 Madame Hydra and Madame Masque figures really suffered from not having ankle rocker joints, so I'm thrilled to see them integrated into the Jean Grey action figure (and a good thing, too–Jean wouldn't be able to stand at all without them).
Hasbro's paint department did an outstanding job with the paint deco on Jean Grey's costume, which has flawless pain apps on it. I particularly love the shiny blue metallic paint with swirls in it chosen for the blue portions of the costume–they really pop and make the figure's outfit shine.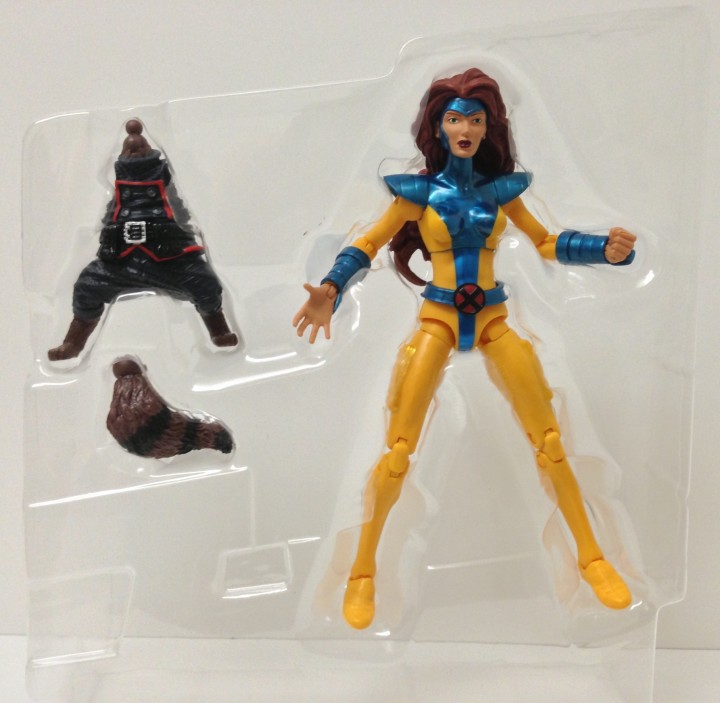 The 6″ Jean Grey Marvel Legends figure comes with two accessories: the tail and body of Rocket Raccoon. Not the most riveting (or character-specific) accessories, but I very much adore the Marvel Legends Rocket Raccoon Build-A-Figure I reviewed earlier this month, so I'm glad the wave includes the pieces to make him.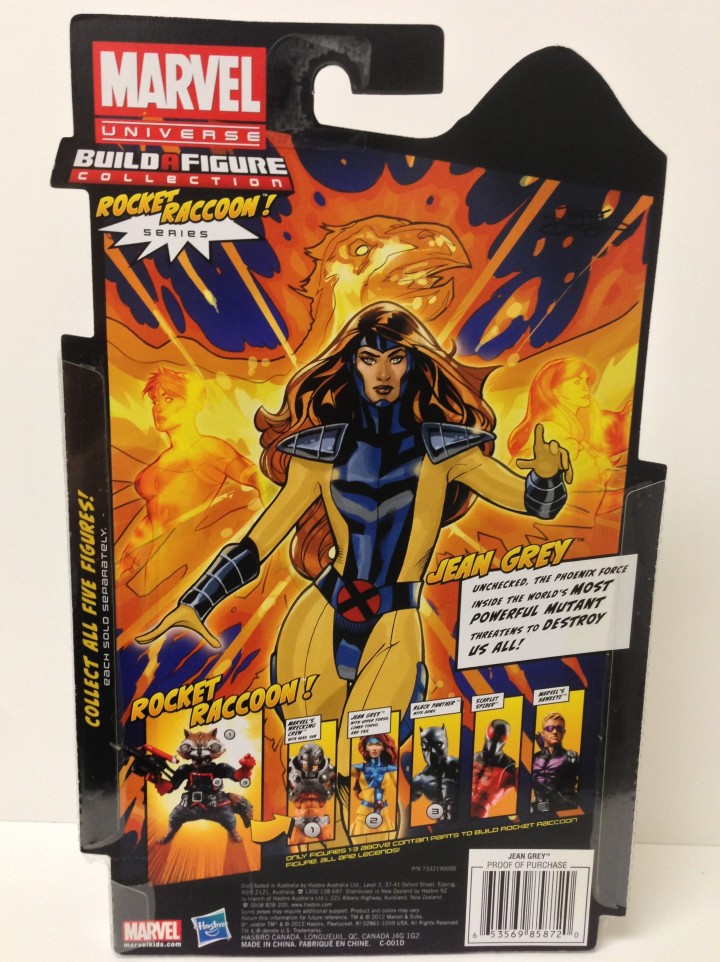 The Wrong:
I know a lot of people are going to hate me for griping (a lot) about this Marvel Legends Jim Jean Grey figure, but there's a whole lot wrong with this figure that really bothers me.
Many of the deficiencies with this Jean Grey Marvel Legends figure have to do with the figure's head. What's wrong with it? Well, a) Jean Grey is supposed to be a redhead and not a brunette; b) Jean Grey is supposed to have a gorgeous face and this figure does not; and c) Jean Grey's hair sculpt is incredibly heavy and restricting.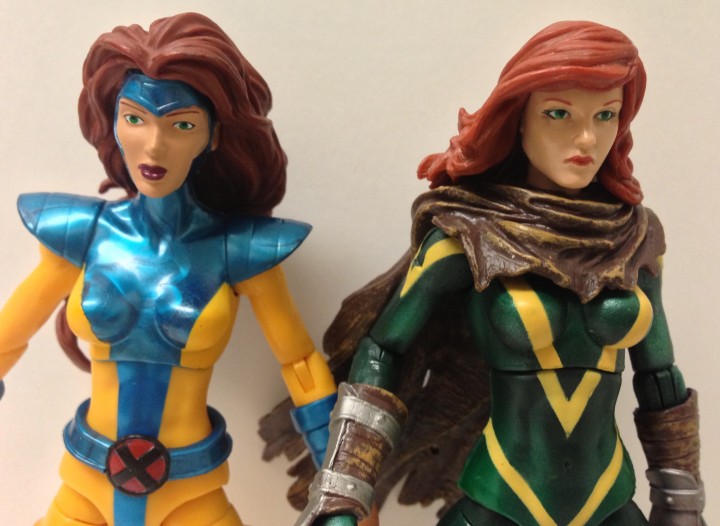 First, let's talk about Jean's hair color: it's wrong. Sorry, but Jean Grey does not have this auburn-hued hair. Hope Summers is supposed to be the spitting image of Jean, and the Marvel Legends Wave 1 Hope Summers figure has very red hair–as she should. The Marvel Legends Wave 5 Jean Grey action figure's hair is far too brown by comparison, and it just doesn't look right.
And since we're talking about the Hope Marvel Legends figure, I might as well talk about her face. The Hope Summers action figure's face looks soft, pretty and youthful. Meanwhile, 2013 Marvel Legends Jean Grey's face looks sort of haggardly in comparison. Jean isn't the horrible-looking wench that the Wave 2 Madame Hydra figure was, but she certainly isn't the attractive woman she's legendary for being either.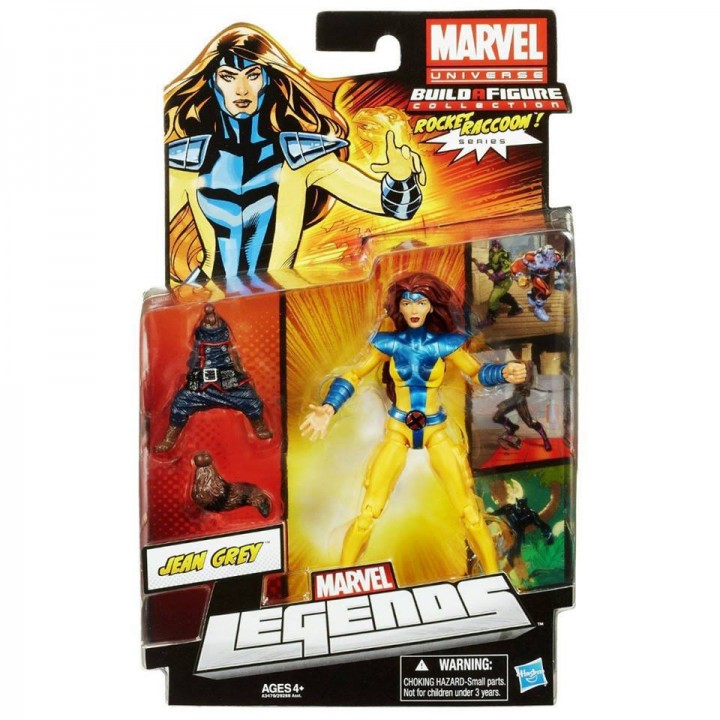 The Marvel Legends Jean Grey 90's variant also suffers from its hair sculpting. As fantastic as the sculpt of the hair is, it greatly limits Jean's head articulation–she can barely look up or side to side at all, which hugely restricts the potential poses for the figure. And the sheer weight of the Marvel Legends 2013 Jean Grey figure's hair makes her top-heavy and causes getting her posed to stand stably a real chore.
My Jean Grey Jim Lee variant's legs and knee joints are loose and floppy, and get worse the more I try to stand Jean up. I don't know if the joint strength is deteriorating from being moved or the weight of trying to hold up her head, but getting Jean into any kind of cool poses that she can stand up in is well and truly a pain.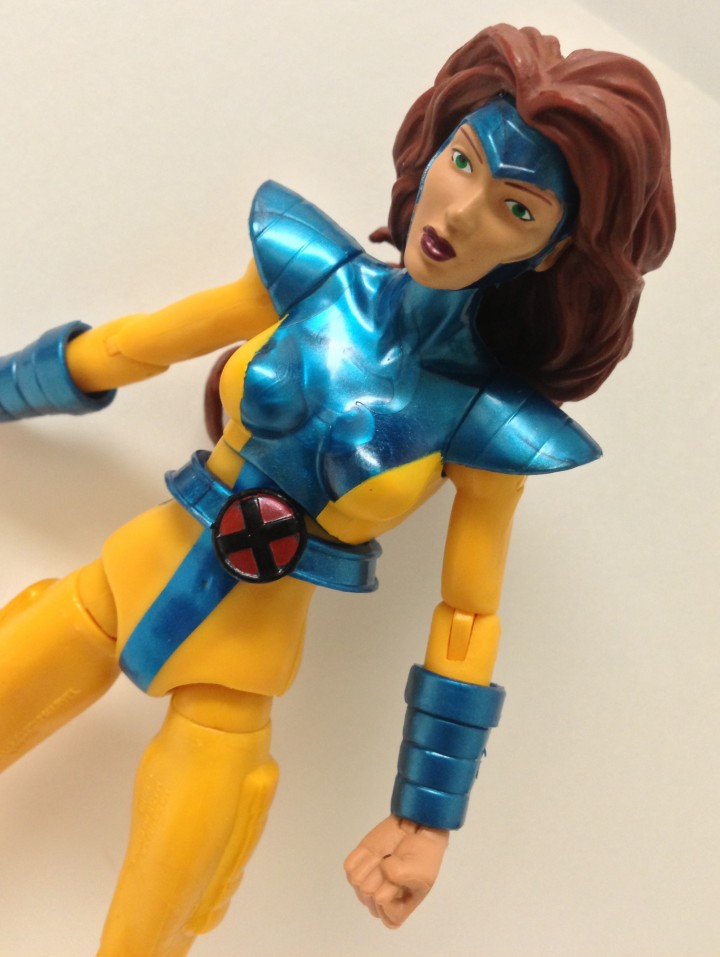 And I'll use the subject of things that are a pain to segue into discussing the Marvel Legends 2013 Jean Grey figure's belt. Basically, it looks good in the same shiny blue paint as her costume, but it's far too loose and flops around endlessly. It makes me totally insane when Hasbro can't be bothered to make costume accessories tight enough, and it constantly irritates me trying to force Jean Grey's X-Men belt to stay in place where it's supposed to instead of sliding all over the place.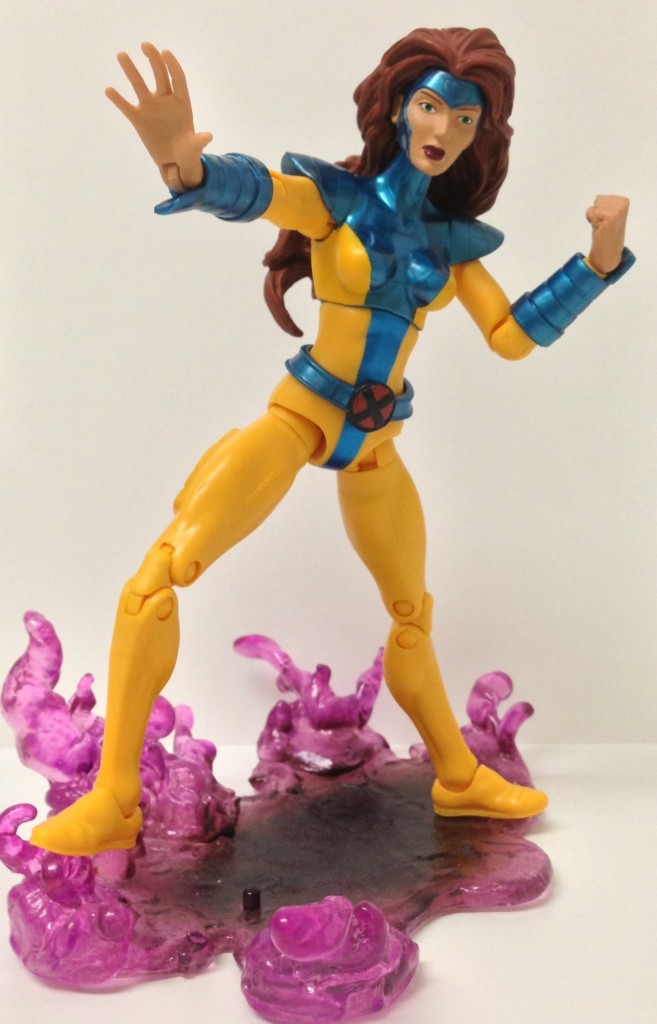 Finally, I wish Hasbro had given the Jim Lee Jean Grey Marvel Legends 6″ figure some true accessories (beyond the Rocket Raccoon Build-A-Figure pieces). This figure is lacking in fun due to the slim number of poses Jean can take on, but some telekinetic effects pieces or a psychic display stand or something would have made Jean feel like a much more complete figure. I gave mine the display base from the Marvel Select Nightcrawler figure I reviewed in the spring, and Jean looks a whole lot better off because of it.
Thus far the Marvel Legends 2013 Series 2 cases have online shown up through online and specialty stores, where Jean Grey is among the most popular figures. You can get the whole set of Marvel Legends Wave 5 from BigBadToyStore for a fair price of $99.99, but they're sold out of individual figures of Jean Grey.
If you don't want all five figures in the Marvel Legends Rocket Raccoon Series and just want Jean herself, the only place I'm seeing the 90's Marvel Legends Jean Grey variant sold for under $30 with any frequency is on ebay.
Overall: From the immense amount of complaining I did about this Jim Lee Marvel Legends Jean Grey variant action figure, you might think I really, truly hate this figure. I don't. Hasbro did some great decisions with this figure such as the pouches on her legs, the paints chosen for her costume and the much-needed ankle rockers added to her feet. But I'm not blind to all of the deficiencies that this 6″ Marvel Legends Jim Lee Jean Grey figure has either (and there are a lot of them). Be it the lack of accessories, top-heaviness of the figure due to her hair, limited posing potential or the wrong-colored hair, this figure has a whole lot of drawbacks to overcome. I'm glad to finally own an official Marvel Legends Jean Grey 1990's Jim Lee action figure, but I really do wish she was better than she is.
GRADE: C-