Hasbro Marvel Legends collectors got something to be thankful for a day late this year, in the form of loads of new information regarding the 2014 Marvel Legends Amazing Spider-Man 2 figures! Thanks to some leaks from Asia, not only do we get our first look at the packaging for the Amazing Spider-Man 2 Marvel Legends, but we get a glimpse at what just may be the two remaining variant figures from the line: Marvel Legends Toxin and Spider-Girl!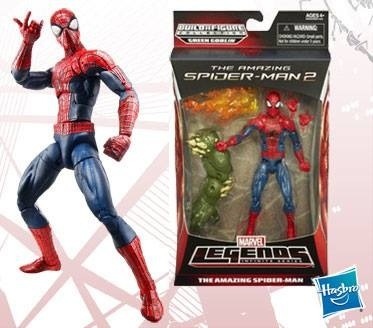 It's been pretty dull news-wise for the past week, so I had a hunch that things would get very busy and exciting as far as Marvel toy news goes just as soon as I was vacationing with the family for Thanksgiving and didn't have much time for posting. My inkling was true, as there's been plenty of Hot Toys and now Hasbro news to talk about this holiday weekend!
First up, we got to see the Amazing Spider-Man 2 Marvel Legends 2014 packaging for the very first time, via the solicitation photos that have been sent out to Asian retailers…
It looks like Hasbro is going with the same boxed look for the Marvel Legends Amazing Spider-Man 2 figures as they're using for the Star Wars The Black Series 6″ figures and also next year's Captain America Marvel Legends line. This likely means we'll see a price increased to $19.99 to coincide with the new packaging for the 2014 Marvel Legends waves, which I'm sure most fans are going to be a mite grumpy about.
However, the boxed packaging does look sophisticated, and if it means we can continue to have 6″ Marvel Legends figures that come with a Build-A-Figure piece and extra accessories, I'm all for it. Finally–Hasbro is packaging Spider-Man with alternate hands! Thank you, Hasbro!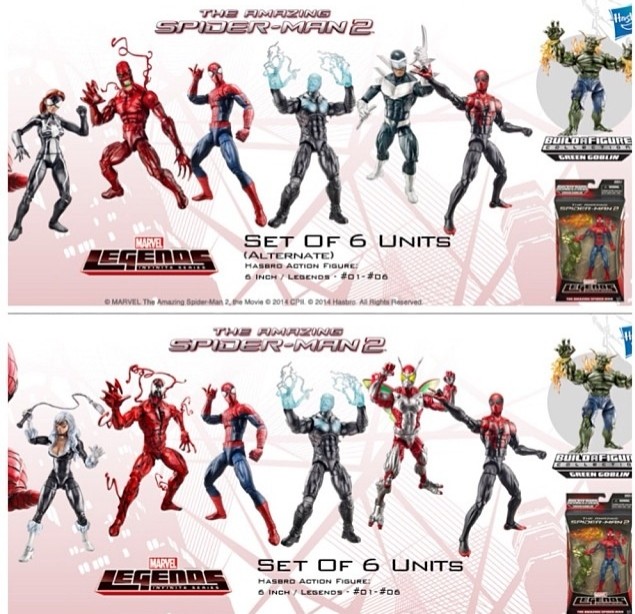 The Asian solicitations also give us our first look at the final two Amazing Spider-Man 2 Marvel Legends running change variants: Toxin and Spider-Girl! Both characters are from the modern Marvel comic books, where Eddie Brock is currently insane (what else is new?) and running around with the Toxin symbiote, while Anya Corazon is the much-loved (though not much-selling) current Spider-Girl.
I'm not a big fan of this version of Spider-Girl (forgive me, Anya Corazon fans), but I always have room on my shelf for more Venom-esque symbiotes! This image is a bit small, but I'll update once hi-res images of the Marvel Legends Amazing Spider-Man 2 variants start circulating, and you can 'Like' Marvel Toy News on Facebook to have more news, updates and photos sent straight to your Facebook Newsfeed!
Now that we've seen all nine figures coming next year, what do you think of the Amazing Spider-Man 2 Marvel Legends Infinity Series, Marvel fans? Does seeing a selection like this make you feel more at ease with the end of the non-themed "Marvel Legends" line, or will it take more than this to impress you?