If you're like me and try to collect at least one of every Marvel movie character in the Hasbro Marvel Universe 4″ figure scale, Hasbro has made deciding which Amazing Spider-Man 2 Electro figure to buy very, very simple: they only made one. Amidst a sea of wacky, crazy Spider-Man variations (Web Wing Spider-Man?!), there's the Hasbro Amazing Spider-Man 2 Power Charged Electro figure. If you want every movie character released, you'll need this 4″ Electro figure. But once you have him, well… you might wish you didn't…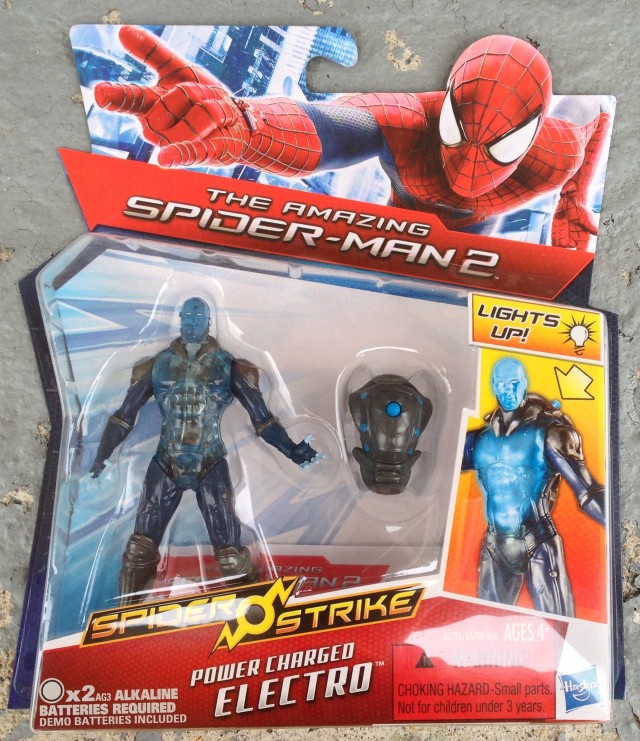 The Right:
Hasbro has very clearly aimed the Amazing Spider-Man 2 Spider-Strike line of toys at children, as every one of the action figures comes with a kid-friendly action feature.
Thankfully, Hasbro chose to go with the obvious for Spider Strike Electro and give him an electronic, light-up feature. Power Charged Electro includes a backpack that, once connected to Electro's back, has a button you press to activate the light-up feature.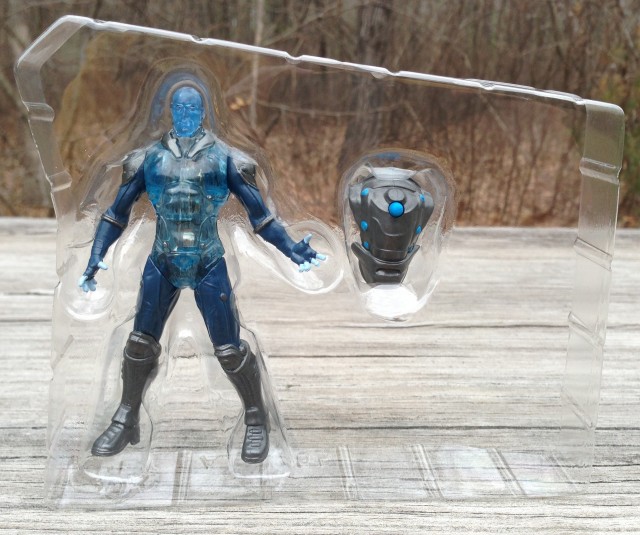 I was impressed with the ultra-brightness of Electro's blue light-up feature, which makes his chest glow so strongly that it actually kind of hurts my eyes. Electro's head is also translucent blue and this lights up partially as well (though not as strong as his chest, where the actual light is located).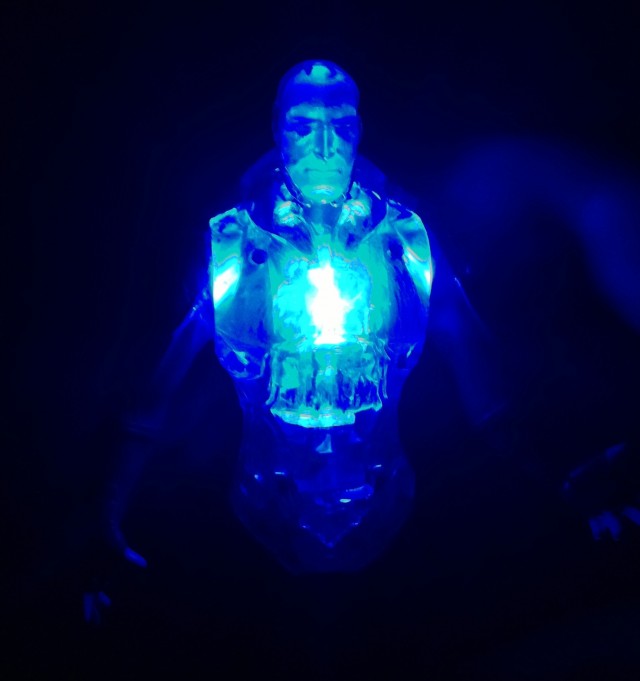 Ordinarily I loathe action features, but in the case of Power-Charged Electro, it's actually the aspect of the toy that I like the most. I'm sure the electronics only cost Hasbro a few pennies, but I'm glad they included a "premium" electronic action feature nonetheless.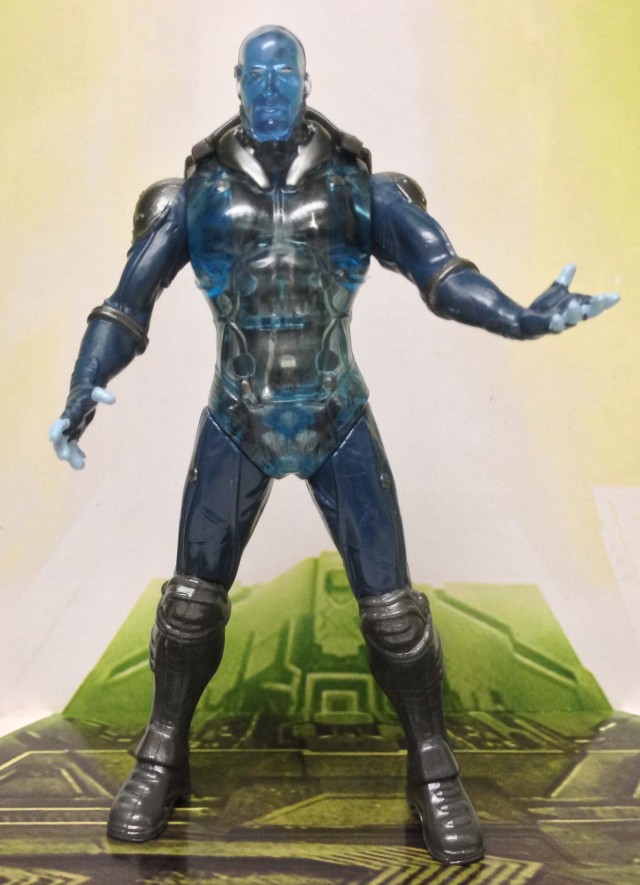 The only other thing I can think to complement about this Electro Amazing Spider-Man 2 action figure is the head sculpt. While it doesn't particularly look like Jamie Foxx to me, the translucent blue head with cybernetics on the sides (Lobot, much?) looks close enough to the images of movie Electro we've seen to be passable. I'd have much preferred an open-mouthed or angry expression on Electro, but what Hasbro went with isn't awful.
The Wrong:
Yikes. When I saw this Electro action figure for the first time, I had a fleeting hope that he might actually be halfway decent. He's not. In fact, I like him quite a bit less than I do the crazy Slash Gauntlet Spider-Man, if you can believe that. What's wrong with Electro?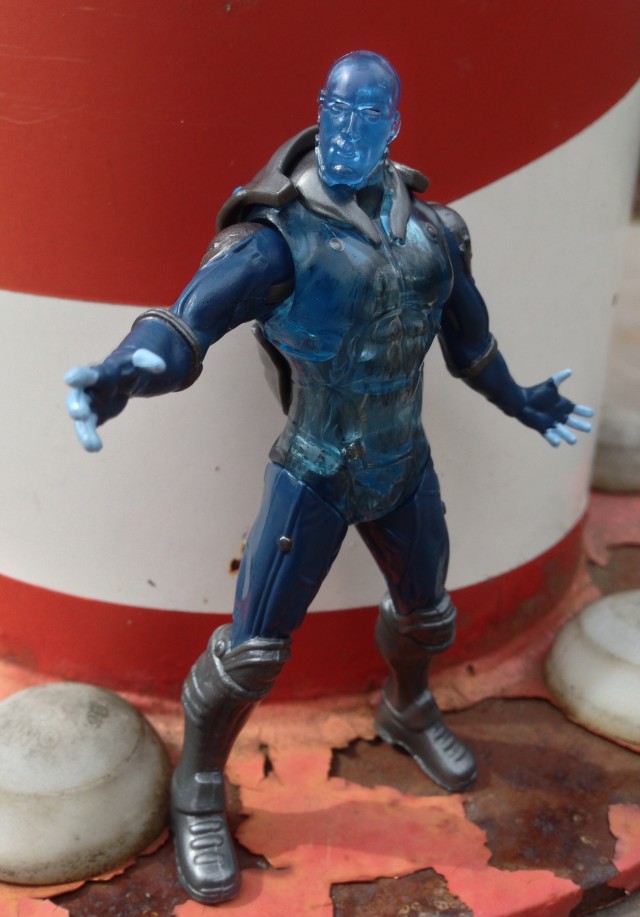 Firstly, Power Charged Electro has some archaic and truly horrid articulation. I'm not a total articulation Nazi or anything, but what Electro has is just not enough. In total, he has five (yes,
five)
points of articulation: swivel head, ball-hinge shoulders and swivel legs.
Electro's range of motion is just awful, and the limited leg articulation makes it impossible for the Amazing Spider-Man 2 4″ Electro figure to do anything other than just stand there. Electro's head can only look side-to-side and not up or down at all, so he can't even look at Spider-Man unless you position Spidey directly in front of him.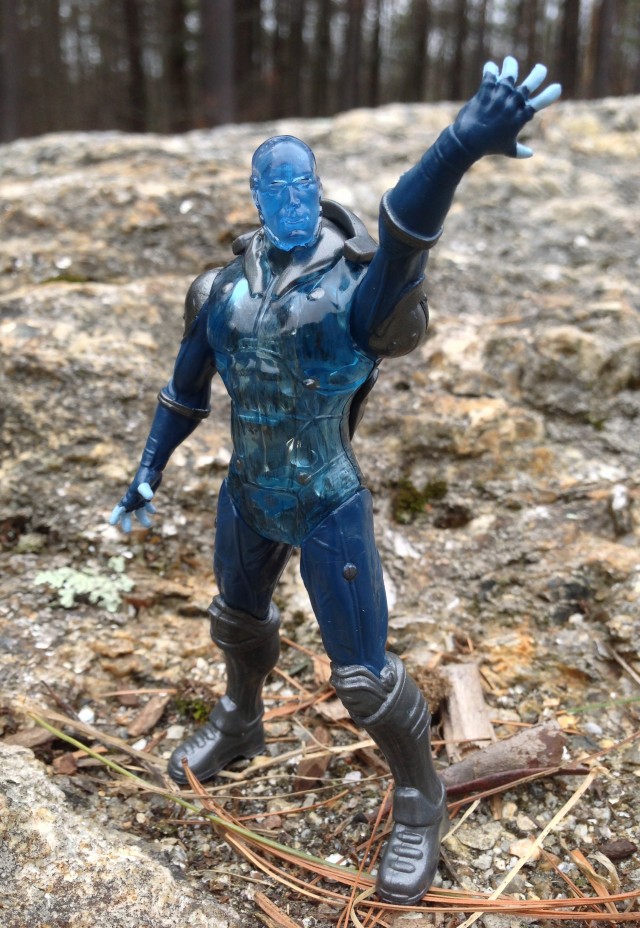 Almost as annoying is that Spider Strike Electro has a left arm that is explicably posed as if Electro is scooping something up or down with his hand. I don't know if Hasbro was originally going to give Electro a bowling ball accessory for a bowling action feature or what, but the left arm looks ridiculous in most poses (and obviously can't be changed without elbow or wrist articulation).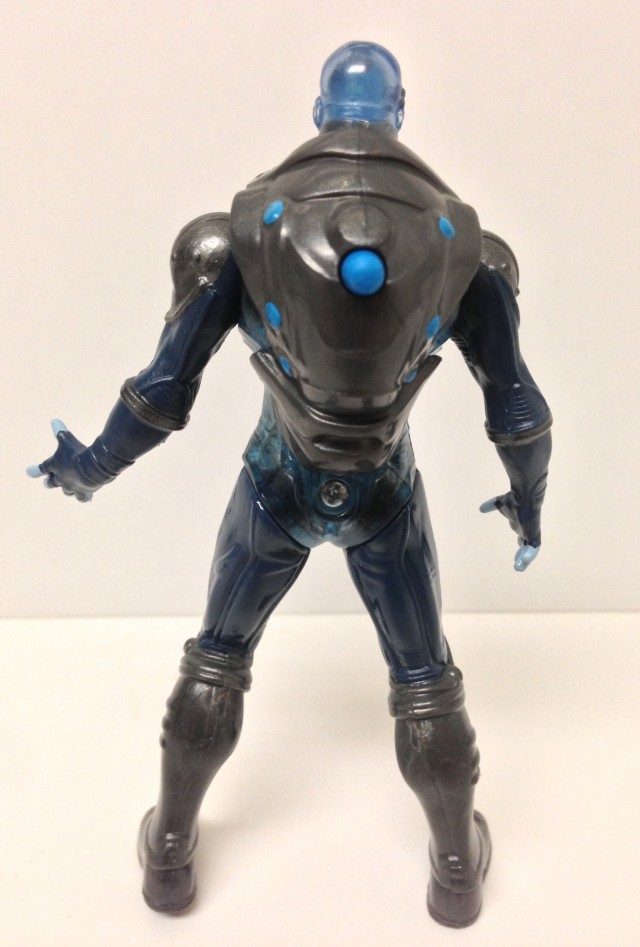 Even the electronic feature on Electro comes with a drawback: the bulky backpack needed to activate the action feature is too big and thick and makes Electro look like a hunchback. I really wish Hasbro had found a different way of executing the light-up feature on the Electro Spider-Strike figure.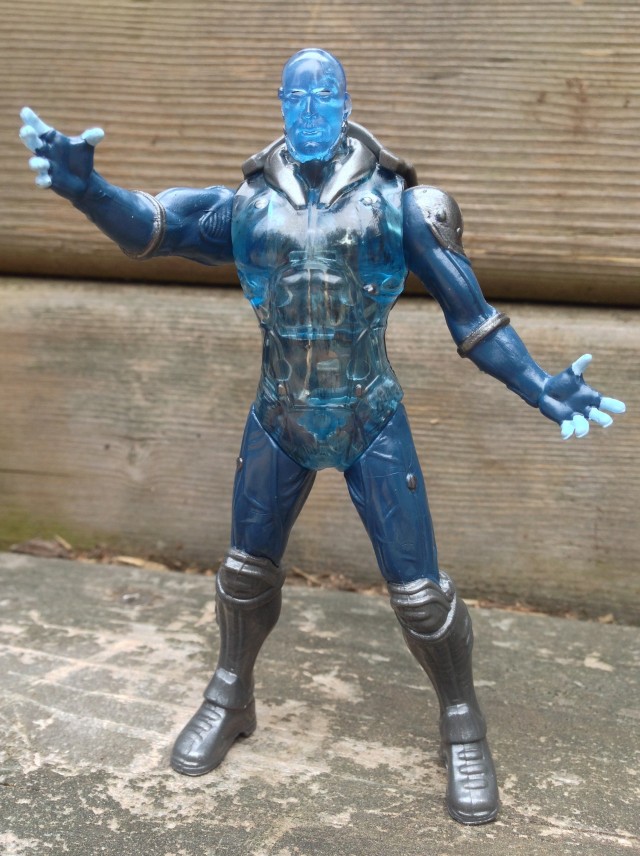 Overall: Try as I might to be positive about this Amazing Spider-Man 2 Electro 4″ figure, he's really quite dreadful. While I totally dig the light-up feature Electro has–which lights up super-bright and works great–utilizing said feature ends up saddling Electro with a bulky, screen-inaccurate backpack.
Electro's head sculpt is quasi-accurate but really lacking any of the Jamie Foxx Electro personality seen in the trailers, the authenticity of the costume design Hasbro went with is highly questionable, and the articulation/posing on this figure is a train-wreck. If you absolutely must have a 4″ Electro Amazing Spider-Man 2 figure, this is your only choice, but I'd remiss if I recommended this Electro toy to anybody else. Highly disappointing.
GRADE: D-