The vastly under-appreciated Marvel's Agents of SHIELD is my favorite non-animated TV series in many years, and I am absolutely starved for merch for the show. Despite tying in with several of the latest Marvel movies and having a high-profile primetime television spot, Agents of S.H.I.E.L.D. toys are basically non-existent. So when the Funko Agent Coulson POP Vinyls figure went up for order on Entertainment Earth, I instantly knew he would be mine. Now that the Agents of SHIELD Agent Coulson Funko POP! Vinyl has arrived, I'm both overjoyed and a little disappointed…
The Right:
With the release of this Funko POP Vinyls Agent Coulson figure, the grand total number of figures and toys released specifically for Agents of SHIELD increases to… one. Poor Agents of SHIELD is apparently underrated by both viewers and toy companies, which is a real shame for the fans that love the rapidly-improving series.
That said, Funko gets a high-five from me for giving us the first Agents of SHIELD figure with this Agent Phil Coulson POP! Vinyl figure. Thanks, Funko!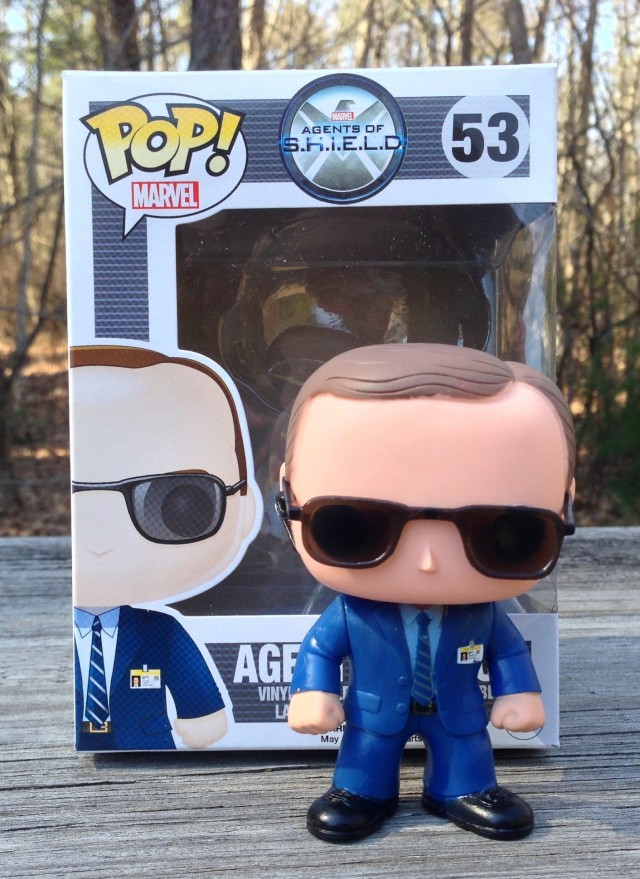 Some will say that it's hard to give a lot of personality of a toy of a guy wearing a suit, but I think Funko did an admirable job with their interpretation of Agent Phil Coulson. He's got a communications headset molded onto his right ear, a SHIELD name tab on his chest, and best of all, his slick black sunglasses over his eyes!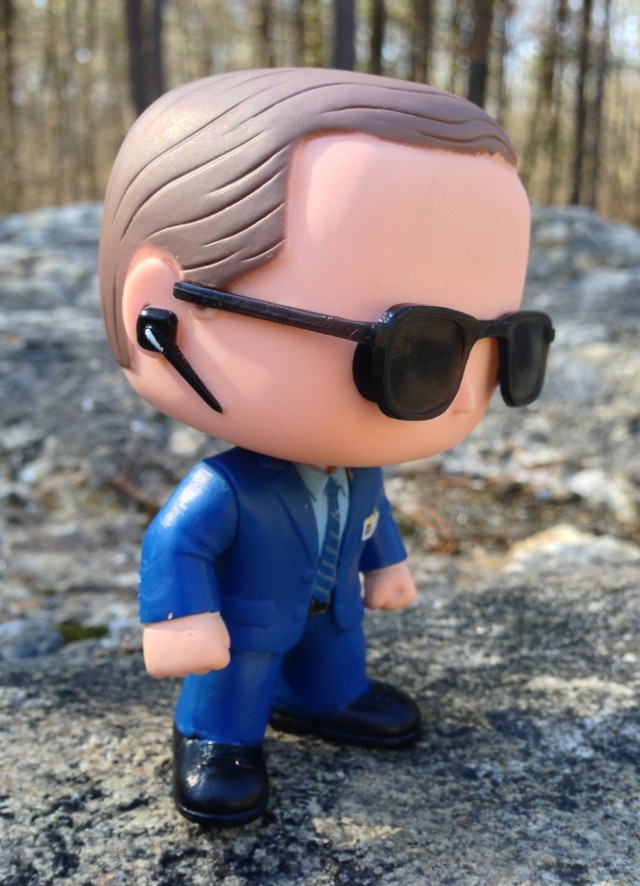 You might think Funko would cheap out and not even paint Coulson's eyes since he's wearing sunglasses, but he does in fact have eyes. In fact, Funko Agent Coulson's glasses are semi-translucent, so under the right lighting you can actually slightly see his eyes through the glasses.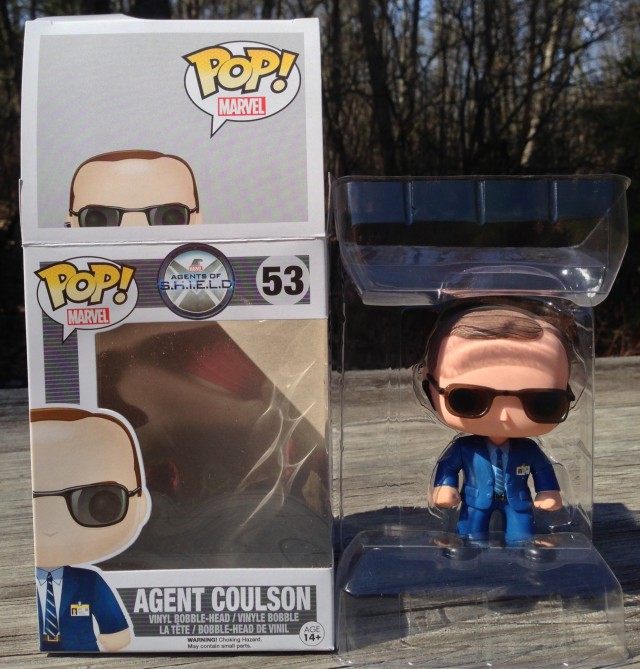 An even more fun detail than that, however, is Coulson's itty-bitty ID tag! The "photo" on the ID Badge is ridiculously small, but even so, Funko found a way to print on a photo that is just distinguishable enough that you can make it out as Phil Coulson. I thought this detail was really cool and adds a lot to the figure as a whole.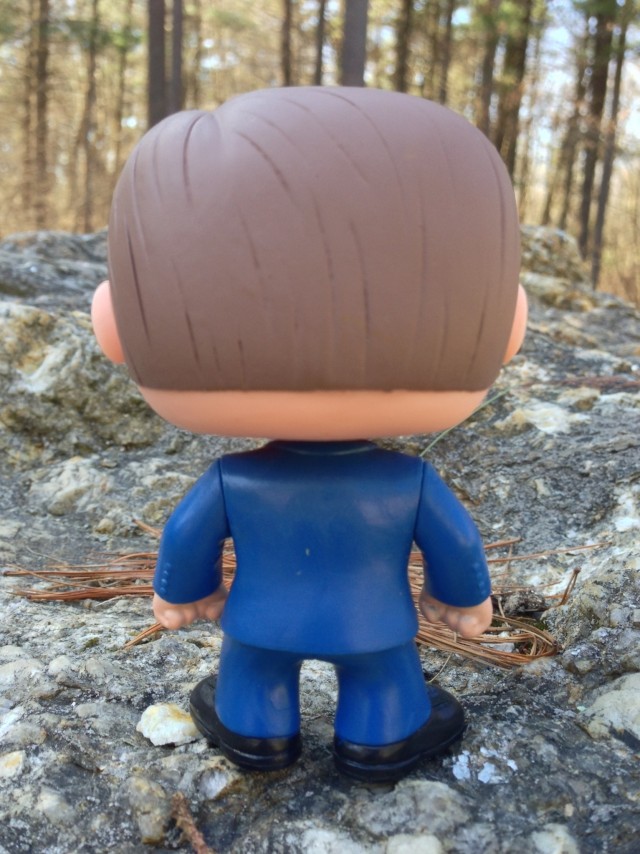 While I usually picture Coulson wearing a much darker suit, Funko smartly chose to outfit their Coulson POP! Vinyl in a medium-blue suit and tie. This actually works out very well, as the figure would be very drab outfitted in a black suit with black glasses and shoes. The blue suit adds a lot of contrast to Funko Agent Coulson's suit and makes the whole figure pop much better (no pun intended).
The Wrong:
The Agent Coulson POP! Vinyls bobble-head figure is a Funko product, so regular readers will know exactly what I'm about to complain about here: quality control. Quality control is the blight of Funko's existence, and while the recent Funko Black Widow was largely perfect QC-wise, Agent Phil Coulson doesn't fare nearly as well.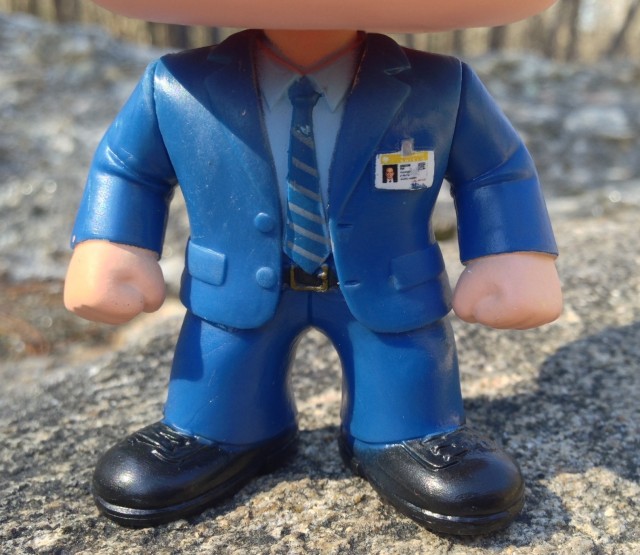 As has been the case with the majority of Funko Marvel POP Vinyls I've bought over the years, the paint applications are sloppy on the Funko Coulson figure. He's got a black spots on the side of his head, various splotches all over his tie, and missed paint lines on the edges of his suit and hair. I've had Marvel Funko figures with far more paint deco than this, but it certainly doesn't do Funko Coulson any favors.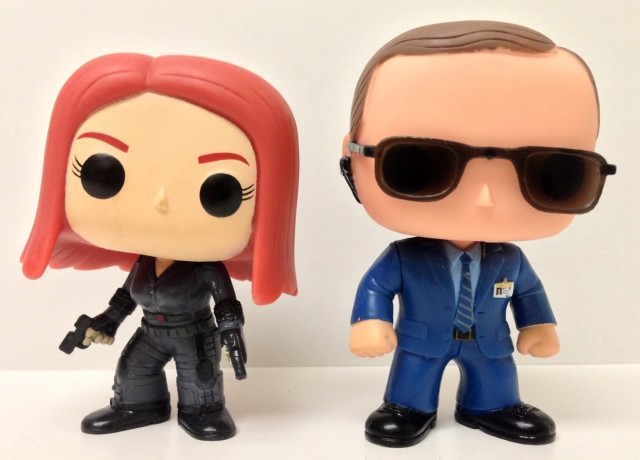 What's more jarring and annoying for me than the paint flaws, however, is Agent Coulson's skin-tone. Despite the packaging artwork, Coulson's head and hands are much darker and redder than I expected them to be. I don't know if Coulson is red from embarrassment about his paint apps or exhausted from coming back from the head, but the color on Funko Coulson's skin just isn't right.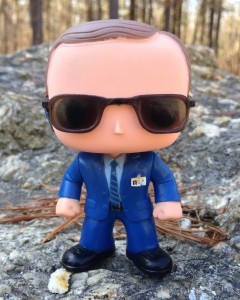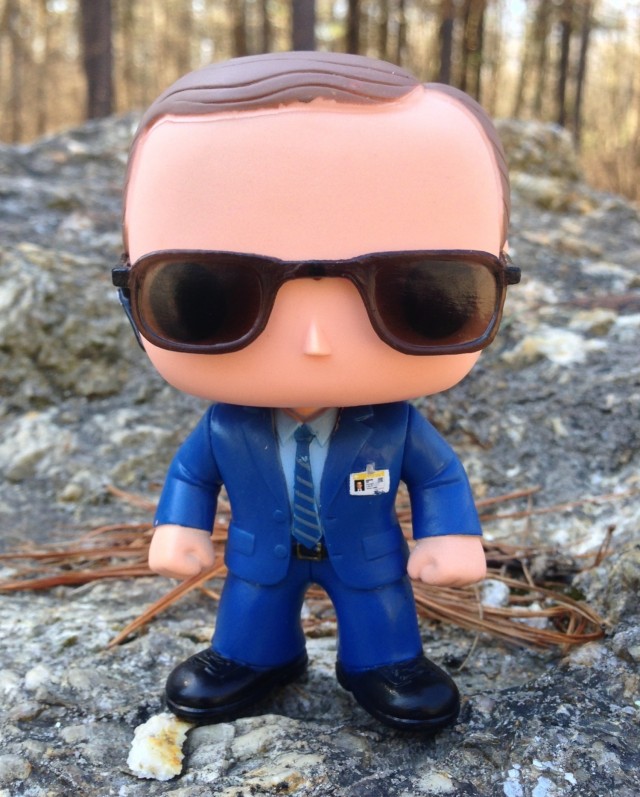 I got my Agents of SHIELD Funko Agent Coulson POP Vinyl figure from Entertainment Earth, which was the first retailer to open pre-orders for Coulson. You might be able to find the just-released Agent Coulson vinyl at your local comic book or specialty store, but personally I have terrible luck finding POP Vinyls at retail.
Overall: The Funko Agents of SHIELD Coulson POP Vinyl is a fun and well-designed figure that I'm thrilled to add to my collection. I wish more companies were willing to give Agents of SHIELD fans some branded collectibles to get excited about. That said, Coulson suffers from poor paint applications and a weird, reddish skin-tone that I'm no fan of. In the end, is the Funko POP Vinyls Coulson perfect..? Definitely not. But he's still a fun toy for a show that gets little swag, and I'm very satisfied with my $10 Agent Coulson Funko figure.
GRADE: B+