On the eve of the Amazing Spider-Man 2 movie hitting theaters, I figured it was about time I wrote a review for the most high-profile movie Electro action figure. No, it's not a Hot Toys Electro–they haven't announced a sixth scale Electro (yet). Nor is it a Marvel Select Electro figure, as DST didn't have reference materials in time to create a super-detailed Electro. No, this time out the most "high-end" figure is actually coming from Hasbro. Electro is only $17 shipped online right now, but is the Amazing Spider-Man 2 Marvel Legends Electro figure actually any good…?
The Right:
After pining away for years for all of the extras and alternate body parts that import figures get, Hasbro finally gave collectors something they never thought that they'd see as part of the Marvel Legends Amazing Spider-Man 2 figures line: alternate hands and alternate heads! That's right–you get alternate "powered-up" hands and a "super-charged" head for Electro without having to buy a whole other figure or look for a rare and expensive variant! Thanks, Hasbro!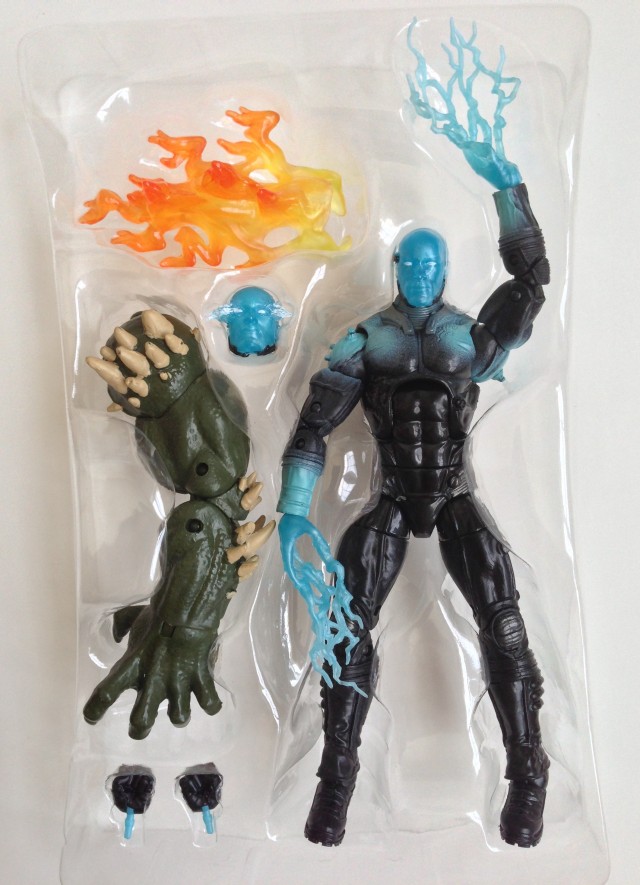 I really like the alternate hands for Electro that have the tendrils of electricity emanating from them. In fact, they're probably my favorite thing about the whole Marvel Legends Electro 6″ figure! These kinds of effects pieces are common in overseas lines like Bandai's Figuarts Zero and SH Figuarts, and I'm thrilled to see Hasbro incorporating neat effects like this themselves.
Obviously the regular fist hands for Electro are a bit boring, but I'm quite grateful that we get to choose whether we want our Electro to be in "battle mode" or "casual mode" at all.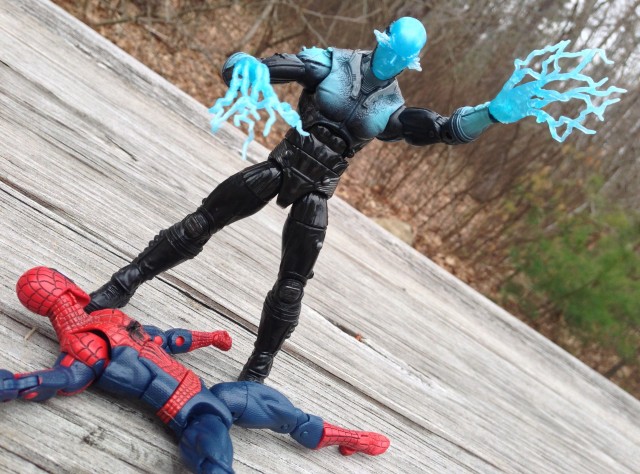 Whereas the Hasbro 4″ Amazing Spider-Man 2 Electro figures is basically just a non-poseable statue, the movie Electro Marvel Legends 2014 figure is super-articulated and has plenty of posing potential.
Electro has a ball-hinge neck, upper torso ab crunch, swivel waist, ball-hinge shoulders, swivel biceps, double-hinge elbows, swivel-hinge wrists, ball-jointed hips, swivel thighs, double-hinge knees, swivel boot-cut calves, and ball-jointed ankles with ankle rockets.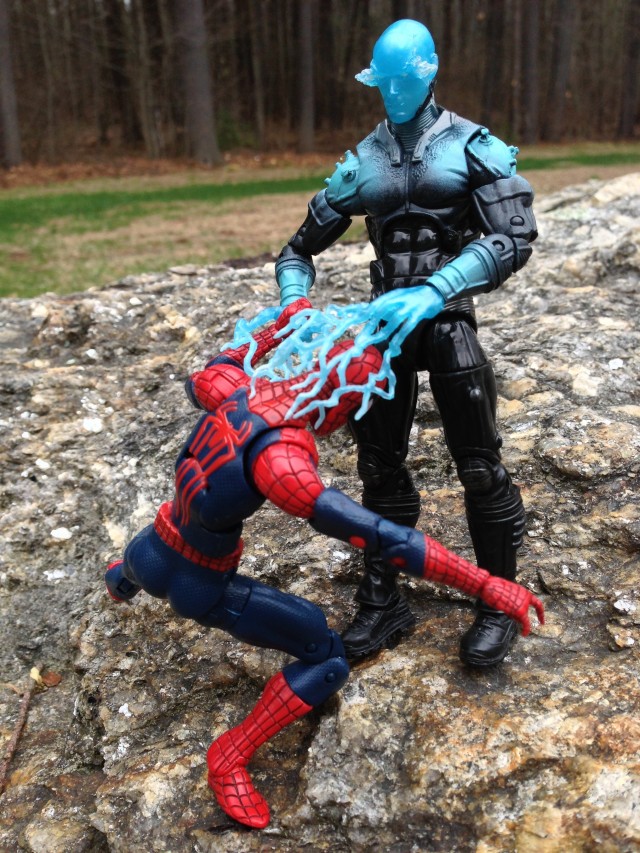 I don't know that Electro necessarily needs all of that articulation, seeing as how the master of electricity isn't likely to be busting out any black belt kung-fu on Spidey or anything, but it's nice that the articulation is there if you want to utilize it.
The Wrong:
The main disappointment I have with this Hasbro Amazing Spider-Man 2 Electro Marvel Legends figure has to do with both of the head sculpts included. While I think the idea of the "overcharged" head with electricity coming out of Electro's eyes is pretty cool, the facial expression fails both Electro heads.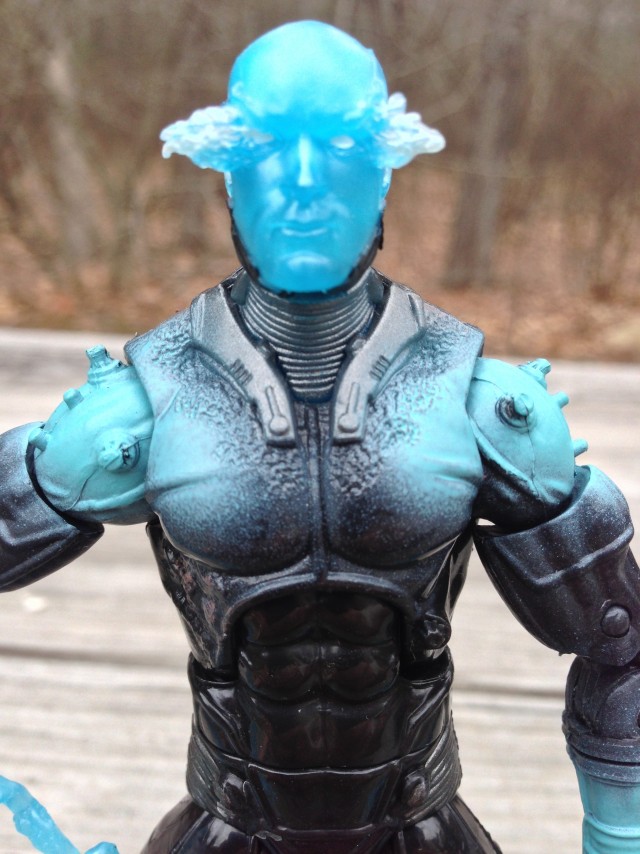 Rather than looking crazed, angry, vicious, or arrogant, the Marvel Legends Electro head sculpt looks, well… bored. Electro has a totally stalwart, disinterested look upon his face, and it truly does take away from the figure's aura. From what we've seen of Electro in the trailer, this nonchalant facial expression simply doesn't seem consistent with the character's personality or on-screen demeanor.
Maybe this blank expression would make sense for Dr. Manhattan or the Silver Surfer, but it sure doesn't seem appropriate for movie Electro.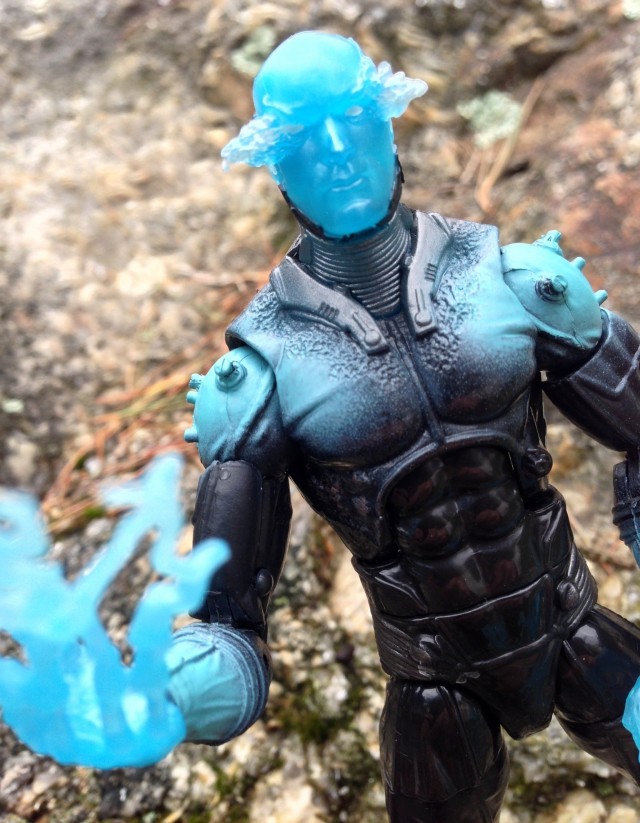 While I think Hasbro did a better job with Electro's body than they did his head, I still have my complaints about it. To simulate Electro's light reflecting off his costume, Hasbro used blue paint deco on Electro's upper-body. Unfortunately, this looks really poor to me in-person–it looks more like Electro accidentally blasted himself with a spray-paint bottle he turned the wrong way than anything else.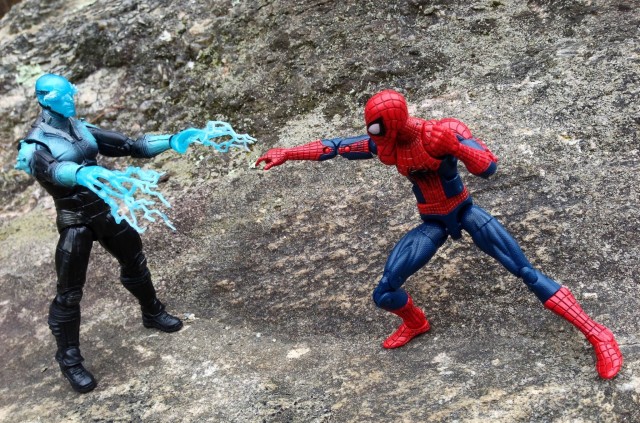 Finally, the quality control of the particular 6″ Electro Marvel Legends figure I got is unusually bad. While the paint has been applied as intended, Electro's waist, hips and (especially) upper torso are all terribly loose. I try not to let this sort of thing bother me, but when Electro's joint start rattling and flopping all around at the slightest touch, it's pretty hard to look the other way.
"Where Can I Buy It?!"
While the Electro Marvel Legends 6″ figure is packed one-per-case and can be tricky to find at retail among the piles of unsold Superior Spider-Man figures, the Marvel Legends Amazing Spider-Man 2 Electro action figure can be picked up online for under $17 shipped. That's less than Electro would cost at a local store, even if you could find him! One would assume that Electro will continue to ship this year, but I've yet to see any future revision cases of the Amazing Spider-Man Marvel Legends series announced.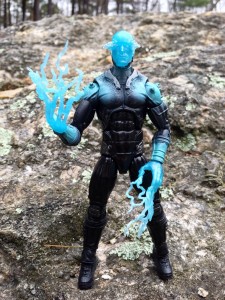 Overall: As there are no "higher-end" Electro figures in the cards anytime soon, I sincerely wish I could give this Marvel Legends 6″ Electro figure a sparkling review and say how impressed with it I am. I can't really do that, though.
While I appreciate the articulation, effects pieces and extra head/hands, this is otherwise a wholly unimpressive figure. The bored head sculpt on Electro is jarring, the articulation on my Marvel Legends Electro action figure is loose and floppy, the "glowing" paint deco looks strange, and the costume doesn't look terribly authentic to me.
While this is the best Electro figure Hasbro has produced, it still falls below average and is just not all that accurate or fun.
GRADE: C