While the Hasbro Marvel Legends Infinite Series 3 3/4″ figures are back in 2015 for another year, the style and articulation level of new molds have undergone a drastic change going forward. This switch hasn't exactly been met with open arms by collectors, but I decided to pick up the new Black Cat figure for review anyway. Is she good? Sort of. Is the Marvel Infinite Series Black Cat worth buying for $13-$15…? Well…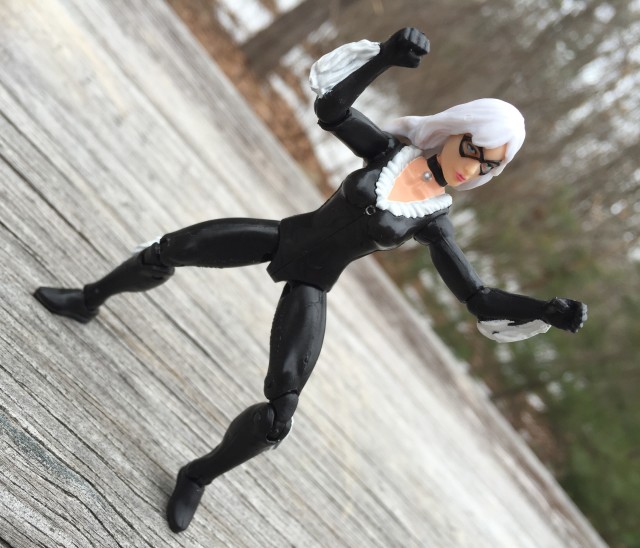 The Right:
When I saw the first reveal photos of the Marvel Universe Black Cat figure during San Diego Comic Con 2015 last year, I thought that the figure looked more like a cheap Happy Meal Toy than an action figure I'd be willing to shell out ten dollars or more for.
As it turns out, however, the Marvel Infinite Series Black Cat 3 3/4″ figure looks far better than I was expecting her to based off of earlier images.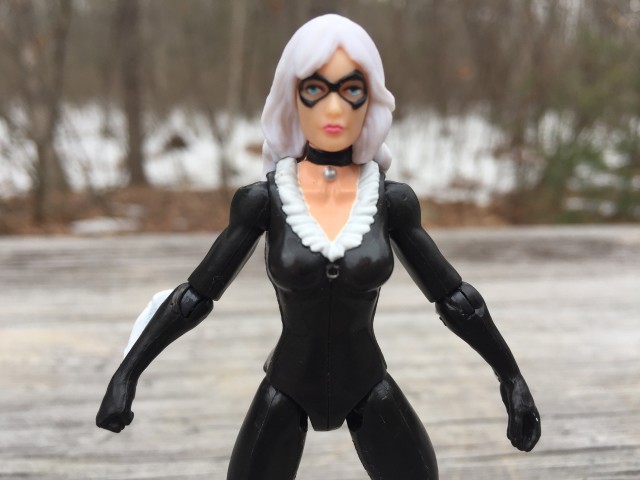 Hasbro has produced some ugly women in the 4″ scale over the years,  but I think that they gave Felicia Hardy a surprisingly pretty face.
While Black Cat certainly has a dull, neutral expression plastered on her face, her hair and facial features look dead on, and the paint has been applied to her face masterfully. I am pleasantly surprised!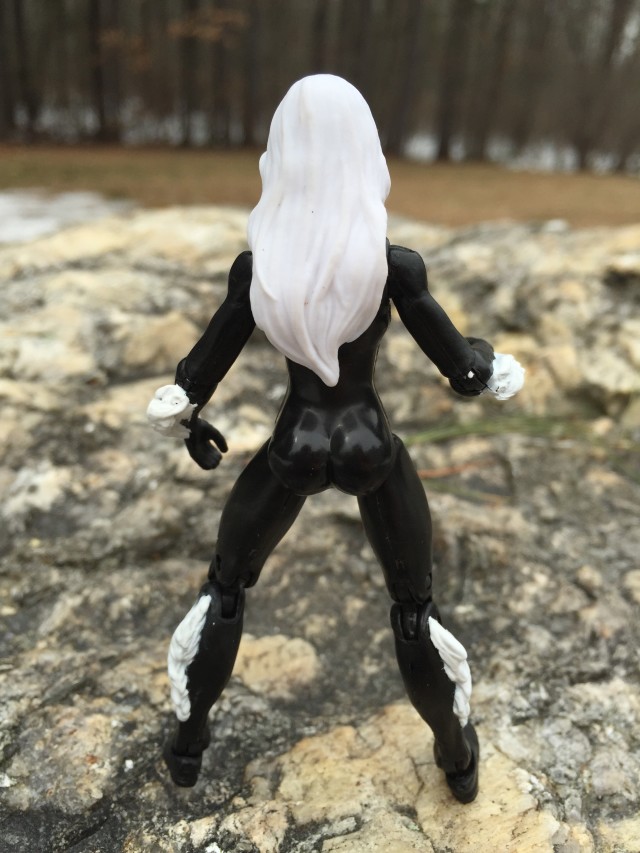 I'm also thrilled that Felicia's hair is pure white instead of the awful blue shade of last year's Marvel Legends Black Cat's hair.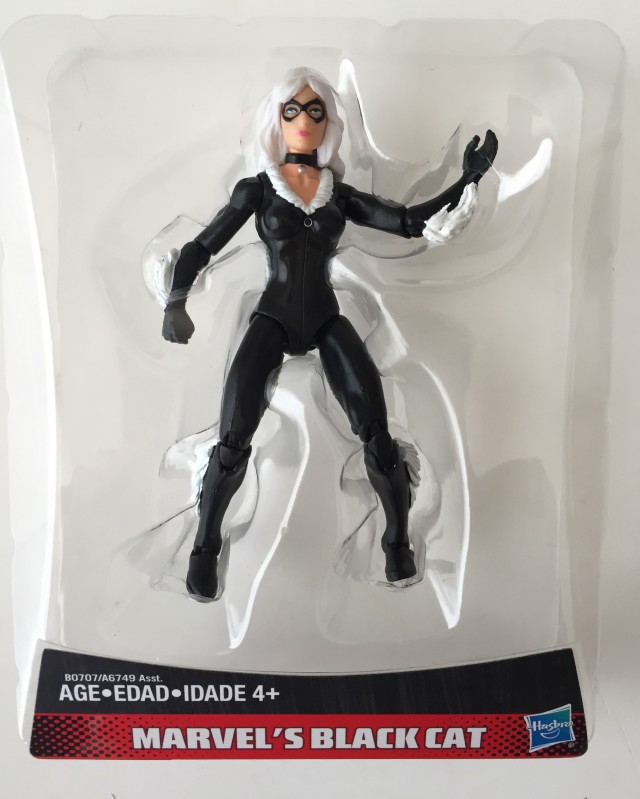 Meanwhile, Black Cat's body features several all new molds, including fur-lined legs and forearms and a new torso with fur around the neck and even a little zipper.
Hasbro said that they were cutting down on articulation in favor of greater sculpting detail and new tooling, and I can definitely see the new tooling dollars at work on this Marvel Infinite Series Black Cat.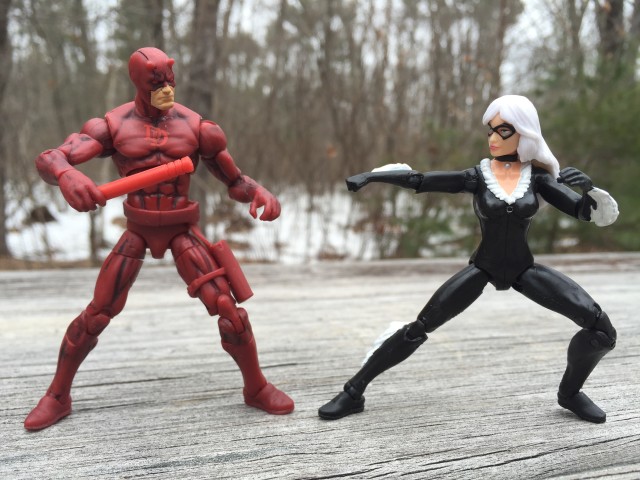 I was doubly surprised to see that the articulation isn't as bad as I feared. Black Cat still has ball-jointed shoulders and hips, double-hinge knees and even ball-jointed ankles with ankle rockers.
The ankle rockers are a big deal, because they make up for some of posing limitations caused by the points of articulation that aren't present. And speaking of which…
The Wrong:
Sadly, this Hasbro Black Cat action figure's upper body articulation pales in comparison to her lower body articulation. The 3 3/4″ Black Cat figure features a ball-jointed head (with the range of motion restricted greatly by her hair sculpt), ball-jointed shoulders and elbows, and…. well, that's it.
No, really: no ball-jointed upper torso or ab crunch, no swivel waist, no swivel biceps… not even any wrist articulation of any kind. Five total points of articulation above the hips feels really, really cheap, and the missing wrist articulation bothers me a lot more than I'd expected.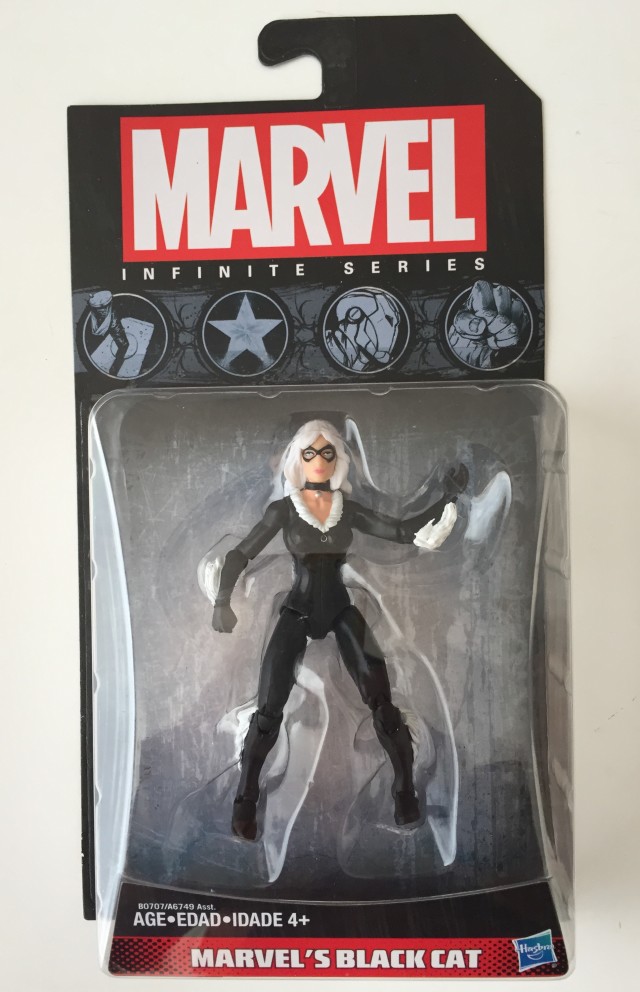 Back when Hasbro priced the Marvel Universe line at $5, I probably could have dealt with the poseability shortcomings. But this Marvel Infinite Series 2015 Black Cat figure wasn't five bucks–she was thirteen plus tax at Target.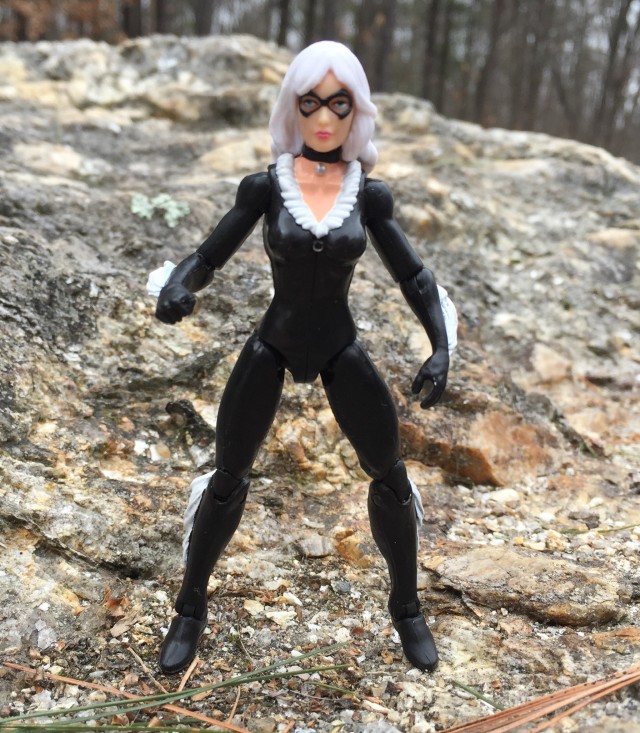 While she's a nicely done toy for what she is, the Black Cat Marvel Universe figure just is not worth 14 dollars to me for such a small piece of plastic without any accessories and with cut-back articulation.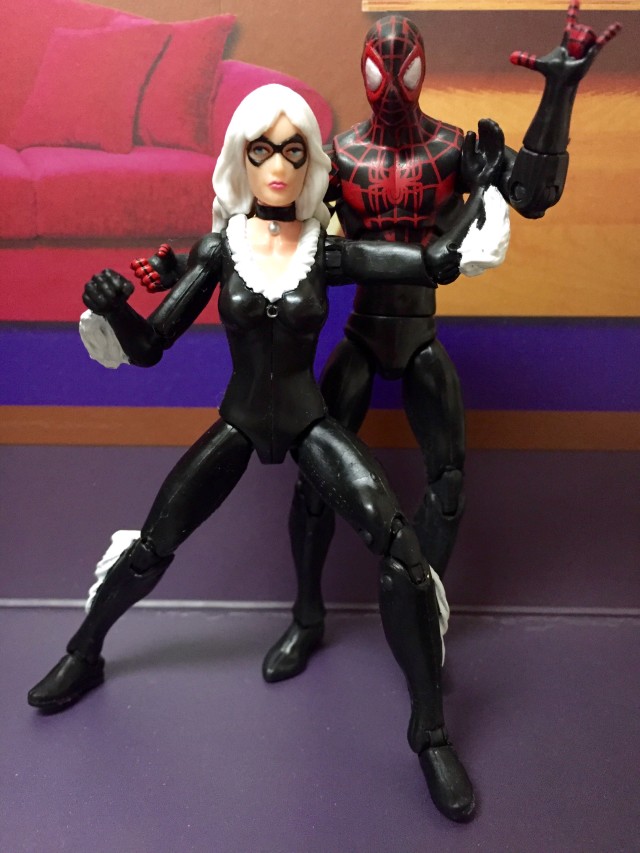 Overall: I was expecting this Marvel Universe Black Cat figure to be positively dreadful, but I was pleasantly surprised by her pretty face, excellent lower-body articulation and nice-looking new tooling.
That said, the upper-body articulation on the 4″ Black Cat action figure is atrocious, and her $13 MSRP is a killer for a figure this size with no accessories. Felicia is a decent figure, but at $14 after tax for a 3 3/4″ figure with no accessories and limited articulation, my days of collecting this line may be coming to an end.
GRADE: B-