Rejoice, true believers! The day that we Hasbro Marvel Universe Collectors have long dreamed of is at hand! It's been a very grueling wait, but the first assortment of Marvel Universe 2013 3.75″ action figures have finally arrived in the United States! Being found in stores across the country, it's Marvel Universe Wave 22, including all-new figures of Elektra, Rhino and Mysterio! And they've even brought along a new version of Captain America and a surprise, unannounced repaint of Iron Fist…
We've been more than patient with Hasbro this year, and that patience has finally borne fruit–in the form of the highly-anticipated Marvel Universe Wave 22 action figures! This 2013 Marvel Universe Series 1 figure set started to appear at Toys R Us Stores across the country during the holiday weekend, and
you can easily find Marvel Universe Wave 22 individuals and sets of the new figures on ebay now
(albeit marked up a bit). As promised by Hasbro back at the New York Toy Fair in February 2013, the first assortment has arrived, and it includes the scheduled figures of Rhino, Marvel's Mysterio, Elektra and a new Captain America.
All four of these figures are packed at two–yes, two–per case! This means that if you hit your local store at just the right time, you have a legitimate shot at being able to compare duplicates on the shelves and pick out the new Marvel Universe figures with the best paint jobs! It's been so long since I've had that option with the Marvel Universe line that I truly can't remember the last time I did so (and believe me, with my OCD I compare paint jobs on figures in stores when possible as frequently and thoroughly as if I was writing a doctoral thesis on them).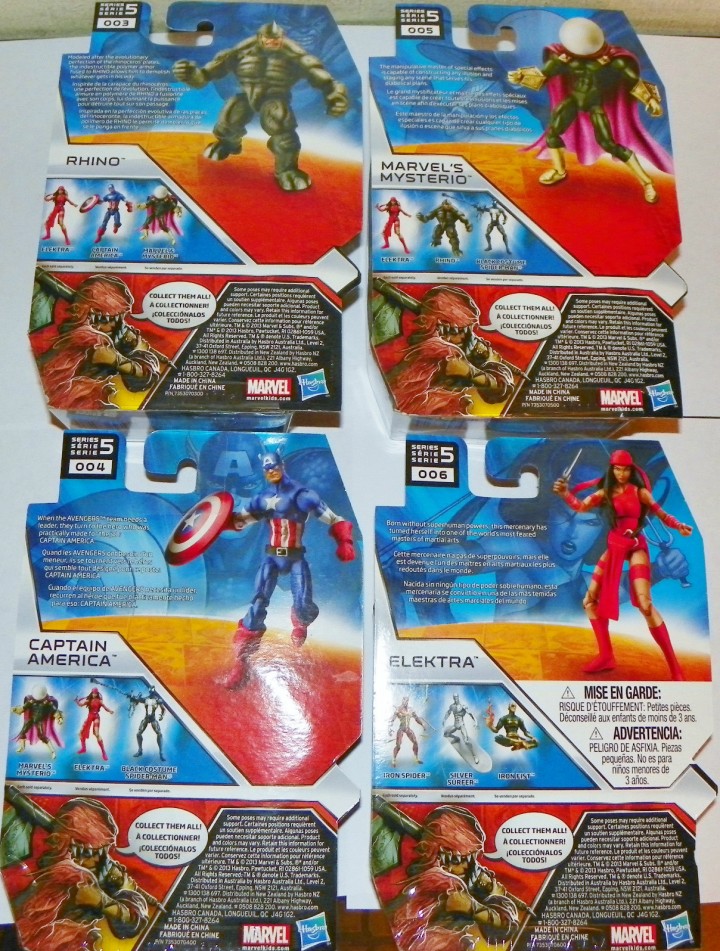 I was quite frankly flabbergasted to see Gunna or "Troll" of the now-cancelled Thunderbolts comic book adorning the cardbacks for this series! Is it possible we're going to get a Troll/Gunna figure in a team pack later this year (or maybe even in Marvel Legends)? I guess we'll have to wait and see. The cardbacks also show off the four repack figures rounding out the case assortment: Black Costume Spider-Man, Iron Spider Spider-Man, Silver Surfer and Iron Fist.
Of course, we knew all those figures were coming–so they're hardly a surprise (other than maybe the fact that Hasbro actually managed to release them before 2014). But what is a surprise is that the Iron Fist figure is a totally unannounced repaint variant of Iron Fist! This time it's the White Iron Fist figure released in December 2011, repainted with green replacing the white.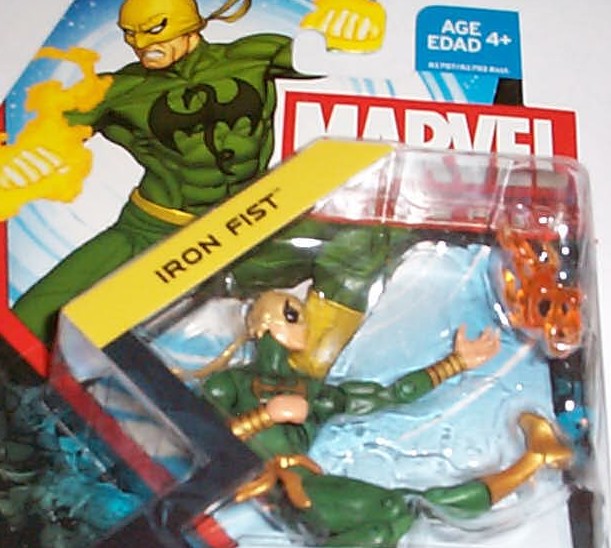 Oy! I've lost track of how many Iron Fists Hasbro has released in the Marvel Universe line now. I could kick myself for having paid a ridiculous amount of money to get the Marvel Universe Wave 2 Iron Fist before it hit stores, considering that now I'll have at least five slightly different Iron Fist Marvel Universe figures. And all I really want is for Hasbro to release that Marvel Legends Wave 3 Iron Fist variant figure that we've been waiting for since last year!
Thus far the only chain I've heard of stocking these figures is various local Toys R Us stores nationwide, but online and specialty stores should get them in stock shortly. Individuals of all the figures are fairly numerous on ebay, so the prices aren't horribly inflated (though they're certainly not as good as retail prices). And if you want to get a whole case of this wave of Marvel Universe set, BigBadToyStore should have sealed Marvel Universe Wave 22 cases of 12 in-stock shortly.
I'll be picking up Marvel Universe 2013 Series 1 Elektra, Rhino, Mysterio and Iron Fist figures and posting reviews just as soon as I manage to hunt them down. Stay tuned!