Apologies in advance to all the non high-end collectors for talking about another Marvel statue, but, well… that's what there is to talk about this weekend (everything else will come at next weekend's New York Toy Fair 2014!). Today, we've got yet another new release from Bowen Designs, and this one's been sculpted by the great Randy Bowen himself–the Bowen Designs Red Skull Action Pose statue!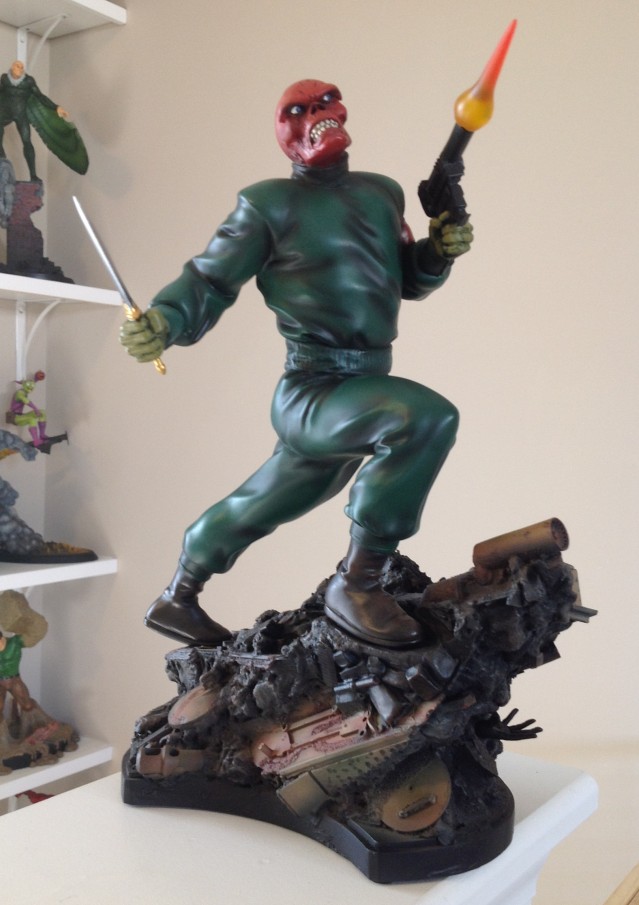 There have been a substantial number of brand-new Bowen Designs Marvel statues shipping out over the course of the past month, and we can add another one to the list. The newest Marvel Bowen Designs statue to ship out is their second-ever Bowen Red Skull statue! This time out, Bowen Designs has chosen to go with a dynamic, action-pose Red Skull full-size statue.
I have a hunch that the translucent blast effect on the Red Skull's pistol will be divisive among collectors, but I actually think it looks really cool. If possible it might have been nice if it was removable, but I like the color and feeling of movement that the non-removable blast effect gives.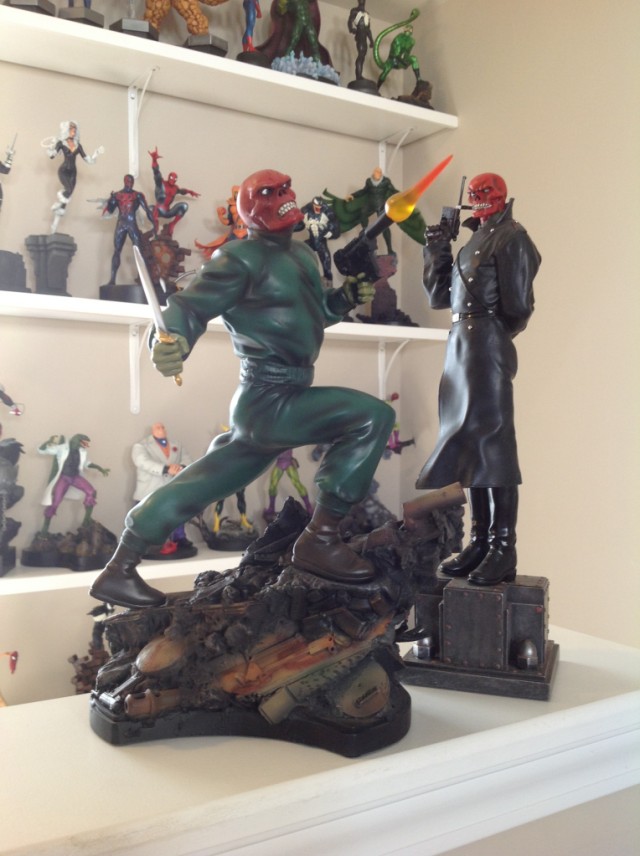 While the first Bowen Red Skull was a more modern, leather jacket-wearing take on the character, this Action Red Skull statue is about as classic as it gets!
We ordinarily don't see many action-posed items of the Red Skull, so that alone makes this an interesting piece. Red Skull's green outfit looks kind of dopey nowadays, but there's no denying that this statue is authentic to the Red Skull's classic appearances wearing this attire.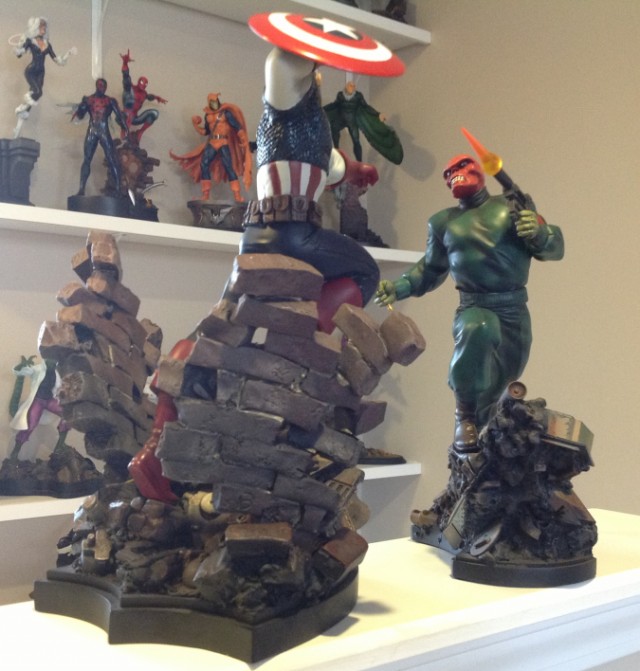 Bowen Designs previously released a classic Captain America Action Pose statue, which this piece is meant to complement. They really do look great together–arguably better than the upcoming Sideshow Premium Format Captain America and Red Skull WWII statues do! Hmmm.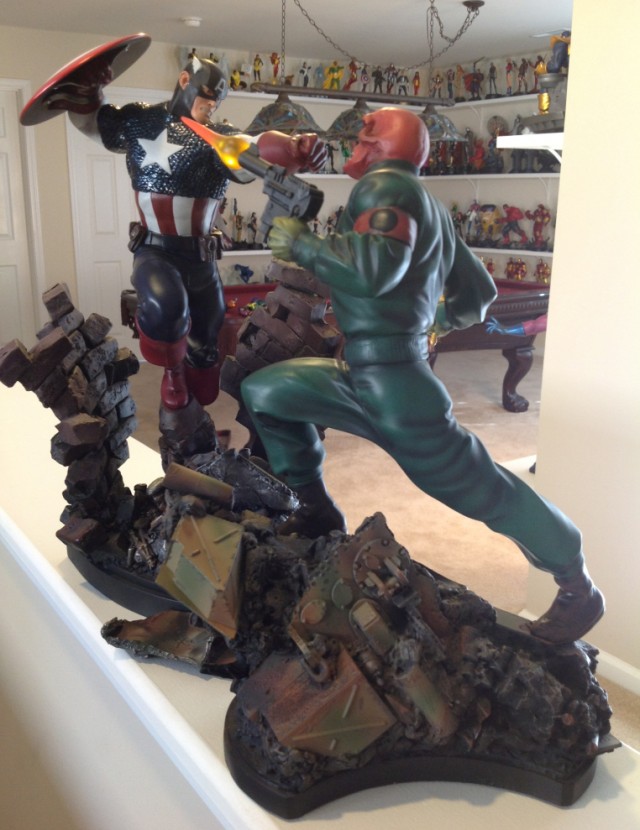 It's worth noting that the new Bowen Design Red Skull Action Pose statue has a blank armband sculpted onto his arm. It's lacking a swastika (for obvious reasons), but you can certainly paint on your own if you feel so inclined.
The edition size on the Bowen Action Red Skull statue is just 600 pieces, which is a bit of a twist, seeing as how the matching Bowen Captain America Action statue had 1500 pieces produced. Cap is indisputably more popular, but I figured there'd be at least half as many Red Skull Bowen statues as Captain America ones produced.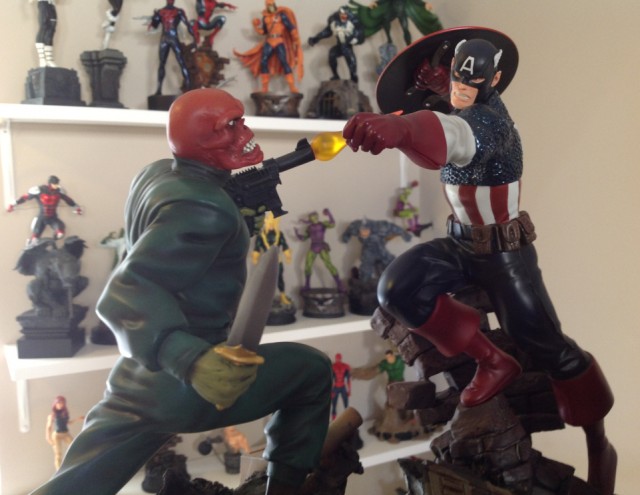 The Action Pose Red Skull statue has been sold out on the Bowen Designs website for months, but you can still get the Red Skull for way below retail from online sellers right now. In fact, I've seen this statue for as low as $160–a full 1/3 off the original retail price of $240! LE 600 is a pretty low edition size, so we'll see how long that lasts for.
The Bowen Designs Red Skull Action full-size statue is about as classic-styled as classic comes. Do you have a space in your collection for an old-time Red Skull statue like this one?
Thanks to thanos13 for giving us permission to run photos of his newly-received Red Skull Bowen Designs statue!