Collecting the Spider-Man Marvel Legends 2014 Infinite Series has been an arduous undertaking. After hitting dozens of stores last month and failing to find even a single figure from Wave 1 (no, not even the Superior Spider-Man figures), I gave up and bought a set online. So the last thing I expected was to wander into a random, heavy-traffic Target on a Sunday afternoon and see one of the variant figures sitting on the front of the pegs staring at me. It was an unlikely occurrence, but I sure am glad I snagged this Spider-Man Marvel Legends Boomerang figure…

The Right:

If you had asked me last year what newly-announced Marvel NOW! comic book would be cancelled inside of six months, I would have instantly answered with "Superior Foes of Spider-Man". But I was totally wrong–the superb writing quality of the "Superior Foes of Spider-Man" comic book have made it a fan-favorite book that's going to outlive "Superior Spider-Man" itself. If a comic series headlined by Fred Myers–Boomerang–surviving past twelve issues isn't due cause for Hasbro to product a Marvel Legends action figure, I don't know what is!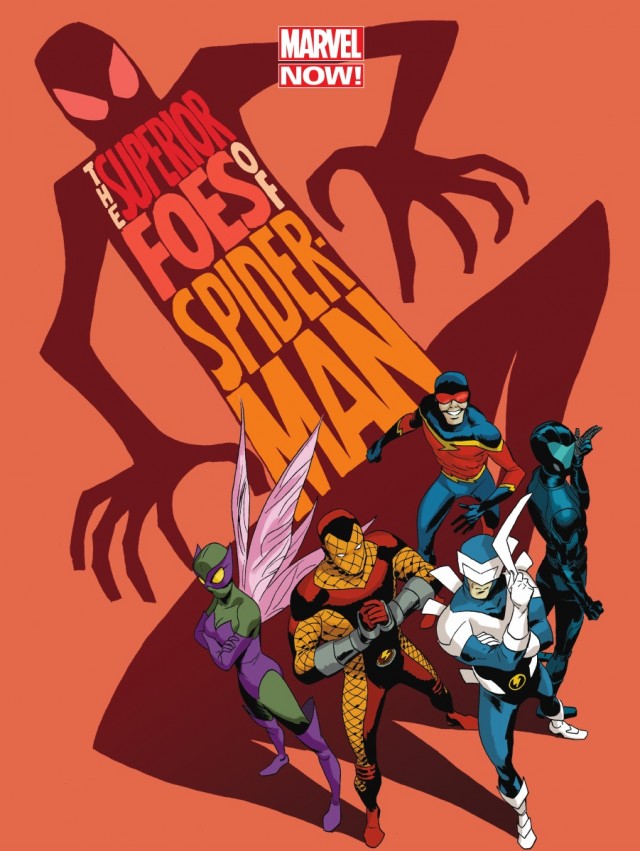 Though he's not exactly a household name, Boomerang is a Stan Lee and Jack Kirby creation that's been around for nearly five decades. Boomerang will fit in wonderfully with last year's SDCC 2013 Marvel Legends Thunderbolts box set, as well as any display of Marvel Legends Spider-Man villains. I wouldn't hold my breath for Hasbro to release a Spider-Man Marvel Legends Speed Demon or female Beetle figure, but I think Boomerang is a stellar choice for this year's Marvel Legends Infinite Series lineup.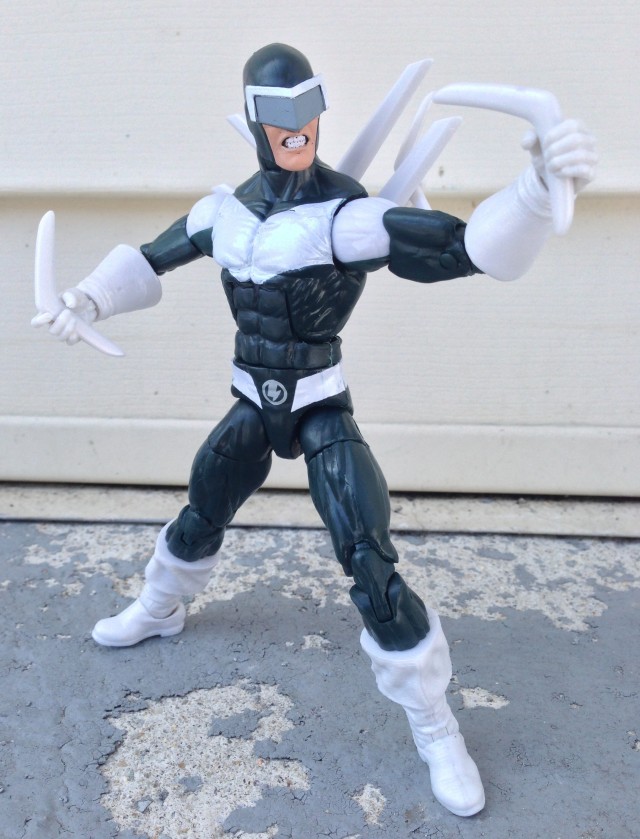 As soon as you cast a glance at the Spider-Man Marvel Legends 2014 Boomerang figure, you can tell how striking the figure looks. Not many prominent characters in the Marvel Universe use a purely white and dark blue/navy color scheme on their costume (only X-Factor Cyclops, that I can think of), so Boomerang really stands out on the shelf among his fellow Spider-Man villains.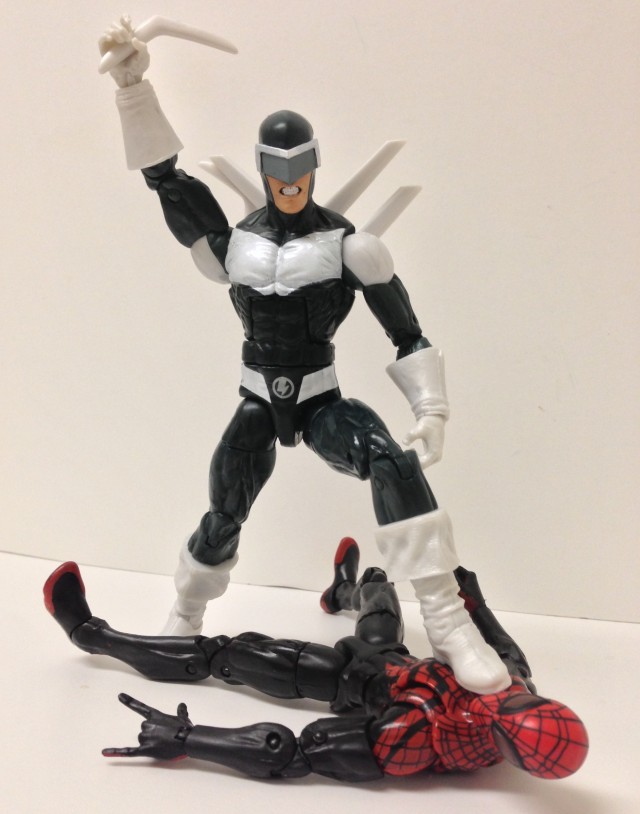 We've had a lot of neutral/bored faces in the Marvel Legends figure line in the past few years, so I was pleased to see that Hasbro designed a more expressive face for Boomerang. While I'm not convinced that the teeth-showing growl on Boomerang's face is an appropriate match for the character, there's no denying that the expression is full of more personality than we've seen on a lot of Marvel Legends action figures in recent years.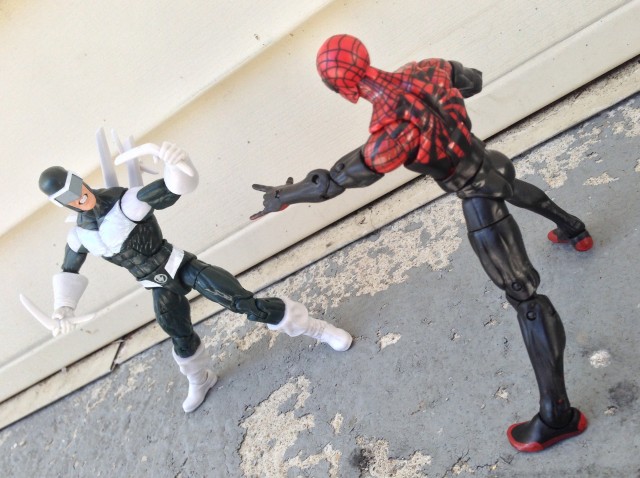 While the Ultimate Beetle figure that I reviewed a few weeks ago was held back only by its articulation restrictions, Boomerang fares far better. You can pose Boomerang basically any way you'd want, as he features ball-jointed hips, swivel thighs, double-hinge knees, swivel boots, swivel ankles (with ankle rockers), swivel waist, upper torso ab crunch, ball-hinge shoulders, swivel biceps, double-hinge elbows, ball-hinge wrists and a ball-hinge heads. In short, this figure has ever iota of articulation you could ever imagine it having.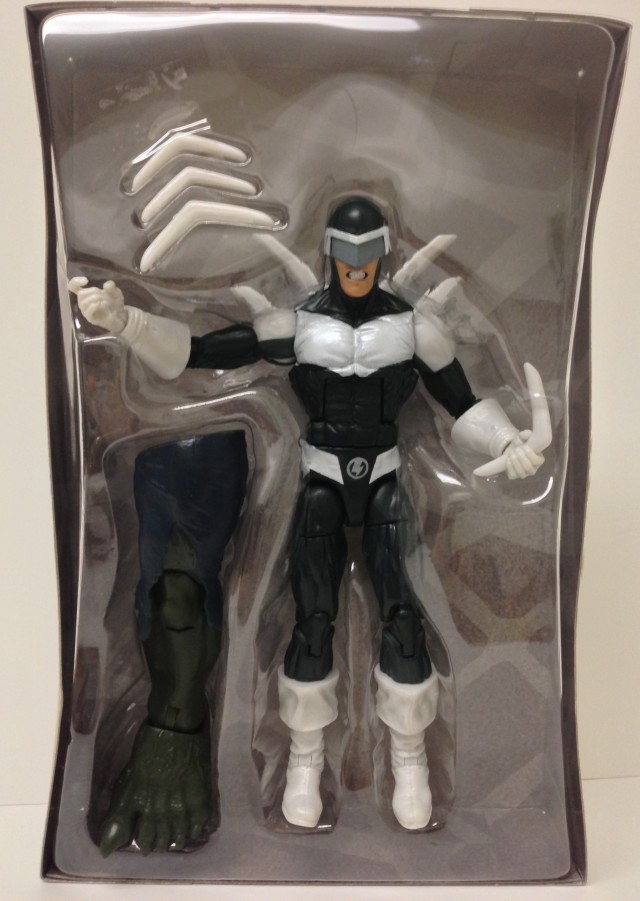 On the accessories front, Marvel Legends Deadliest Foes Boomerang is absolutely loaded. He comes with an Ultimate Green Goblin Build-A-Figure leg, a detachable backpack weapons rack, two large boomerangs and two small boomerangs.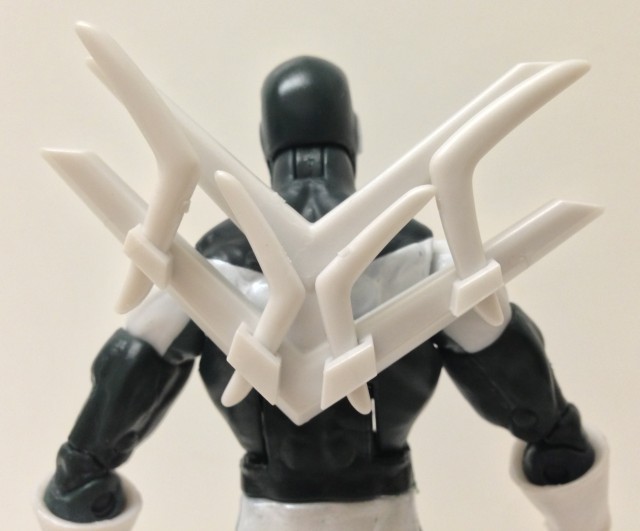 All of the boomerangs can be stores in the weapons rack on Boomerang's backpack, which is a very cool unique mold. While Boomerang has difficulty holding the two smaller boomerangs in his hands (although it can be done), the two larger boomerangs can be held tightly in his grasp.
The Wrong:
If there's one area where this Boomerang Marvel Legends Infinite Series variant figure falls short, it's in the paint department. As wonderful as this toy is otherwise, the paintwork on it is very sloppy–far more than I'd expect on a $20 action figure.
While the Spider-Man Legends Boomerang figure looks terrific from a few feet away, up-close it's very obvious that there are little spatters of blue paint on his face, helmet visor, and the white of the upper torso of his costume. If you're obsessive-compulsive about your action figures' paintwork like I am, this kind of QC may make you insane, so be very careful when buying your Boomerang figure.
I got my Spider-Man Marvel Legends running change variant Boomerang figure from Target. Your best bet is to check your stores as frequently as possible for these variants–otherwise you're going to have to spend the laughable, astronomically-high prices being charged on ebay right now for them.
Overall: Marvel Legends Boomerang gets held back from perfection by a bit of paint slop and a questionable facial expression choice, but this is an overall excellent figure of a character who most people probably never expected to have an action figure of–ever. With all the necessary articulation to strike the poses Boomerang would be in, plenty of accessories packed-in and an eye-grabbing color scheme, this is an outstanding figure of a character who is currently as relevant as he's ever been in the Marvel Universe. Highly recommended (for people who know who Boomerang is).
GRADE: A-