If there's one Marvel licensee out there that doesn't get the buzz and notoriety it deserves lately, it's Bowen Designs. While Bowen Designs was the pioneer of the Marvel mini-busts sensation and one of the first companies to ever mass produce Marvel statues, its star has fallen a bit over the past few years as new companies like Sideshow and Gentle Giant have begun hogging the limelight. I want to make a concentrated effort to shift some focus back on Bowen, and I'll begin by looking at their latest-released statue: the Bowen Designs Human Torch statue… limited to just 500 pieces produced!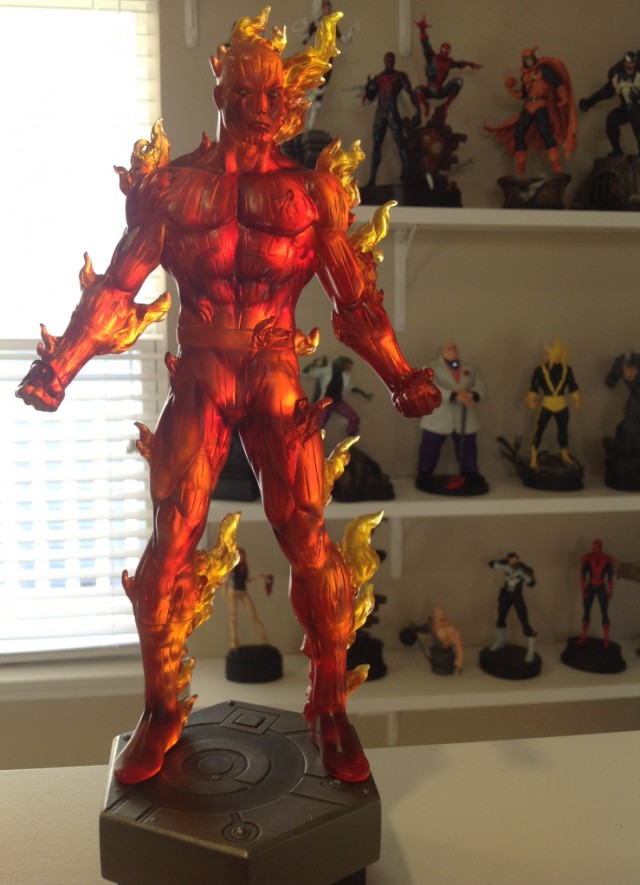 I grew up reading old Fantastic Four comic books, and while I feel like I've sort of outgrown that team now, they'll always hold a special spot in my heart. Similarly, Bowen Designs will always hold a special place in my heart as being the first high-end collectibles company to really catch my attention and make me drop ludicrous sums of money on individual items.
But while I've been collecting Bowen Designs mini-busts and statues since I was in college (despite the fact that I really couldn't afford them then), I've never owned a statue of my favorite Fantastic Four member before–the Human Torch.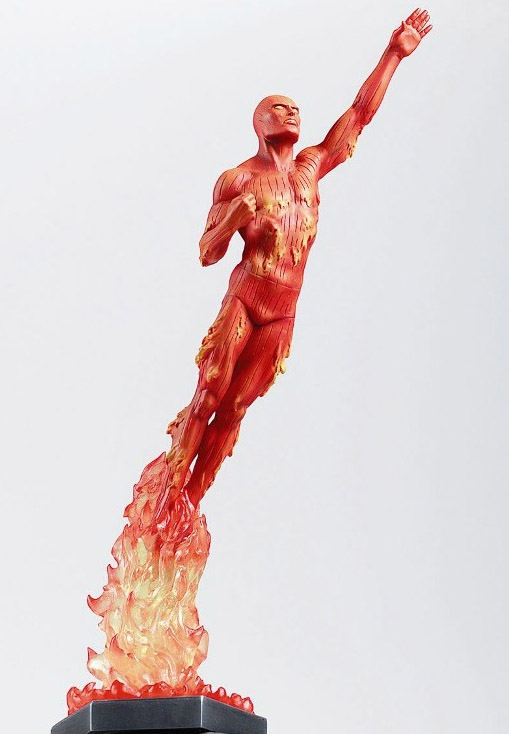 This is the third time Johnny Storm has been released as a statue by Bowen Designs. The first Bowen full-size statue of the Human Torch was released in 2001 with an edition of 4000 (yes, 4000) pieces. The opaque paint job on that Human Torch and flying pose just didn't do it for me, and I decided to pass on that Human Torch. Little did I know it would be more than a decade before another was released!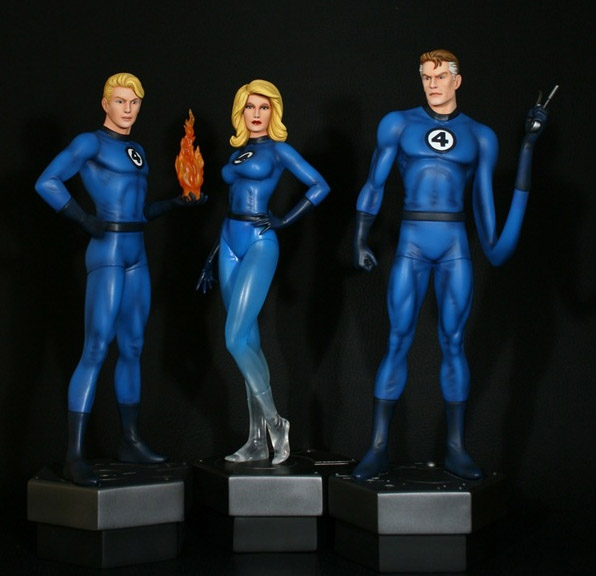 In mid-2012, Bowen Designs released a Fantastic Four Statues three-pack containing Mr. Fantastic, the Invisible Woman and a human form Johnny Storm statue. I love Johnny, but again–this wasn't really what I was looking for.
Thankfully, the third (and probably final) time is the charm–after being delayed since last fall, the newest Bowen Designs Human Torch statue is now shipping! Whereas the prior two statues of The Human Torch have left me a tad cold (that is totally not intended to be a pun), this one is everything I ever wanted from a Human Torch statue. To be blunt, it is hot (again, no pun intended–honest!).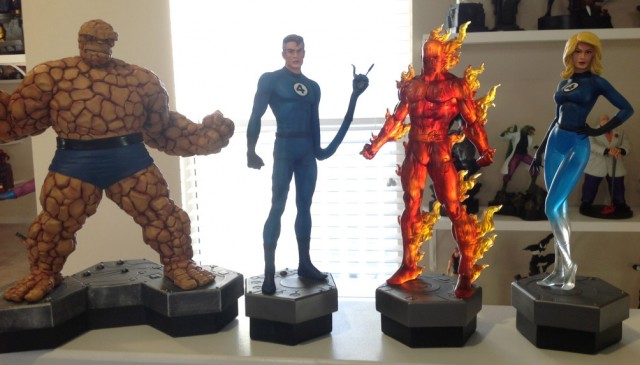 Adding the new Bowen Human Torch full-size statue into the mix really enhances the previously-released Bowen Designs Fantastic Four statues, really bringing the whole team to life!
Like the Bowen Clear Iceman statue released in 2013, Bowen Designs uses translucent resin to great effect here.The various colors of translucent resin on this piece really make it pop–this Human Torch statue feels like a statue made of living flames and not just a guy painted orange this time!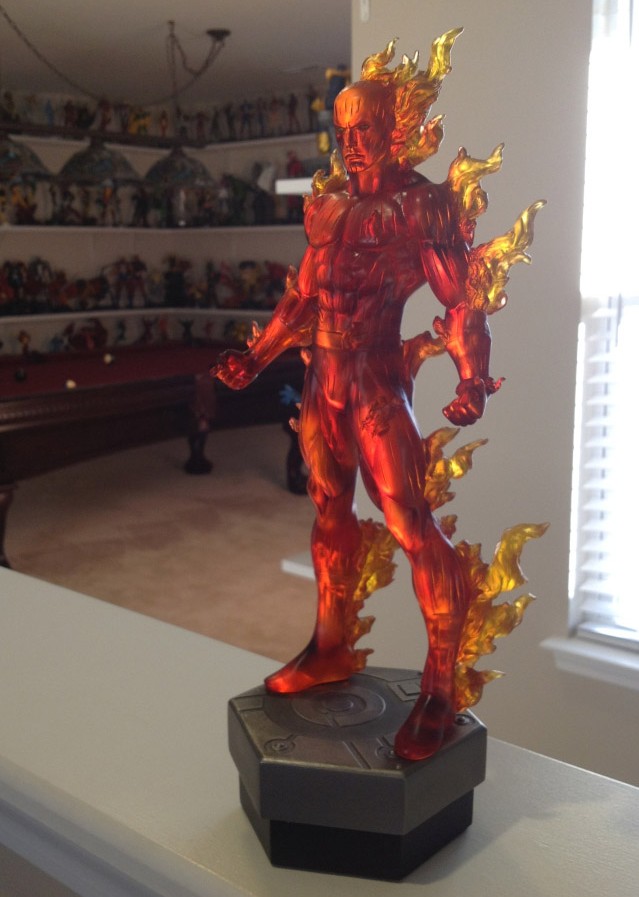 Sculpted by the world-famous and beloved Kucharek Brothers, the latest Bowen Designs Human Torch statue is easily the best statue of The Human Torch I've ever seen. And surprisingly enough, it's also vastly more limited than the 2001 version!
This time out, the 2013/2014 Bowen Human Torch full-size statue is a limited edition of 500 produced. That's even less than the Bowen Iceman Clear variant statue that has become very popular (and very expensive) on the aftermarket within a few months of release!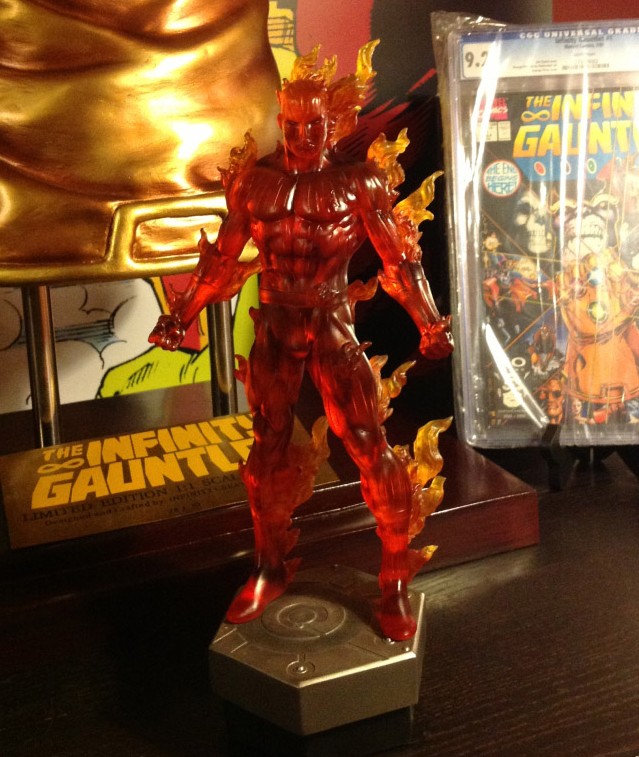 The Bowen Designs Human Torch statue is still available to order online for below its retail price (for the moment), but with an ultra-low edition size of 500, I imagine it'll be completely sold out (except on ebay) within the next week or so. I don't buy a ton of Bowen Designs statue (because I can't afford it, frankly), but this Human Torch was an instant purchase for me. I've literally waited my whole adult life for an amazing Human Torch statue, and based on early photos, this is the one.
Huge thanks to Thanos13 for giving us permission to run his photos here on Marvel Toy News! I'll post a review once I receive my Human Torch Bowen Designs statue in a week or so–but as you can tell, I'm already pretty psyched for this one. How do you feel about the just-released Human Torch Bowen statue, Marvel fans? Is this good enough to blaze its way into your collection, or do other high-end collectibles companies own your heart (and your wallet)?