Funko has been uncharacteristically quiet thus far in December, but that streak came to an end this week with a handful of new Funko Marvel products announced. The most notable of which is definitely the latest addition to the growing garage of Funko vehicles. You may already own a Funko POP Deadpool Taco Truck (in three colors), but it's time to start again in a new style: the Funko Dorbz Ridez Deadpool Chimichanga Truck is now up for order!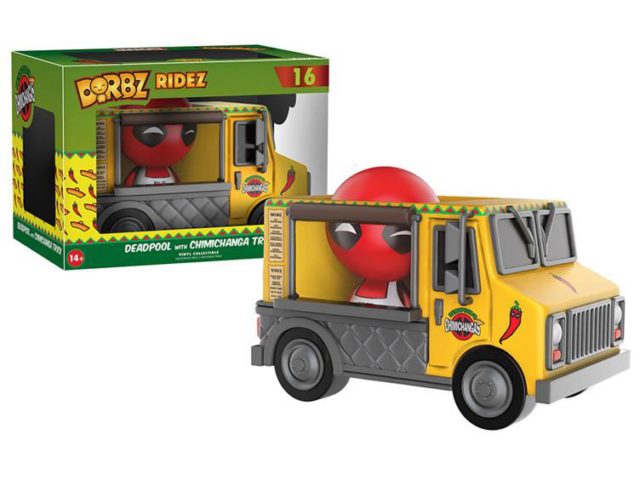 Funko surprised everyone when they announced that
this month's Funko X-Men Collector Corps Box
(for which orders will be closing on 12/15, by the way–just a week from today) will be the first subscription box to
ever
include a POP Rides set containing both an exclusive vehicle and an exclusive X-Men POP Vinyl figure.
A lot of fans are hoping for a POP Blackbird Jet with Cyclops, but I'd place the smart money on a new POP Rides Wolverine with Motorcycle set. We'll find out next week! But in the meantime, one set we don't have to guess about anymore is the first mass-release Marvel Dorbz Ridez: Deadpool's Chimichanga Truck!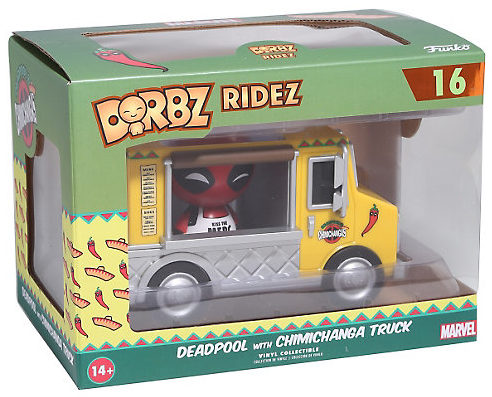 Before anyone asks: Yes, this is definitely a Chimichanga Truck and not a Taco Truck. We know for sure because it says "Chimichanga Truck" in big letters on the front of the box. I don't know when Wade Wilson started loving chimichangas more than tacos, but at some point he definitely did.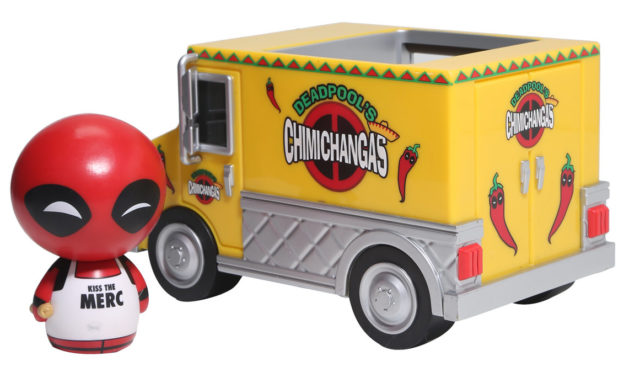 The exclusive Deadpool Dorbz figure packed in with the truck will feature the same asymmetrical eyes head sculpt that we've been getting with most Dorbz Deadpools, but now Wade Wilson's got a new apron! (Which is cute and all, but that's some real Malibu Stacy crap right there.) The apron says "Kiss the Merc"–I kind of want one I can actually wear now…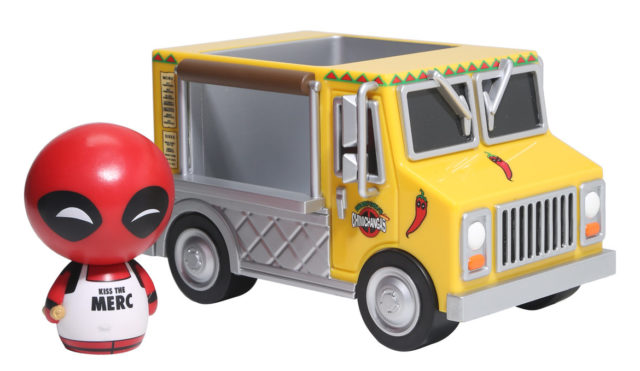 As for the Deadpool Dorbz Truck itself–it looks great. It has basically all of the details of the POP Vinyls Deadpool Truck, but in a much smaller (and cuter!) size. The Deadpool chili pepper graphic on the side of the van is an adorable highlight.
Frankly, I think that the smaller and cheaper Dorbz Deadpool Chimichanga Truck is a lot cooler and more desirable than its POP Rides counterpart due to it's compact size. Your toy taco truck sensibilities may vary.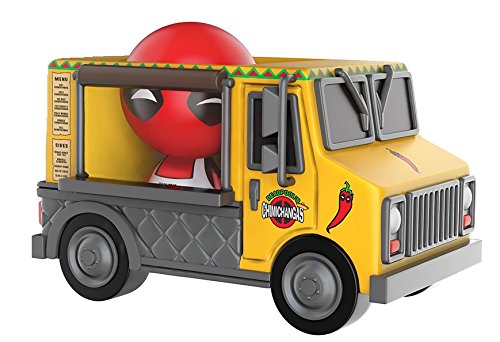 The Funko Dorbz Deadpool Chimichanga Truck set is now available for order, and will allegedly be released in December 2016 (that's this month!), hopefully in time for the holidays. Seeing as how we're already partially through December and Funko has just announced this pack I'm not sure how likely it is that they'll actually get this little set out before the end of the month, but we'll see. I'm sure color variants of this truck are an eventual inevitability, so if you've been dreaming of a grey Dorbz Chimichanga truck, stay tuned.
What are your thoughts on the latest addition to Funko's growing assortment of Deadpool toys, Marvel collectors? Will apron-wearing Deadpool and his sweet ride be joining your collection this winter, or are you all taco trucked out?