Is that the sound of two remaining pennies clinking together in your bank account? Hot Toys sure seems to think that it is–and they want it! Following up on the ludicrously-successful lightning-fast sell-out of the Civil War Movie Promo Scarlet Witch and Battling Captain America figures last week, Hot Toys is going back to the well with the character more MCU fans find irresistible than any other: the Hot Toys Civil War Iron Man Mark 46 Die-Cast figure is now up for order!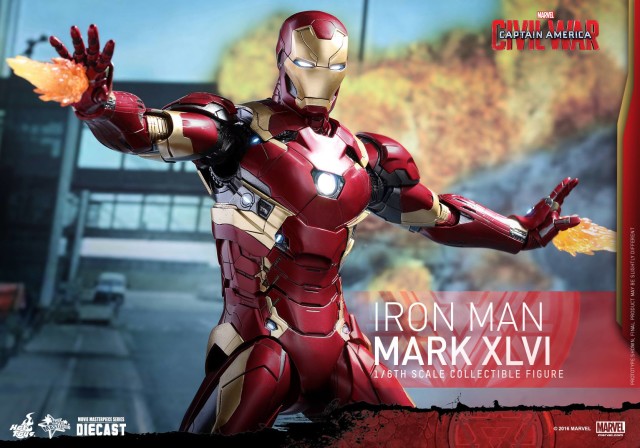 For those who snoozed on the Captain America Civil War
Movie Promo Battling Captain America
and
New Avengers Scarlet Witch sixth scale figures
: Sorry, I warned you! Just as I predicted, both of these highly-demanded figures sold out in just over 12 hours (yes,
twelve hours
) last week. There's a Wait List open now for each figure, and if you want them without paying absurd aftermarket prices in a few months, I would suggest getting on those Wait Lists now.
But now let's stop dwelling on the past, and look to the future with the new item to go up for pre-order: the Captain America Civil War Hot Toys Iron Man Mark 46 die-cast sixth scale figure!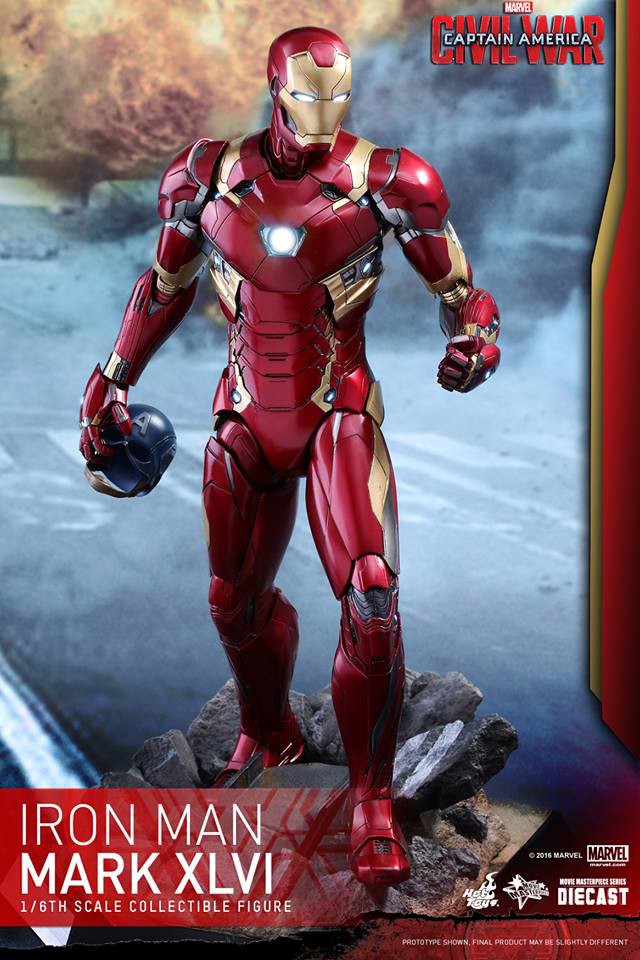 When Hot Toys didn't even show off an Iron Man Mark XLVI sixth scale figure at Toy Soul 2015 back in December, I was reasonably certain that it was because they wanted to encourage sales of their semi-articulated Power Power Mark 46 Iron Man statue. But perhaps realizing that they've gotten the pre-orders of all interested parties for that item, HT is now ready to put the figure we really want up for sale: the die-cast Iron Man Mark 46!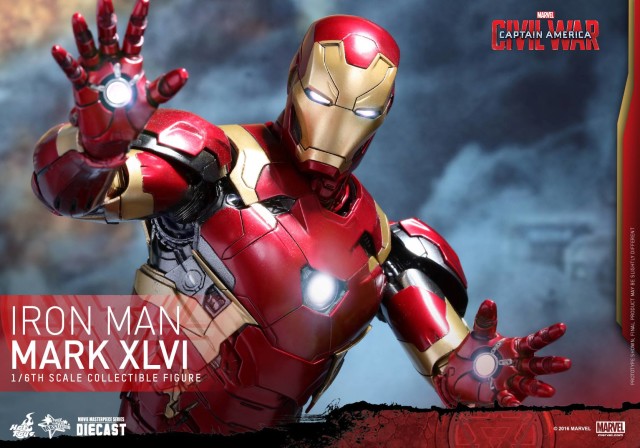 While this is "another red-and-gold Iron Man", Hot Toys has really upped their game with this latest iteration of the world's most popular MCU character. There's no awkward gaps between the arms and the shoulders now (a la Mark 42 and Mark 43), and Hot Toys has even incorporated double-jointed elbows this time out!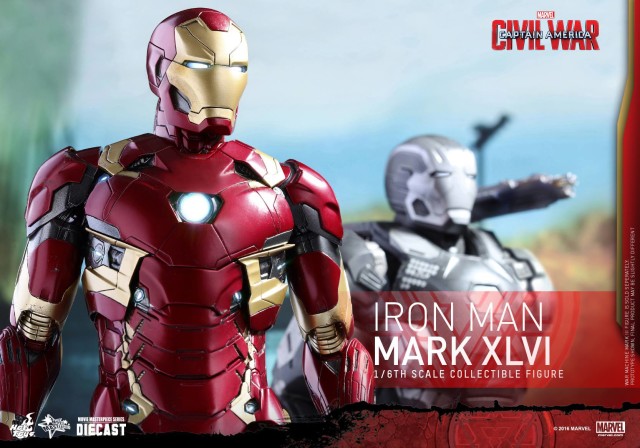 And although I thought die-cast was a waste of money right up until the day that I held a die-cast Iron Man in my hands, I can now affirm that the heft and paint quality is superior in every way to that of the already-outstanding plastic Hot Toys Iron Man figures.
I'm getting a little embarrassed about the sheer number of Iron Man 1/6th scale figures I own, but they're so amazing that there's just no way I can pass them up, release after release.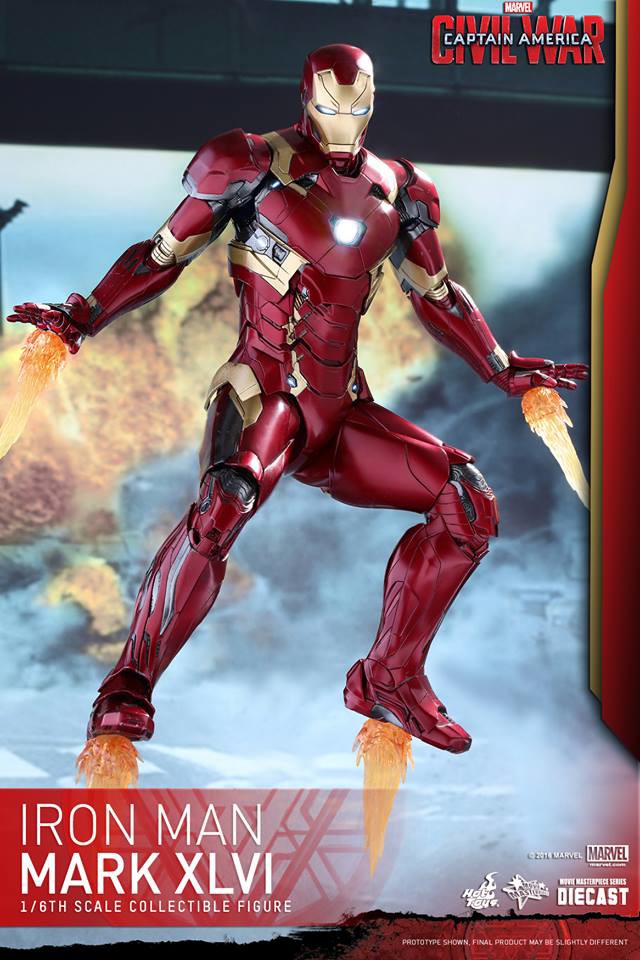 One of my other favorite things about the Iron Man Mark 46 Hot Toys die-cast figure is that it comes with not two, but four fire effects pieces! This isn't totally unique amongst the Iron Man MMS series–Bones Iron Man, for example came with four–but it something exceptionally rare. I love me some effects pieces, and I'm psyched to get them for both the hands and feet!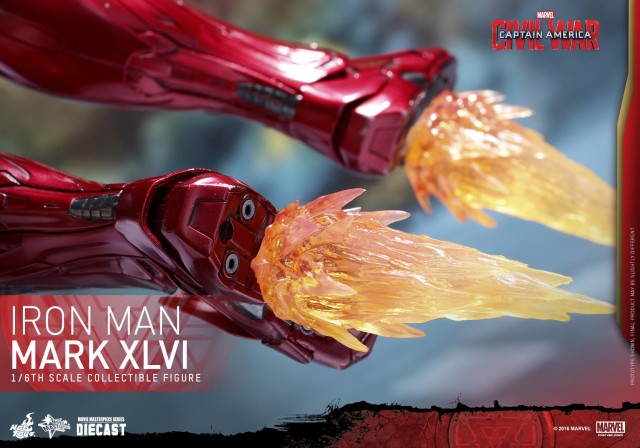 Having the gradient translucent fire effects coming out of Iron Man's feet when flying around on his flight stand is going to make him look really cool.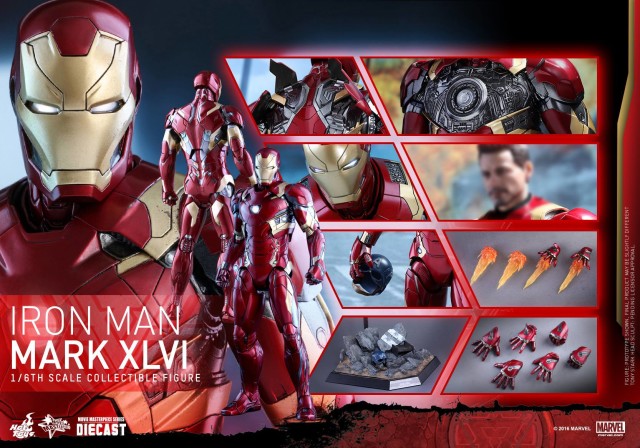 Of course, as much as I love those flame effects pieces, that's not all that this 1/6 Iron Man Mark XLVI Hot Toys figure is coming with! He comes with eight interchangeable hands (two of which with the repulsor blast effects pieces attached), as well as an empty Captain America helmet (spoilers?!), a removable chest plate, opening flaps on his back and a debris-covered diorama-style figure stand display base.
Also, note that this figure is coming with an all-new Robert Downey Jr. portrait head sculpt! It's so new that Hot Toys doesn't even have an approved prototype to show off yet, but this is Hot Toys we're talking about, so we can rest assured it's gonna be pretty spiffy.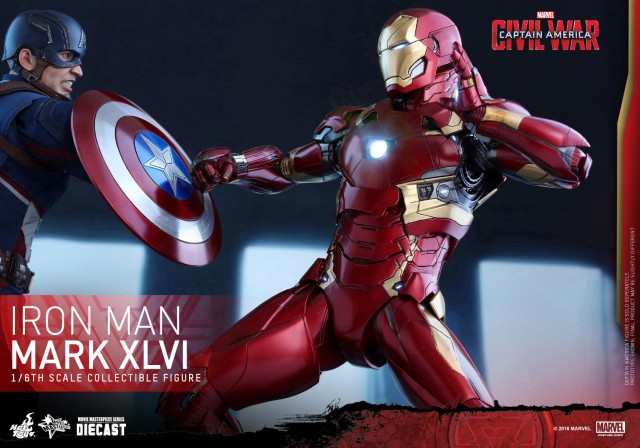 The Hot Toys Iron Man Mark XLVI Die-Cast Figure is now up for order, and is expected to ship out in spring 2017. Yes, spring 2017–that's a long wait, but I'm okay with it–it means that I can order now and have my FLEXpay payments be small enough each month that it's almost as if this beauty will be free (without, you know… actually being free at all)!
What do you think of the long-awaited Hot Toys Civil War Iron Man figure, Marvel collectors? Is this the Iron Man Mark 46 you've been waiting for, or are you all tapped-out for space (or money!) for adding more 12″ Iron Man figures to your collection?