Well, Star Wars is over now–time to get back to talking about Marvel toys! At least, that's what Hot Toys seems to be thinking, as they're commemorating the launch of "Star Wars: The Force Awakens" being over by putting the first two Hot Toys Civil War figures up for order this week! We haven't seen a new Hot Toys PPS solicited since 2013, but in 2016, the line lives on: the Hot Toys Iron Man Mark 46 figure is now up for order!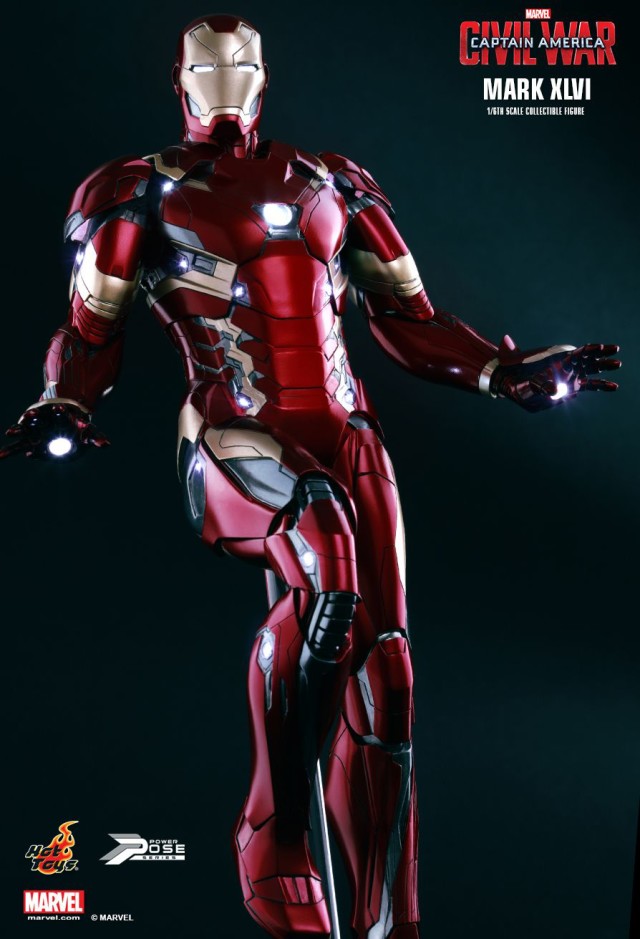 When Hot Toys solicited their Iron Man Mark XLII and Red Snapper Iron Man figures back in 2013, I thought the Power Pose Series (PPS) had some real potential. What the line lacks in articulation, it makes up for with a far lower price and quicker release than the MMS and Die-Cast Series.
But as nice as the first two figures in the line looked, sales were sluggish and no more Hot Toys Power Pose Series figures were ever announced–until now!
One of the two very first figures from the Captain America: Civil War movie to go up for order turns out to not be Cap, but the newest version of Iron Man (shocker!!!): the Mark XLVI. Poor Mark 45 Iron Man–we hardly knew ye!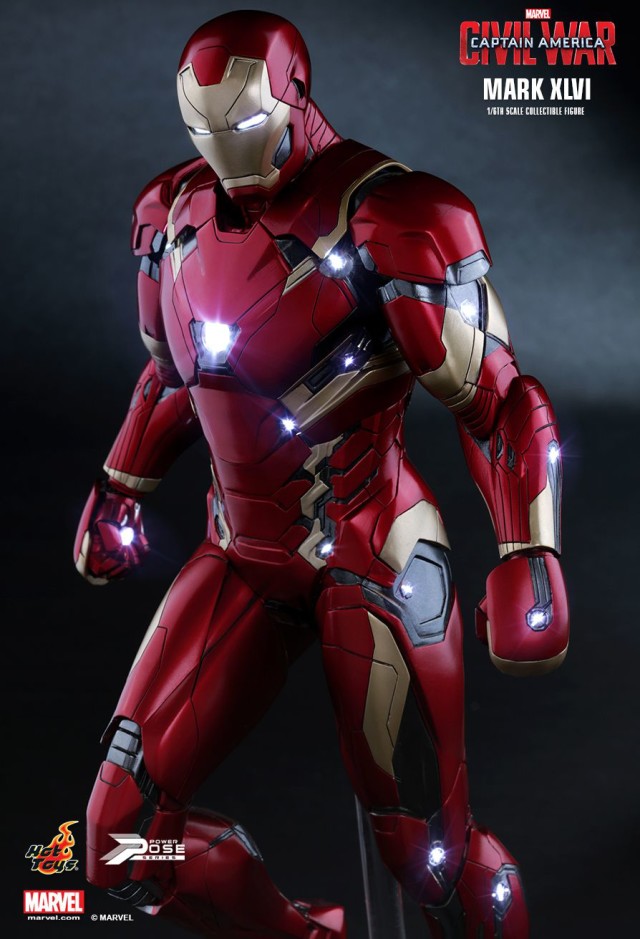 While a die-cast Iron Man Mark XLVI figure being released is a virtual given, it's incredibly highly unlikely that that figure will be fully engineered, produced and released before the end of 2016 (at the earliest).
But for those who can't wait to get their mitts on the Mark 46 armor (like me!), Hot Toys has designed this "levitating" sixth scale Iron Man Mark 46 PPS figure.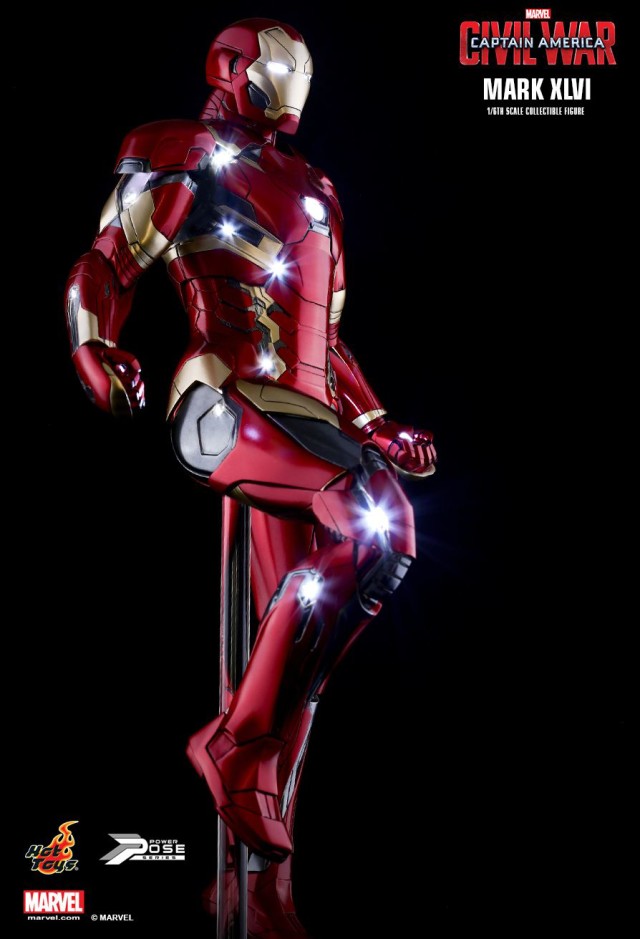 Easily the most noticeable visual difference between this Civil War Iron Man and Tony Stark's previous armors is the downright crazy number of lights on this armor permutation!
Seriously, this Iron Man XLVI has twenty-eight LED lights all over it–far more than we've ever seen on any previous armor.
While you might think that all those lights might overpower the design, I actually think they give this armor a unique aesthetic that manages to set it apart from the dozen or so other red and gold armors Tony Stark built.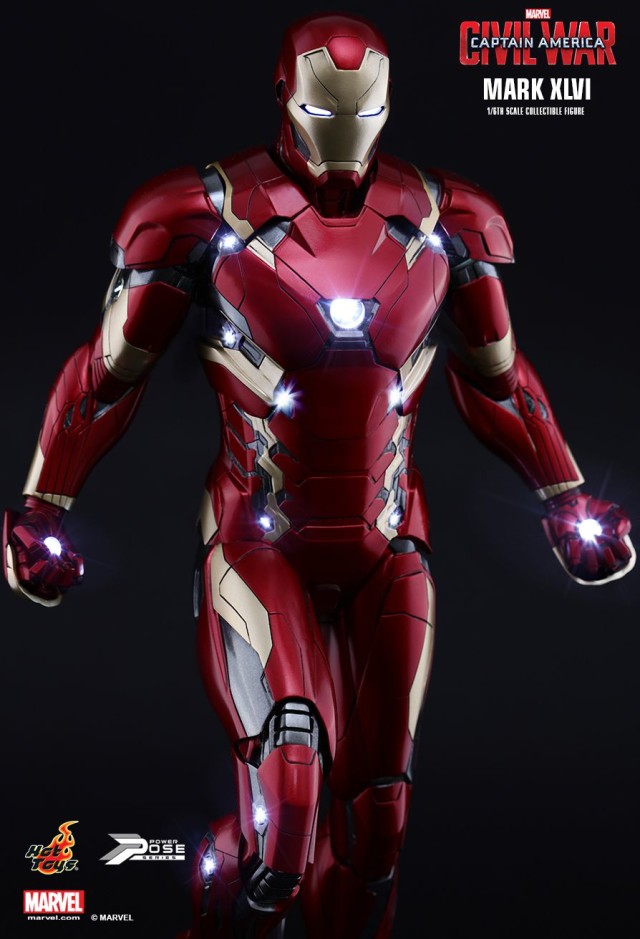 The accessories are a bit bare-bones with the 12″ Iron Man Mark 46 including just a flight stand display base, alternate repulsor hands and interchangeable fists, but if it keeps the price on this gorgeous sculpt low, I've got no problems with only the most essential accessories being packed-in.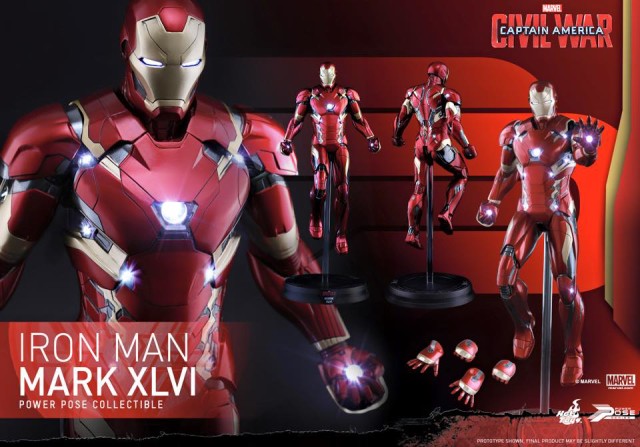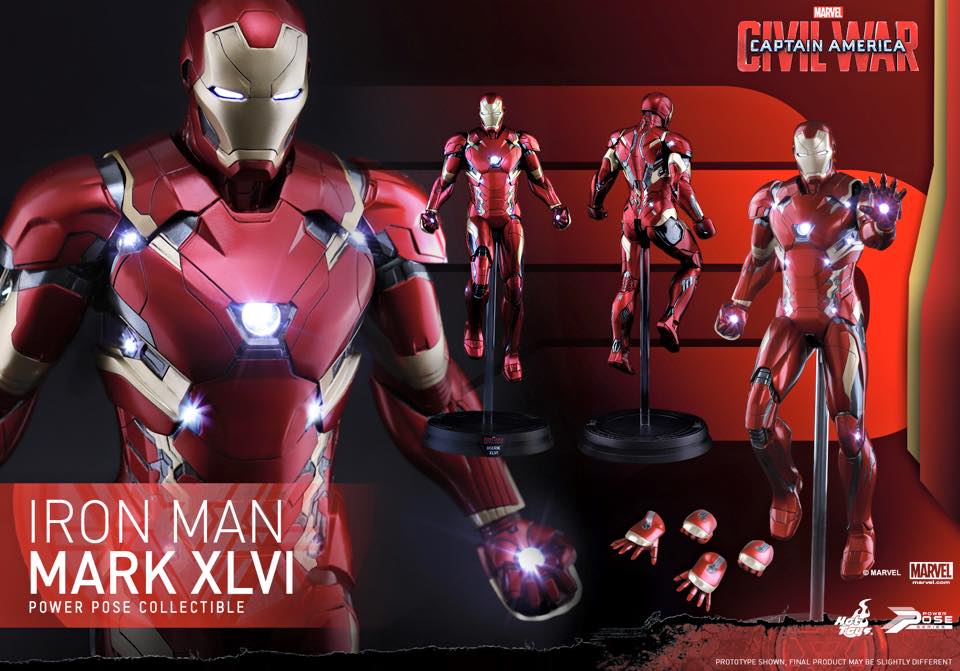 We don't know the U.S. price that Sideshow Collectibles will be charging for this figure yet, but it's only 1180 HKD overseas–the equivalent of about $150 USD. For a Hot Toys sixth scale figure–even one with limited articulation–with this many electronic features, that's a steal.
And considering that the die-cast Mark 46 is expected to retail for more than double this amount (somewhere between $360-$385), I imagine this is the version a lot of folks will opt for, even with the lack of metal and super-articulation.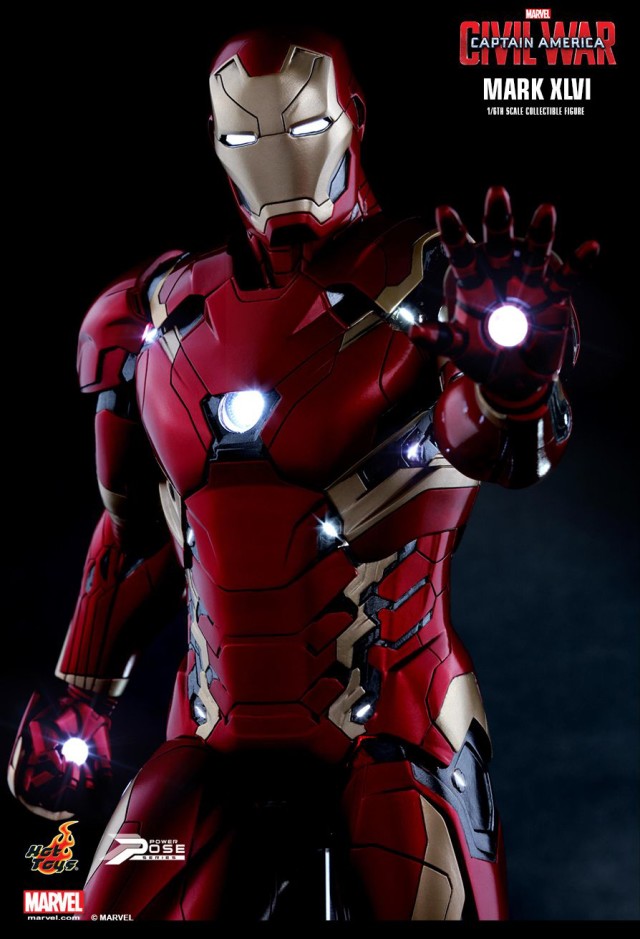 The Hot Toys Iron Man Mark XLVI figure is now up for orderk, and is scheduled to be released in Q2 2016. With this figure looking pretty terrific and the die-cast Mark 46 not expected to be released for more than a year from now, sales on this piece should hopefully be brisk for Hot Toys. I think the Power Pose Series has a lot of potential for serving those who can't afford the increasingly-outrageous Die-Cast Series, so I'd love to see this Mark XLVI Iron Man be a quick sell-out.
Anyone planning to pick up the Civil War Iron Man Mark 46 Hot Toys PPS figure, or is the lack of die-cast/articulation a deal breaker for you on this piece?