Though we're under a month away from the theatrical release of the Captain America: Civil War movie in theaters, we hadn't heard a peep from Kotobukiya about any collectibles for the movie. At least, not until this week, when they revealed a pair of complementary statues. I don't think there's a Marvel collector in the world who'll be truly surprised by the characters chosen, but these sure are nice-looking Captain America and Iron Man ARTFX+ statues!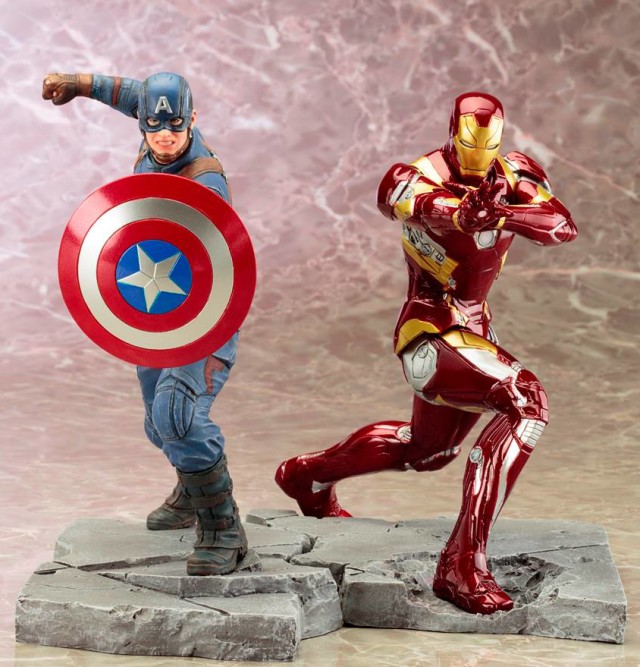 Get ready for a shocker: despite the fact that Kotobukiya has been producing statues from various Marvel movies for the past several years, the number of Marvel Cinematic Universe movie Captain America statues Kotobukiya has released in that time period is exactly zero. Crazy, right?!
But that bizarre streak of omissions comes to an end this fall, when the Kotobukiya Captain America ARTFX+ statue will be released!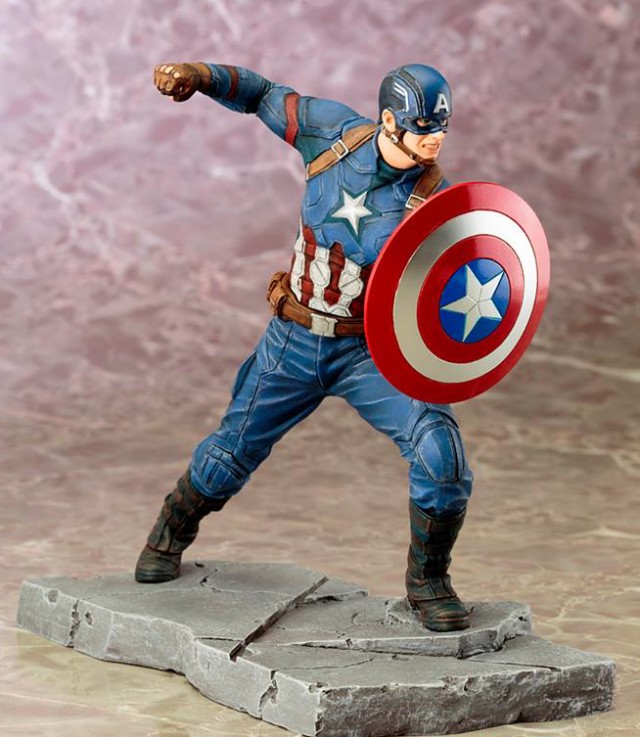 While the comic-based ARTFX Captain America Kotobukiya produced in 2014 was a pretty static pose, this year's movie-based Cap is in a charging forward and punching action-pose.
I like this choice of pose, as Cap looks great from a variety of angles and has a different feel from all of them. An alternate unmasked Steve Rogers head would have been a nice inclusion, though, since Captain America is unmasked so often in the movies.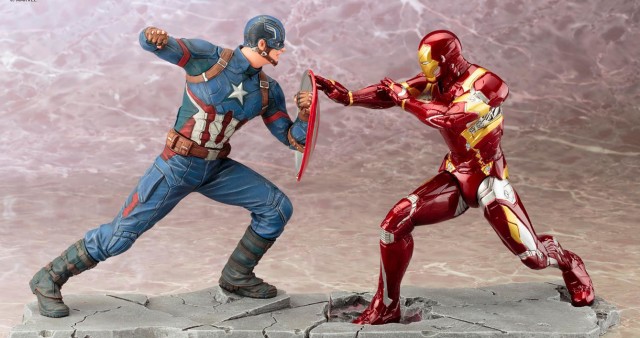 And while I own the comic-based Captain America ARTFX+ statue already, the deco and style of this movie-based version look drastically different and make him feel fully worthwhile as an addition to my collection. Love that paint wash!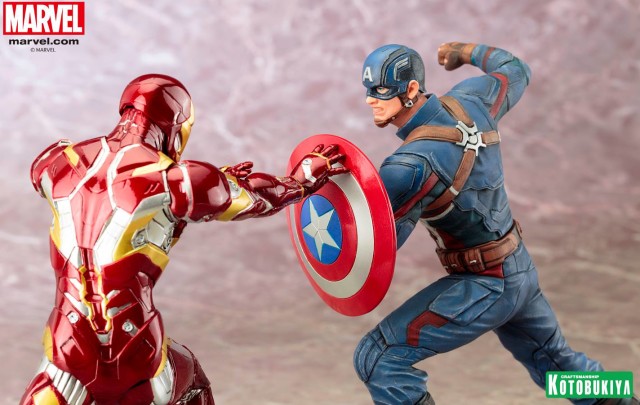 Meanwhile, the Kotobukiya Civil War Iron Man Mark 46 ARTFX+ statue feels a little, well… boring.
Koto has put out more movie Iron Man statues than the total number of other Marvel movie characters they've covered, so it's tough to get excited about another version of him.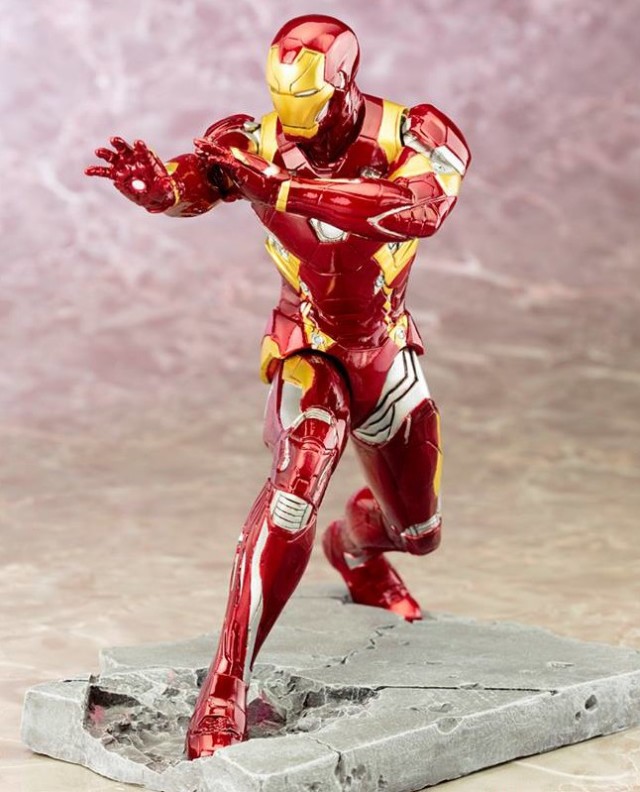 While Koto has just about mastered the sculpting and ideal paint choices for a movie Iron Man figure (though this one could use an extra wash for the panel lining), I think the pose on this one looks a little stiff. Iron Man trying to blast Cap with a repulsor blast at point blank range like these seems awkward.
I'll probably snag one to display alongside Cap anyway, but it definitely isn't my favorite Kotobukiya Iron Man. Even so, it will certainly be the cheapest movie Iron Man they've done to date.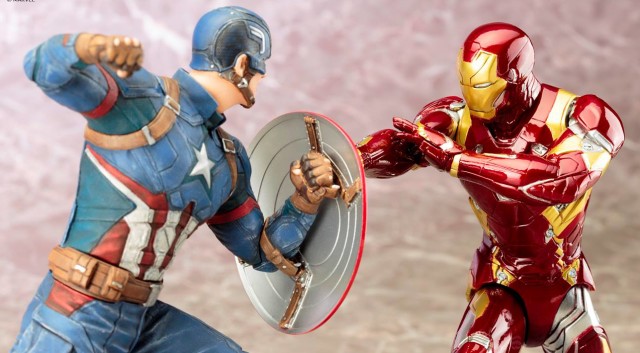 The Kotobukiya Captain America Civil War statues are now up for order, and are expected to be released in October 2015. Based off past items, we can reasonably assume these figures will be priced around $60-$70 each (UPDATE: The MSRP is $69.99, although BBTS has them on a pre-order discount for $5 off each). While I think both statues are good, neither of them is as awe-inducing as last year's Koto Hulkbuster Iron Man statue, so I'll be curious to see how much of a hit this duo is sales-wise.
What do you think of Kotobukiya's Civil War statues, Marvel collectors? Would you like to see this line expanded with more characters, or are you satisfied with just Cap and Iron Man? Will either or both of these statues be on your shelf in late 2016?