Most companies might be content to just out one several hundred-dollar Iron Man sixth scale figure up for sale the same week as their first three Suicide Squad 1/6 figures and pair of Back to the Future II figures. But Hot Toys is not "most" companies, and they don't do things in half measures. And this isn't just any old Iron Man, it's one of the most-requested remaining upgrades: the Hot Toys Die-Cast Iron Man Mark VI figure is now up for order!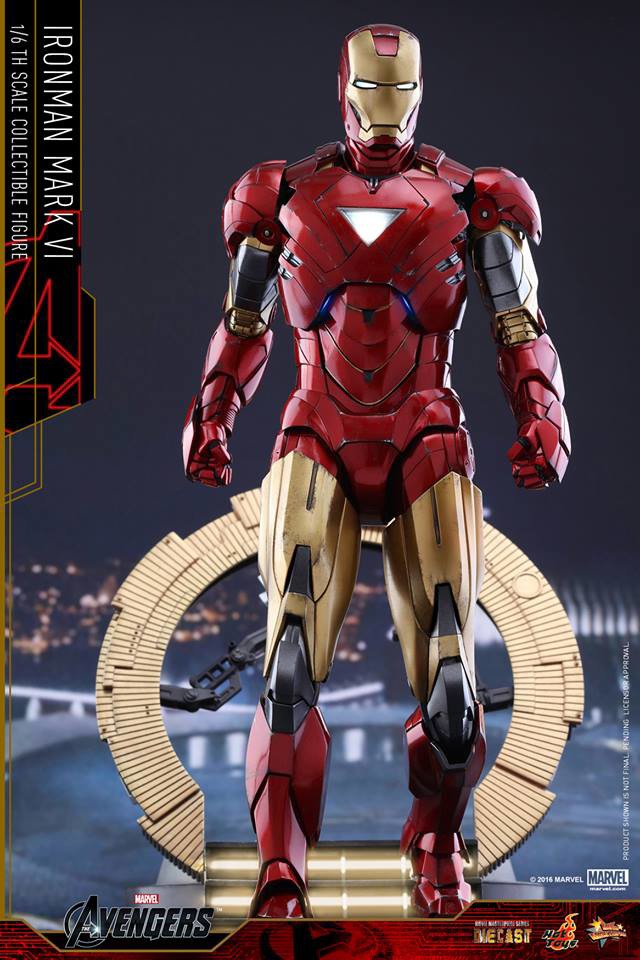 I was a little bit giddy this morning when I woke up and my eyes came across the gloriously pretty exclusive Hot Toys Sub-Zero Iron Man sixth scale figure. But then I saw that Hot Toys had also posted official images for an impending pre-sale of Suicide Squad Harley Quinn, Joker and Deadshot (all of which I want).
And then I saw the grand finale–the product info for the all-new Die-Cast Iron Man Mark VI–and my heart smiled while my bank account bawled.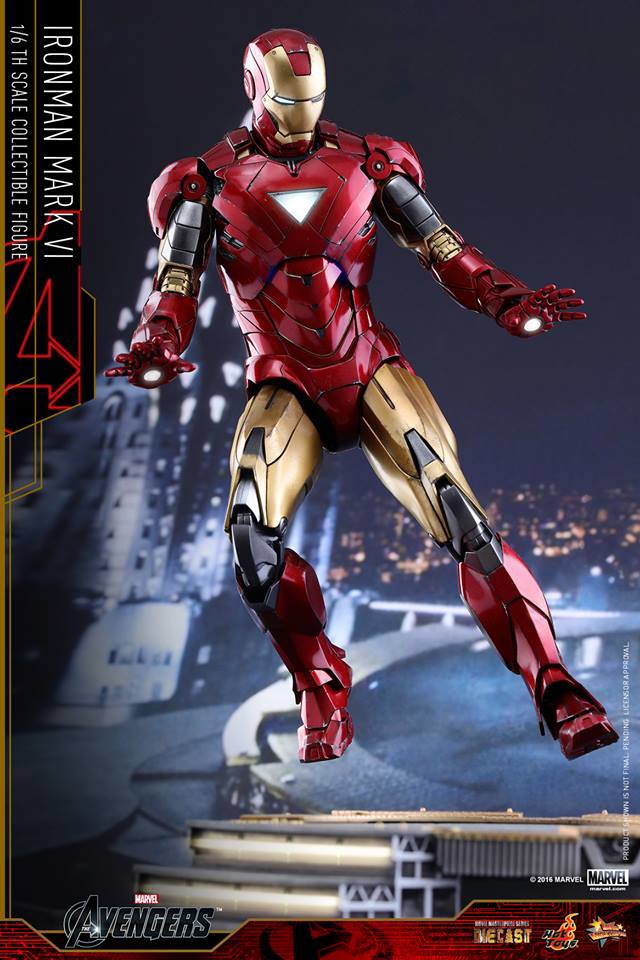 For those who have a tough time remembering exactly where each Iron Man comes from (after eleventy billion Iron Man figures have been released), the Iron Man Mark VI armor is the suit Robert Downey Jr. wears to defeat Whiplash in Iron Man 2 and for all but the final battle in the first Avengers film.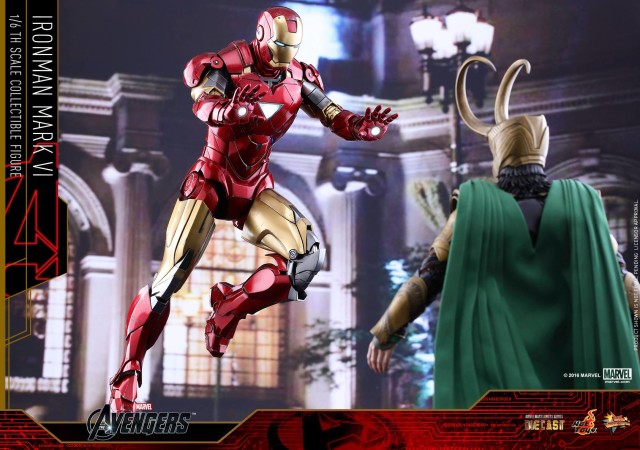 The Mark 6's classic look and distinctive triangular arc reactor have made it a fan-favorite armor that collectors have been request job in die-cast form for years now.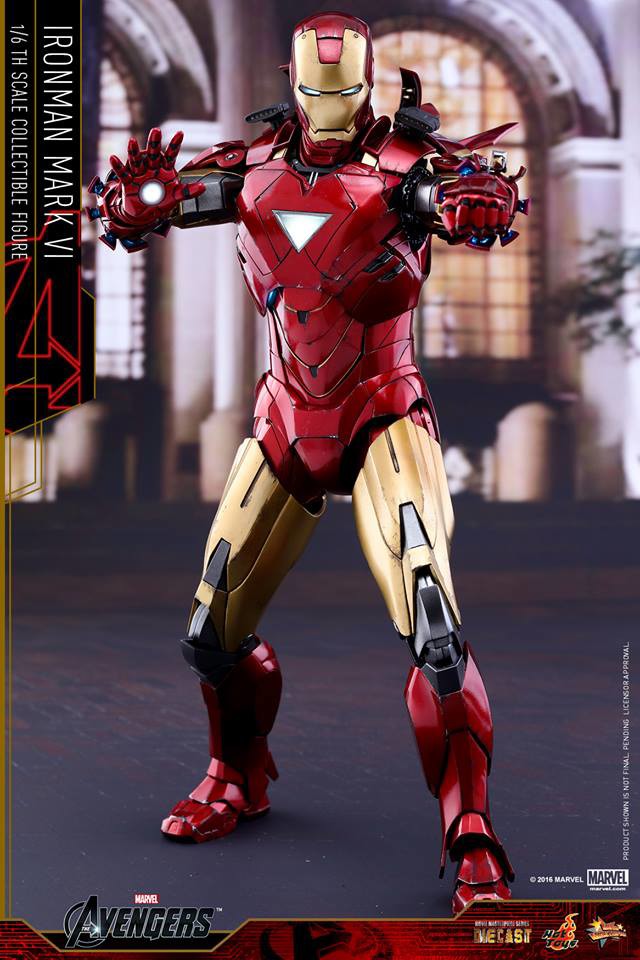 Rather than just reissuing the old figure with some new metal parts, Hot Toys has developed a 100% new figure and mold for this die-cast Mark VI Iron Man figure that is up to their modern standards of quality and design.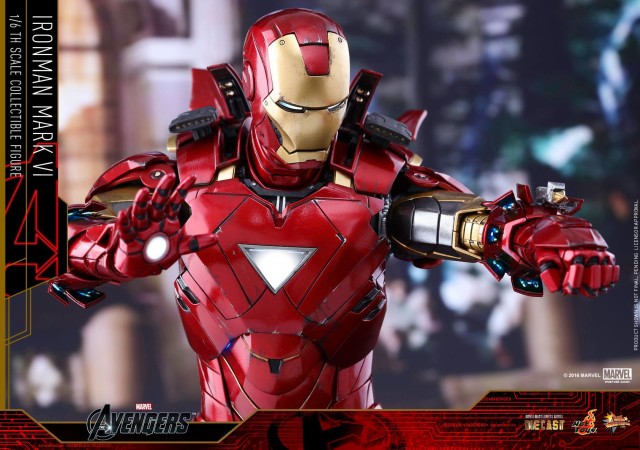 This time out, we get LED lights illuminating Iron Man's forearms! We typically don't get these extra lights, and having them here will definitely help set this armor permutation apart from the rest of the Hall of Armor crowd.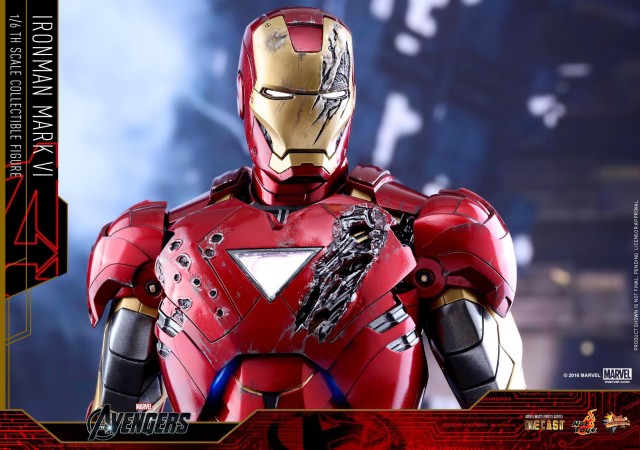 Not only does this Mark VI die-cast figure feature several interchangeable battle-damaged armor pieces, but the battle-damage looks amazing this time out.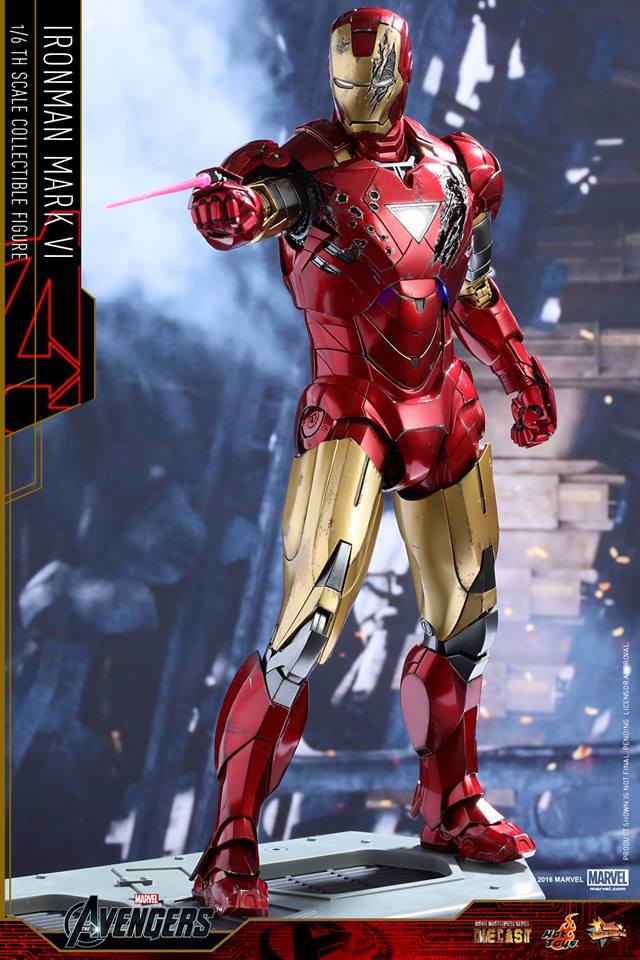 From being able to see the "skeleton" where the helmet is torn to the exposed wires on the chest and weathered bullet holes, this is easily the best "battle damage" we've ever seen on a Hot Toys figure.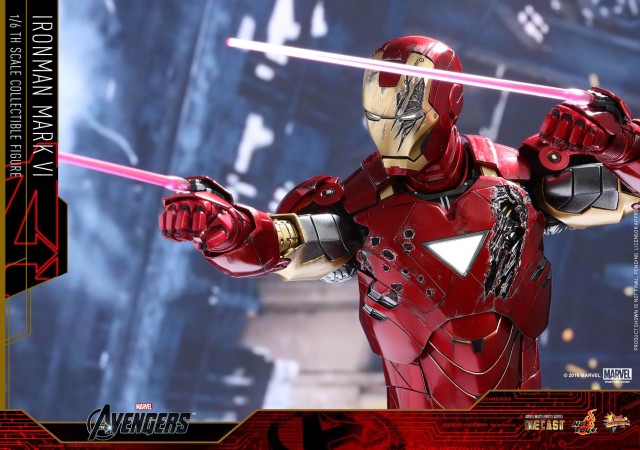 Plus: lasers!! Two pink laser effects pieces are included that can be attached to wrist shooters. I love effects pieces!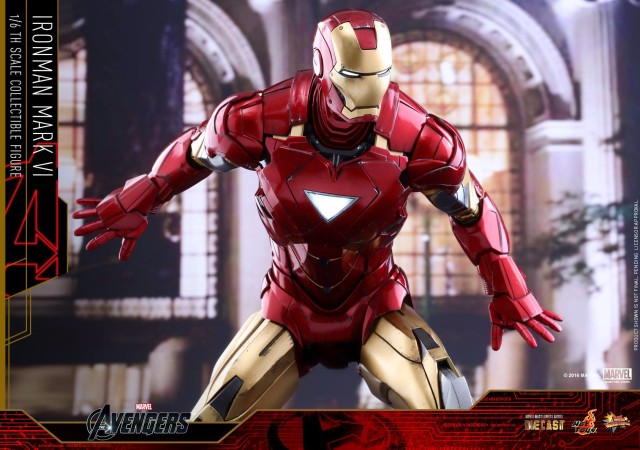 If you're like me and have a couple dozen Iron Man Hot Toys figures already, you may be growing sick of the generic circular grey figure stands. Hey, I like those bases–and even I'm getting super sick of them at this point.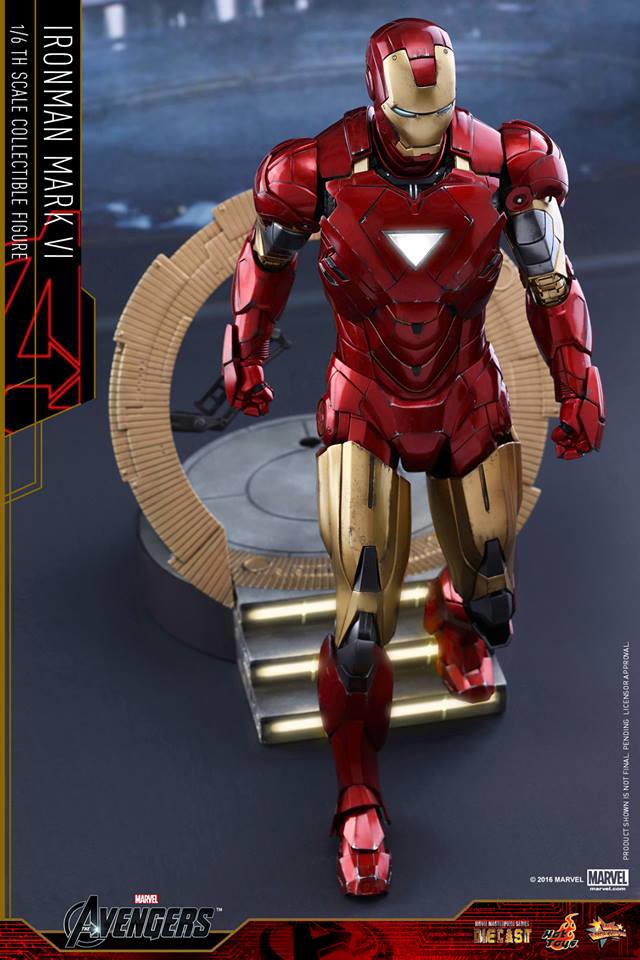 Luckily, the Hot Toys Iron Man Mark VI Die-Cast figure eschews that base and comes with highly-detailed (and highly cool) Stark Tower-inspired figure stand! This diorama-like stand is an extremely welcome change and looks fabulous.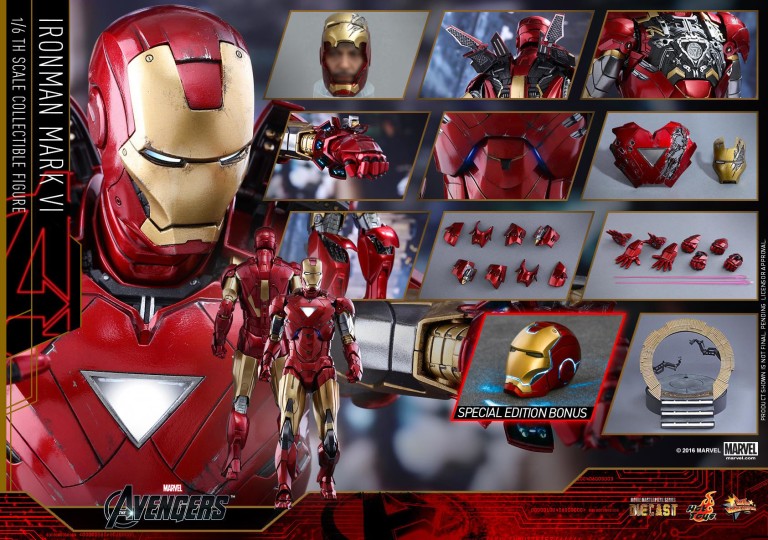 But that's not all! This figure will also feature a Robert Downey Jr. portrait inside of an Iron Man helmet with a flip-up faceplate (although the likeness can't be shown, as it hasn't been approved yet).
With all of the interchangeable armor pieces, the effects pieces, the extra hands and the awesome diorama-like display base, this is easily the 1/6 Hot Toys Iron Man figure with the most impressive array of accessories ever.
Of course, all this goodness will come at the usual high cost: I'd anticipate this die-cast Iron Man Mark VI Hot Toys figure will retail for no less than $359.99–and even that might be a little cheaper than it actually will retail for. Prove me wrong (and not broke), Hot Toys!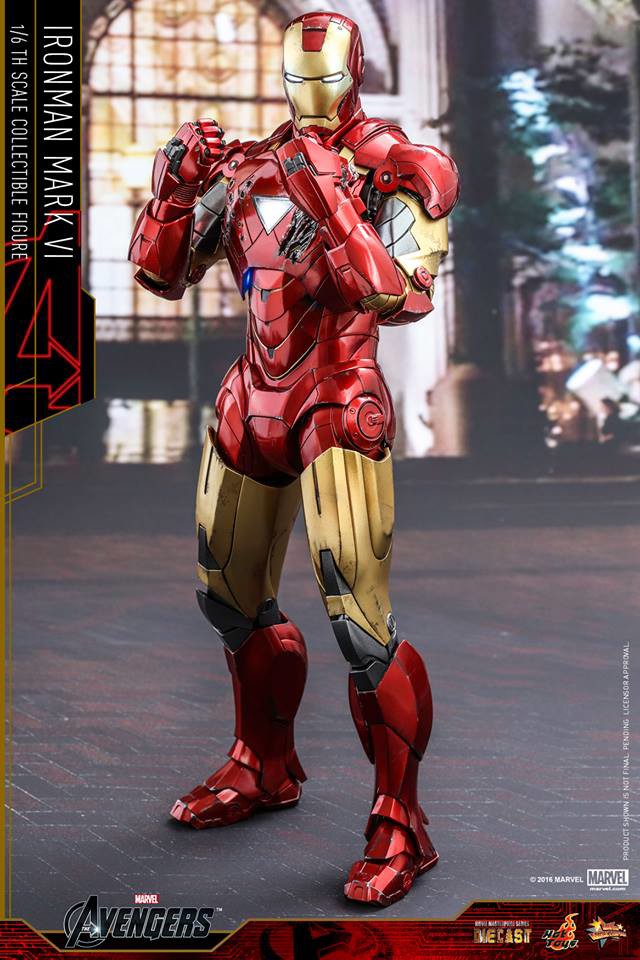 The Sideshow Exclusive Hot Toys Die-Cast Iron Man Mark VI sixth scale figure is now up for order, and will include an additional light-up illuminated Mark VI helmet that won't be available anywhere else. This helmet may look eerily familiar to collectors who purchased the Pepper Potts & Iron Man Mark IX exclusive set.
I prefer exclusive versions (as they tend to hold and increase in value much better than non-exclusives), so that's the version I'm opting for (with handy Sideshow Flexpay payment plan!). I'll send out links via social media once this figure goes up for order, so stay tuned if you want the limited exclusive version.
I know many collectors are getting tired of Hot Toys' love affair with Iron Man, but what do you think of Die-Cast Iron Man Mark 6, Marvel collectors? Is this the finest Iron Man action figure Hot Toys has ever designed, or are you not impressed with the advancements over the original release of the Mark VI?