Well, there's no doubt about it. In 2015, more than ever before, Hot Toys has decided to wage all-out war this year on collectors' wallets! Eight Hot Toys Avengers Age of Ultron figures are already up for order without the movie even being in theaters yet, and it doesn't look like Hot Toys is planning to slow down any time soon! At this weekend's "Marvel's Avengers Age of Ultron Exhibition" in Hong Kong, Hot Toys has officially revealed four more new figures, including the Hot Toys Ultron Mark I, Iron Legion, Ultron Sentry and more!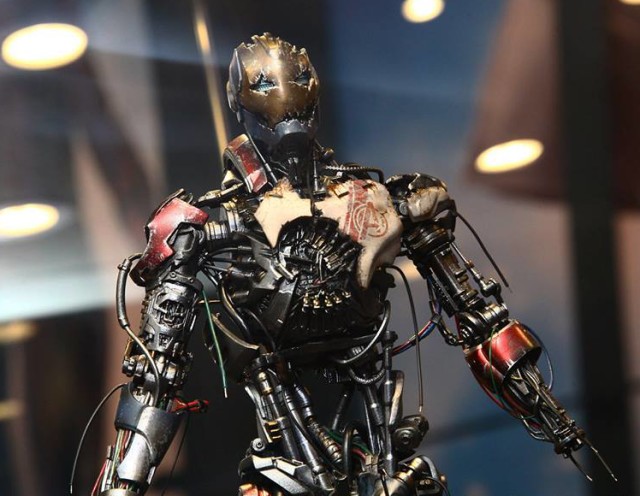 I have every intention of being "all-in" for the Hot Toys Avengers Age of Ultron figures sixth scale line, but I've got to admit–the sheer mass of product that Hot Toys seems intent on putting up for sale this year
definitely
has my credit card trembling a little bit.
We already know that Movie Masterpiece Series Vision, Scarlet Witch, Quicksilver, Iron Man Mark XLV and Thor figures are planned for released (though they haven't been shown yet), but at the exhibition going on in Hong Kong this weekend, Hot Toys opted to debut four more previously unannounced figures:
Hot Toys Avengers Age of Ultron War Machine Mark II (Die-Cast)
Hot Toys Ultron Mark I
Hot Toys Ultron Sentry
Hot Toys Iron Legion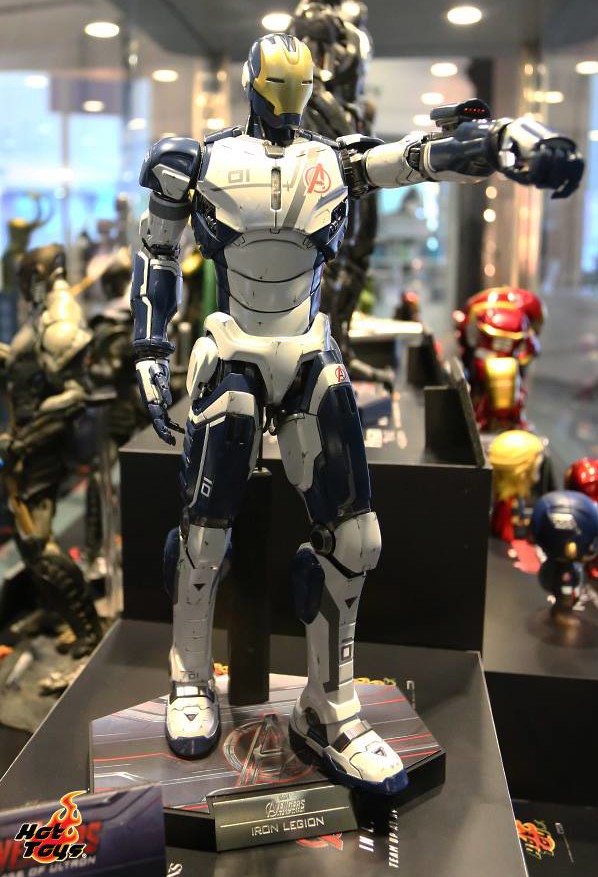 I had little doubt that we would see an Iron Legion MMS at some point–what with it being an Iron Man armor permutation and all (and we know Hot Toys can't resist an Iron Man armor permutation), but the other three figures that appeared at the show come as a definite surprise. We traditionally don't get a lot of sixth scale villains right away (or at all, for some MCU movies), but it looks like Hot Toys is really going to take the plunge for Avengers AOU!
Two versions of the Hot Toys Iron Legion figure were shown at the event: one with the number "01" on its chest and one with the number "03". Army-builders, anyone?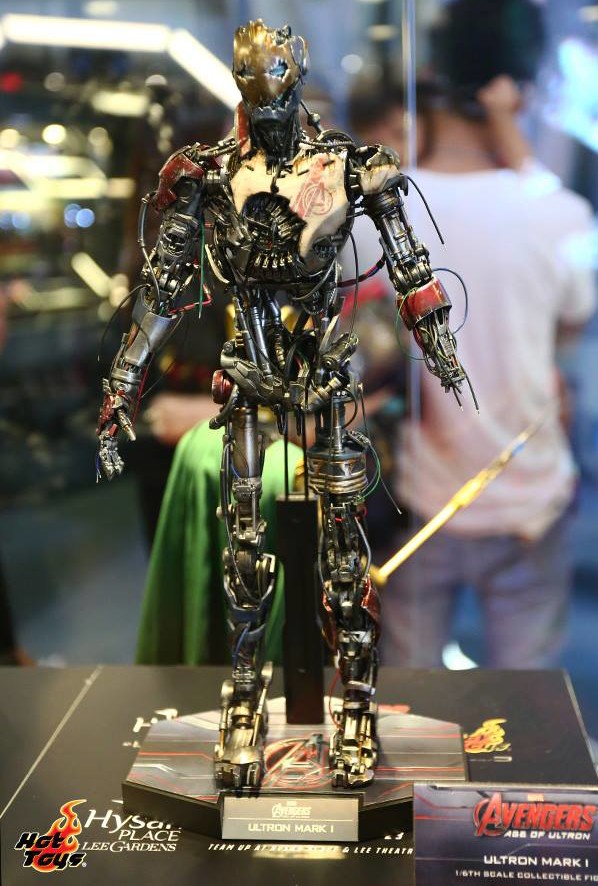 The detail on the Ultron Mark I Hot Toys figure is awesome. This particular version of Ultron is just so unique and creepy that I think even fans who are getting tired of Iron Man-like armors are going to want this one. The asymmetrical design and frayed wires hanging out of Ultron Mk I make for some of the best detailing we've ever seen on a Marvel Movie Masterpiece Series figure.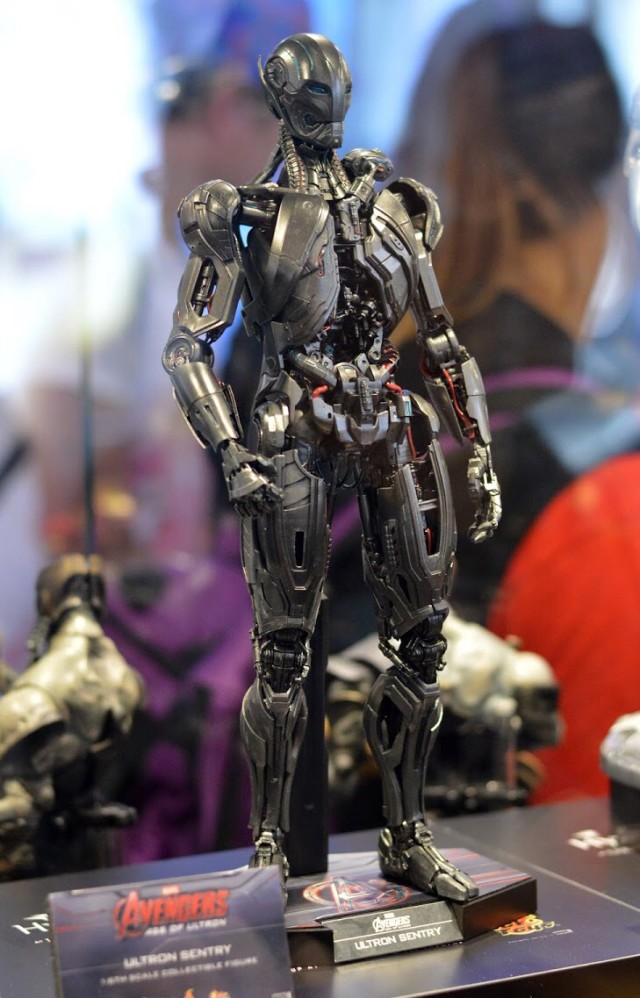 Last (but not least) on the villainous side, we've got the Ultron Sentry Hot Toys sixth scale figure. This is the version that looks the closest to the Ultron we know and love (hate) from the classic Marvel comics, so I expect it will be another hit with collectors.
I do have one big disappointment with this figure, though–it looks like Hot Toys opted to make the blue Ultron Sentry instead of the red one! We can only hope that they've planned some sort of "swap-out" LED lights that will allow us to switch this to a red light-up Ultron Sentry, because I'm certain that's the version most fans are going to prefer.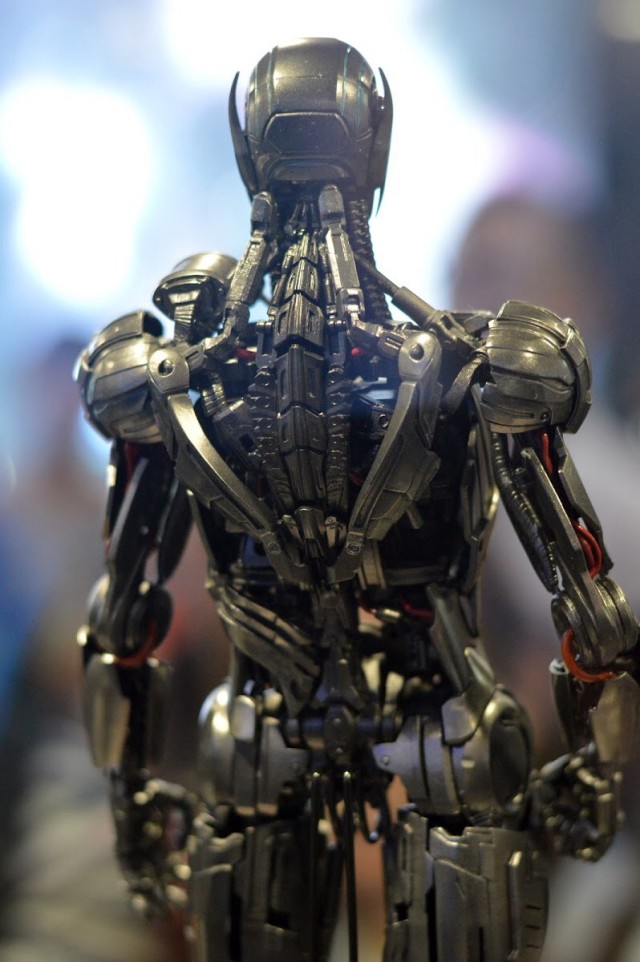 Check out the detail on the Ultron Sentry's spine! Looking good!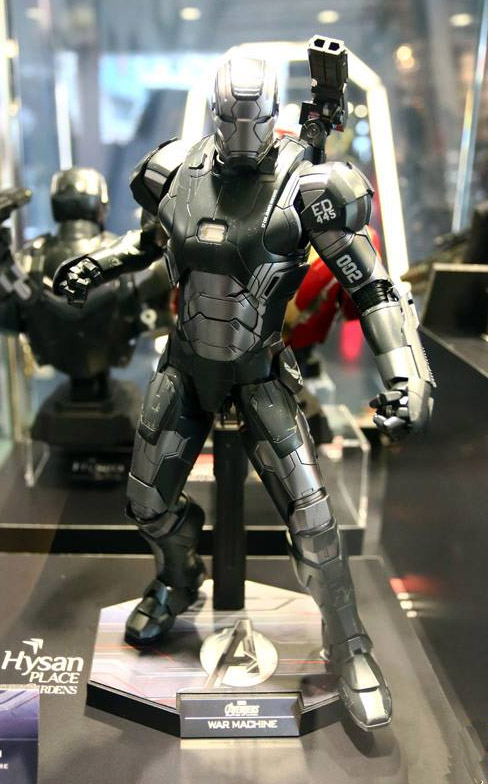 The only "new" hero figure on display was the Avengers Age of Ultron Hot Toys War Machine Mark II figure, which is a minor repaint of the die-cast War Machine MK II from Iron Man 3. This time out, the red outlines have been removed from the figure, the gray is a bit darker and the paint is slightly shinier.
It's not a major overhaul or anything, but War Machine actually appears in this movie (unlike Iron Man 3), so fans who skipped the previous die-cast War Machine may want to snag him now.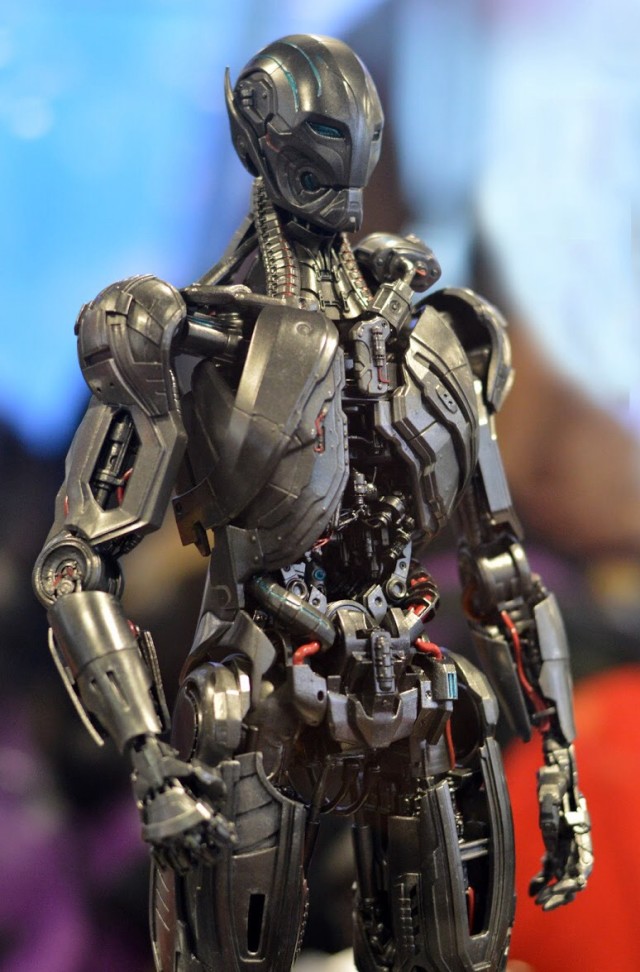 As of now, release dates haven't been announced for any of these three new 1/6th scale Avengers Age of Ultron figures. But since Hot Toys is already ready to show them off and promote them during this tour, I think we can realistically expect these four figures to be up for pre-order by summer (at the latest). Looks like we'll be waiting a while longer for Vision, Quicksilver and Scarlet Witch, though…
How do you feel about the latest quartet of Hot Toys Avengers Age of Ultron 1/6 figures, Marvel collectors? Is your philosophy on gorgeous figures like these "the more, the merrier", or are you starting to feel a mite overwhelmed by the mass of new high-end items coming out in 2015-2016?