When Sideshow Collectibles put up the teaser images of their upcoming J. Scott Campbell Spider-Man Comiquette statue trio, I was quite certain the only one I'd be getting was Gwen Stacy. I hate Mary Jane as a rule, and I didn't think the Spider-Man J. Scott Campbell statue would bring anything to the table I hadn't seen before. I was so wrong, though, as the exclusive version of the J. Scott Campbell Spiderman Comiquette comes with a partially unmasked Peter Parker head that just may be my favorite head for a Spider-Man statue ever–and the Sideshow Exclusive Edition Spider-Man Statue is now up for pre-order!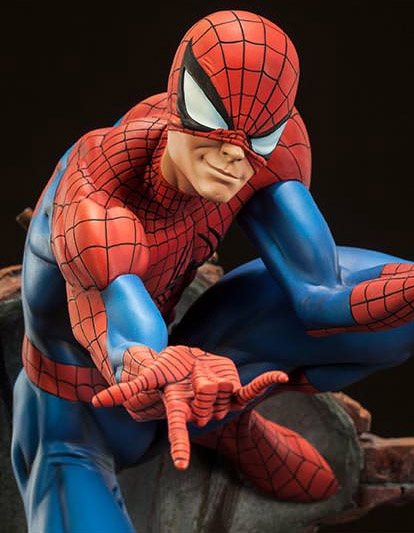 In case you didn't gather it from the introduction, I really, really like the exclusive Peter Parker/Spider-Man bonus head that comes with the Sideshow Exclusive Edition of the J. Scott Campbell Spider-Man Comiquette Statue. Neither the previously put-up-for-order Gwen Stacy nor Mary Jane statues had an exclusive edition offered at all, so I was convinced that Sideshow wasn't planning one for ol' Spidey himself either.
But Sideshow was holding out on us, and had this amazing Spider-Man portrait with mask pulled up hoarded away, waiting for the perfect time to be revealed!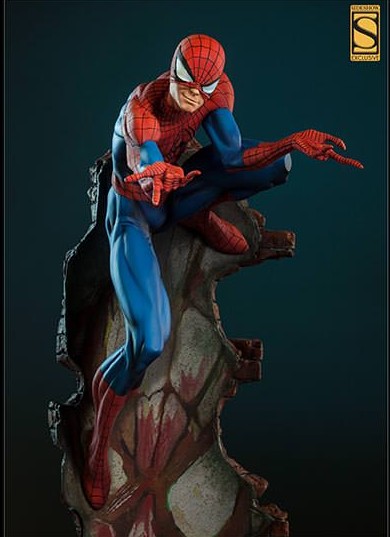 The whimsical, goofy grin on the Peter Parker alternate head for this J. Scott Campbell Spider-Man statue is easily my favorite aspect of this statue (or, to be totally honest, any of the three statues in the J. Scott Campbell collection). Without the exclusive item, this statue would definitely be a pass for me. With the Spider-Man/Peter Parker partially unmasked head, this has a real charm I haven't seen in a Spider-Man statue before and is an instant buy for me.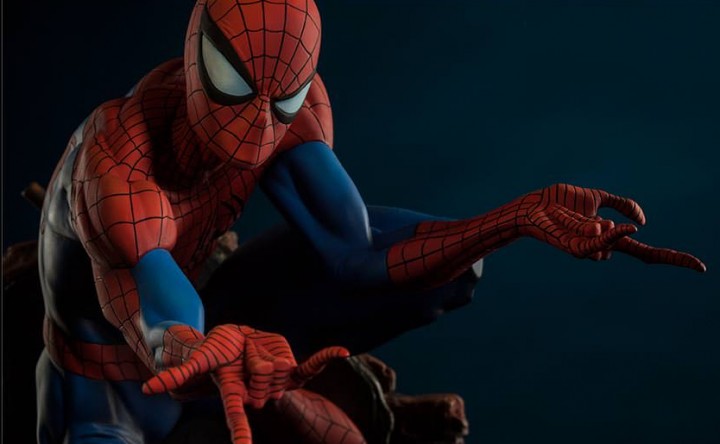 Of course, there's nothing really wrong with the masked Spider-Man head for this statue either (although I imagine some will balk at the asymmetrical eyes "facial" expression on the mask). There are dozens of high-end Spider-Man statues out there, but this Classic Spiderman Sideshow Marvel Comiquette is truly one of the nicest looking ones.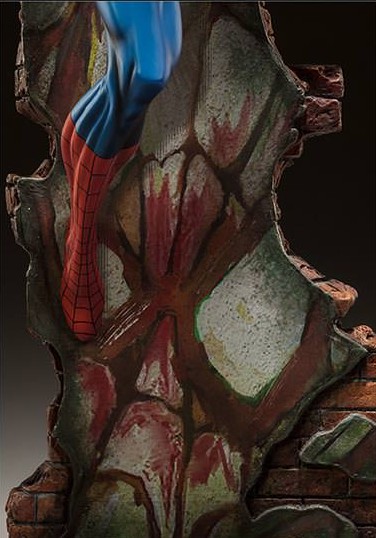 I love that J. Scott Campbell went the extra mile in designing the wall base for this statue. Rather than just giving us a generic brick wall, we get this super-cool brick wall that's covered in graffiti (or is it blood?) in the shape of the Spider-Man logo. I really can't remember a more visually interesting base coming with any previous Spider-Man statue–can anyone else?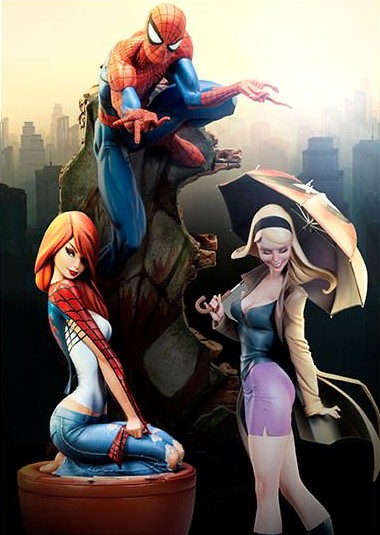 The Spider-Man statue is going to be the most expensive of the three J. Scott Campbell Collection of Spider-Man Comiquettes, but it's also easily the largest of the trio. The Sideshow Classic Spider-Man J. Scott Campbell Comiquette is about 20″ tall, making it 2-3″ taller than the Gwen Stacy statue. At more than a foot and a half tall from top to bottom, this is a big piece.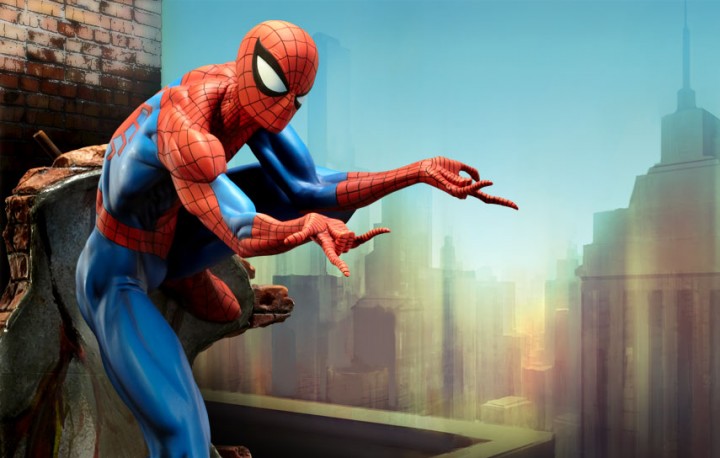 The Spider-Man J. Scott Campbell Statue Comiquette Exclusive Edition is now available for pre-order through the Sideshow Collectibles website, with an expected release date of April 2014. Spider-Man is always a popular character and this is the only statue from this collection with an exclusive edition, so I suspect the exclusive is going to be a pretty fast seller for Sideshow.