Ah, Ares. Fans were skeptical when the Greek God of War joined the Avengers, but Ares' smash-and-kill go-get-'em attitude quickly won over many readers. And then Ares died the most gruesome death in the history of Marvel Comics, as he was bilaterally ripped in half by the Sentry. To commemorate that memorable event, Hasbro is finally bringing Ares to the Marvel Universe scale, as the Marvel Infinite Series Ares figure was released this summer! Is this 3 3/4″ Ares figure worth adding to your collection? Read on…
The Right:
The Marvel Legends Ares Build-A-Figure is among the rarest and most expensive Marvel Legends figures released, regularly selling for $200+ complete. So while many Marvel Legends collectors would love to have Ares in their collections, for monetary reasons, it just isn't an option for many.
But Hasbro is giving Marvel action figure collectors a second chance at a Hasbro Ares figure this summer, as Marvel Infinite Series 3 includes the first-ever 4″ Ares figure!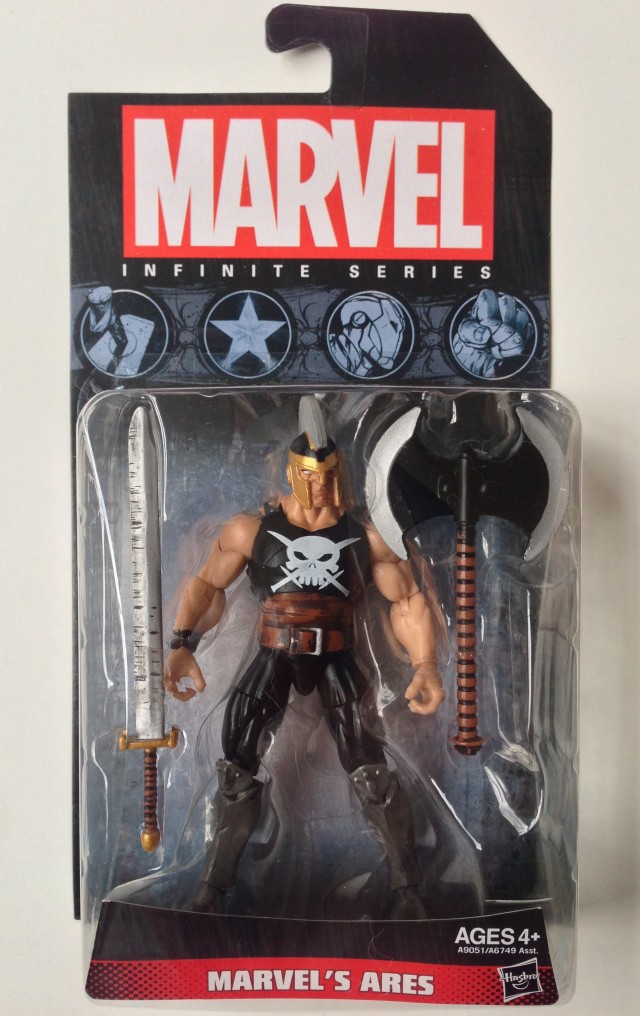 Though Ares isn't exactly a top-tier character, Hasbro more than did ol' Ares justice for this Marvel Universe Ares scaled figure. The helmeted Ares head is a 100% new sculpt (obviously), and the upper body, arms and legs look and work fantastic for Ares.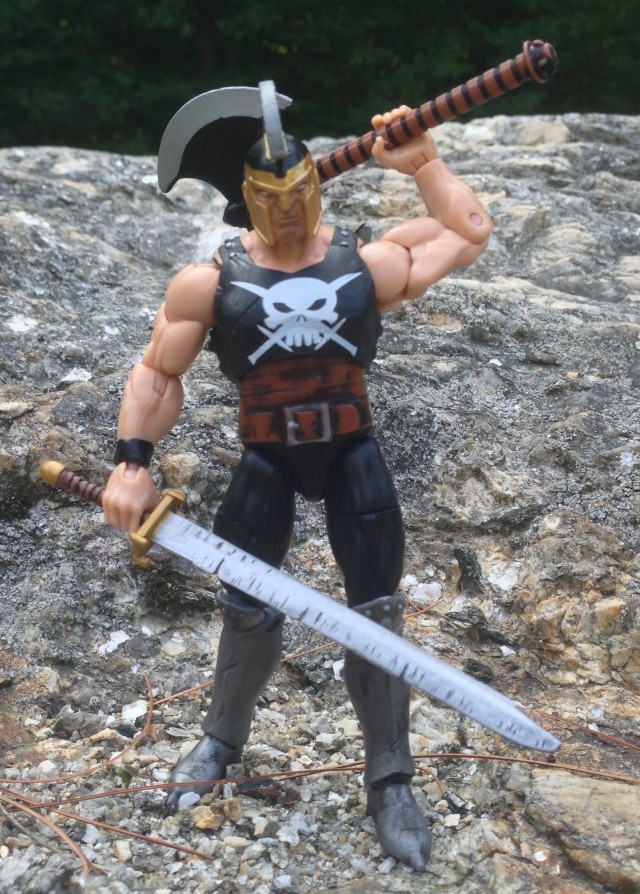 The paint applications for the Marvel Infinite Series Ares 3 3/4″ figure are exemplary. From the skull and cross-swords emblems on Ares' chest to the paint washes on his armor, Ares looks terrific. His face is a bit darker than his body, but I've actually seen that extra shading in a lot of comic books and reference art, so it's not a problem for me at all.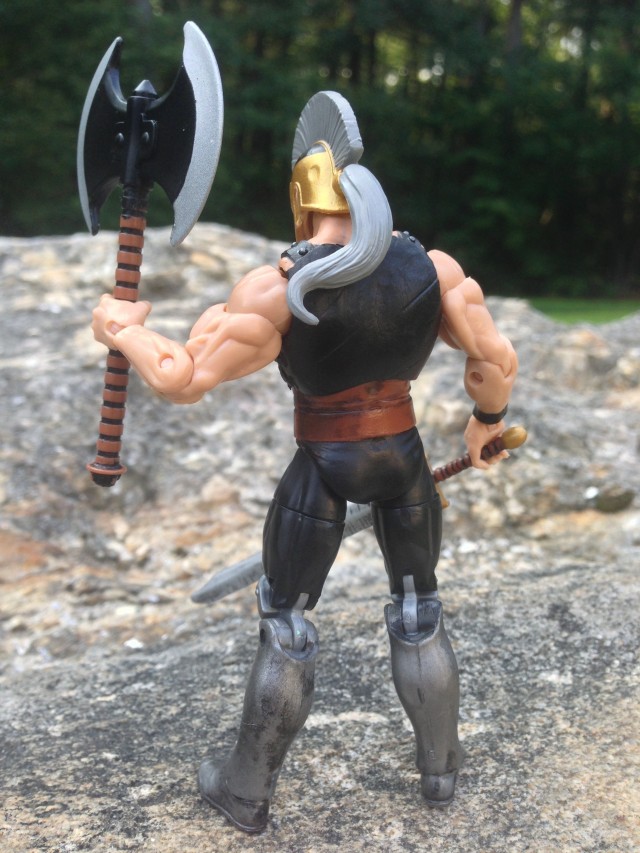 Articulation-wise, Ares is a total beast. Ball-hinge head, double-jointed knees, ball-jointed upper torso, swivel biceps and thighs, ankle rockers–almost every point of articulation you could ask for is present here on Ares.
And unlike many Marvel Infinite Series/Marvel Universe figures, Ares feels solid, muscular and powerful–he's not anorexic-looking (like many Hasbro Marvel Universe-style figures) at all.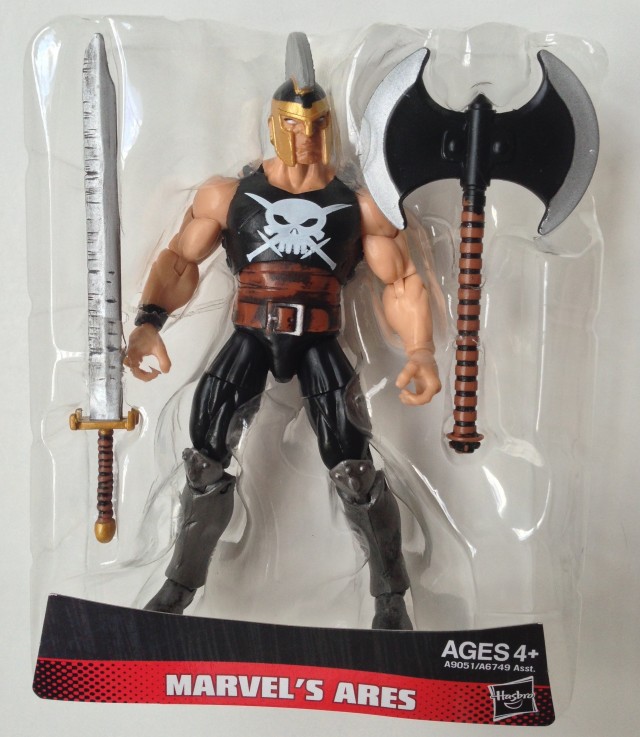 Ares comes with not one, but two great weapons–and both of them even have paint deco! First up is a huge longsword. The sword has a gold hilt and silver blade, and features little painted-on black notches of wear and tear on it. This is clearly a long sword that's been used to maim a lot of gods and/or mortals evildoers.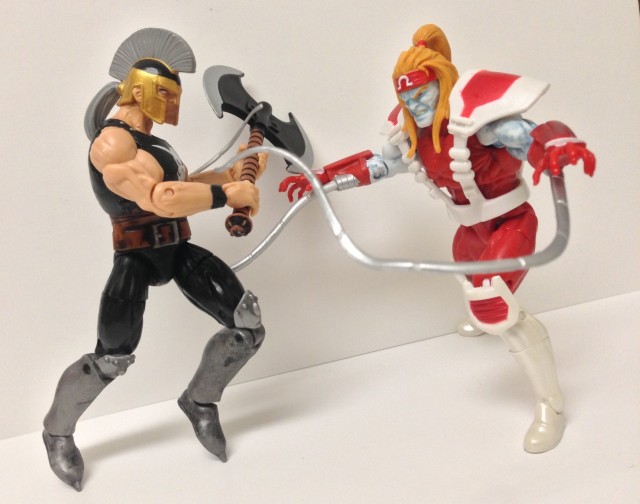 In addition to the sword, the Hasbro Ares Marvel Infinite Series figure includes a mighty war axe. The shaft of the battle axe is brown with black stripes on it, while the blade has both black and silver paint deco on it. It looks fantastic, and both of Ares' weapons are easily in the ranks of the best 4″ Marvel Universe weapons ever released by Hasbro.
The Wrong:
While Ares is one of the best-executed 2014 Marvel Universe/Marvel Infinite Series figures, I've still got a couple nitpicks about the figure.
For one thing, Ares has his black wristband/wrist tape on only his right hand, which I can't find any reference for. It's not a big deal, but it looks wrong to me from what I'm accustomed to. In addition, I would have liked it if Hasbro had included Ares' trademark spiky elbow guards.
Also, Ares' sword hilt is too thin to fit comfortably into his hands–it wobbles and slides around constantly when you try to pose him with it, which is a real shame since the sword itself is so well-decorated.
"Where Can I Buy It?!"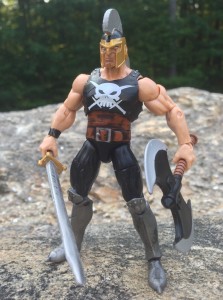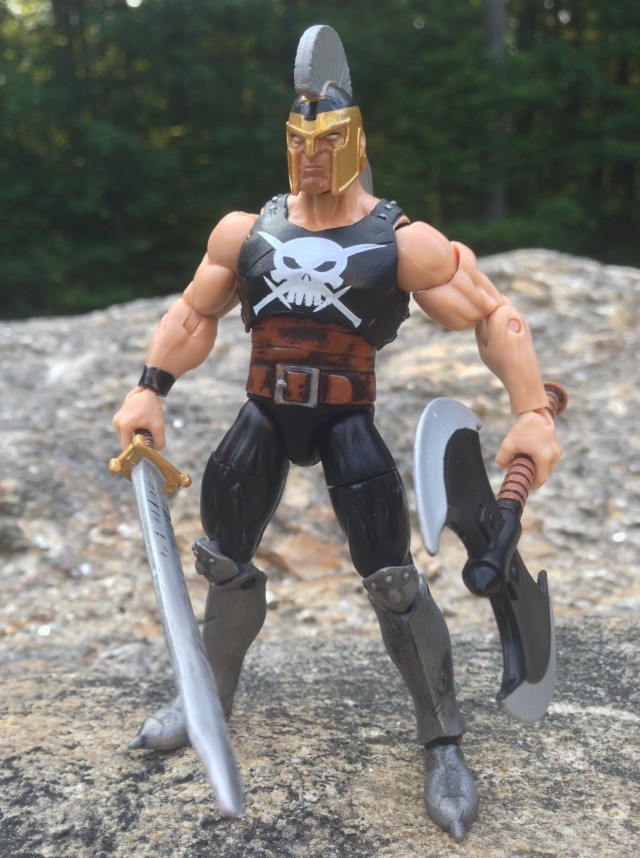 The whole Marvel Infinite Series appears to be D.O.A. at retail stores, but Marvel Infinite Series Ares can be ordered online for about $11.99. I'd have balked at that price a few years ago, but I feel that Ares is a good value even at that price today.
Overall: Ares is far from my favorite Avengers member in the comic books, but Marvel Infinite Series Wave 3 Ares is a straight-up outstanding action figure. I can whine all I want about wristbands and elbow guards and sword hilts, but all-in-all, Ares is excellent. Great sculpt and paint apps, terrific accessories, wonderful proportions and articulation. Highly recommended.
GRADE: A