It's been quite a journey for Agent Venom. Over the course of the past 13 months, Agent Venom has gone from one of the most-wanted modern Marvel characters for the Marvel Legends line, to the headliner of Marvel Legends Series 6, to another in a long line of "lost" Hasbro Marvel Legends figures, to a pre-sold out and potentially hard-to-find Walgreens exclusive. But at last, the 6″ Marvel Legends Agent Venom figure is on the verge of arriving, and we can take a look at the final production version of the figure…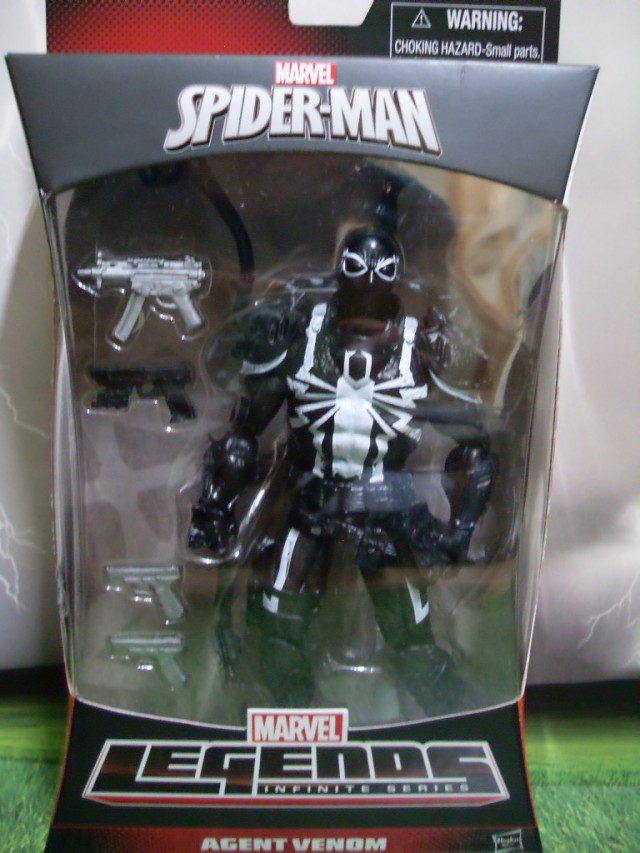 Given Hasbro's track record the last few years of failing to get 6″ Marvel Legends figures out to the masses after revealing them to the public, I would have bet that we'd
never
see Hasbro actually release this Marvel Legends 2014 Agent Venom action figure.
Thankfully, I was wrong–Hasbro found a way to get the 6″ Agent Venom figure out there, and in a totally unexpected way–as the first-ever Marvel Walgreens exclusive toy! I can honestly say that I did not see that coming.
And so, here we are. Barely over a year since the prototype for Agent Venom debuted at SDCC 2013, production copies of the Marvel Legends Agent Venom figure have made it to Hong Kong and are entering collectors' hands.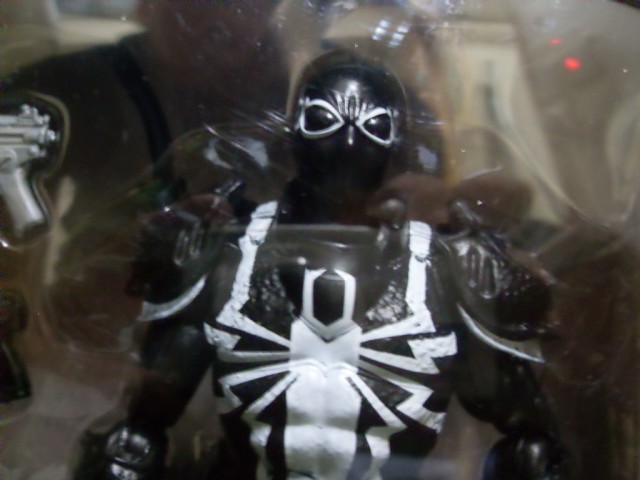 From up-close, you might think that the Amazing Spider-Man Marvel Legends Agent Venom figure is packing an all-new chest mold. But don't be fooled–his chest guard is actually made of a rubbery plastic that hides his true chest mold beneath.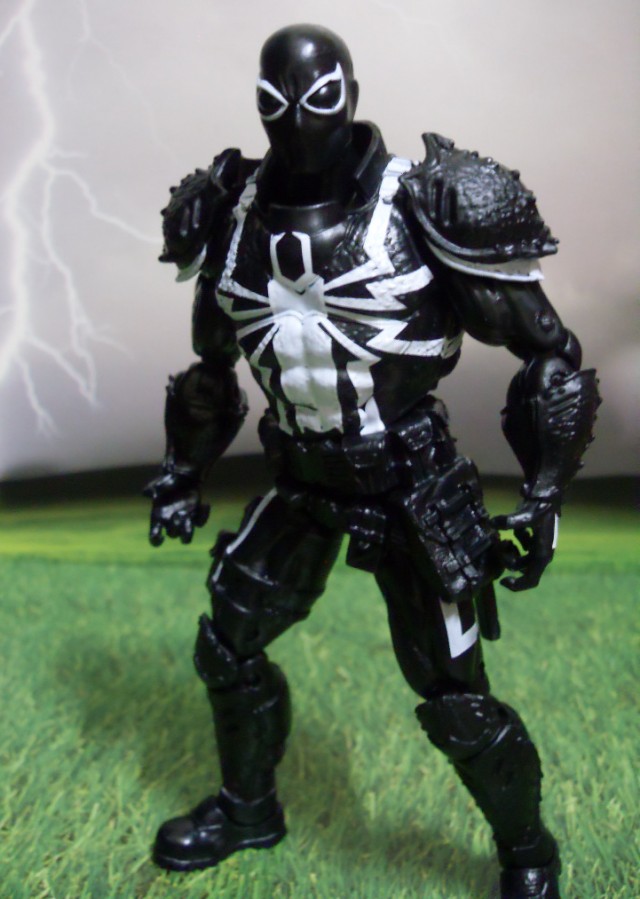 Based on the upper arms, it looks like this Flash Thompson Agent Venom Marvel Legends figure has the new X-Men Marvel Legends Magneto buck (though it's obviously tough to tell due to the chest guard piece).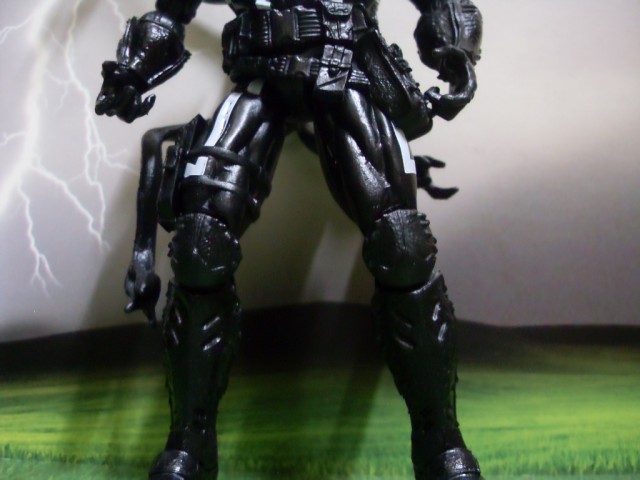 And while the Marvel Legends 2014 Agent Venom figure may not be composed of much all-new tooling, the various accessories added onto the core body really make this figure pop out as being way more than "just another repaint". The Walgreens exclusive Agent Venom's various belts, holsters, knee pads and shoulder pads look fantastic!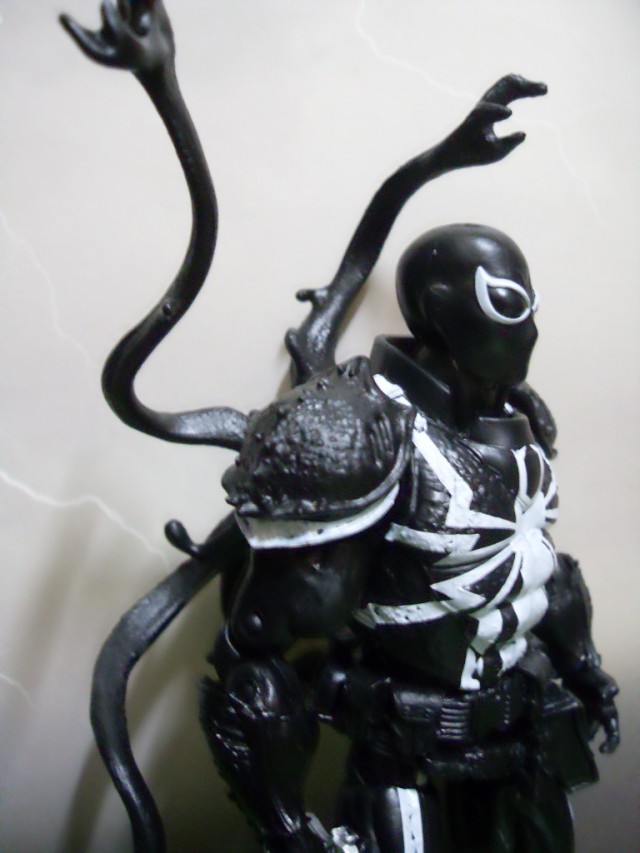 Just like the 2014 Marvel Legends Carnage and Toxin figures, Agent Venom comes with a symbiote tendrils backpack. And just like with those figures, I absolutely love the symbiote backpack.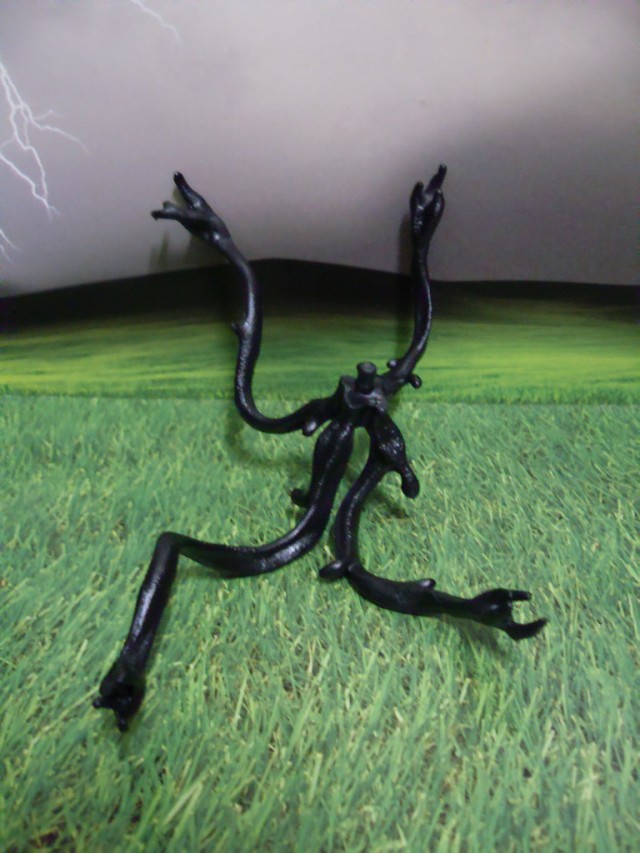 The symbiote tendrils are such a simple thing and likely didn't cost Hasbro much at all, but they really make these Marvel Legends symbiote figures feel unique and dynamic. Flash Venom didn't really use tendrils like these all that much in his comic book series, but I love the visual flair of the symbiote tendrils all the same.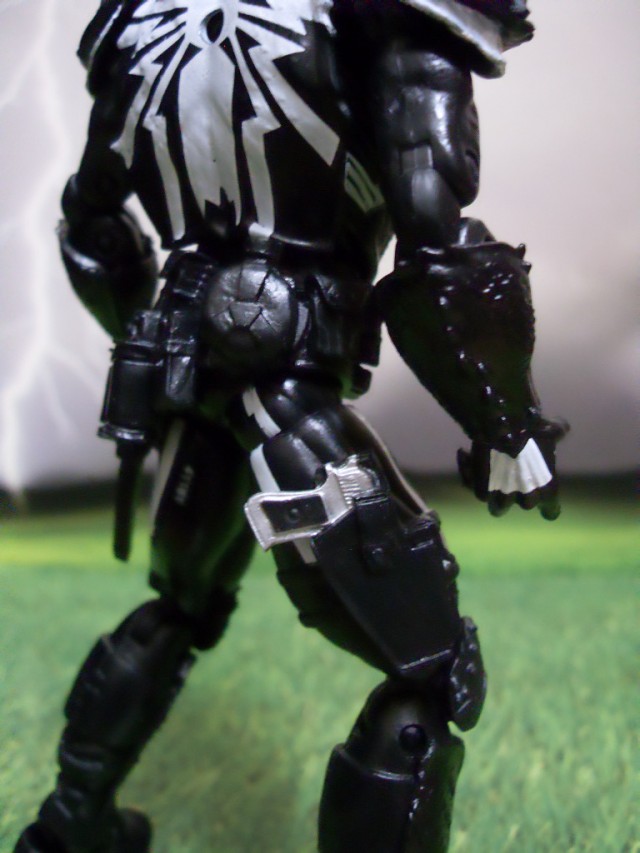 The Marvel Legends Agent Venom Flash Thompson figure comes fully-stocked with his own mini-armory, as he's toting five total guns (four packaged separately and one holstered on his right leg). The guns are an important part of what makes Agent Venom different from every other iteration of Venom, so I'm pleased that Hasbro gave Flash Thompson a good variety of firearms to be posed with.
The only real let-down with the Hasbro Agent Venom 6″ Marvel Legends action figure is the paint quality. It's a bit tough to see in the photos, but the white paint has been applied inconsistently, which can make Agent Venom look sloppy in some areas as a result. Surprisingly, this is less an issue of paint bleed and more an issue of the paint applications themselves not being sufficient (picture the All-New X-Men Marvel Legends Toy R Us set and you'll know what I mean).
Monochromatic characters like this Agent Venom are tough to get through the production line perfectly, so I'll cut Hasbro some slack, but don't be surprised if the paint apps on your Marvel Legends Spider-Man Agent Venom figure don't come out quite as pristine as you may be hoping for.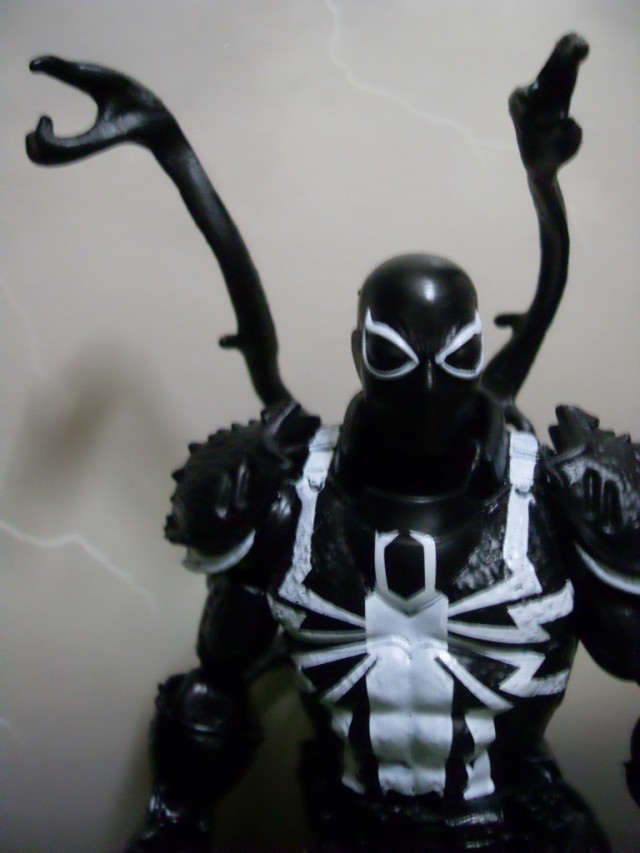 The Hasbro Marvel Legends Agent Venom figure was briefly available online for pre-order last month on the Walgreens website, but sold out in under a day. And then Walgreens started calling many buyers on the phone to let them know that they'd oversold and their order was being cancelled. Thanks, Walgreens! And on a less-sarcastic note, huge thanks to bmanhk for sending in photos and impressions of his early-release Marvel Legends Infinite Series Agent Venom figure!
Now that you've seen the final production version of the Hasbro Agent Venom 6″ Marvel Legends action figure, what do you think, Marvel collectors? Is Agent Venom well worth all the fuss and bother, is this potentially hard-to-get Walgreens exclusive not worth your time?