Last time I reviewed a Marvel Legends Hulkbuster Series figure, I focused on a comics-based version of a character newly-introduced to the Marvel Cinematic Universe. But while the Vision is all shiny and new to the MCU this year, next year the MCU is gonna get a lot more… strange! The 2015 Marvel Legends Doctor Strange figure is now available for order online–but is he as worthy of your dollars as the excellent Vision figure was? Read on for my review…
The Right:
Ordinarily, if I opened a review by praising a pair of repainted accessories as the best thing about a figure, you'd (correctly) think that it was a preamble to bashing said toy. That's not the case here.
Even so, it's true–the Scarlet Witch's magical effect pieces look terrific in translucent lime green, and elevate what otherwise might be an unexceptional figure to a much higher plateau. Thanks to the magical rings, the new Doctor Strange can be posed in dozens of ways that look fun and natural. In fact, I'm enjoying him almost more than any other figure in the Hulkbuster wave!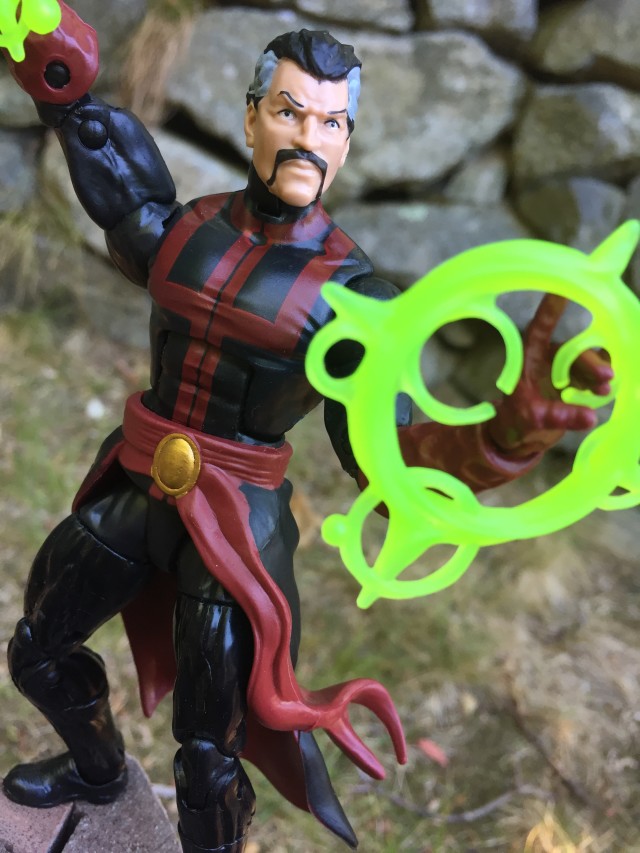 While the Master of the Mystic Arts doesn't come with any extra interchangeable hands, I can't bring myself to complain–Stephen's spell-casting hands look absolutely perfect in every pose I want to put Strange into.
Whether the good doctor is casting a spell to combat dark forces or just throwing up the horns, the Avengers Legends Doctor Strange figure's hands are a blast to pose.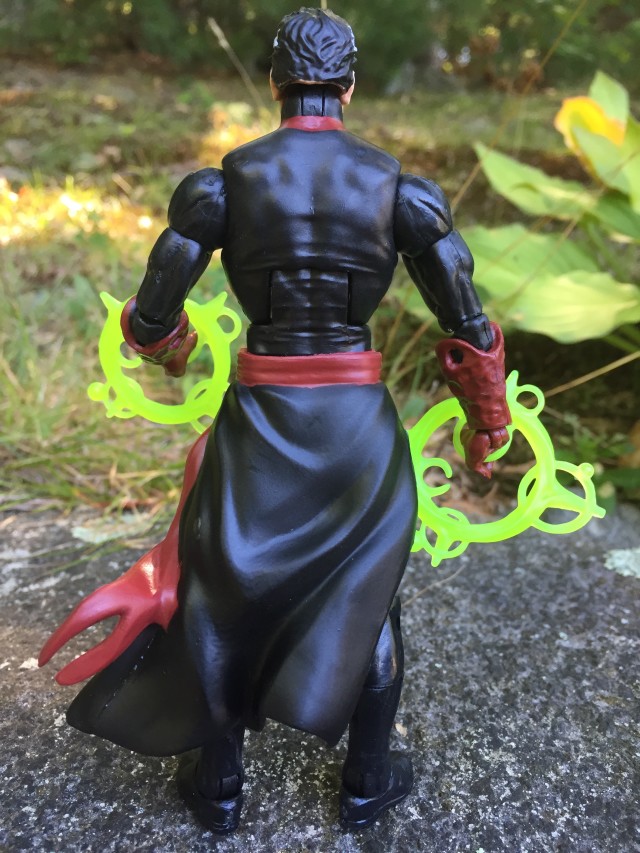 Of course, the rest of Strange is no slouch at posing either–from double-jointed knees and elbows to ankle rockers and a ball-jointed head, this Marvel Legends 2015 Doctor Strange 6″ figure has far more articulation than anyone would ever really need in a sorcerer action figure.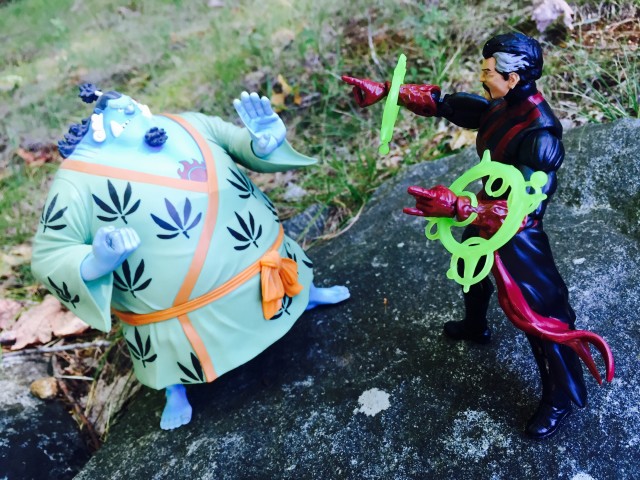 Meanwhile, Hasbro did an exceptional job of translating Stephen Strange from the printed page to toy form. I've always thought that the Marvel NOW! Doctor Strange costume looked a mite boring in comic books, but as an action figure the costume looks surprisingly compelling.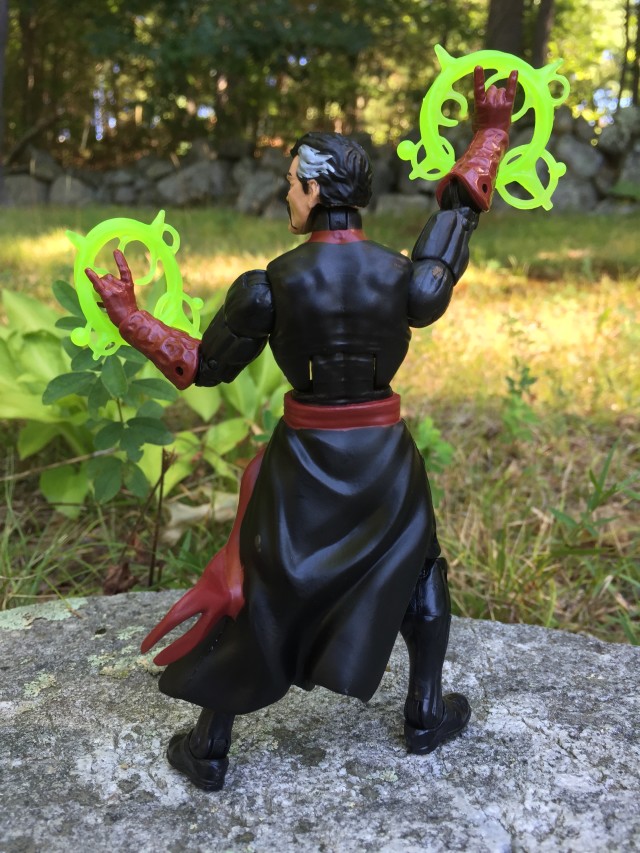 It's worth noting that that New Avengers Doctor Strange costume looks reasonably close to his Secret Wars Sheriff Strange costume–and is likely the closest we're ever going to get to a Sheriff Strange figure–so if you have any interest in creating a Marvel Legends Secret Wars display, this is the Strange to get for it.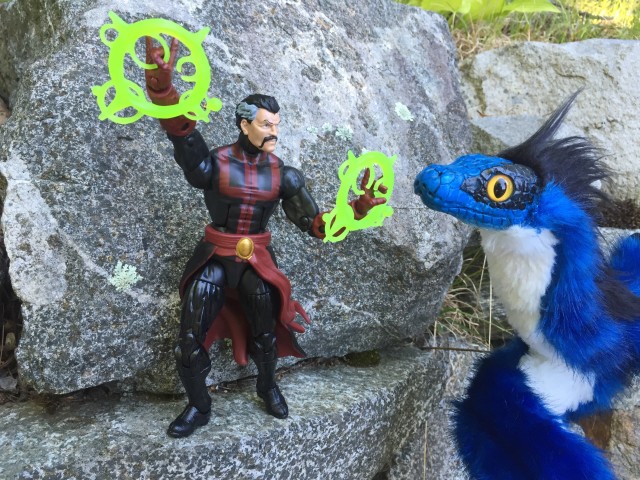 I was genuinely convinced that Hasbro would botch the colors on the lower-body "cape" portion of Strange's body, but it turns out that they managed to capture the two-tone nature of the skirt precisely (red on the inside and black on the outside). This is a really important detail for the costume, and I'm psyched that Hasbro got it right.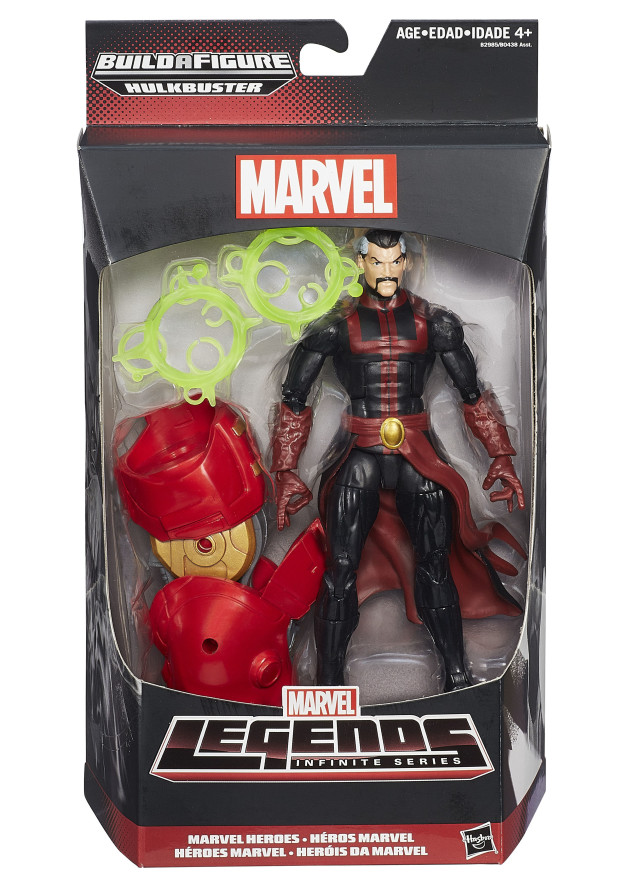 The windswept look of ML Doctor Strange's robes is also just dynamic enough to make this figure look eye-grabbing and action-packed instead of static and boring.
The Wrong:
I've got two minor gripes with this Marvel Legends Dr. Strange figure, and luckily, neither of them is a deal breaker.
First, the Sorcerer Supreme is unfortunately stuck with some seriously floppy hip joints. The mold for this figure is clearly starting to degrade, and Hasbro may have to invest in some new tooling sooner than later.
Strange can still stand up and hold a pose with some fussing, but he crumpled over far too easily for my liking. I'll have to do something to strengthen the lower-body joints on this figure.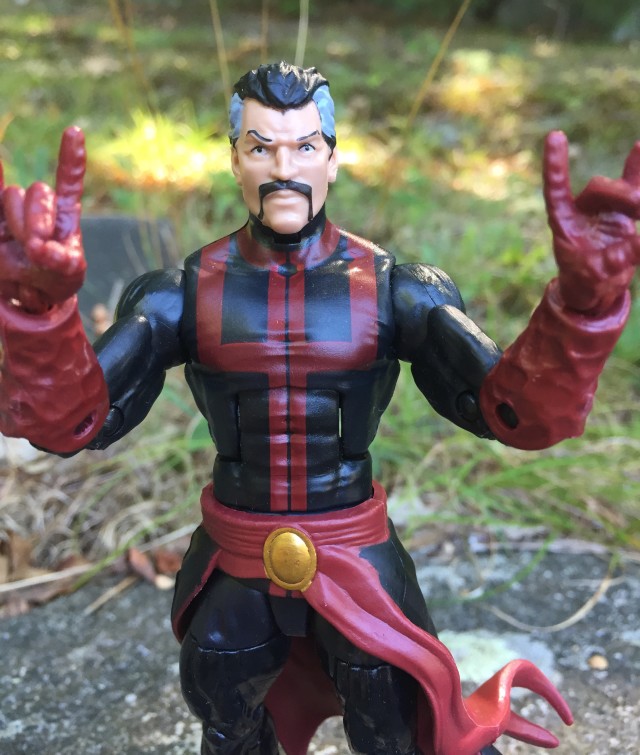 Less easily fixed is my other qualm with this figure: the head. While it's a passable likeness to how Marvel Now Doctor Strange looks in the comics, it feels a bit more cartoony/caricature-like than many of the superb heads we've gotten this year.
I can deal with the portrait, but it definitely can't compare with the head on the excellent Marvel Select Doctor Strange coming our way this fall.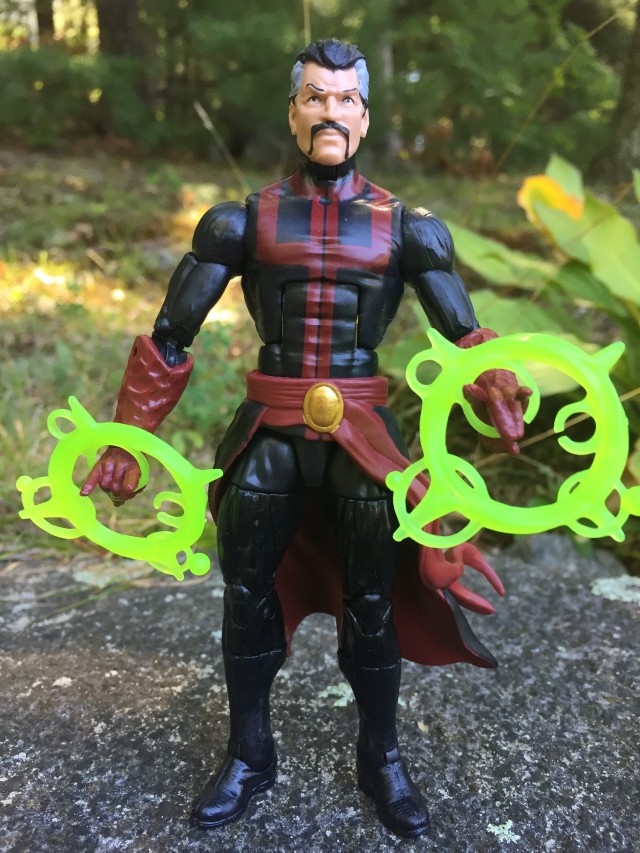 Overall: What I thought was going to be a supremely boring action figure of Stephen Strange actually turns out to be a solid, well-done one. The Marvel Legends Avengers Doctor Strange figure has a splendidly-executed robe, a plethora of articulation and a pair of super-fun effect pieces. His head looks slightly cartoony and his leg joints are looser than I'd hoped, but otherwise this is undoubtedly the best toy of Doctor Strange in this costume that will ever be made. Recommended.
GRADE: B+