Previously I've reviewed every single 2016 Marvel Legends Build-A-Figure released this year–save one–so I might as well complete the set! Somehow I managed to skip over the BAF of what many consider to be the best Hasbro Marvel Legends wave of all-time earlier, but there's no stopping him now! Those who buy the whole set of X-Men Legends figures are able to build this Marvel Legends Juggernaut Build-A-Figure: Did I save my review of the best BAF of 2016 for last?
The Right:
Not every collector was elated when a new Juggernaut action figure was announced as the Hasbro X-Men Build-A-Figure for the year, as the character has had several outstanding figures previously released in approximate Legends scale by Toybiz and Diamond Select Toys.
But Hasbro has never released a 6″ scale Juggernaut of their own before, and was eager to try to top other companies' handiwork. And from most perspectives, I think they succeeded mightily.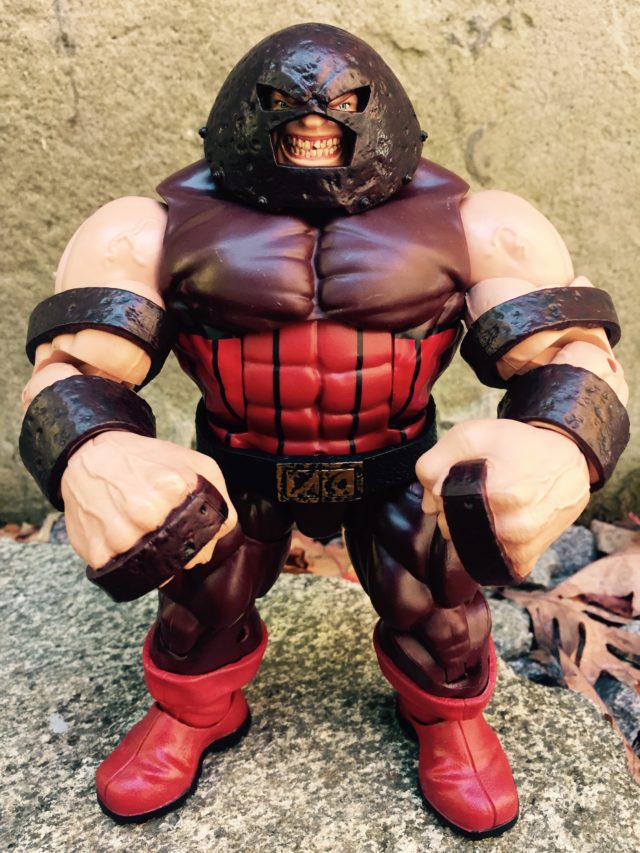 The new Marvel Legends Juggernaut BAF is a 100% new mold with zippo recycled parts from previous figures. That makes a lot of sense, seeing as how nobody Hasbro has previously released resembles Juggs, and I appreciate Hasbro not trying to shoehorn inappropriate parts onto this figure.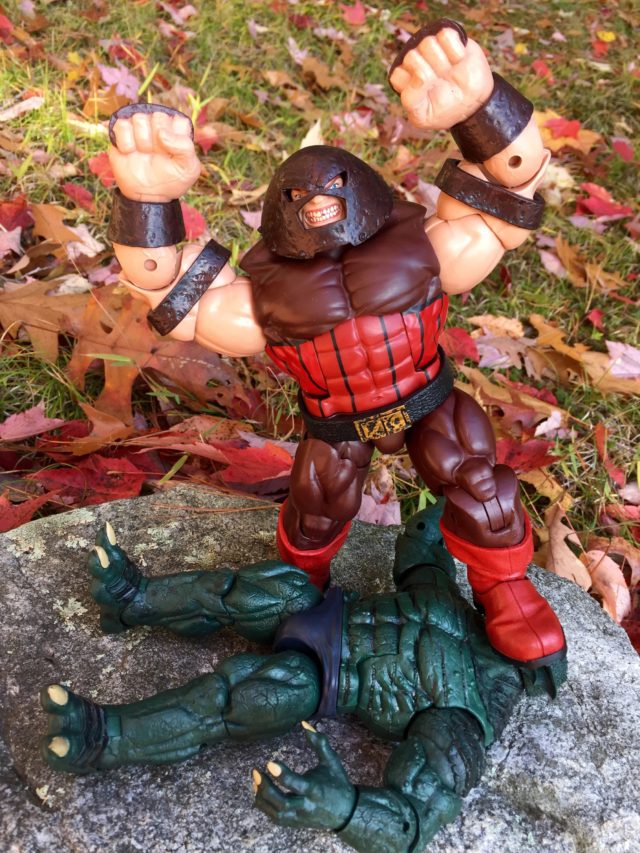 I was underwhelmed by the size of some of the 2016 Build-A-Figures (particularly Absorbing Man), but that's not a problem here. Juggernaut is massive. He's not quite at the size of Hulkbuster Iron Man (nor should he be), but he's easily bulkier and more humongous than Abomination and Rhino (and looks like he could rip them to shreds).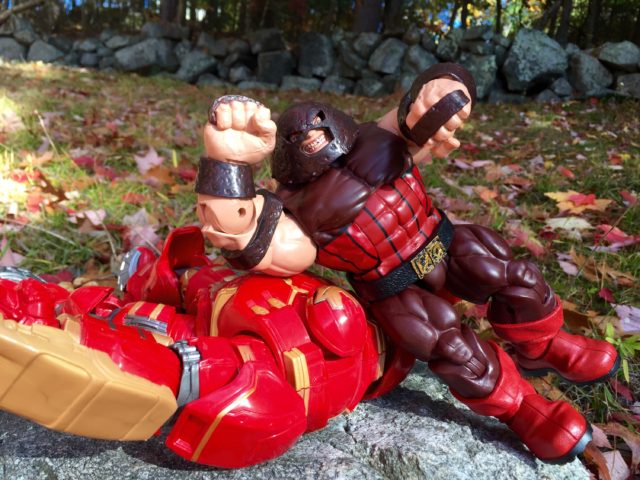 Let's talk about heft for a second: this ain't no hollow rotocast toy, that's for sure! I stuck Juggs on my postal scale and discovered that he weighs a full eighteen ounces. Juggernaut, by himself, almost weighs more than the entire series of X-Men Legends figures from this year. Yowza!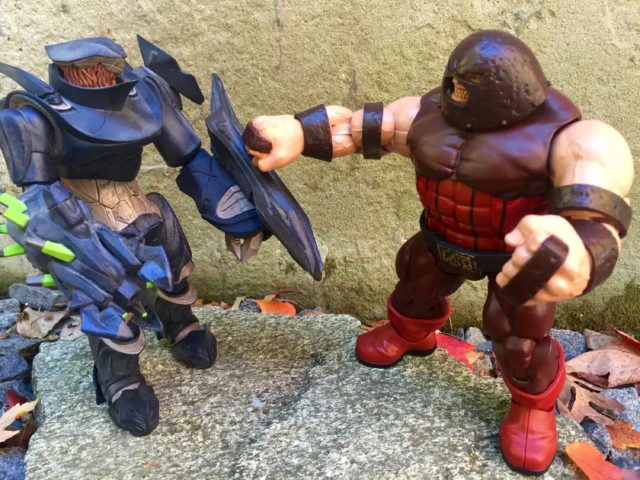 With that kind of weight, you might worry about the 9″ Juggernaut Marvel Legends Build-A-Figure being top-heavy or hard to pose–but don't be. Juggs has really big feet, and you know what they say about guys with big feet, right…? Yep–they can stand up really, really well.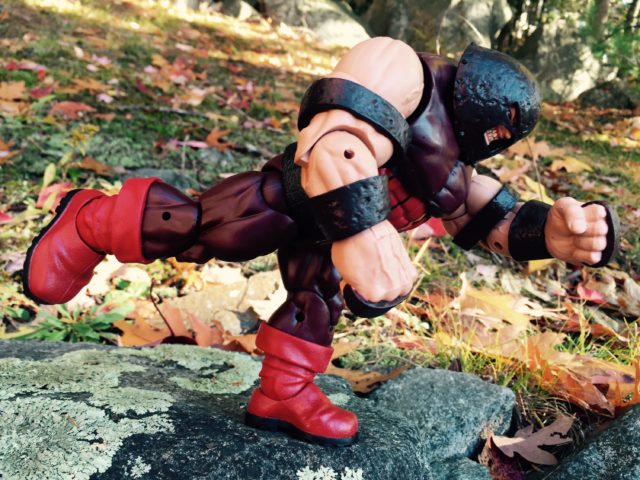 In fact, not only can ML Juggernaut stand up well on two legs–he can stand up stably on one leg! Yes, this figure can achieve all manner of charging poses in a running position, and looks great in them. Mega thumbs up, Hasbro.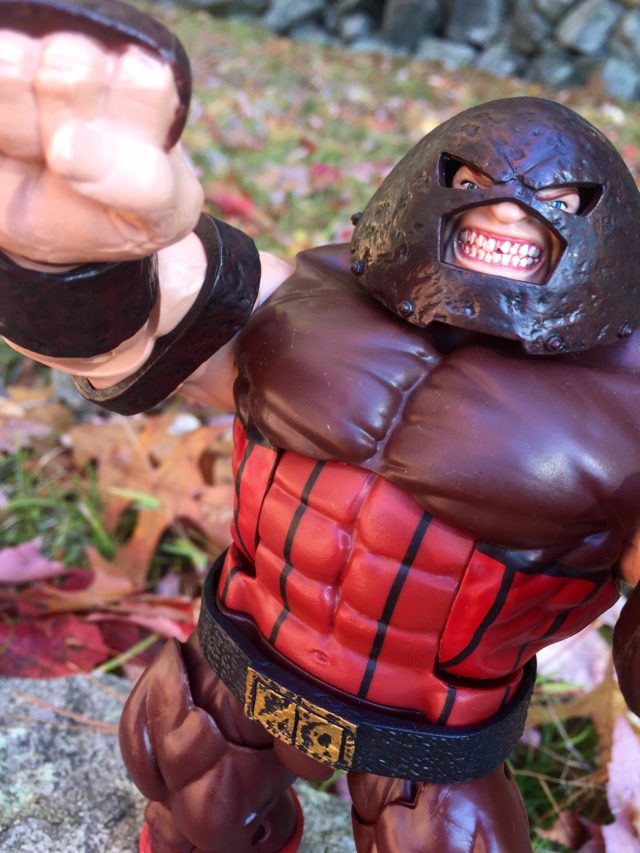 I love the mean-as-nails, broken-toothed Cain Marko head that we can see peeking out from behind the Juggernaut helmet. I also really dig the craggy, bumpy texture of the helmet, belt and armbands on this figure.
Now, some fans will say that they prefer the DST or Toybiz Juggernauts because of the amount of paint deco and sculpting detail on those figures, as both are a bit more detailed than the Hasbro version.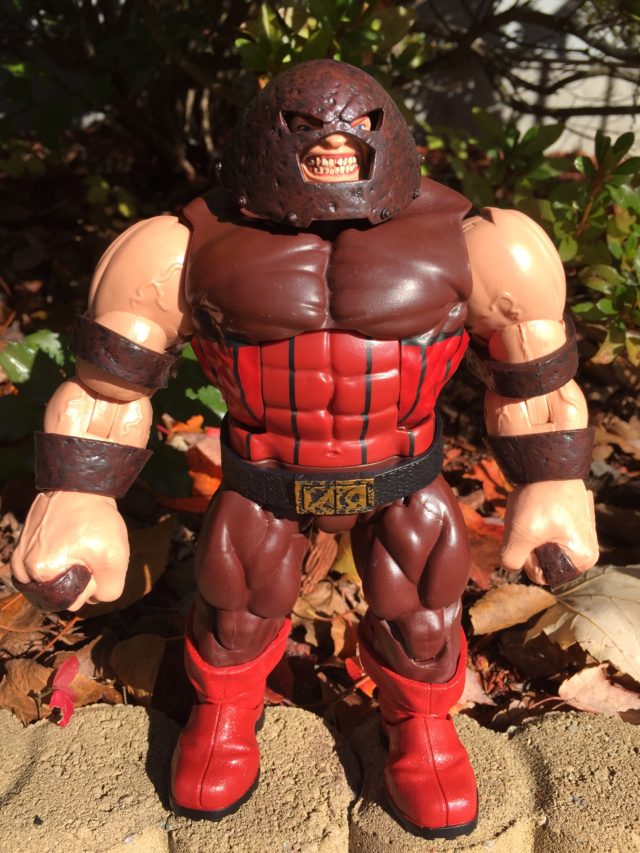 But in my opinion, both of those Juggernauts look too detailed to fit in seamlessly with the modern Hasbro Marvel Legends series–they're just not in the same style as the current figures are. Hasbro's Juggernaut action figure, however, fits in just right, making him the default Cain Marko for my collection.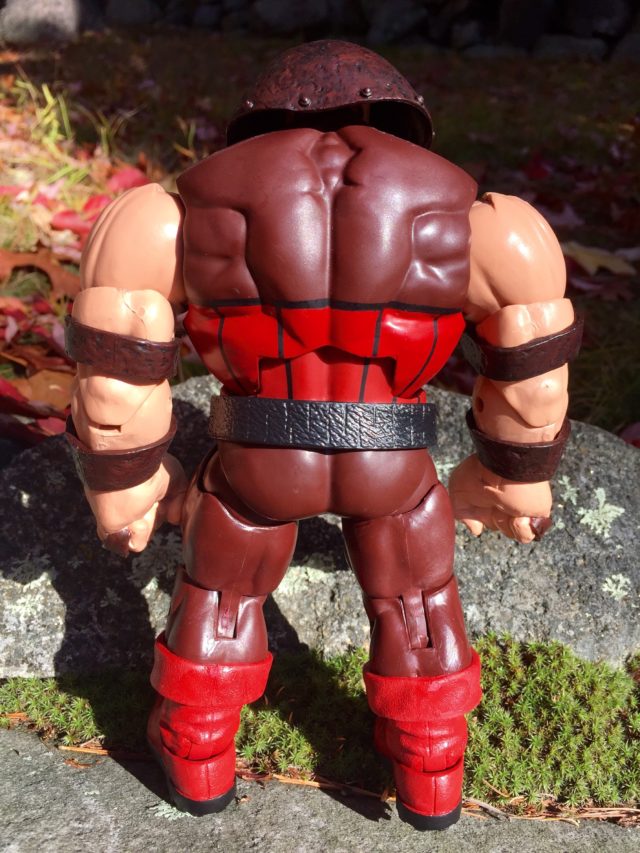 Also, while this figure doesn't have much in the way of paint wash or shading, the paint that is here is expertly applied and looks vibrant. The colors here really pop.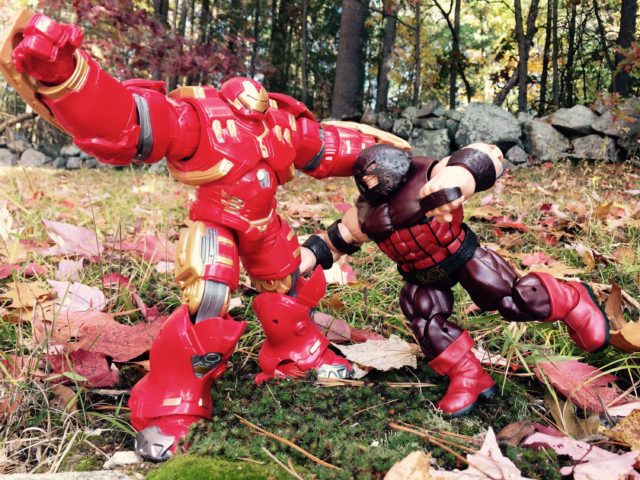 The last thing I'm lumping into "The Right" is articulation, though I expect some readers will challenge me on this. Juggernaut doesn't have quite as much articulation as we've become accustomed to on a ML figure.
Juggernaut has a ball-jointed head and hips; swivel waist, biceps and thighs; ball-hinge wrists and shoulders; hinge elbows and knees; hinged feet with ankle rockers and an upper torso ab crunch.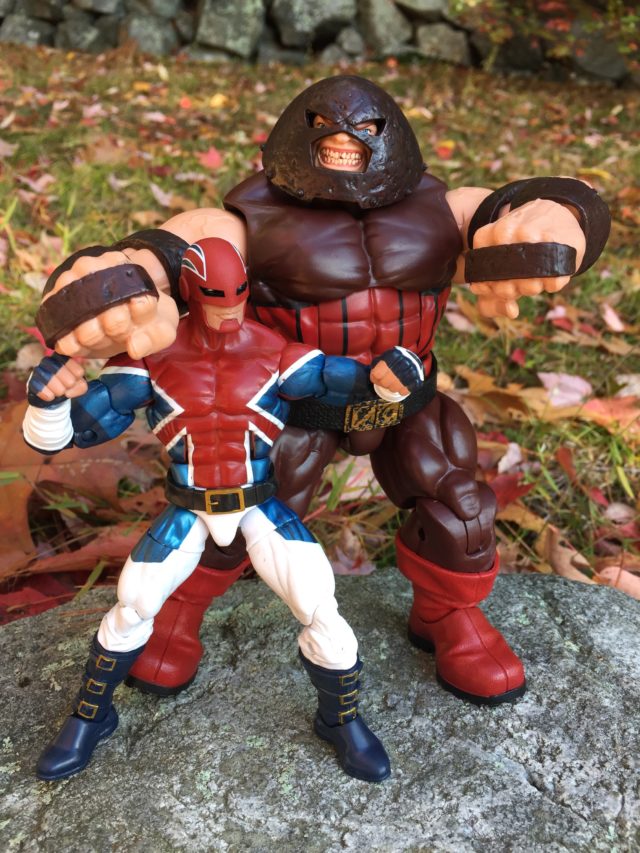 There's no double-jointed elbows or knees and no swivel calves, but I'm okay with that in this instance–given the bulky musculature of the Juggernaut, I don't know if he should be that flexible, and I'd hate to see the extra articulation compromise his stability. Your preferences may vary.
The Wrong:
While he's nearly perfect as far as I'm concerned, I've still got my gripes with the Build-A-Figure Juggernaut, and the primary one is shared with several other members of the X-Men Marvel Legends wave: floppy belt syndrome!
Juggernaut's belt is an add-on piece and not part of the body sculpt, and it's simply not tight enough to stay in place perpetually. It's not as obnoxious as some other characters' belts, but I'm annoyed with it nonetheless.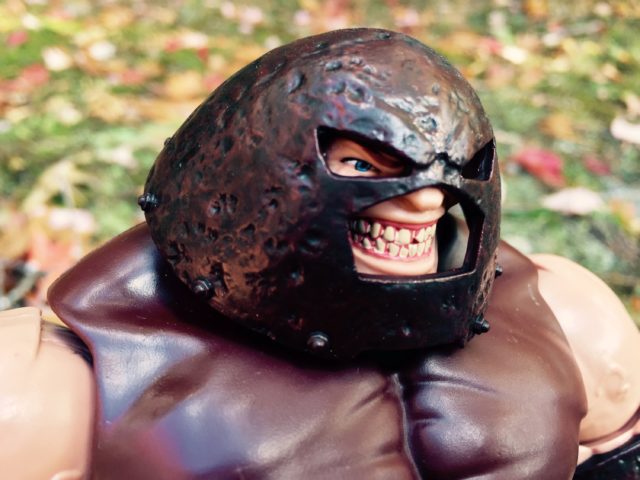 In addition, I think it's rather lame that the helmet isn't removable on this figure. As there's already a partially-completed Cain Marko portrait inside the helmet to begin with, I don't think it would have been that much more expensive or difficult to make the helmet removable with a Cain Marko head underneath.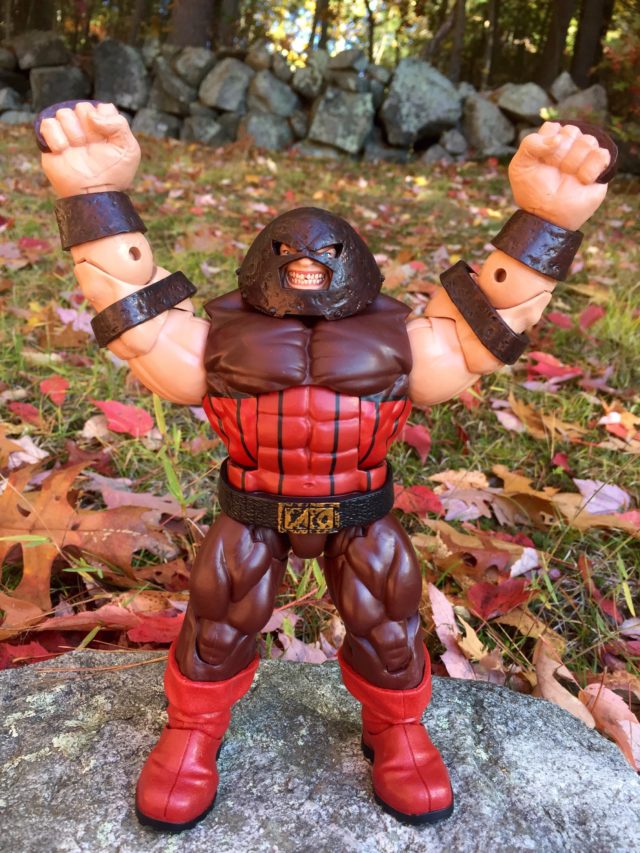 Overall: The floppy belt sort of irritates me and an unmasked Cain Marko head would have been nice, but these are minor quibbles in the grand scheme of things. This Juggernaut is well-sculpted, well-articulated, well-painted, and, well… heavy! It looks and feels like a quality item because it is. Some folks will still prefer the Toybiz or Marvel Select versions of the Juggernaut, but this iteration is easily the one that fits in best with the Hasbro Marvel Legends figures and earns my recommendation as best Juggernaut figure around.
GRADE: A