UPDATE 12/12/2017: Once again, patience pays off for collectors more patient than me! The Walmart Exclusive Marvel Legends 6″ Ultimate Vulture and Spider-Man two-pack is marked down to 15 bucks online! I'm not gonna lie… I kinda wish I had waited and saved 25 bucks on this set, since I never even opened mine yet. Oy…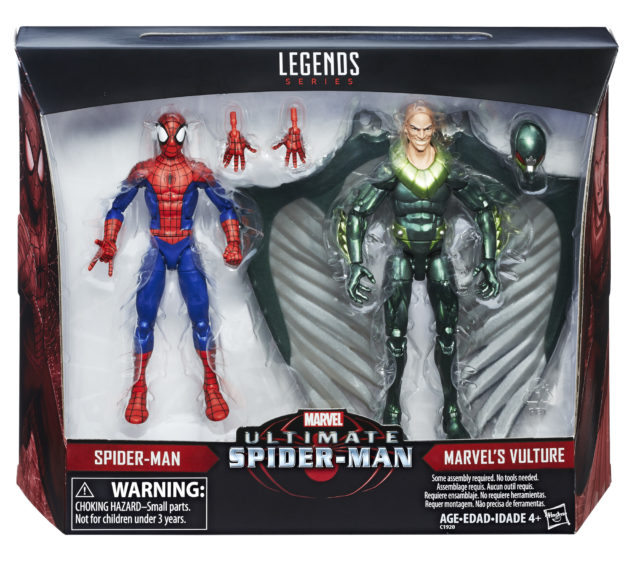 ORIGINAL 4/17/2017:
Well, looks like Hasbro has gone and pulled a fast one on us! While we've all been sitting around and waiting for the Marvel Legends Invisible Woman and Black Panther exclusives to hit U.S. retail stores, it turns out that a
different
exclusive has actually managed to be the first to arrive and begin distribution! Yesterday, the first sightings at Walmart stores were reported of a set that was revealed at the 2017 Toy Fair: the Marvel Legends Vulture vs. Spider-Man two-pack!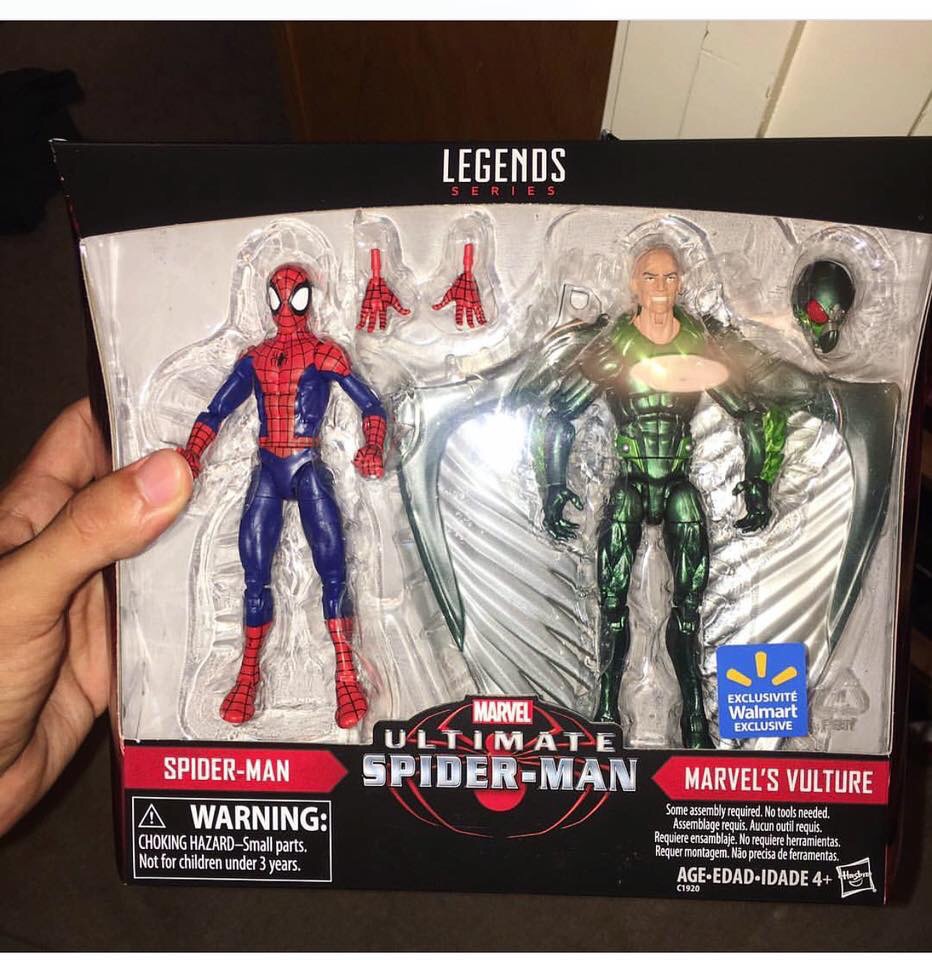 Well, here's an extra special treat: a Hasbro Marvel Legends exclusive is actually arriving earlier than expected for a change!
Whereas we're becoming used to exclusives not hitting the United States for several months after they're spotted overseas (and on eBay), this time out the situation is reversed: the Marvel Legends Ultimate Spider-Man and Vulture two-pack has actually already been spotted in Walmart stores in Texas, despite no prior sightings of the set online or internationally!
For those wondering, the Spider-Man figure in this two pack is just last year's Ultimate Spider-Man Marvel Legends figure that uses the teen boy mold. I know most folks would prefer a Pizza Spidey reissue, but this set is based off the Ultimate Marvel universe, so that would make no sense in this case.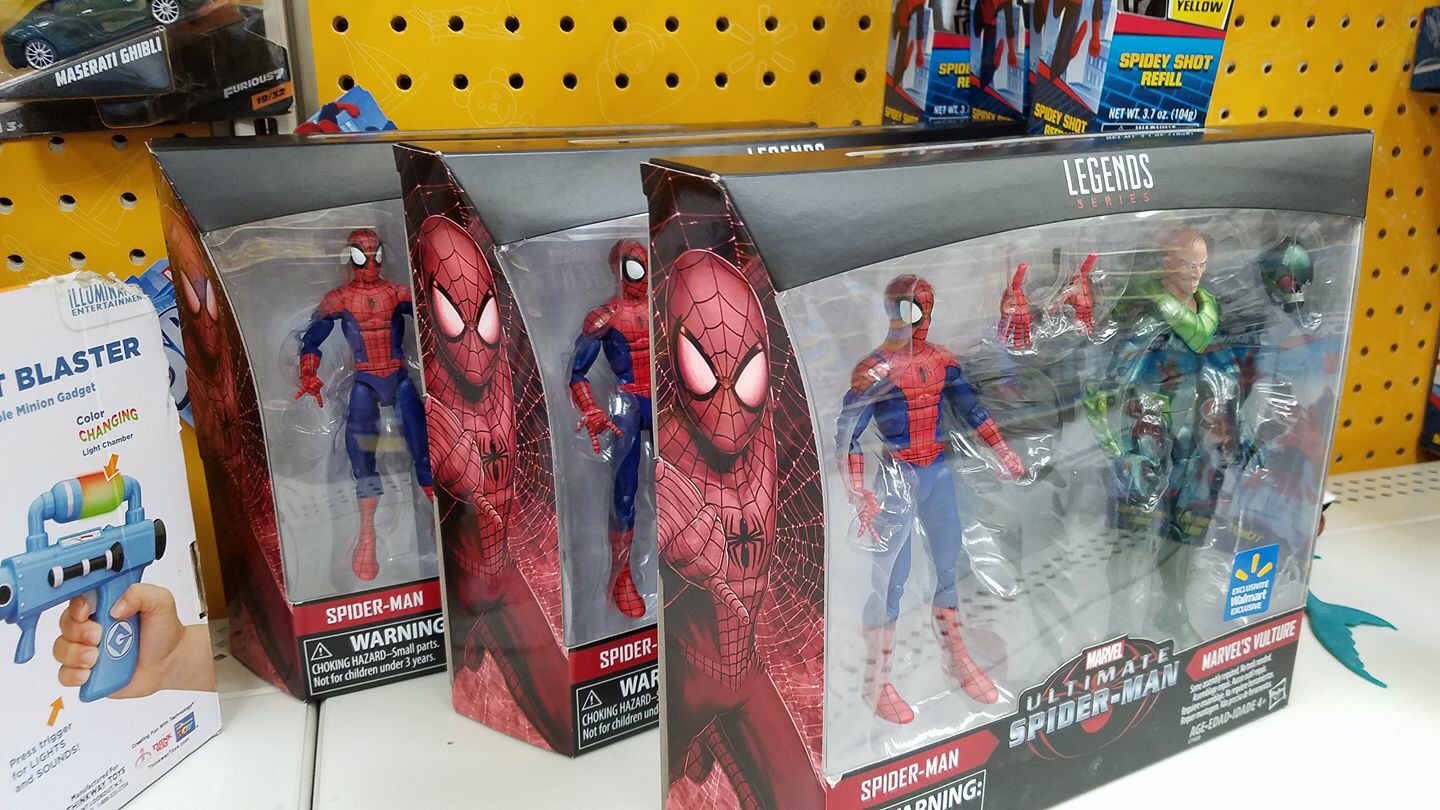 What is a bummer is that Ultimate Spidey gets less accessories in this set: he only has two pairs of interchangeable hands and no Peter Parker head this time out. Oh well–makes me glad I bought the first version of this figure last year!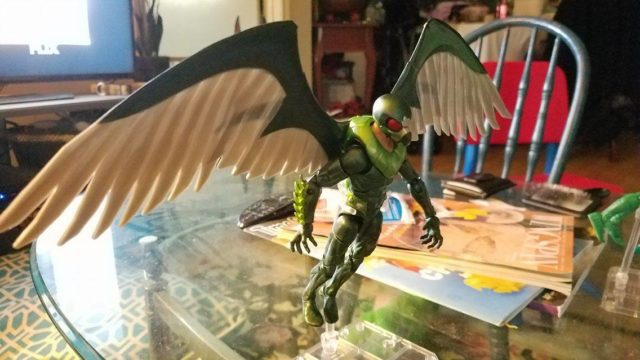 The Marvel Legends Vulture figure is the first release of this character in the Hasbro line. I've no doubt the majority of fans would have preferred a classic Vulture, but this is the more technological Ultimate Vulture. This is definitely not "my" version of the Vulture, but I think it's a nice figure nonetheless.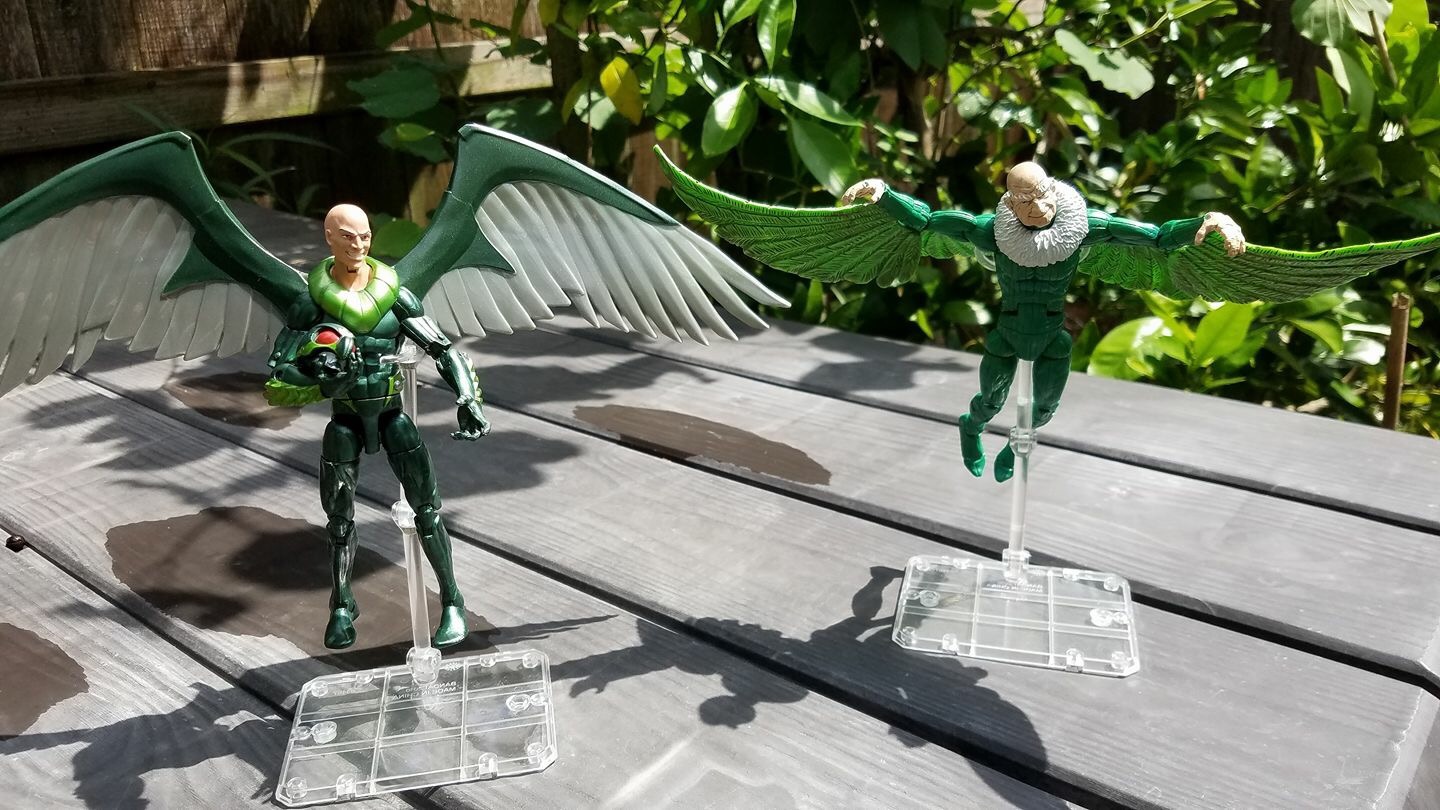 For those wondering why this Vulture couldn't be a regular release, it looks like the wings are too large for standard individual figure packaging and this figure would likely not cost out as being viable at the usual $19.99 price-point that ML sell for. If this is the only way to get this Hasbro Vulture action figure released, I've got no qualms.
As you can see from a photo comparison of the original Vulture Marvel Legends Toybiz figure and the new Hasbro 6″ iteration, the two figures are 100% different from each other, so it won't feel too redundant to have both in a ML collection.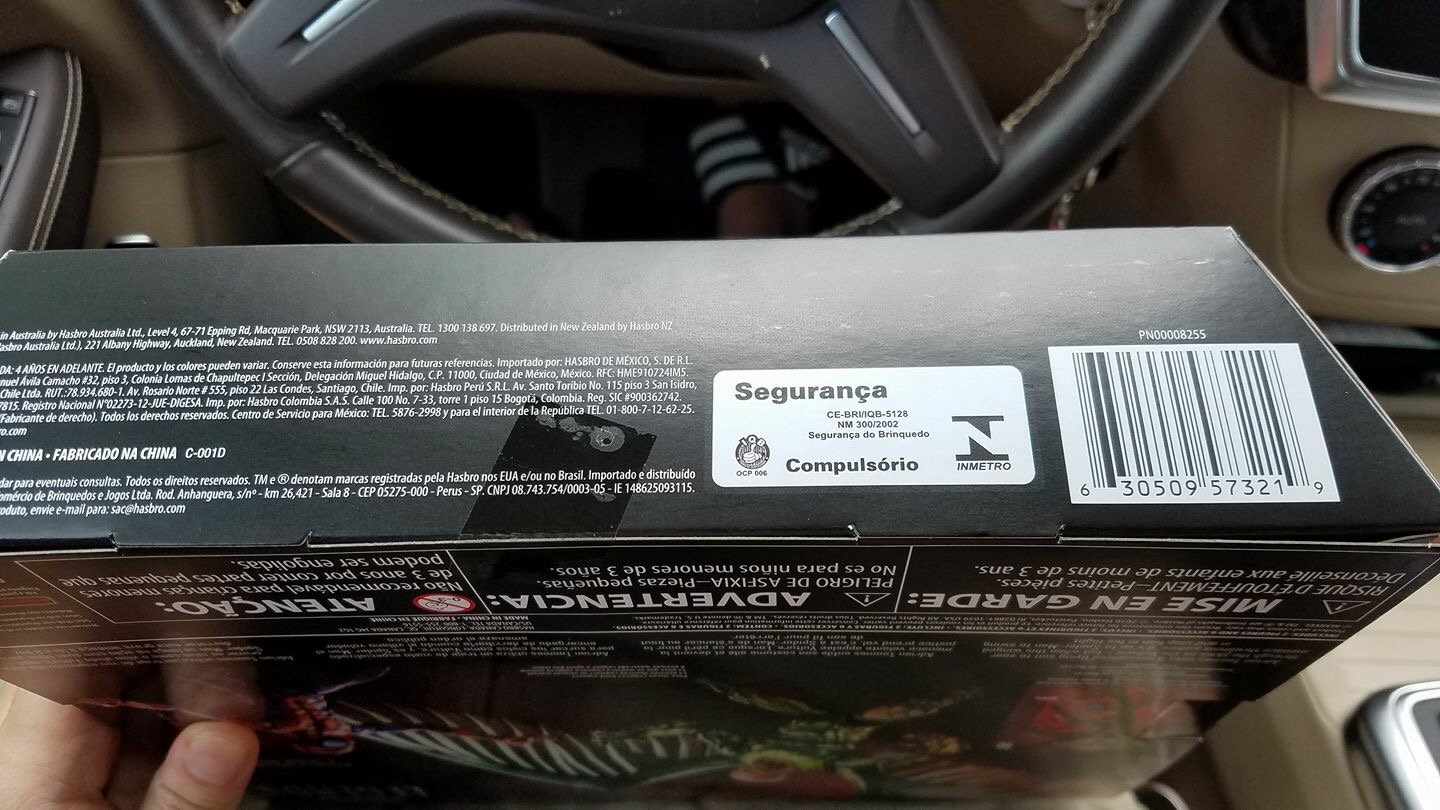 The UPC code for the two-pack at Walmart stores (where the set is exclusively available) is #63050957321. You can use that number to track the inventory at your local stores to see if the set has arrived yet, although it's only been sighted in Texas as of writing (as far as I know). The retail price on the set is $39.99, which is pretty fair since Vulture is more of a "deluxe" release.
Here's Robi's impressions of the Vulture figure that he sent in photos of: "Ultimate vulture is pretty badass. I love it. Wings are what make it stands out. It's pretty much the cheaper way for the classics one. But of course people will sell this loose 25-30 most likely. One of the 2 packs that will be popular bc of vulture".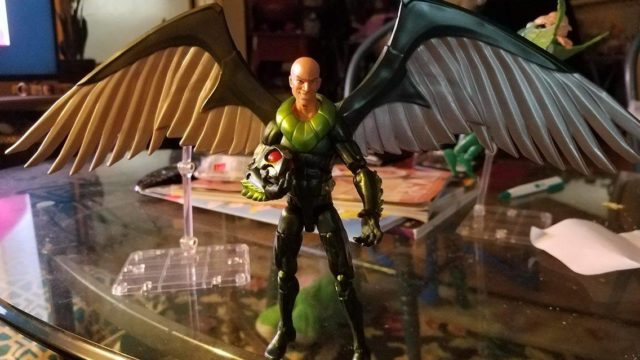 I'll post my own review of this set once it hits Walmart stores in New England and I track one down for my very own. Watch the Marvel Toy News Facebook and Twitter Pages for alerts once my review goes live here on the site. Big thanks to Robi Arcilla for giving us permission to run his photos of the Marvel Legends Vulture two-pack!
What do you think of the Marvel Legends Ultimate Spider-Man vs. Vulture two-pack, Marvel collectors? Will you be dropping 40 bones on this duo, hoping it ends up going on sale, or passing on this Ultimate Universe pairing altogether?