It's extremely rare that I can experience the pure joy that is finding Marvel figures in a store that I didn't even know existed, but that's just what happened this weekend, when I stumbled across the newest wave of exclusive Minimates! The Toys R Us Marvel Minimates Series 24 figures are now in stores, including Gwenpool, classic Scarlet Spider, the Collector and more!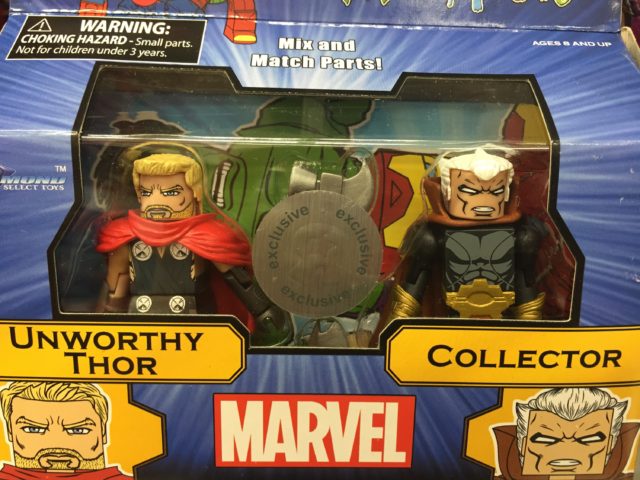 I was out of commission most of the week and thus unable to make any toy runs, so I decided to fill that void in my life and hit up Toys R Us yesterday, even though there was nothing in particular I was searching for.
While I hadn't been anticipating finding anything new in the store, as I was getting ready to leave I came across the latest series of TRU Minimates–a wave which I legit had never heard existed in the first place!
This is an interesting set in that it has no comic book/specialty store counterpart at all–all three packs are Toys R Us exclusives. Unusual, but as all three two-packs have figures I want, I'm not complaining!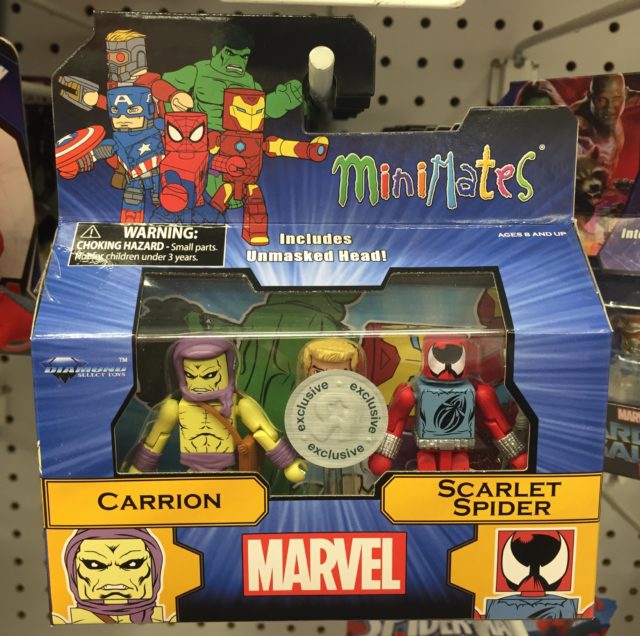 The pack that immediately made my heart beat a little faster when I saw it was Classic Scarlet Spider & Carrion. Let's face it–the chances of seeing a new Marvel Legends Carrion figure are slim, and he's a character that I at least sort of like, so I'm glad to get a figure of him.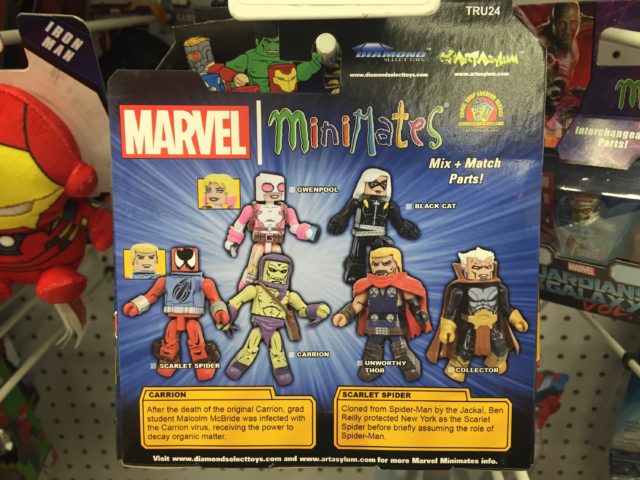 Meanwhile, hoodie-wearing Ben Reilly Scarlet Spider is one of my collecting focuses and an instant purchase for me anytime one is released. This isn't the first classic Scarlet Spider Minimate figure, but it's definitely the best one! Love it!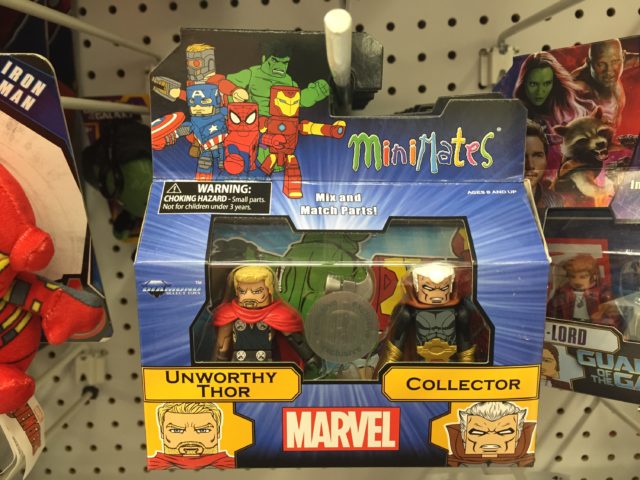 The second set in this trio features comic book versions of two MCU characters who've been getting a lot of chatter lately: an Unworthy Thor Minimate and the Collector Minimate!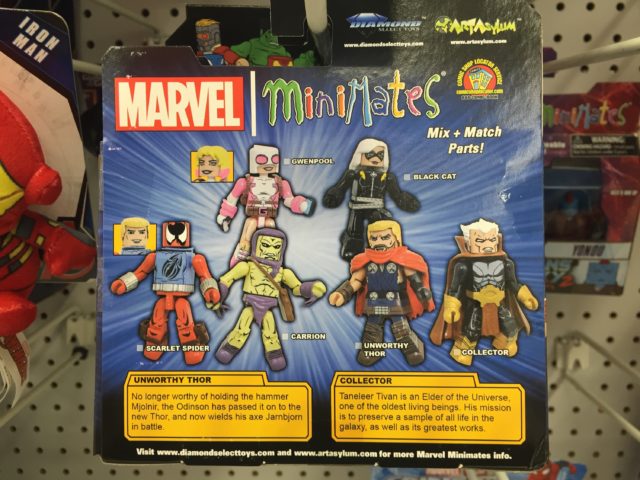 An Unworthy Thor variant was definitely high on my list of modern Minimate must-haves, so I'm psyched about seeing this figure come out at all (even if only as a TRU exclusive). Meanwhile, the comic-based Collector is a rare character where I prefer his movie counterpart, but it's cool to get another action figure of a semi-obscure character like this is any form.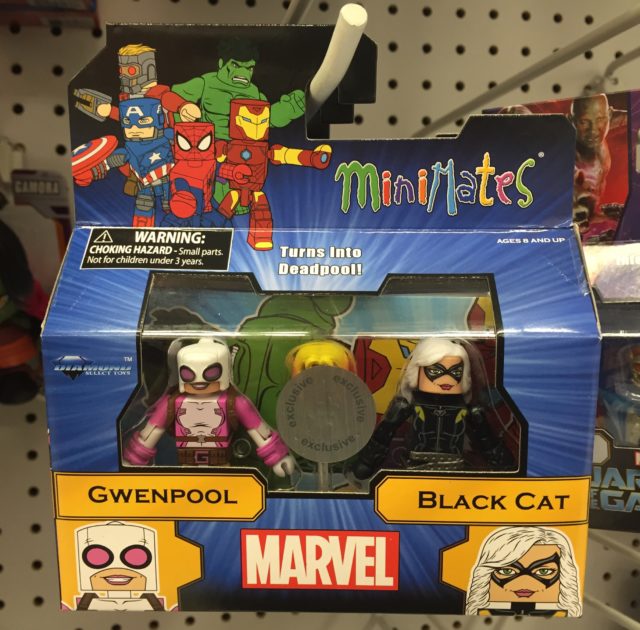 Lastly, we've got the set that I reckon may end up being the best-seller from this series: Minimates Gwenpool and Black Cat! Gwenpool is a pretty divisive character, there's
no
doubt about that–but given her prominence and surprising popularity, I think she'll propel this set to being the first sell-out in many locations.
Meanwhile, the Black Cat Minimate in this set puts Felicia Hardy into her Marvel NOW! costume, the same as the Sideshow Black Cat Premium Format Statue I posted final photos of a few weeks back. This costume is far from the most well-loved that Black Cat has had, but she doesn't get many figures and is a popular character, more reasons why this set will do swell at retail.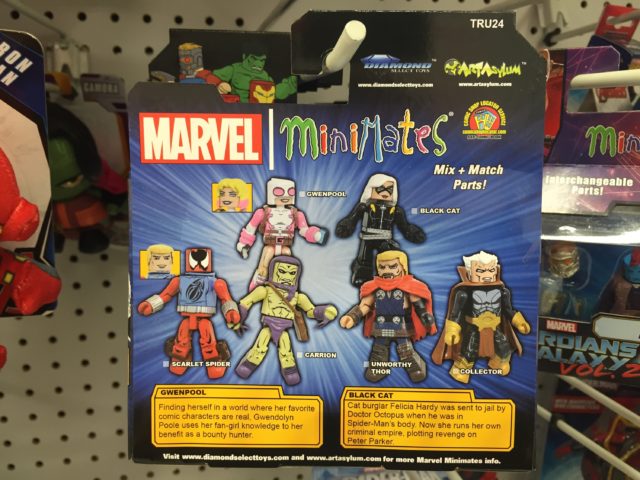 The Marvel Minimates Toys R Us Series 24 two-packs are now starting to appear at Toys R Us stores in the United States, where they're priced at a surprisingly low $5.99 per pack. That's cheaper than any of my local TRU stores have priced their Minimates in quite some time, but I'm not gonna look a gift figure in the mouth. All three sets appear to be even-packed at four-per-case, as there were four complete sets of packs at my store.
I know Minimates aren't exactly the hottest collectible figure line on the market, but anyone else psyched about this latest wave hitting retail? Which picks (if any) are you planning to pick up from this comic book-based series?