Diamond Select Toys rarely lets us down with their top-quality releases, so every time I bust open a new Marvel Select action figure, I'm ready for it to be another grand slam. But sometimes it's not a grand slam–sometimes, it's more like a triple. Still something outstanding to get excited about, but not quite as jaw-dropping. That's about how I feel about the Marvel Select Cable figure released this spring. You can still grab the Marvel Select Cable for below retail price and with free shipping online–but is this the right Cable action figure for you? Read on…
The Right:
I'm a 90's X-Men guy, and that means that I love me some Nathan Dayspring Summers. I can't place my finger on exactly what it is that I like about Cable (it certainly isn't his insanely convoluted backstory)–I think it's that Cable is just so… 90's!
So when Diamond Select Toys revealed their Marvel Select Cable action figure last summer at SDCC 2014, I was ready to throw my dollars at the computer screen. And a scant 8 months later, I finally got Cable in my hands!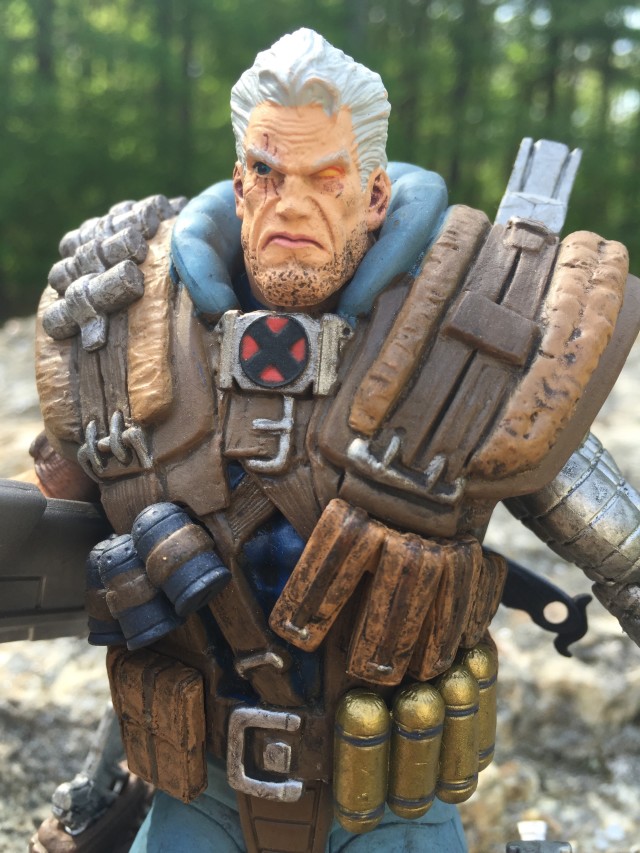 Although he hasn't received anywhere near the amount of hype and inflated afternarket prices as the Marvel Select Carnage figure has, the Diamond Select Cable figure is absolutely awesome in several areas.
As far as sculpting and paintwork go, this is the best Cable toy ever made. Period.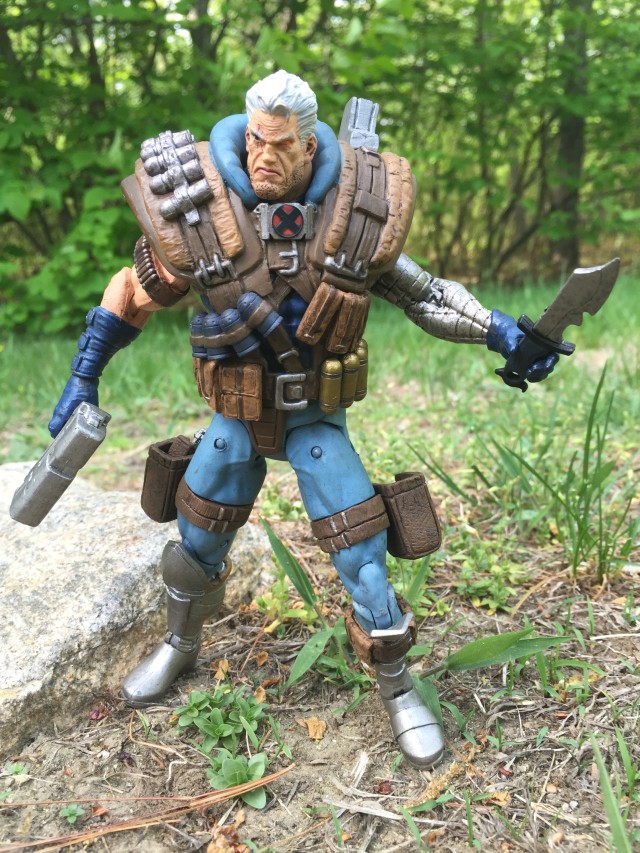 The amount of sculpting and paint detailing that have gone into this figure are outright amazing. From the various belts and buckles of Cable's shoulderpieces to the leather texture of his holsters to the pouches on his leg and the dark paint wash bringing out the detail of it all, this Cable Select figure is incredible.
There's even sculpted, textured stubble on Cable's face! Crazy!!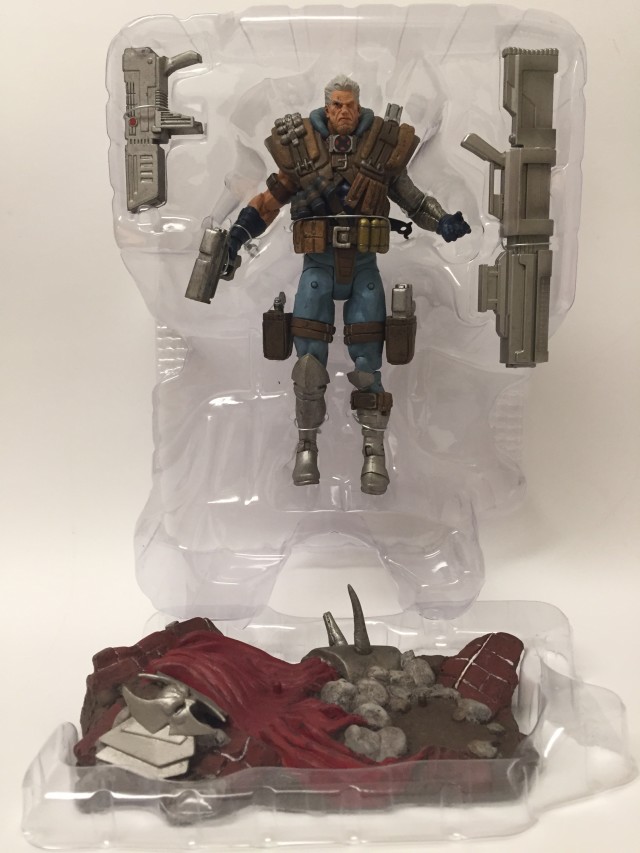 While I complained a bit last week in my Marvel Select Avengers Age of Ultron Hulk review that Hulk came with a whopping zero accessories, Marvel Select Cable doesn't have that problem–he's loaded with extras. In total, Cable comes with seven accessories: four guns, a knife, a gun sheath, and a diorama-like figure stand base.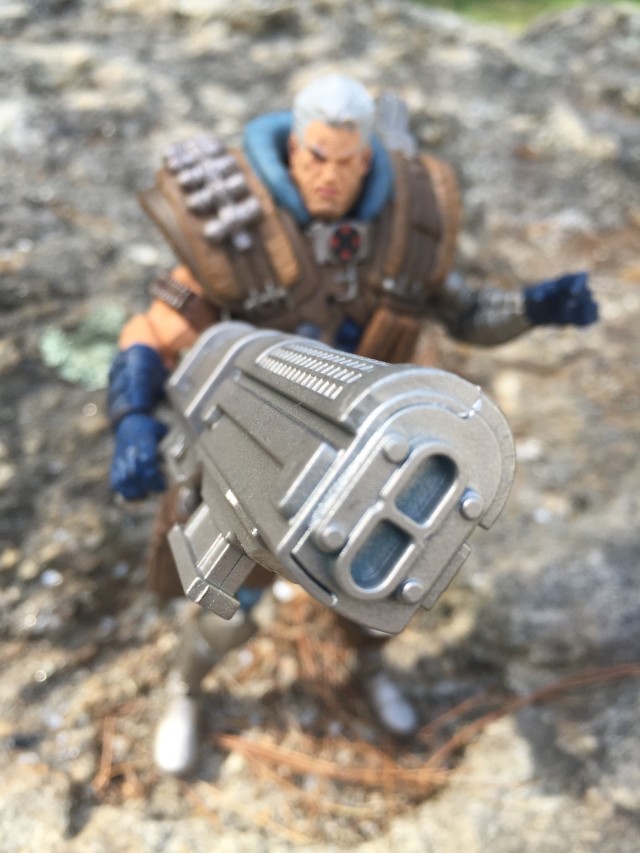 Cable comes with one ginormous gun and three smaller ones. The big gun feels as if it's hollow so that it won't cause Cable to topple over due to its weight. While the proportions of the mega-gun are a bit exaggerated, I consider this a feature rather than a flaw–the way I see it, a classic Rob Liefeld styled Cable figure should have a crazy huge gun.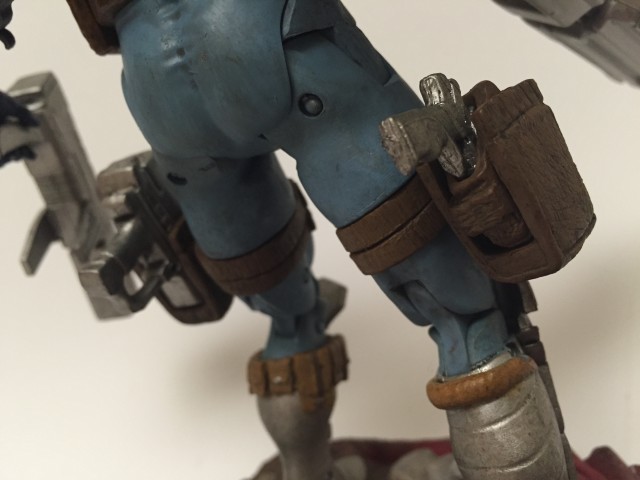 The two smaller guns fit into the holsters on Cable's thighs (and one of the guns even has an additional sheath inside the holster). I'm not sure that I necessarily needed four different guns (more on the fourth one later), but I can't fault Diamond Select Toys for giving us variety!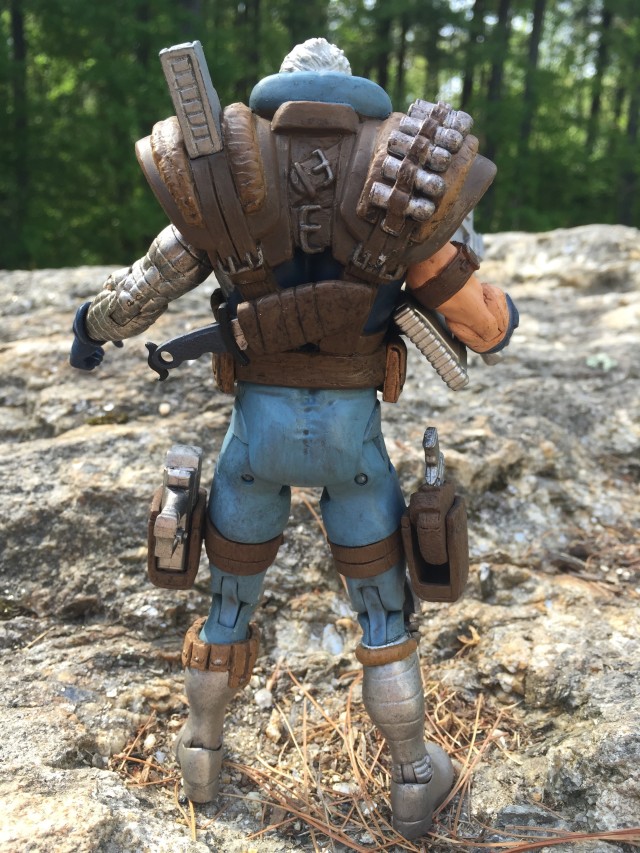 The knife fits tightly and snugly into the sheath on Cable's back–almost so tightly that you wouldn't expect it to come out. The sculpting on the combat knife is surprisingly intricate, with a dirty-looking serrated edge that looks particularly vicious.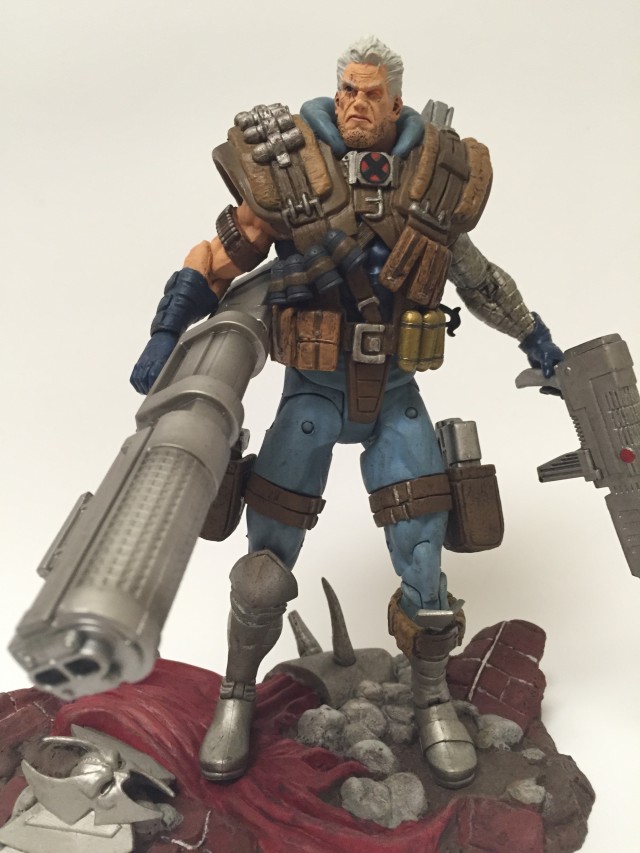 Finally, Cable includes a decently large figure stand display base. The base features not only some battleground terrain, but also the helmet and cape of Cable's evil doppelgänger, Stryfe!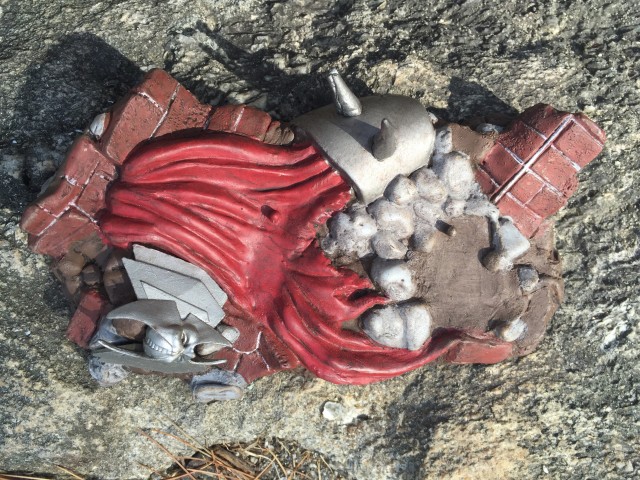 The sculpting and paint on the base are top-notch, and I definitely like the special touch that the Stryfe armor pieces on the base add to the piece as a whole.
The Wrong:
As you've probably noticed, there's an aspect of this figure that I haven't touched on yet: articulation. And if there's one downfall of this 7″ Cable figure, articulation is it. While Cable's gigantic shoulder gear is spectacular as far as sculpt and paint go, it's also a major obstruction to the articulation. As in "a
major
obstruction".
Cable's upper-body articulation is, simply put, awful. His head can only turn slightly left or right because of his shoulder pads (which also prevent his ball-jointed arms from having a wide range of motion). As great as the torso on this figure looks, it just does not have much flexibility at all.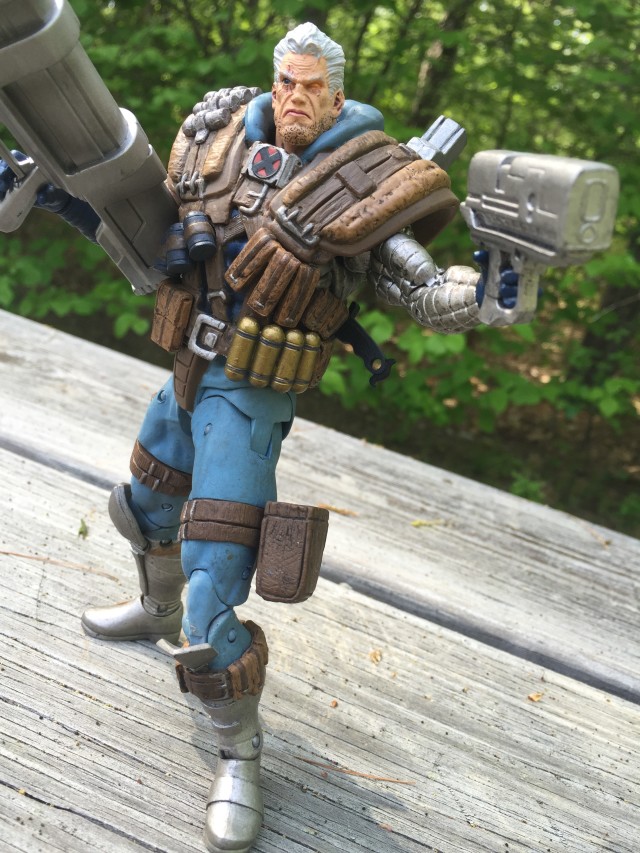 That's not to say that Cable's articulation scheme is a disaster overall–he has very nice lower-body articulation (including double-jointed knees and ankle rockers!), but the upper-body articulation definitely makes many poses awkward (if not impossible).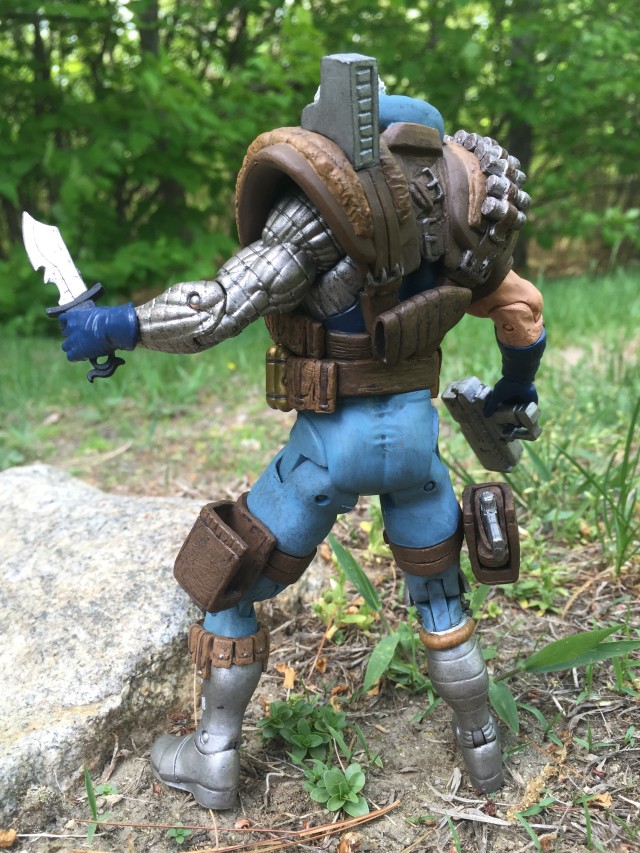 I'm a statue collector, so I'm okay with having the Diamond Select Toys Cable only able to take on a limited number of ideal poses, but I know that is not the case for every collector.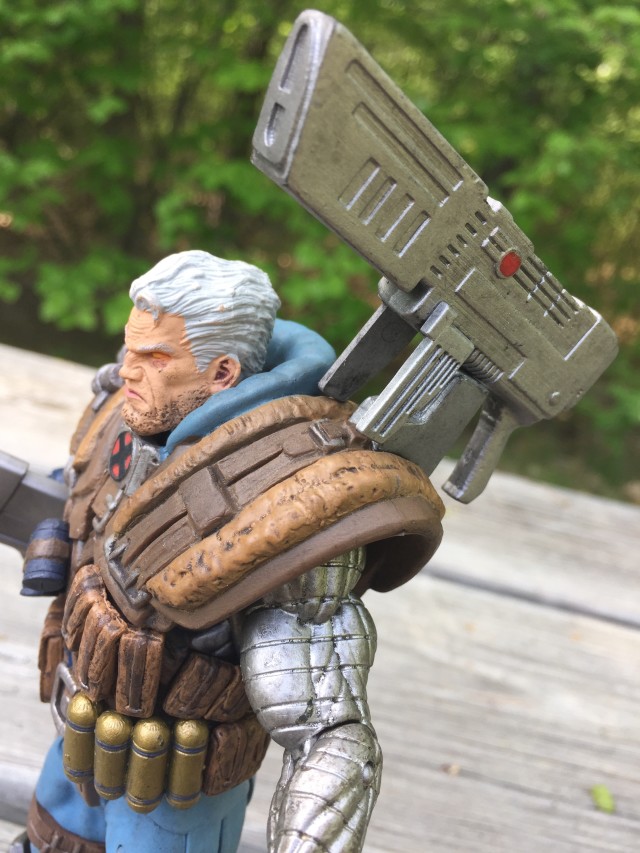 In addition, Cable's fourth gun is an oddity, in that it's meant to be positioned on Cable's shoulder–but can't. Somewhere along the line, the production of this figure went astray, as the shoulder-mounted gun simply cannot be shoulder-mounted.
I'm satisfied with Cable's other three guns and knife, but if you were looking forward to the shoulder-mounted gun, be aware: it doesn't work as intended. At all.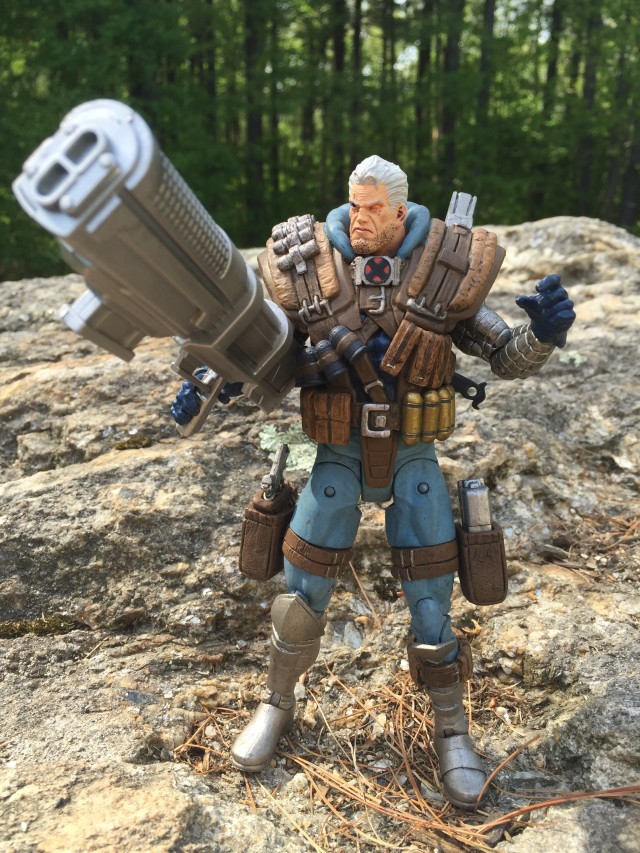 Overall: If a Cable statue had the high level of sculpting and paint detail that this Diamond Select Toys Cable does, it would earn an easy 'A+' from me. Unfortunately, this is an action figure, and that means I have to factor articulation into the score. The upper-body articulation of this figure is unquestionably a train wreck, and somewhat mars what is otherwise another all-out excellent DST Marvel figure.
So is this 7″ Cable Marvel select figure for you? If you don't mind semi-permanently posing Cable in one of a handful of cool poses, you won't find a better-looking or more detailed Cable action figure. But if you're hardcore about super-articulation and posing your figures in loads of imaginative poses, this is simply not the Cable for you.
Personally, I love him, and think he's one of the most underrated Marvel figures of 2015. Marvel Select Cable is well worth the $21-$24 you can still snag him for, in my opinion. If you can cope with the lacking upper-body articulation, I highly recommend grabbing this gorgeous DST Cable figure while it's still cheap.
GRADE: B+