If there was one announcement at the New York Toy Fair 2017 that really made me do a double-take of disbelief, it was when Hasbro flashed the Marvel vs. Capcom Infinite logo on the screen at their press event. Toybiz did MvC figures way back when, but it's a phenomenon I thought we'd never see again. Hasbro thought otherwise, and as the first (perhaps only?) entry in the line, they premiered a Target Exclusive Marvel vs. Capcom Infinite Iron Man vs. Mega Man X set at E3 this week!
UPDATE 6/17/2017: Added the Hi-Res Image of the Set!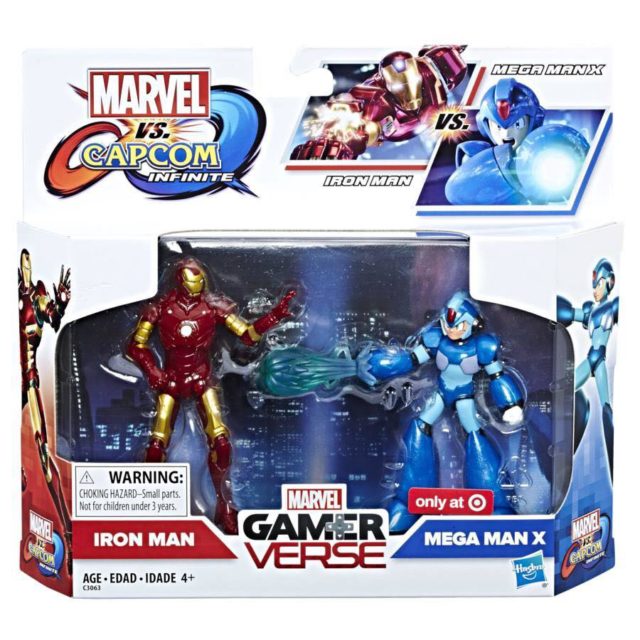 While I'm pretty godawful at fighting games that aren't Super Smash Bros., I love the fighting game genre more than pretty much any type of video game. So I lost many quarters–and many hours–being relentlessly beaten in X-Men vs. Street Fighter and Marvel vs. Capcom growing up.
Luckily, my affinity for the genre isn't negated by my lack of skill at it, so I still get excited every time we get a new Marvel vs. Capcom video game. And to hear we're getting toys from the new game…? Yeah, that just about put me over the moon.
I was wondering when we'd hear more information about Hasbro's plans for MvC Infinite toys, but of course, I should have realized they were saving their announcement for the biggest video games show of the year: E3 2017.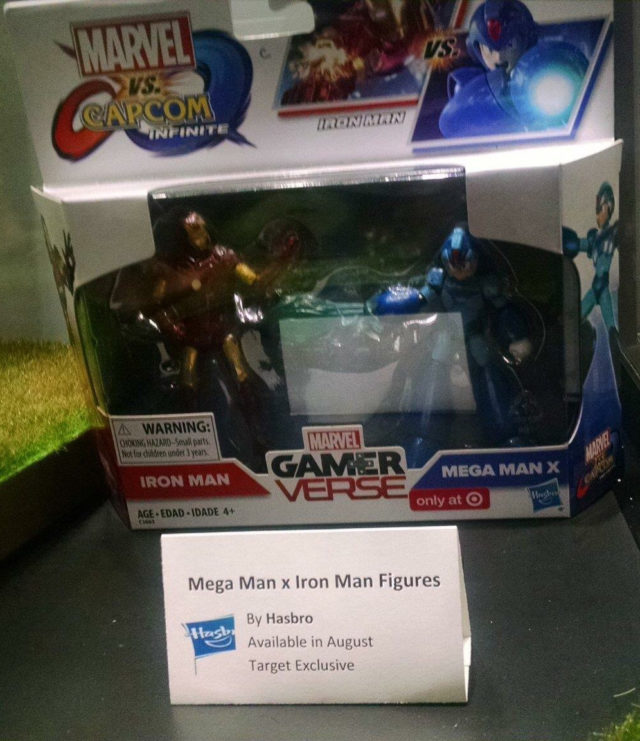 And it turns out the first release in the "Marvel Gamerverse" brand is coming sooner than we might expect: August 2017! Wow, Hasbro did a tremendous job keeping this under wraps when it's due to the ship in under two months!
UPDATE 6/17: At the Google+ Hangout, the Hasbro Marvel Team mentioned this set should be out in late August or September 2017.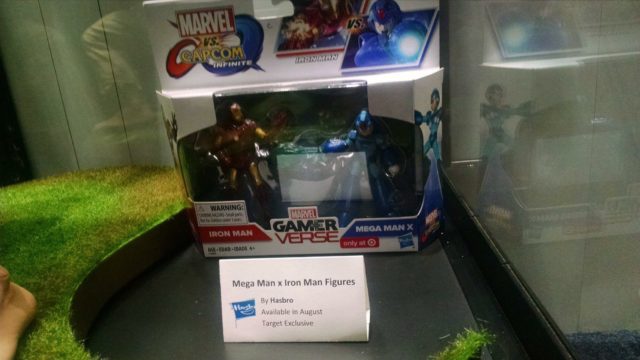 The first Marvel vs. Capcom Infinite figures set features what looks like a repainted MCU Iron Man Mark III vs. Mega Man X. Classic Mega Man is my jam, but there's no contesting that Mega Man X fits in with a fighting game and the Marvel Universe a tad better than poor Rock does.
Let's get to the part that's going going to break some hearts, though: these are almost beyond a doubt 3.75″ figures. Looking at the packaging style that's on display and the size of that placard next to the box, all evidence seems to indicate that this Target exclusive set is 3 3/4″. That doesn't mean that there definitely won't be any 6″ Marvel vs. Capcom Infinite figures, but what we're seeing first is almost certainly aimed more at 4″ collectors.
UPDATE: Hasbro has confirmed that this is a 3.75″ figure set, but that the Mega Man X figure will still be super-articulated with "everything" collectors expect articulation-wise.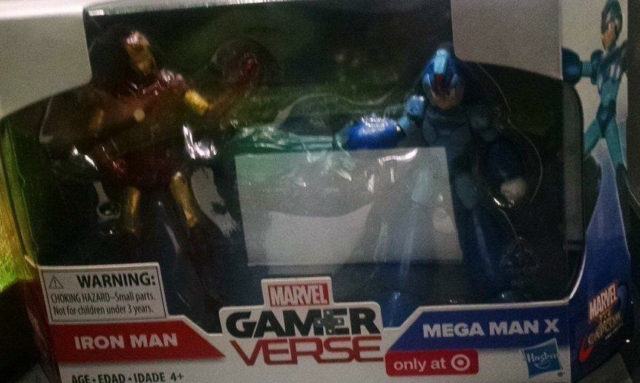 The Hasbro Marvel Gamer Verse Iron Man & Mega Man X figures two-pack is scheduled to be released "only at Target" in August 2017. I imagine that Hasbro has more figures planned for this line since they developed a whole new packaging design and logo for it, and I'll update when more details are available regarding this set and potential additional entries in the line.
What do you think of the first MvC Infinite toys to debut, Marvel collectors? Are you interested in this two-pack even if it does turn out to be made up of 3.75″ figures? If more Marvel vs. Capcom Infinite characters are made into action figures, which announced characters from the game roster would you be most interested in seeing make the jump to toy form?