UPDATE 6/17/2016: Over six months after the figure first leaked onto the internet and over five months since he started popping up for sale on the aftermarket, the promised day has finally come. Believe it or not, the time to order a new comics-based version of Wakandan King T'Challa is here at last–the Walmart Exclusive Marvel Legends Black Panther figure is finally up for order online!
UPDATE 1/7/2016: I talked about the new Marvel Legends Black Panther last month when the first photo leaked (and a bunch of you tried to insist I was being fooled and he was a custom–ha), but an online auction of the in-hand figure yesterday revealed new images of the front and back of the box for Black Panther, plus the all-important detail that this figure is going to be a Walmart Exclusive (fun!).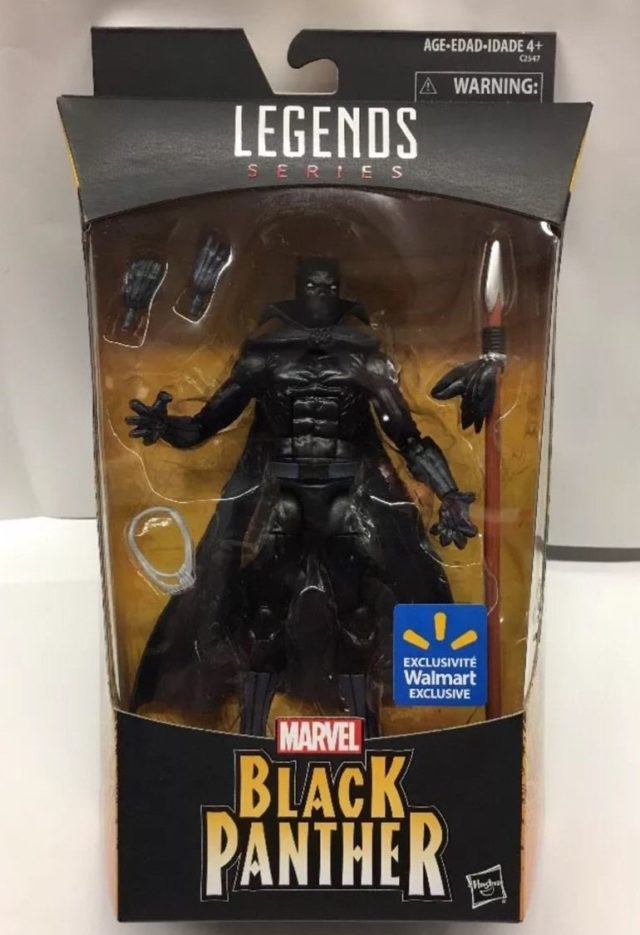 ORIGINAL: If there's one character who can legitimately claim they were in as much demand as Marvel Legends Deadpool in 2016, it's Black Panther. But well over half a year since his release, the Civil War Black Panther movie figure is finally becoming readily available. And so, what better time than now for Hasbro to launch a new, comics-based Marvel Legends Black Panther figure? Though it has not yet been officially announced, the new (exclusive?) 6″ Black Panther Marvel Legends figure has now been revealed!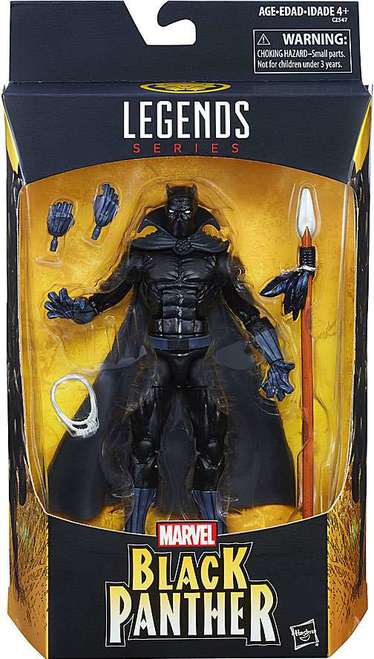 Remember
that Black Panther six inch figure that Hasbro released way back in the Marvel Legends Rocket Raccoon series
(alongside Marvel NOW Hawkeye, Wrecker, Jim Lee Jean Grey and more) in summer 2013?
That T'Challa figure has stood the test of time and steadily gained value on the aftermarket over the years, making it a sort of grail for many collectors. But those folks won't have to pine away anymore, because it looks like that Marvel Legends Black Panther figure is coming back–as a likely (Walgreens?) Walmart exclusive figure release!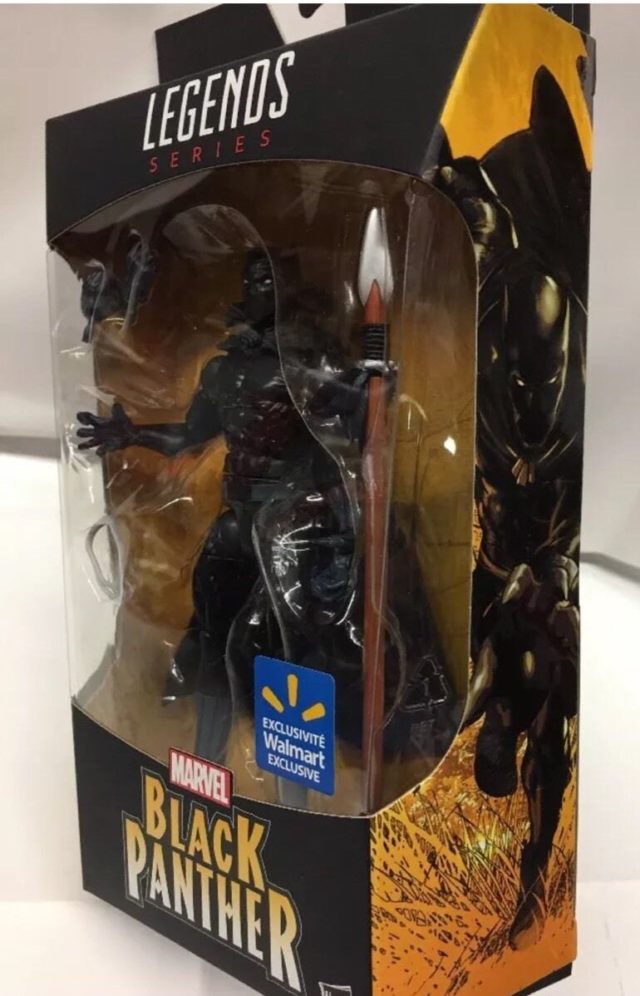 It would make sense for this figure to be an exclusive one-off release in his own packaging, as Black Panther doesn't seem to really "fit" into any of the series coming out in 2017 (Spider-Man, Guardians of the Galaxy, Thor and X-Men).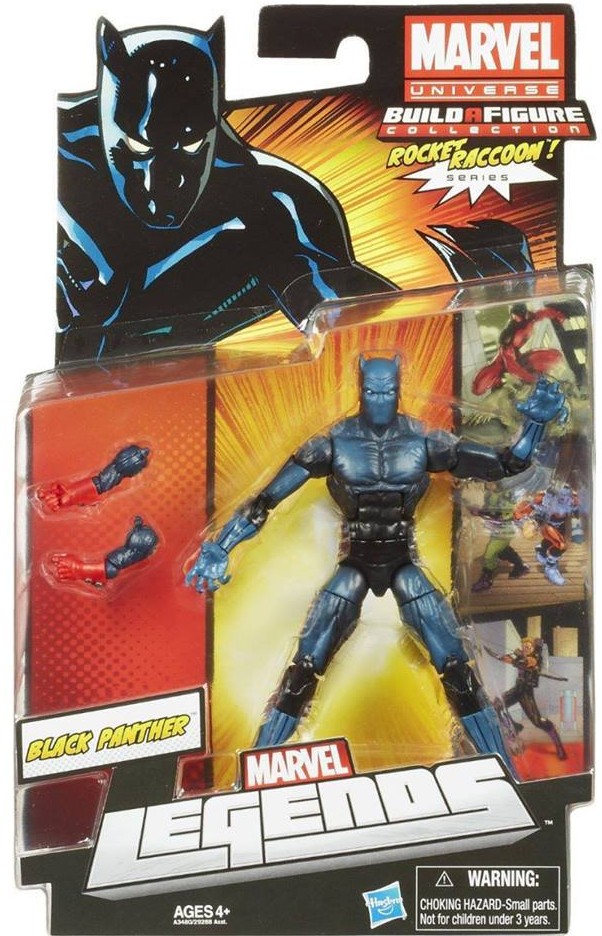 This figure looks to be almost a total repaint of the Rocket Racoon Series Black Panther, but now with five new accessories included: a spear (inherited from Kraven the Hunter), interchangeable grasping hands (to hold the spear), and a removable cape and necklace. In addition, he uses Civil War Black Panther's hands.
The online listing for the figure reveals the new UPC code as "630509551798" and the figure's description/bio as the following: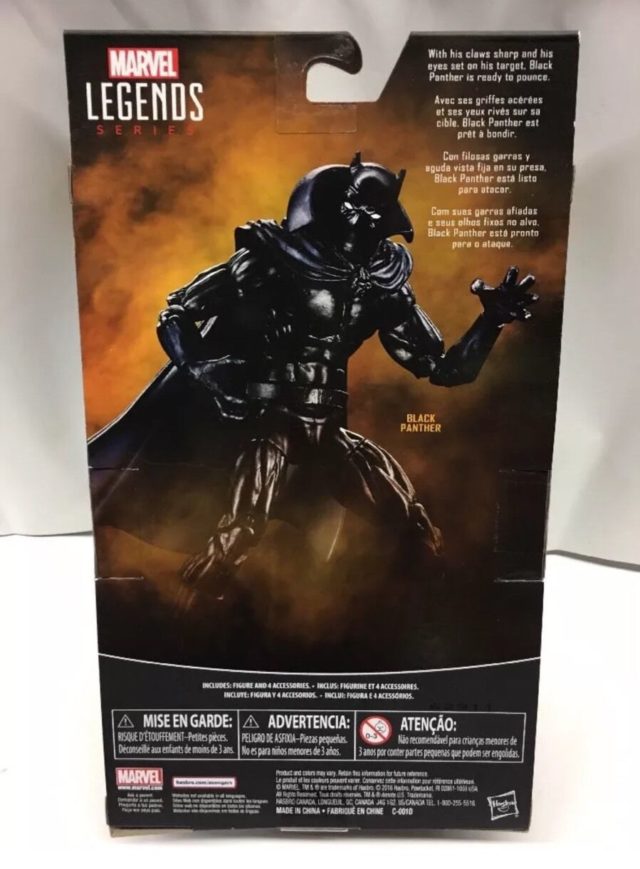 "With his claws sharp and his eyes set on his target, Black Panther is ready to pounce.
With the Marvel Legends Series, both kid and adult Marvel fans can start a legendary collection of comic- and movie-based Marvel characters. This 6-inch Black Panther figure is highly articulated and features detailed design, making it another epic addition to the Marvel Legends Series."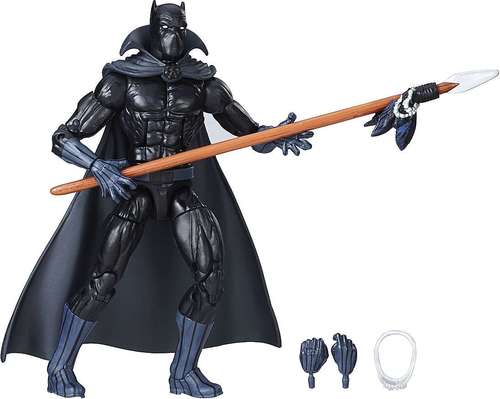 It's tough to tell from the two images available, but it looks to me like this time out the figure is going to actually be painted black, as opposed to the very dark blue color of the 2013 Rocket Raccoon wave version.
In bizarre fashion, this figure has been revealed by online retailer ToyWiz, a store that's not one of my favorites for their propensity to heavily-scalp items. They don't actually have the Marvel Legends 2017 Black Panther figure available for order right now, as it's listed as "Out of Stock", but they are the very first store to show off this figure.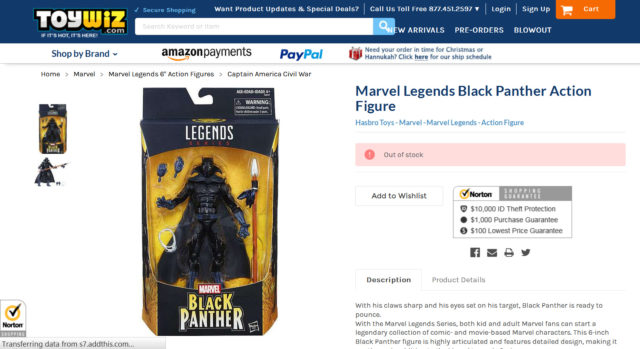 The packaging for this figure definitely seems in-line with what we usually expect to see from Walgreens Exclusive figures, so it's certainly possible that this Black Panther will be the next Walgreens Exclusive. Of course, it's not impossible that the figure could be exclusive to Walmart either–we'll just have to wait for Hasbro to make the official announcement in order to find out the truth! I'll update the Marvel Toy News Facebook and Twitter Pages when more details are confirmed.
What do you think about this very sought-after Black Panther action figure returning to stores with some changes, Marvel collectors? Are these improvements or a step down, and will you be picking up this new toy of the Wakandan King this winter?