2018 has arrived, and with it has come a plethora of new Marvel toys and collectibles to buy! Well… theoretically, at least. Many collectors' stores (including mine) simply haven't started resetting the toy aisles and restocking the shelves just yet. But some fans are luckier than others, and have begun finding all of the Black Panther movie toys on shelves… including the Toys R Us Exclusive Marvel Legends Shuri & Klaw two-pack!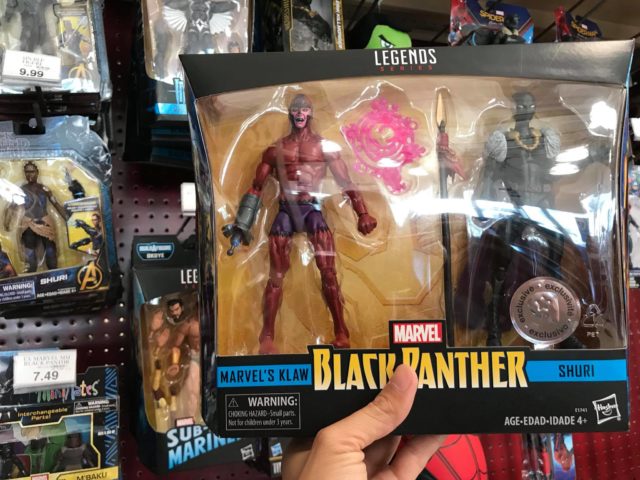 While we're getting what are believed to be the four most significant characters from the Black Panther movie in the Marvel Legends Black Panther series (Erik Killmonger, Okoye, Nakia and T'Challa himself), there's at least two major named characters from the movie that aren't getting the 6" Legends movie figure treatment (as far as we know).
Luckily, Hasbro is granting a boon to fans of those characters with comic-based figures of both those characters in the latest Toys R Us Exclusive Marvel Legends two pack!
Following up last year's highly successful Marvel Legends Dark Phoenix & Cyclops and Spider-Man & Mary Jane two-packs, the first TRU 2-Pack of 2018 features a new version of Klaw and the Black Panther's sister, Shuri.

We're getting an "okay" movie-based non-ML 6" Shuri in the Black Panther movie "kids" line, but this comics-based version is the first full-fledged Marvel Legends Shuri 6" figure. I'm not a huge fan of this character (yet), but I do think this Shuri figure looks quite nice. (And her fluffy-shouldered cape looks super fun!)

Meanwhile, one of the more unlikely characters to get another Hasbro figure ever is also updated in this set: a new Marvel Legends Klaw!  The previous Klaw six inch figure Hasbro produced wasn't exactly a hot seller, but hopefully the "carrot" of Shuri is good enough bait to keep this set from being a total sales bust at Toys R Us this year.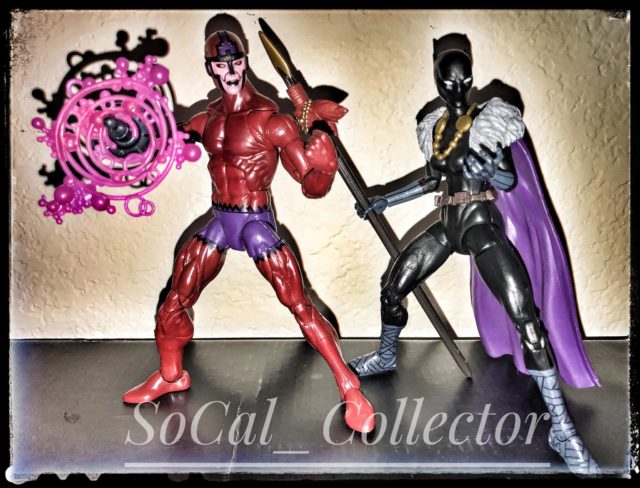 I actually thought the 6" Klaw figure that was in the inaugural (Return of) Marvel Legends 2012 series was pretty neat, but there's not much question that this new version has improved proportions to go along with more articulation. For those who don't have the ML Terrax series Klaw, this is clearly the superior iteration of the character (and almost certainly the best there ever will be).
Big thanks to Khoi Nguyen on Facebook for giving us permission to run his in-hand photos of the new Marvel Legends Black Panther two-pack with this article! You can also check out his YouTube channel at SoCal_Collector on YouTube. Great photos, Khoi!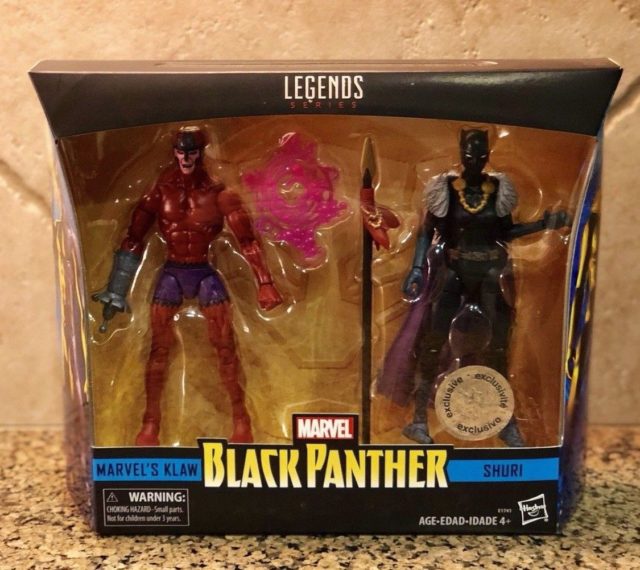 There's already multiple listings for the Marvel Legends Klaw & Shuri two-pack on eBay at inflated prices, although I'd urge collectors to have patient and not pay above MSRP for this set. I can't see this particular pairing being a huge seller, so I think collectors will have few problems getting this pack for MSRP or below in the coming months.
What are your thoughts on the Shuri and Klaw Marvel Legends two-pack, Marvel collectors? Do you think this set is going to be a sales hit or a flop, and will you be picking one up?