I had been planning to kick off my series of Marvel Legends Black Panther series reviews with Erik Killmonger, but to my surprise, the majority of readers asked for a non-movie figure as the first review instead. In fact, the most requested figure is not even a new figure at all—it's a repaint with a new head! The Marvel Legends Black Bolt figure is up for order now as a single figure—is he worth having if you don't have the previous SDCC version (or even if you do)?

The Right:
Marvel went "all-in" on the Inhumans during the past few years, with many new ongoing comic books (including a Black Bolt solo title!) and the Inhumans TV Series that debuted in IMAX theaters. With this monumental push going on, surely the Inhumans would become one of the most beloved Marvel franchises, right…?
Well… no. The Inhumans TV Series was an unmitigated disaster, and all of the comics have had catastrophic sales. Even so, Black Bolt remains a quasi-iconic character, and deserved to be made available to the masses outside of a long sold-out SDCC exclusive set—and now he is!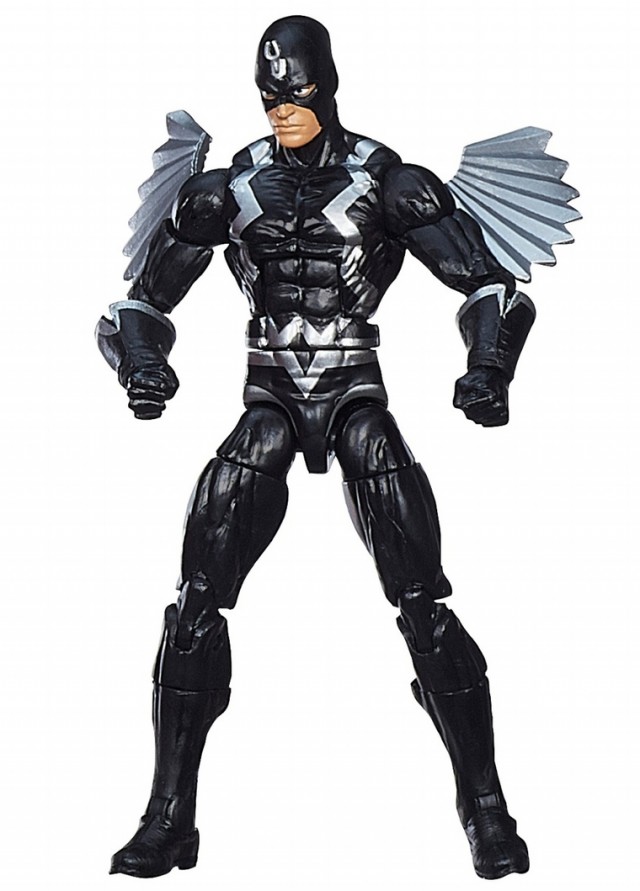 For those who aren't familiar with the previous ML Black Bolt six inch figure, he was included with the San Diego Comic Con 2017 Exclusive Thanos Imperative box set. That figure is basically the exact same as this new Marvel Legends Black Panther movie series figure, but with two key exceptions.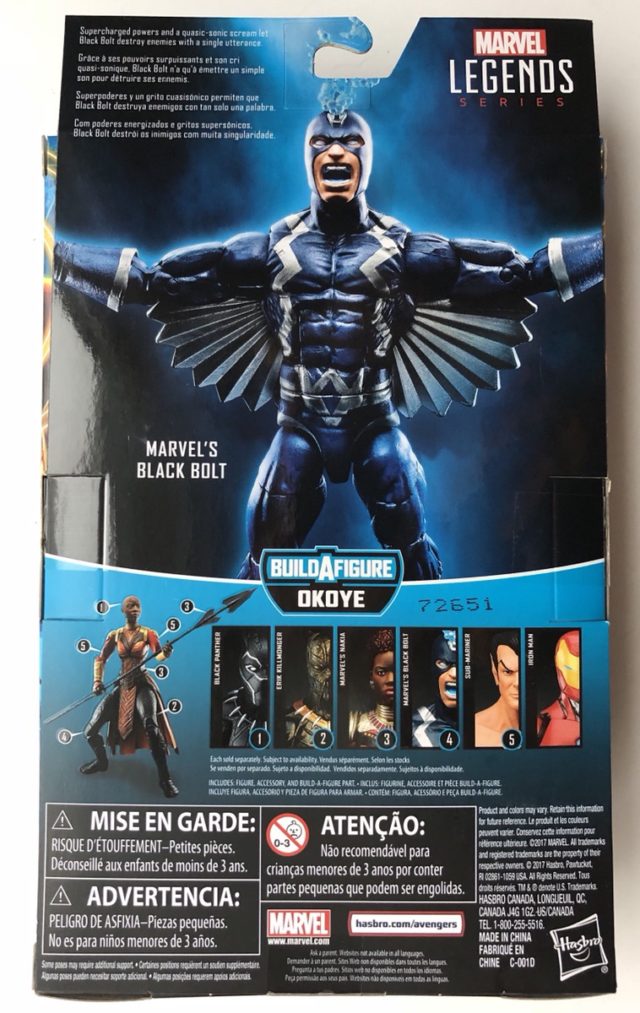 First, the original convention exclusive version of Black Bolt came wearing his more modern black costume, whereas this iteration comes in the more recognizable navy blue costume.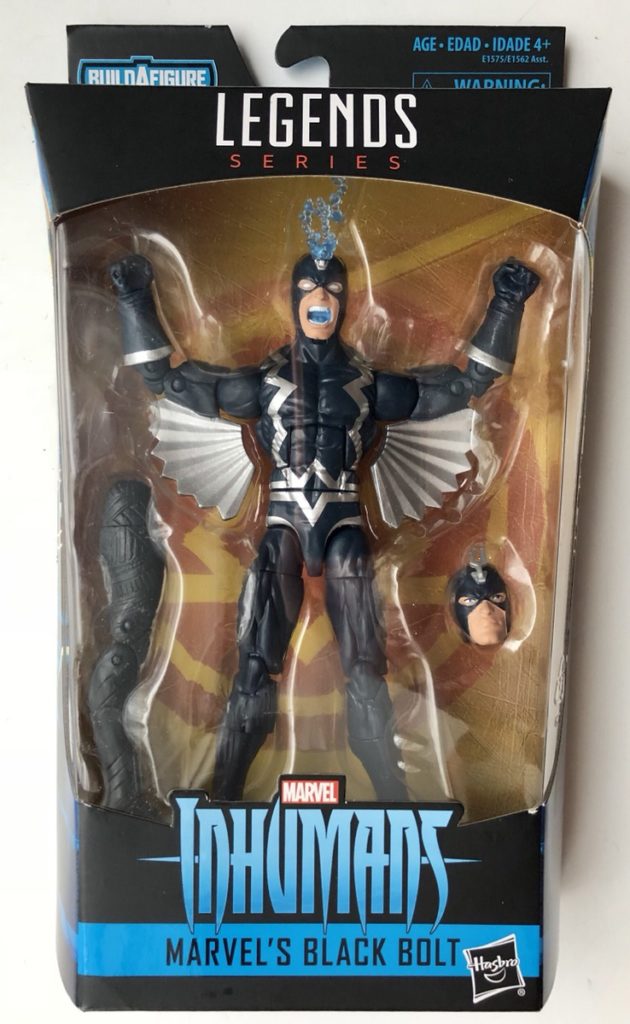 The blue color tone chosen is exactly what I wanted for this character along, and the paint apps are all perfectly applied. Thumbs up.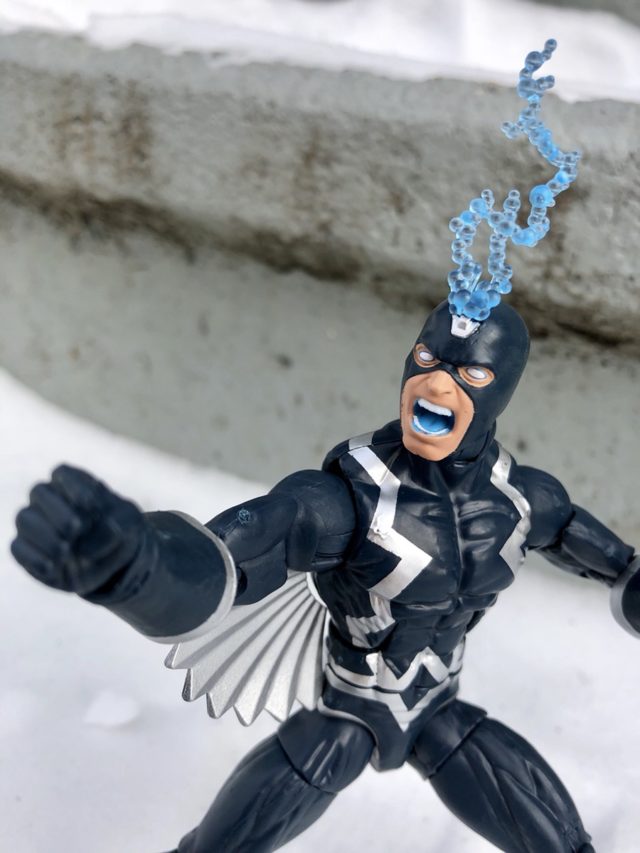 But the main selling point of this figure above any other is the inclusion of a brand new head depicting a power-using screaming Black Bolt. To be totally honest, I like this new head more than any other aspect of this action figure!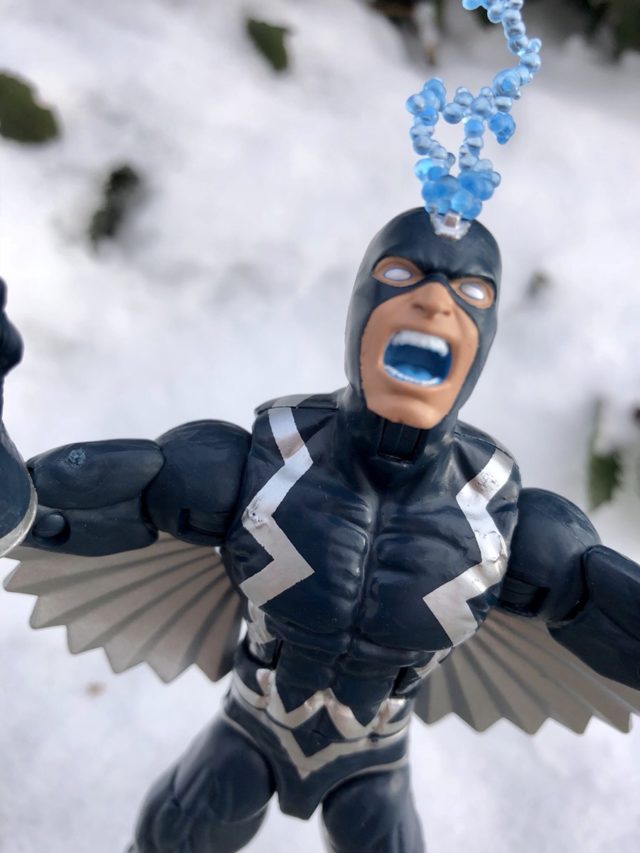 The head is downright gnarly, with whited-out eyes and a blue mouth and tongue. The coolest part of the head, though, is the translucent blue "cosmic energy" bubbles emanating from the tuning fork on Blackagar's forehead. This head is freaking neat, no question about it.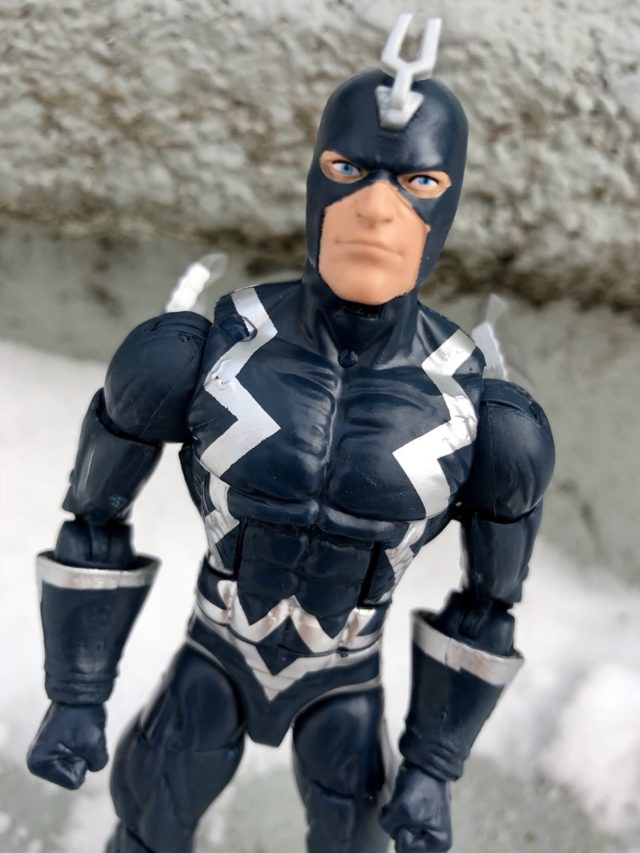 The expressionless neutral head from the original 2014 SDCC release is also included. This is actually a really nice head sculpt, and may look more natural (though far less fun) on many collectors' shelves. The turning fork is made of rubbery plastic so it doesn't break off, which is a positive worth mentioning.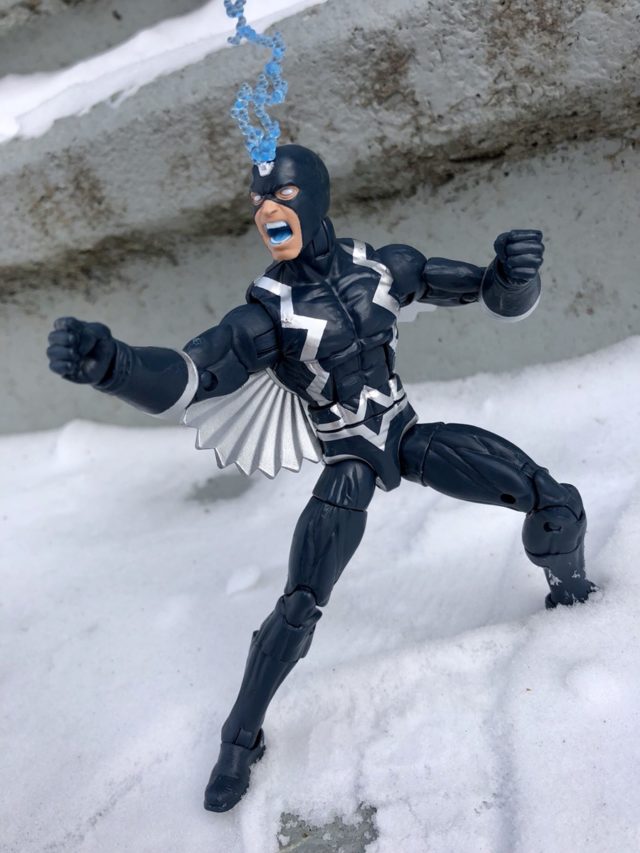 While this isn't my favorite Hasbro body mold, it works swell for Black Bolt's body type and has ample articulation built in, including ball-hinge head and shoulders, double-hinged elbows and knees, swivel thighs/biceps/boots/waist, upper torso ab crunch, swivel-hinge wrists and hinged ankles with rockers.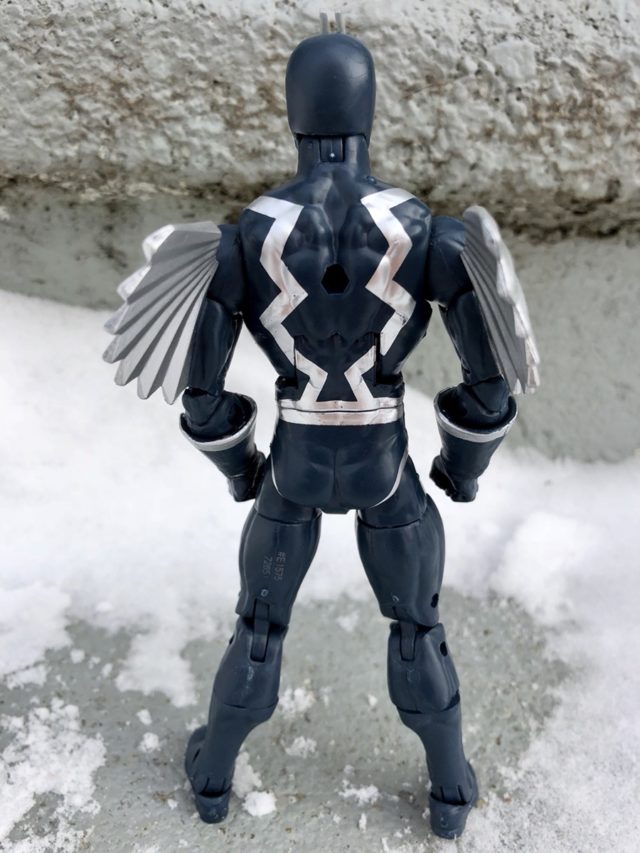 The wings are permanently affixed to Marvel Legends Black Bolt's upper arms (thank God—I couldn't deal with them falling off constantly like Marvel Universe Darkhawk's), and to my surprise, they really don't get in the way when posing at all. The range of motion of the wrists is slightly restricted, but otherwise the articulation scheme here is aces.
The Wrong:
The Black Bolt Marvel Legends figure is a bit of an odd duck in that it's a fine figure overall, but I feel like not enough has been done to make this figure feel "new" for this release.
My main beef is the lack of any accessories beyond the interchangeable head (and the Okoye Build-A-Figure leg). A sonic scream effects piece would not only make for a very dynamic inclusion, but could be reused with this year's ML Songbird and an inevitable new Banshee figure.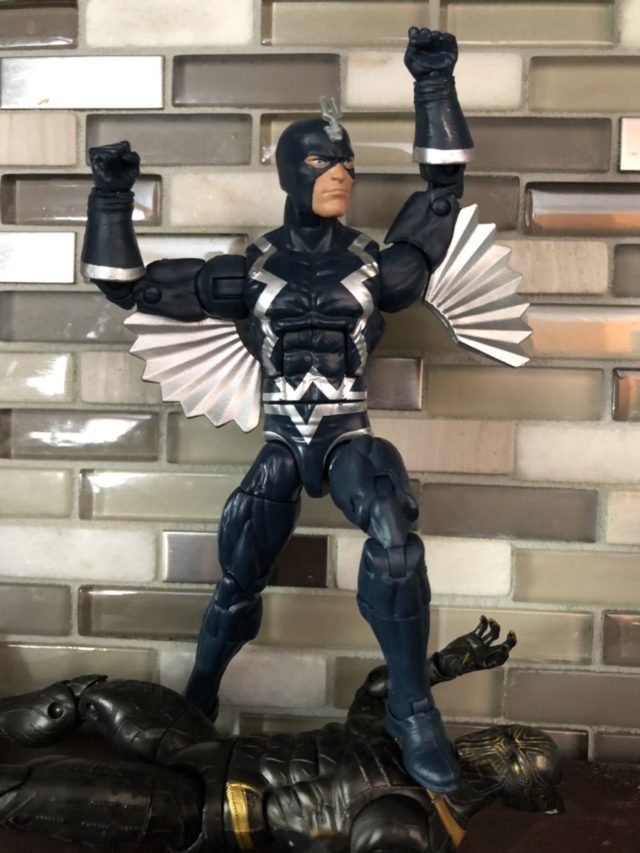 In addition, I'm bummed that there's no interchangeable hands for this figure. Open palms for flying poses or even gesturing hands would have been welcome additions to this figure and really opened up more posing possibilities As it is, Black Bolt is prepped for a fist fight and not much else.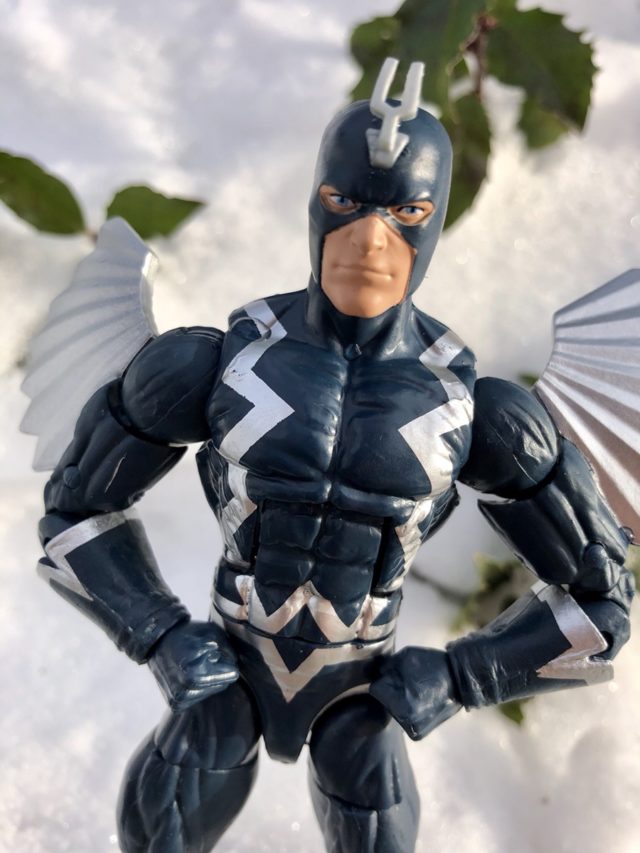 Overall: The Black Panther Legends Black Bolt figure is a solid "good" release, but lacks that little bit of extra "oomph" to get over the hump and be a great one. I much prefer the blue Black Bolt costume to the previously released black one, and the new sonic screaming head is straight-up awesome. Even so, the lack of any kind of interchangeable hands or effect pieces limits the posing possibilities. As this figure is a full-on repaint with an extra head being the only "newness" that we get, I think Hasbro could have given us just a bit more to make this the ultimate 6" Black Bolt figure.
GRADE: B