One of the questions I've been getting regularly since it was revealed back in February is "When is the Figma Deadpool figure coming out?" So when I woke up this morning and saw a new import Deadpool figure, I thought for a moment it was the Figma. But in fact, Kaiyodo has beaten Max Factory to the punch–the totally-unannounced (until now) Revoltech Deadpool figure is now up for order! And I gotta say–this is a Deadpool like none I've seen before…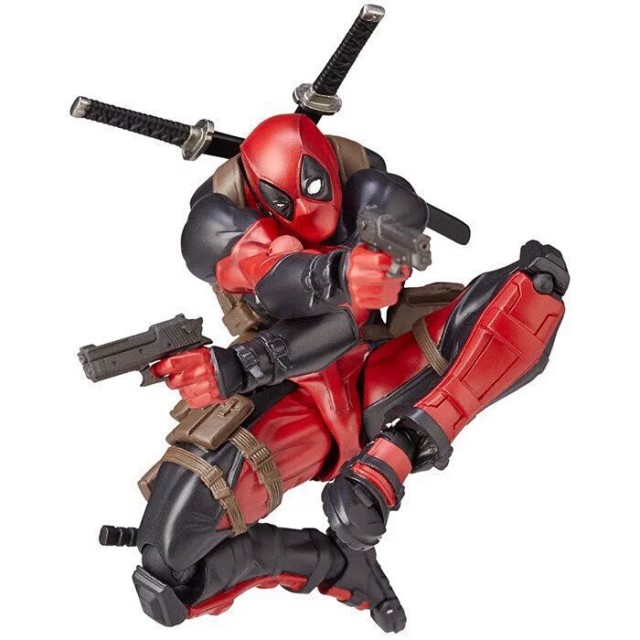 I'm starting to feel like a broken record talking all the time about how "Deadpool is the hottest character going at Marvel these days yadda yadda", so let's skip the preamble this time. Suffice to say: Deadpool is popular right now, and everyone wants a piece of the Deadpool toys action.
And although they've never even announced it officially until today, Kaiyodo is one of those companies looking to make bank on Wade Wilson's alter-ego with their upcoming Revoltech Deadpool action figure!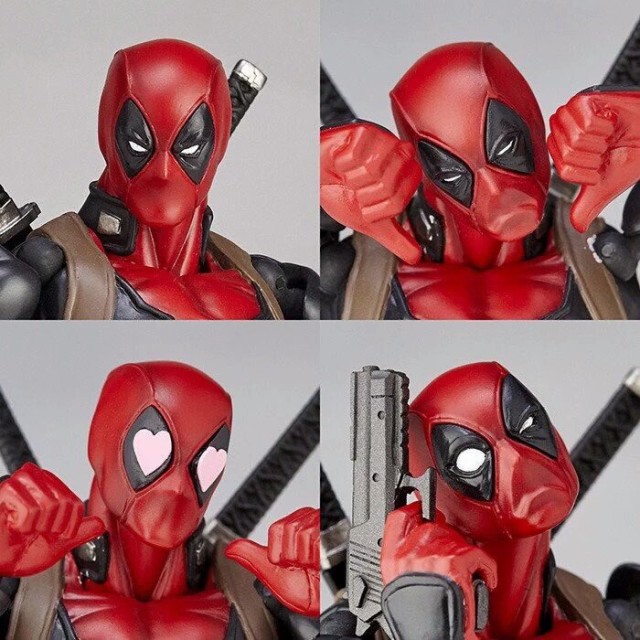 At a glance, this is a really unique Deadpool action figure with some features that I've never seen elsewhere on a toy of 'Pool. I love the dual "thumbs up/thumbs down" hands!
Much like their beloved line of Revoltech TMNT, this 6″ Deadpool figure will be super-expressive despite being a masked character. The figure will include multiple sets of black "mask eyes", including a pair of "heart" eyes and the popular comical asymmetrical eyes. The figure also includes a pair of katana swords, a pair of pistols and eight interchangeable hands.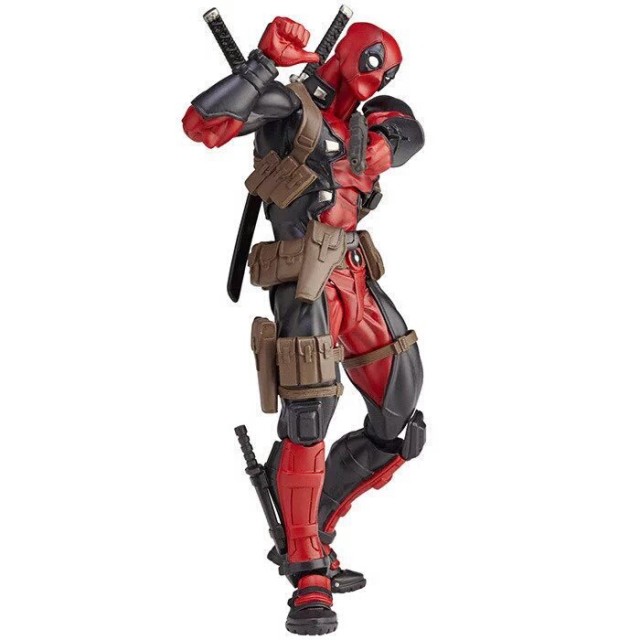 And just like Marvel Legends, Revoltech Deadpool will be featuring 30+ points of articulation. Whoever did the posing for the multitude of cool official photos for this figure deserves a raise for their efforts!
From a full-on "fun" perspective, this is very likely the best Deadpool action figure that I've ever seen, and I think thousands of fans are going to absolutely fall in love with this figure once they get it into their hands.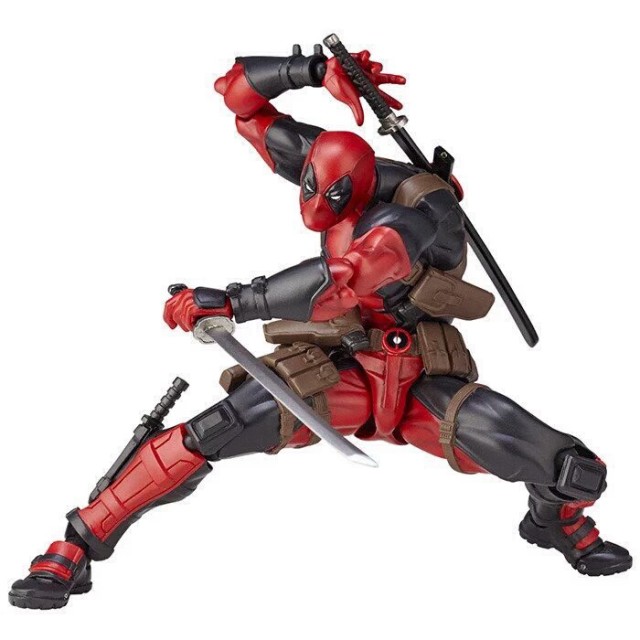 There are a couple downsides to this figure, though, upon closer inspection. You can't actually store any of this Deadpool's weapons on his body–the guns don't go into his holsters, and you can't actually sheathe his katanas (the swords shown in the sheaths are just stubs).
In addition, as awesome as the multiple expressions on Deadpool's heads look, the heads are also a bit, well… stubby? Unique as this figure is, Wade's pinhead look definitely bugs me.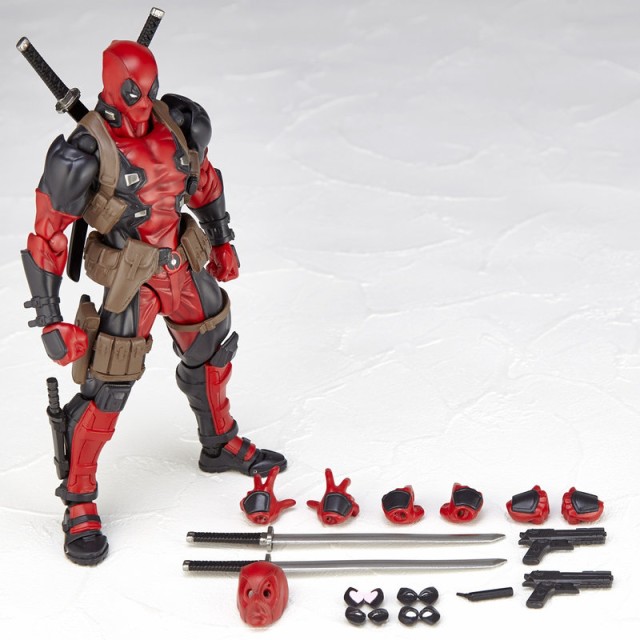 The price, release date and ordering information for the Deadpool Revoltech figure are all currently unknown, but I expect we'll be learning all these details very soon, and you can follow the Marvel Toy News Twitter and Facebook Pages to get updates via your favorite form of social media as soon as launch details are announced.
UPDATE 6/17: The Revoltech Deadpool figure is now up for order! Get your pre-orders in while he lasts!
What do you think of the Kaiyodo Revoltech take on Wade Wilson, Marvel collectors? Does this take the crown as the best 6″ Deadpool figure in the land, or are you sticking with the Marvel Legends Deadpool Hasbro is releasing this summer?