The Kaiyodo Revoltech Marvel Comics series has turned a lot of heads in the past year by releasing some of the most fun figures of Deadpool, Spider-Man and Venom ever. But while those three figures are pretty great, they're also characters who have had a "few" six inch figures released previously. But the fourth release–which will be swinging into the U.S. in just a few weeks–has only had one previous 6″ figure and has now been released in Asia. Let's take a look at Marvel Ame-comic #4: Revoltech Spider-Gwen!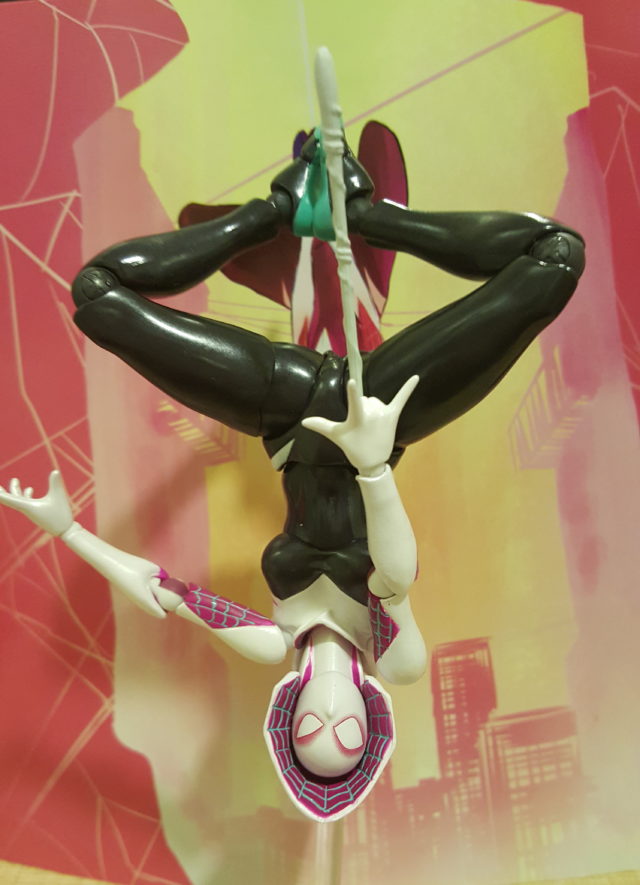 While I was altogether extremely pleased with the dynamic nature and posing potential for the first trio of Marvel Comics Revoltech figures, it's hard to get excited about "yet another Deadpool" and "yet another Spider-Man", so my enthusiasm for those releases was curbed just a little bit.
But for their fourth release, Kaiyodo chose not only one of Marvel's hottest characters–but also a character that's only had one super-articulated action figure ever released previously (and one with room for improvement at that!): Spider-Gwen!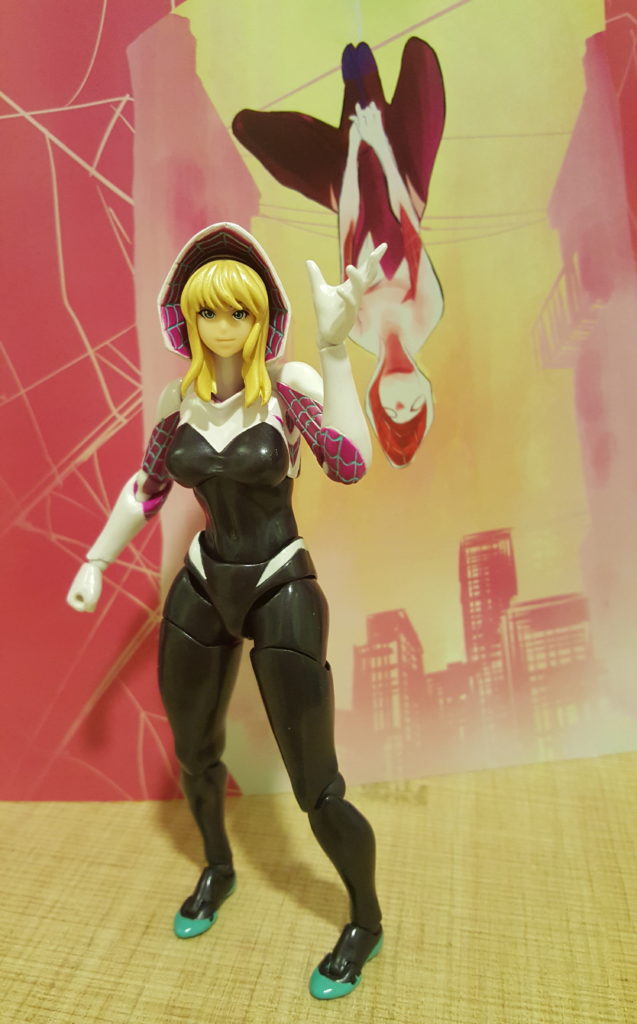 While I was mostly satisfied with the Marvel Legends Spider-Gwen released over a year ago (particularly with how fast Hasbro was able to get it to stores after the character's creation), the figure definitely had a few weak points such as lack of accessories, some missing articulation and the "blah" Gwen Stacy head.
Does this year's new Spider-Gwen Revoltech figure manage to fix those issues and present a superior product (at a much higher price)?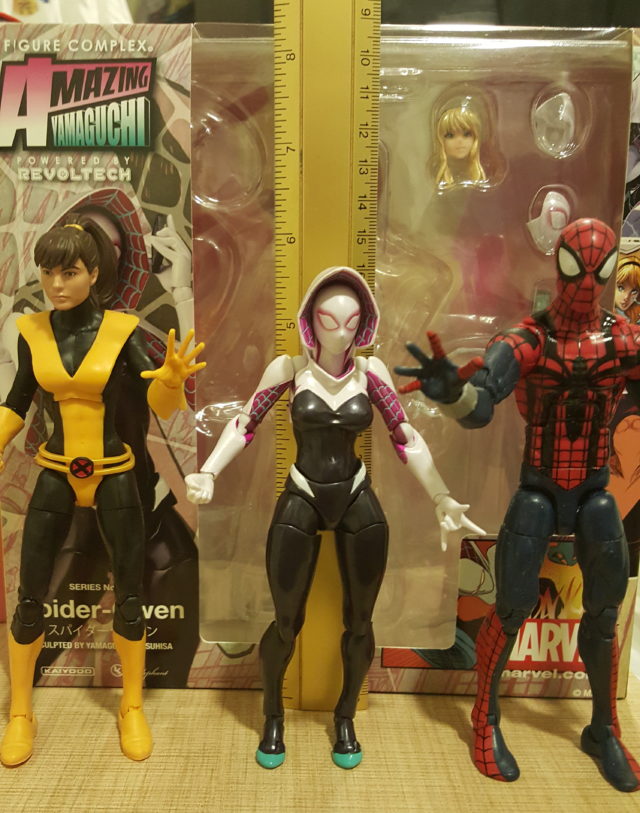 Though Gwen hasn't arrived yet in the United States, she has crawled into Asia already, and my friend bman sent in some in-hand photos and a short review of the figure…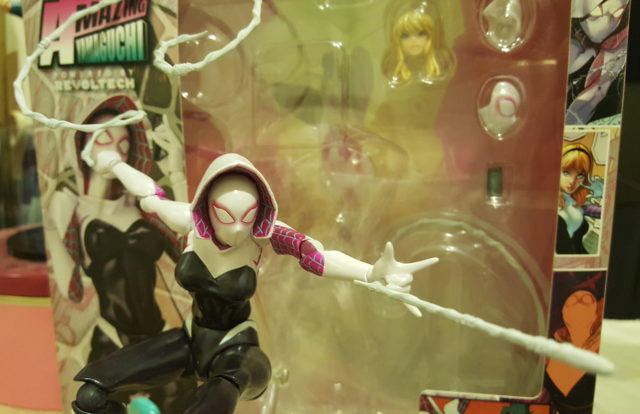 So I'll break it down into sculpt, paint, accessories and articulation…
1. Sculpt (7.0/10): I haven't owned a Revoltech in a long time, but when I saw Spider-Gwen in person, she won me over. She's as anime-looking as Spider-Man or Deadpool, in my opinion. Gwen has a nice female shape as well as sculpted costume.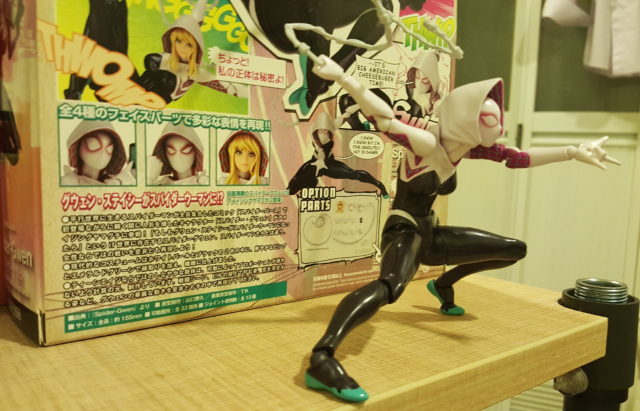 I'm happy to say that the upper torso no longer has the ratchet system from the old revoltech joints. The lower torso is a new design with her crotch area being a sort of diaper if you will, that sits on loose on the legs and wiggles as the leg and hip joints move. It's something unique, but I'm still undecided about it–it does offer some awesome poses, but at other angles it requires quite a bit of fidgeting to hide the joints. 
As most who have owned Revoltech will know, the double joints like the shoulders aren't really hidden. This figure is no different, but I think since it's a more slender female form it's not quite as noticeable.
2. Paint (7.5/10):  I really dig the paint Kaiyodo used, as the white is almost a pearl white and the black has a satin sheen to it (even though it's a sort of matte black). 
The lines aren't the best for an import figure, but for the most part it's O.K. One thing I'd warn about is to take a careful look at the white since I saw a few that had a few smudges on her white areas.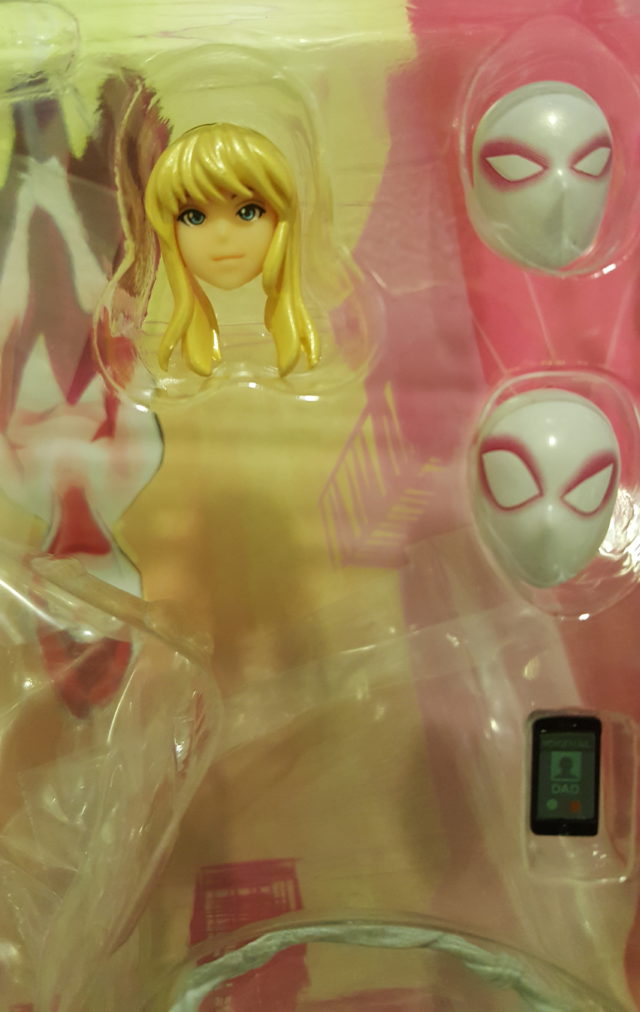 3. Accessories (7.5/10): As you can see in the pictures, Spider-Gwen includes plenty of hands, two  masked heads with different expressions, and her Gwen Stacy face which is, uhhh… Well, I have a few gripes with it: A.) Scale is way too small; B.) Looks too anime; and C.) Only has a passing resemblance to Gwen.  
The figure also comes with three weblines, a phone (although the hand for the cellphone of mine came warped so I'll try to fix it later), and a stand with a cool magnet attachment for mounting onto steel surfaces.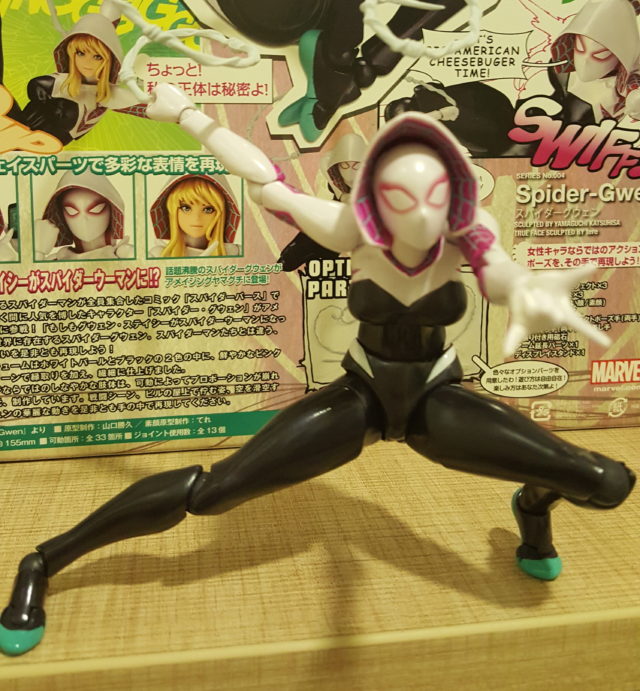 4. Articulation (8.5/10): What can I say except "it's a Revoltech"? It has some of the best articulation and can do crazy poses, but it also takes patience as the ratchet system in the bottom half can be annoying to get into the right position. Has some great balance and can stand on one foot as you can see in the pics.

Overall (30.5/40): I love this figure. I haven't played this much with a figure for a long time.

Big thanks to bman for sending in his review and photos of Gwen! They definitely increased my hype level for the alternate universe Spider-Woman's imminent arrival!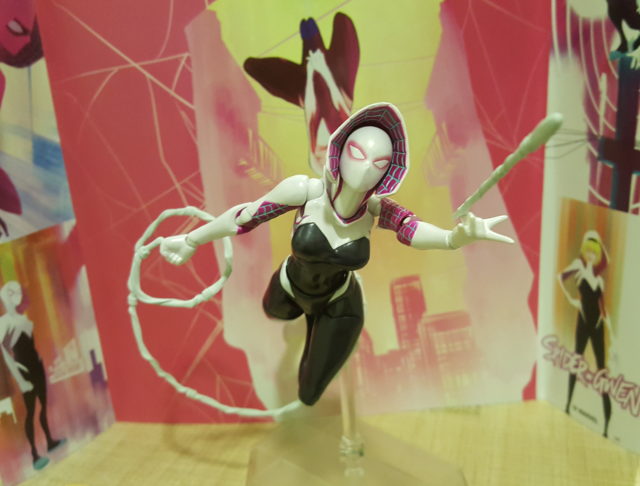 The Kaiyodo Spider-Gwen Revoltech figure is scheduled to arrive in the U.S. any day now, so if you like what you see and hear, be sure to get your orders for her in. I suspect the Gwen Stacy Spider-Woman is going to sell out quickly once she's actually here in the United States.
Now that you've seen the final released version of Kaiyodo's Revoltech Spider-Gwen figure, what do you think, Marvel collectors? Is this figure good enough to make you fork over triple what you paid for your Hasbro version, or have you decided that you're content sticking with your Marvel Legends Spider-Gwen figure and forgoing upgrading?