Congratulations to Gwen Stacy on becoming one of the most popular characters in the Marvel Universe after making a remarkable comeback from, well… being dead for 40+ years! Yeah, I know, Spider-Gwen is an alternate universe Gwen Stacy, but there's no question she's also the most popular version of the character ever. And now, Hasbro's given her her first-ever 6″ figure: is the Marvel Legends Spider-Gwen figure worth the crazy $30+ she's selling for online? Read on for my review…
The Right:
Having just debuted in the comics in September 2014, Spider-Gwen exploded in popularity like no new character I can remember since, well… ever!
Merchandisers would be fools to ignore this skyrocketing character, and Hasbro's not about to make that mistake, releasing the Marvel Legends Spider-Gwen figure less than a year and a half after her first appearance. Now that's service–and a huge thumbs up for Hasbro!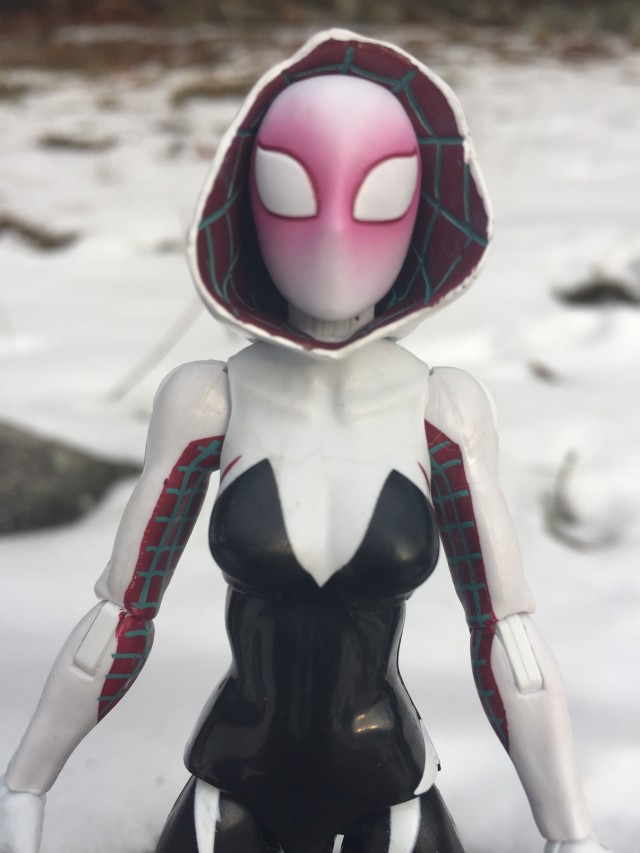 My biggest concern with this figure is that the Hasbro factory would flub the pretty plaid-like purple and green webbing patterns on Gwen's arms and inner-hood. Luckily, those fears were needless–the paint deco is expertly applied in these areas and really pops.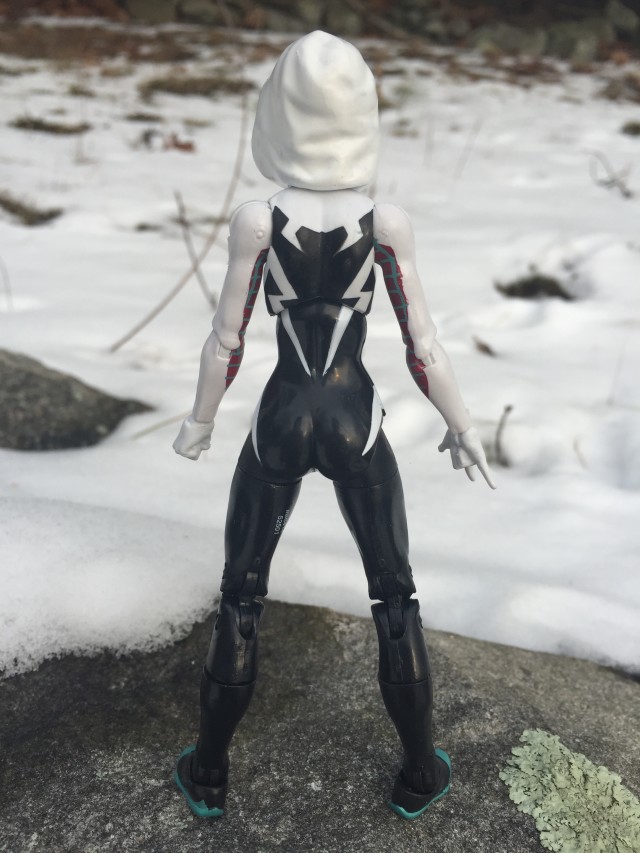 In fact, the paint looks terrific all-over on the Gwen Stacy Spider-Woman Marvel Legends 6″ figure. Her green "slippers" and white lining in her costume look great, and I love the pink "blush" paint wash on Spider-Gwen's mask.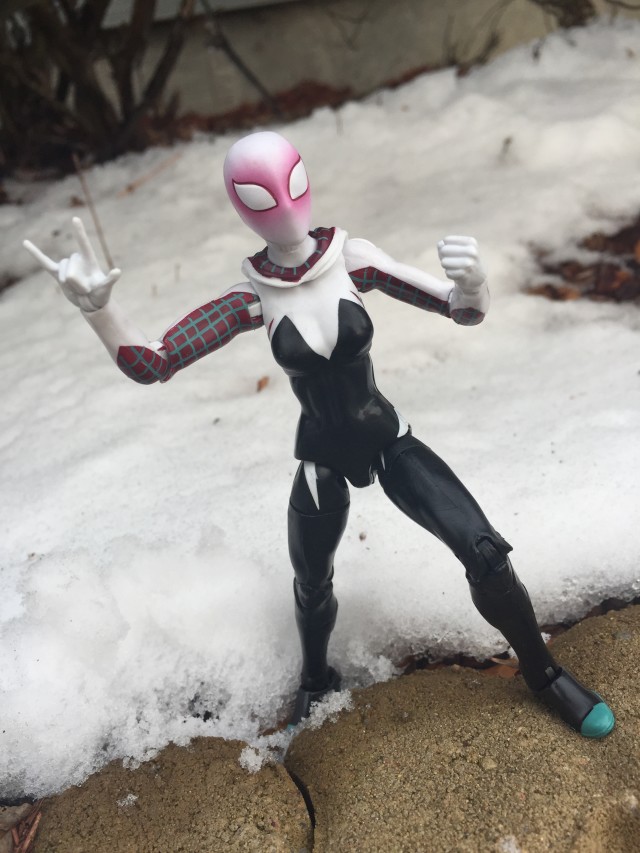 And hey, if you want a better look at the mask, you can just pop off Spider-Gwen's hood entirely and substitute in the "pulled-back" hood, which looks and works awesome.
Several of the figures on this "teenage girl" Marvel Legends mold have had stuck joints and breakages for me in the past, but hopefully Hasbro is past that: my 6″ Spider-Gwen Marvel Legends  figure had zero quality control issues to speak of.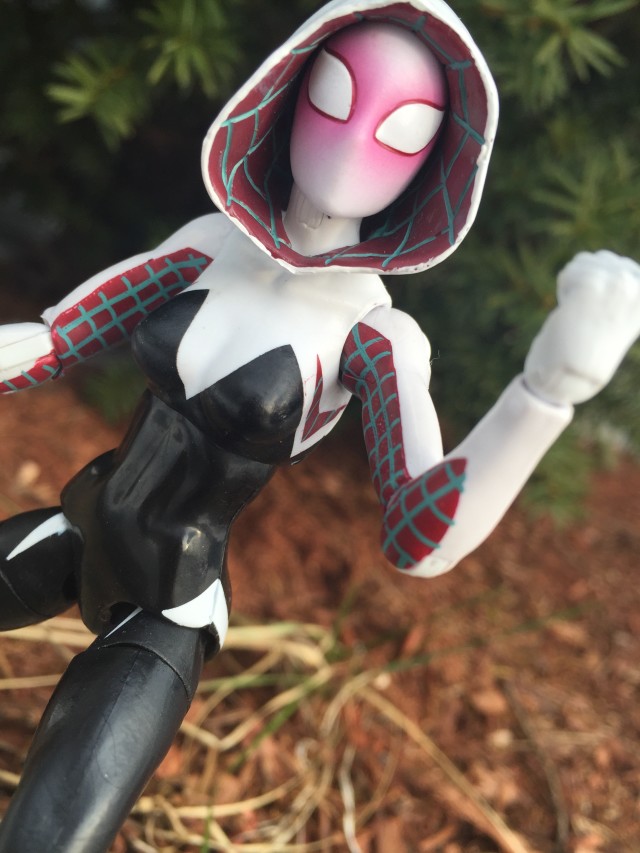 All of the articulation works well on this ML Spider-Gwen, especially the double-jointed knees, ankle rockers, and ball-hinge shoulders, elbows and wrists.
And although this Spider-Man Legends Edge of Spider-Verse figure doesn't come with alternate hands (which I'll gripe about shorlty), at least she wasn't condemned to having two web-shooting hands like the poor MC2 Spider-Girl action figure that I reviewed last year!
The Wrong:
One of the reasons for Spider-Gwen's immense popular is the lively and charismatic personality of her alter-ego, Gwen Stacy. Unfortunately, the alternate unmasked Marvel Legends Gwen Stacy head included here looks like a haggard, dead-eyes zombie.
I appreciate the alternate Gwen Stacy head being included here, but it's meaningless looking like this, as I imagine the vast majority of collectors are never gonna use this ugly head.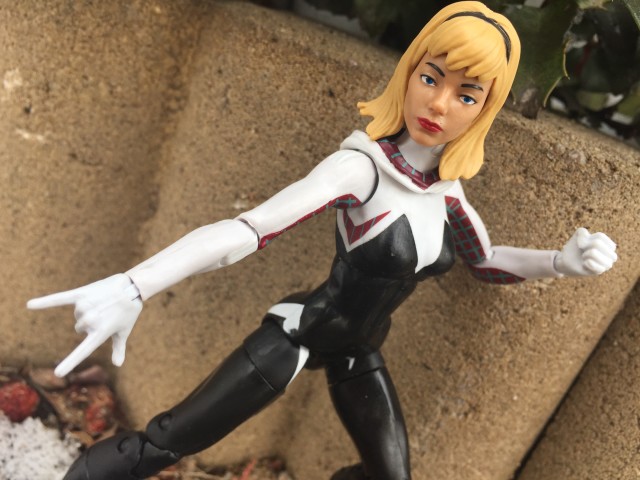 In addition, I think it would have been nice to include some alternate hands for Marvel Legends Spider-Gwen. They're a small and cheap inclusion, and we know they've already been tooled, since we've seen them on other characters using this mold. If it came down to costing in an alternate portrait or extra hands, I guess I'd choose the bonus head, but the hands should have been an easy inexpensive accessory to include here.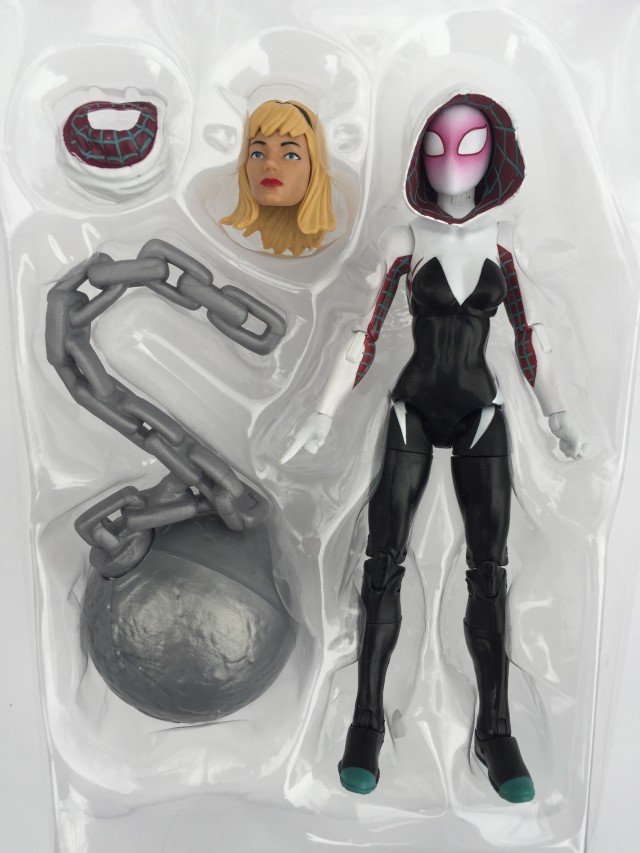 Finally, the Wrecking Ball that Gwen comes with is the least essential piece of the Absorbing Man Build-A-Figure I reviewed a couple weeks back, as it has zero paint deco on it and looks awful with Absorbing Man. You're much better off using one of the Wrecking Crew figures' wrecking balls, as they match with the Crusher Creel figure infinitely better.
I'm not penalizing Spider-Gwen for the wrecking ball accessory, but I do want to make sure everyone is aware that it's a pretty disappointing BAF piece.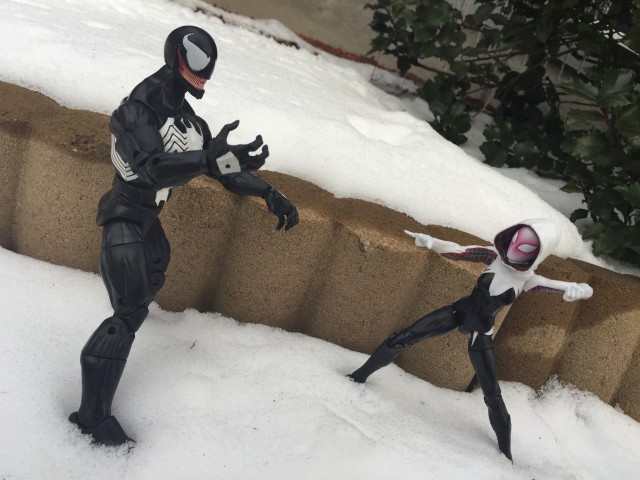 Overall: Hasbro may have rushed their Spider-Man Marvel Legends 2016 Spider-Gwen figure out the door, but you wouldn't know it from the excellent quality and design. The paint apps are perfect, the articulation is as strong as ever, and the pulled-back hood looks great. The scary unmasked head loses a few points for this action figure (and will certainly never be on mine again), but this is a must-have Spider-Gwen action figure for fans of the character nonetheless. Highly recommended.
GRADE: A-