The wait is almost over, and the biggest comic book and collectibles event of 2016 is almost here: San Diego Comic-Con 2016 begins just two weeks from tomorrow! At this point, we've known most of the exclusive for the event for at least a week… but not all of them! Gentle Giant Ltd. had been holding their cards pretty close to their vest, but their trio of Marvel SDCC 2016 Exclusives now stands revealed: an Animated Rocket Raccoon statue, a Secret Wars Spider-Gwen Micro-Bobbles, and… some crazy-colored Deadpools including neon green Deadpool?!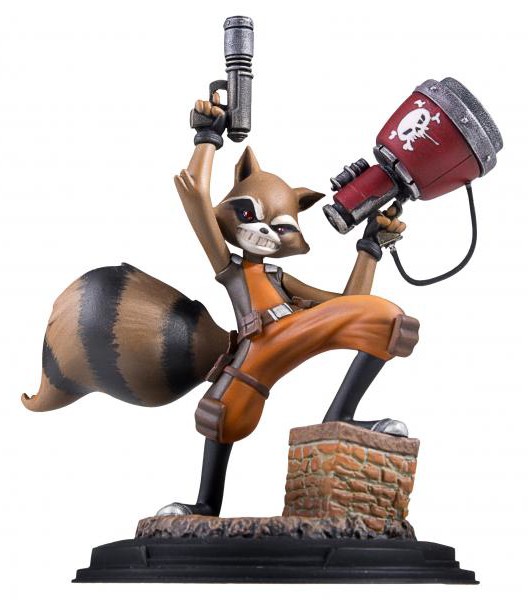 SDCC 2016 Exclusive Rocket Raccoon Animated Figure
Gentle Giant Ltd. captured my heart–and plenty of my dollars–when they debuted their Skottie Young Marvel Babies statues at SDCC 2015. And in the year since the first statues were revealed at the show, we've had some adorable mini statues go up for order, including Skottie Young Deadpool, Spider-Gwen, Thanos and more!
I didn't dare to hope that we'd be getting an exclusive Gentle Giant Marvel Animated Statue for SDCC this year, but it was revealed today that we are–and it's one of my favorite characters ever: Rocket Raccoon!
Even so, the SDCC 2016 Exclusive Rocket Raccoon Animated statue is in a very different style from the other Skottie Young-inspired Animated Statues in the line (which look much more chibi in appearance).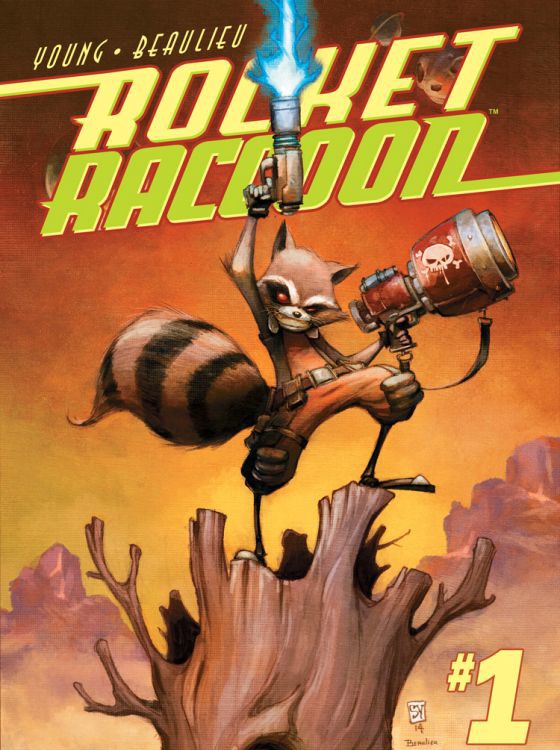 Retailing for $65 at the con, this statue is obviously inspired by the 2014 Rocket Raccoon #1 comic book (although Rocket's base has been changed from the top of Groot's head to a brick structure). Here's the official write-up on the 3.5″ statue from Gentle Giant…
"Gentle Giant Ltd. is extremely happy to announce our San Diego Comic Con 2016 Animated Rocket Raccoon! Based off of the cover of Rocket Raccoon #1, this amazing collectible statue brings all of the firepower that this gun toting raccoon can carry! Marvel's cute, yet foul tempered, Guardian of the Galaxy was digitally sculpted and printed on state of the art 3D Systems printers. The high-resolution prints were then used in the creation of prototypes needed to produce this animated collectible. This statue stands at 3.5" tall and is hand-cast, hand-painted, and hand-numbered with a limited edition certificate of authenticity. Make Mine Marvel!"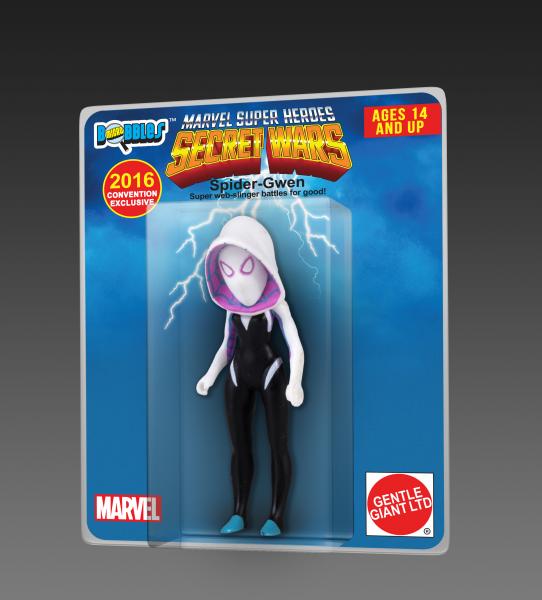 Spider-Gwen Micro Bobble 2016 SDCC Exclusive
Next up, we've got what I think is going to ultimately end up being the cheapest Marvel exclusive at SDCC: the 2.5 inch Secret Wars Micro Bobbles Spider-Gwen figure! I'm not exactly in love with this style of figure (at all), but for three bucks, I wouldn't mind owning this very unique Spider-Gwen action figures. Here's what GG Ltd. has to say about it…
"In the spirit of the Marvel Comics Secret Toys from the 1980s, Gentle Giant LTD has created a new and unique 2.5″ Bobble Head of one of Marvel's most popular characters, Spider-Gwen! This Micro Bobble features PVC construction, a metal spring for bobble head feature, and is an awesome addition to our current Marvel Secret Wars Micro Bobble Collection!
To further capture the vintage feel, Gentle Giant has packaged these Micro Bobbles with a mini Secret Wars-inspired backer card featuring original photos and artwork. Designed with the collector in mind, the Micro Bobble comes in a mini re-sealable plastic outer clam shell. Our Micro Bobbles are available for individual purchase THIS Fall at select Walgreens and Barnes & Noble stores. However, this Spider-Gwen will only be available at San Diego Comic con 2016!"

Deadpool Secret Wars Micro Bobble 3 Pack 2016 SDCC Exclusive
Finally, we've got the most bizarre of Gentle Giant's SDCC 2016 exclusives: a three-pack of multi-colored Deadpool Micro Bobble figures… including a neon lime green Deadpool figure?! The solicitation info for this particular item is a little unclear, but it sounds like $8 will net buyers a Deadpool Micro Bobbles three-pack including an Inverse Deadpool, an X-Force Deadpool, and a blind-bagged Deadpool that's either in the Yellow/Blue or Neon Green/Black costume.
The lime green Deadpool figure is the first time I've ever seen a piece of Deadpool merchandise released in bright green in any form, so that definitely makes this 2.5″ figure a novelty, although not necessarily one that a whole lot of folks are going to feel compelled to own. I think I'm definitely gonna have to own neon green Deadpool myself, though!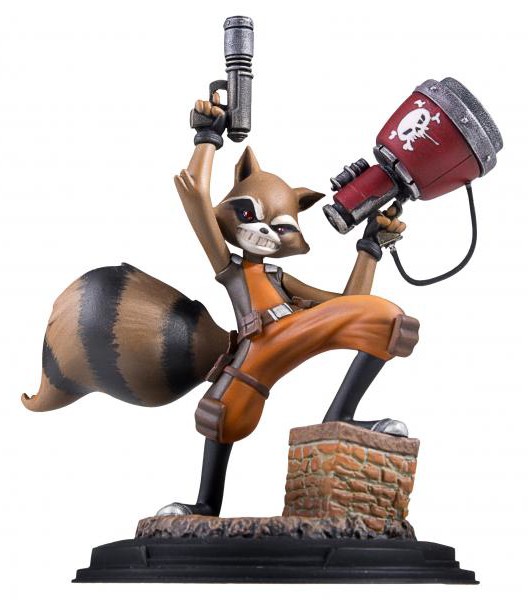 Now that you've seen what Gentle Giant Ltd has lined up for Comic-Con International 2016 on the Marvel front, what do you think, Marvel collectors? Are any of these items must-haves for your collection, or has GG Ltd. missed the mark with you this year, despite their selection of three of Marvel's hottest characters as their 2016 exclusives?