As far as I'm concerned, Peter Parker's OTP is with Gwen Stacy. But if Gwen were to be dead (and she usually is), then I would have no problem getting together with my next-favorite Spider-Man related female: Felicia Hardy, the Black Cat. Sideshow's latest Black Cat statue has been a long time coming (as in "Sideshow teased it both to kick off 2015 and to kick off 2014″), but today is the day that collectors can secure her coming to their homes: the Sideshow Exclusive J. Scott Campbell Black Cat statue is now up for order!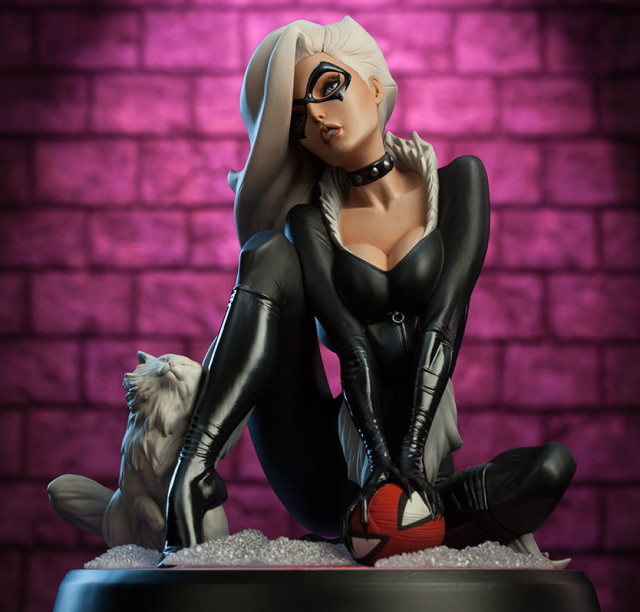 Alright, let me get this out of the way first: this Sideshow Collectibles Black Cat statue is
not
going to be for everyone–or for every household. Depending upon who lives in your household–and who visits and sees your collectibles–this J. Scott Campbell Black Cat statue just may not be quite appropriate.
Case in point: Ordinarily my wife takes minimal interest in my Marvel collecting, but when she walked into the room and peered at the Sideshow Black Cat J. Scott Campbell statue photos on my screen, she went off on a rant including words such as "objectifying", "sexist", "demeaning", "anatomically impossible" and "bull####". Clearly, this is not a statue meant for our household.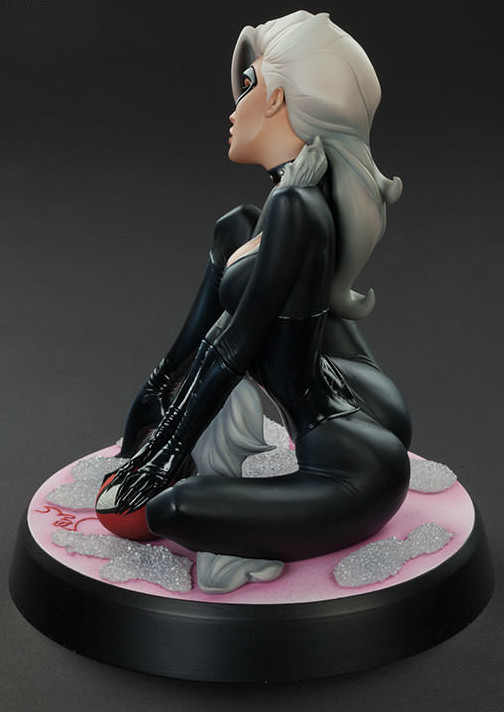 And, well… I can certainly see how she would feel that way. It's true–the Black Cat is indeed sitting in a rather extreme yoga pose that most actual women could never hope to achieve, with buns that frankly look inhuman and with a Spider-Man head shoved into her crotch.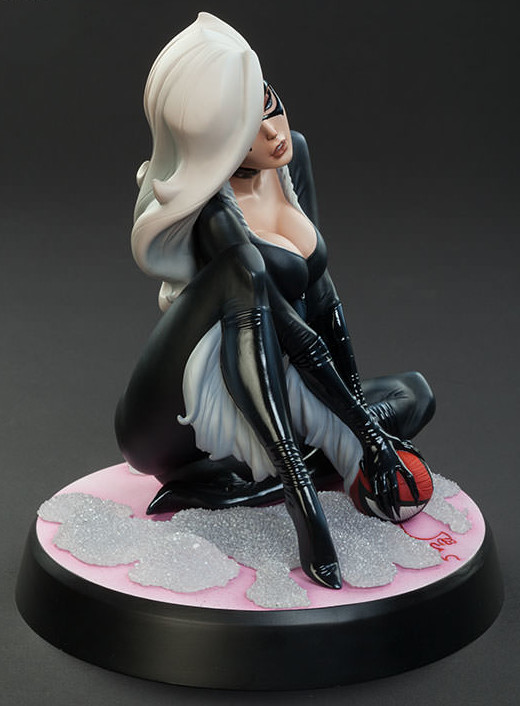 And unfortunately, the base is pretty poorly done, as it could reasonably be confused with being covered in a milky, white liquid (like bubble bath–not whatever else you're picturing) instead of a pile of diamonds.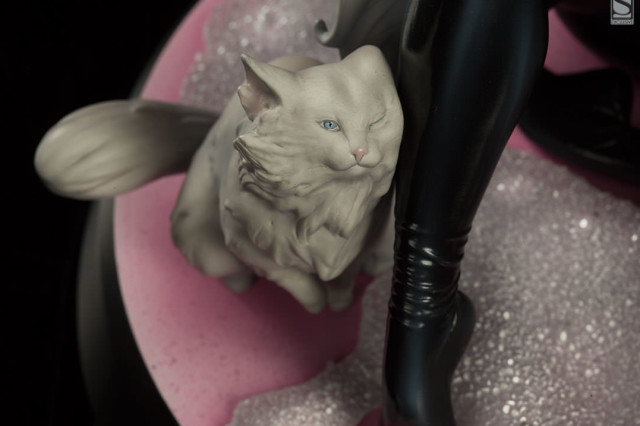 And it probably doesn't help matters that the Sideshow exclusive item is a white pussy cat.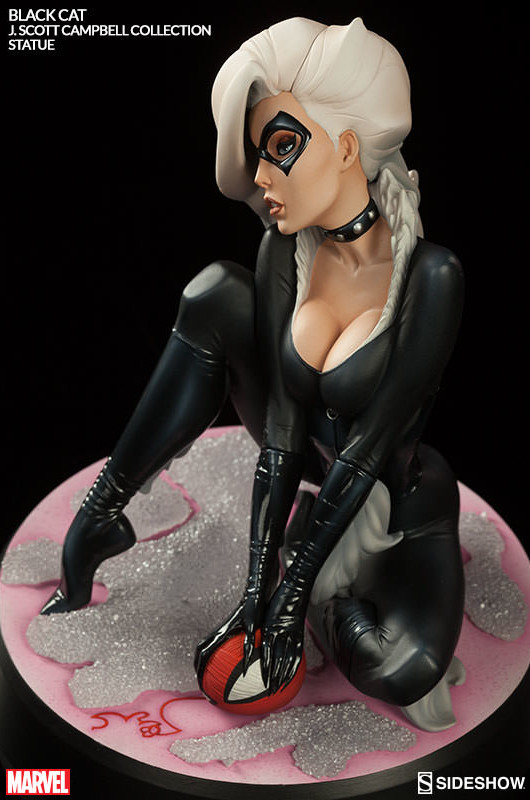 All that aside, Steve Schumacher and the Sideshow Design & Development team have done an exemplary job of capturing J. Scott Campbell's Black Cat sketches in statue form. This statue is a true reflection of J. Scott Campbell's artwork–and just as the way he portrays women in his art isn't going to please everyone, this statue is likewise not going to be for everyone.
For those who appreciate J. Scott Campbell's style, this Black Cat is a true masterpiece. And for those who don't, well… it isn't.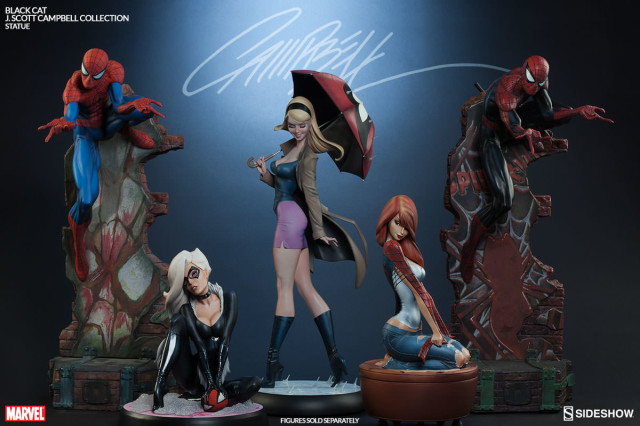 Unfortunately, the aesthetics aren't the only potential issue with this piece. The other sticking point toward the potential sales of this item is its price. Because of the lack of an elaborate, elevated base, this statue is way smaller than any other statue in the Spider-Man J. Scott Campbell Collection. The lack of height will make her look pretty funny displayed near the much higher Mary Jane–and unfortunately, Black Cat is $30 more expensive than MJ as well.
The Mary Jane statue was 11.5″ tall for $249.99, but the Black Cat statue looks to be much closer to 9″ tall for $279.99. That's a pretty hefty price for such a small piece.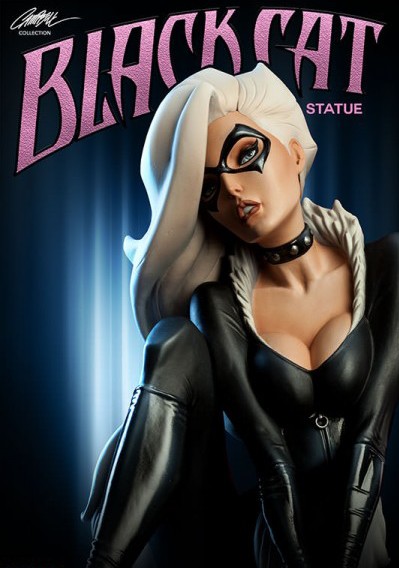 The Sideshow Exclusive Black Cat J. Scott Campbell Statue is now available for pre-order, with an expected release date in early 2016. Considering that Sideshow did what I would have considered impossible by selling 6000 Mary Jane statues without discounting them, I wouldn't be surprised at all to see the limited, exclusive edition Black Cat with white pussycat sell out pretty swiftly. If you want the exclusive edition, definitely think about locking one in early.
What do you think of this Black Cat statue, Marvel collectors? Is this a beautiful piece of artwork, or are you in agreement with the opinion that it's a bit, well… trashy?