Here's a Marvel toys fact that may blow some minds: even with the increasing multitude of Sideshow Collectibles Premium Format Figures being released each year, there's only been one classic red-and-blue Spider-Man Premium Format Figure released. Ever. That was way back in 2006, and that Premium Format Spider-Man sells for over $1,200 these days. But there are some characters that once just isn't enough for, and Spidey is one of them: the new Sideshow Exclusive Spider-Man Premium Format Figure is now up for order!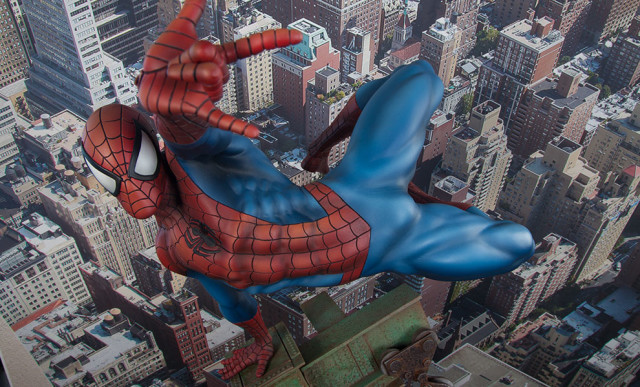 For years now, the Kotobukiya Spider-Man Unleashed statue has stood supreme as king of the mountain of Spider-Man statues in the eyes of many high-end collectors. But Kotobukiya's long-reigning Spider-Totem champion is about to have some competition in the form of a quarter-scale Spider-Man statue that is just as dynamically-posed and visually-compelling as Spider-Man Unleashed.
After 9 years, Sideshow Collectibles is finally going back to the well and producing an all-new classic Spider-Man Premium Format Figure, and it is glorious!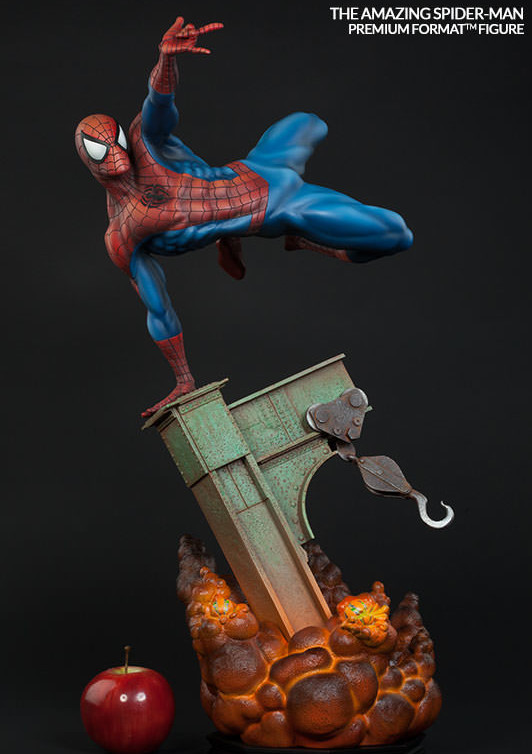 Kicking off a new sub-series of Spider-Man Premium Format Statues (which is rumored to include a variety of classic Spider-Man villains), it's the all-new 1/4 Amazing Spider-Man Premium Format Figure! Captured in action leaping over an exploding archway, this action-packed Spider-Man statue is a far cry from the mundane museum-posed Spider-Man statues that have become the norm for release.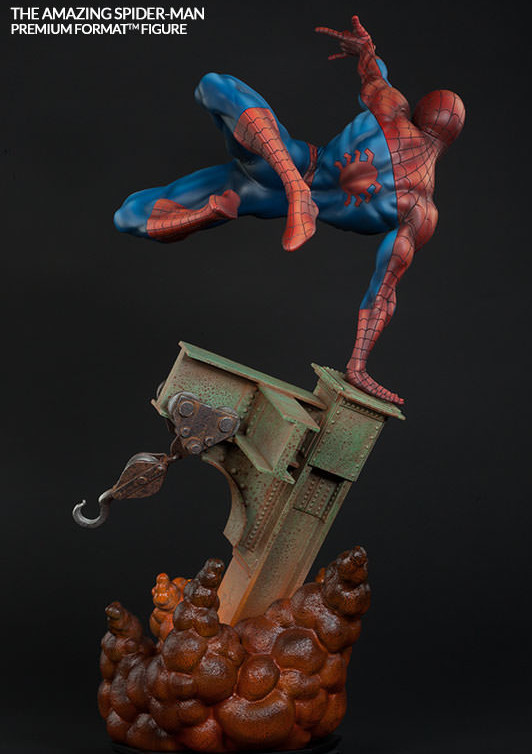 This new 2015 Sideshow Premium Format Spider-Man Figure is going to be one of the largest Spider-Man statues ever released, as it's going to be a monumental 25″ tall and weigh over 20 pounds!
It's probably a good thing that this statue will be way too big to fit into an IKEA detolf, because I'd be terrified that this beastly Spider-Man statue would cause the glass shelves of the detolf to shatter under the weight!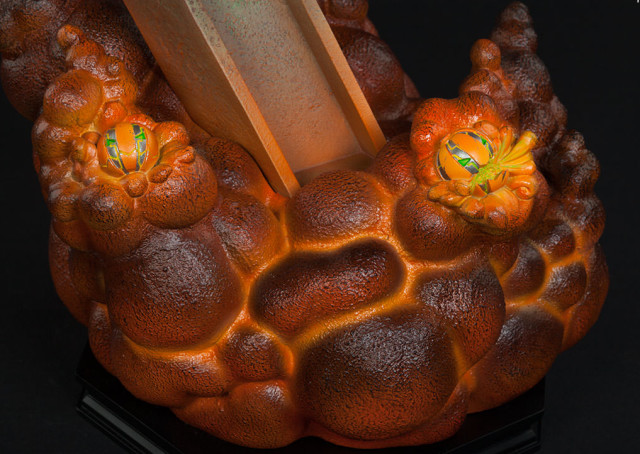 You'll notice the exploding pumpkin bombs on the base of this statue. With the rumor being that this line will be expanding to Spider-Man villains, it doesn't take Mr. Fantastic to hypothesize that a Premium Format Green Goblin statue may be on the way next!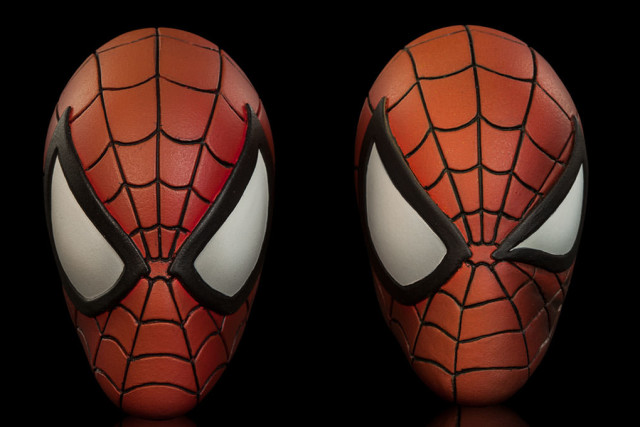 As per usual, Sideshow Collectibles will be releasing an exclusive version of this statue on the Sideshow website. While supplies last and for the same price as the regular edition, collectors who pre-order the Sideshow 2015 Spider-Man Premium Format Figure will get not one, but two exclusive alternate body parts!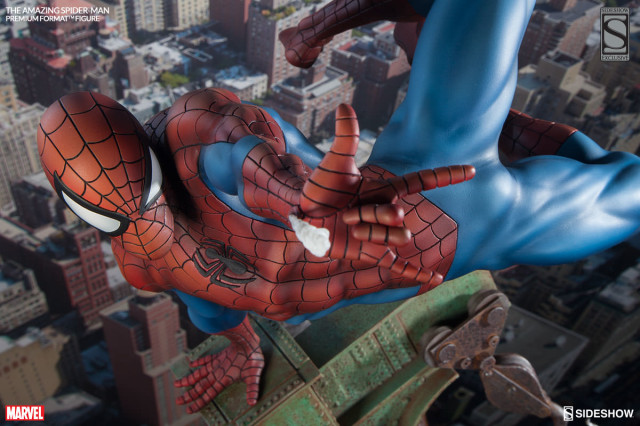 Not only will there be an alternate Spider-Man head included with a scrunched up, "taking aim" expression of the portrait, but an alternate left hand shooting a wad of webbing will also be included! Getting two exclusive items is a real treat, and it's these bonuses that have pushed me over the edge from waiting to buy this piece later to pre-ordering it as soon as it goes up for order later today.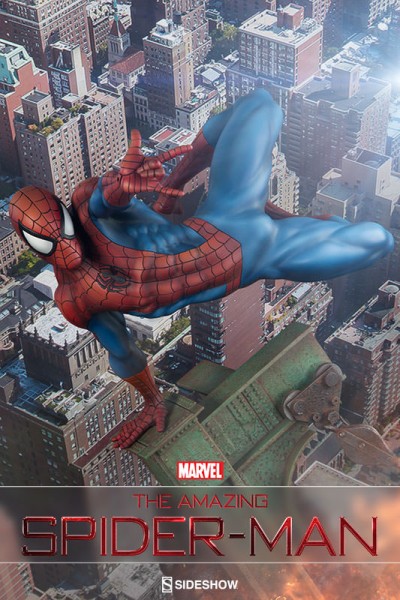 As is so often the case, though, all of this incredible goodness comes with a price: and in this case, that price is $469.99 plus shipping. That's
a lot
for a Spider-Man statue. In fact, I that's the highest retail price I can recall for a mass-produced Spider-Man statue ever. But with the amazing attention to detail and the immense size and weight of this piece, I definitely think that this is an instance where the high price is actually warranted.
I don't know about anybody else, but I, for one, am glad that Sideshow Collectibles has payment plans available for items just like this one! Hopefully there will be enough payments that I won't even notice the payments popping up on my credit card for this guy for the next year!
The Sideshow Exclusive Spider-Man Premium Format Figure is now up for order, and is expected to ship out in mid 2016. Payment plans are (thank God) available. Make sure to get in an order early if you want to get a reservation for this beauty locked up today.
Thoughts on the newest Sideshow Collectibles Spider-Man statue, Marvel collectors? Is this the most impressive Spider-Man statue ever made? And are you willing to fork over $470 plus shipping for it?