Pop Quiz! What's purple and blue, stands thirty-two inches tall, has light-up LED eyes and chest, and is limited to just 750 pieces produced for the entire world? Yep, you guessed right–it's the Sideshow Collectibles Sentinel Maquette Statue that we last heard an update on way back in 2014! Production certainly wasn't fast on this beast, but it's finally complete and shipping out this month! Let's take a look at the final production photos and see if it was worth the wait…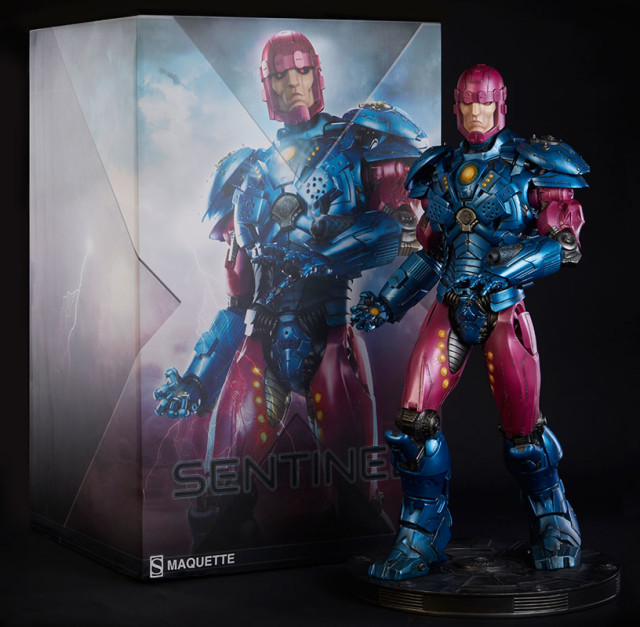 If you've ever sat around saying to yourself "
I really need a statue of a giant mutant-hunting robot that stands over half as tall as I am
", then you are in luck. After putting their amazing Sentinel Maquette up for order last year, Sideshow Collectibles had been rather quiet about the piece.
But the time for silence has come to an end, and with production complete at the factories and the Sentinel statues on boats en route to America, Sideshow has proudly revealed photos of the final finished Sentinel maquette!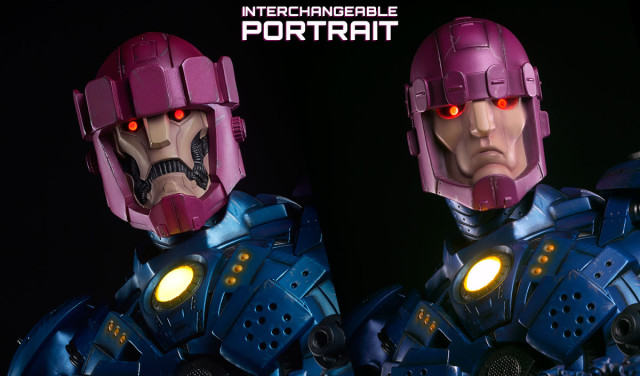 As promised, this Sentinel maquette comes with two interchangeable heads and light-up LED chest, palms and eyes. I'm usually not one for electronic features, as I hate having to open and close the detolfs I keep most of my statues in. But that's a moot point in this case, as the Sentinel is way too big to fit in any display case I own.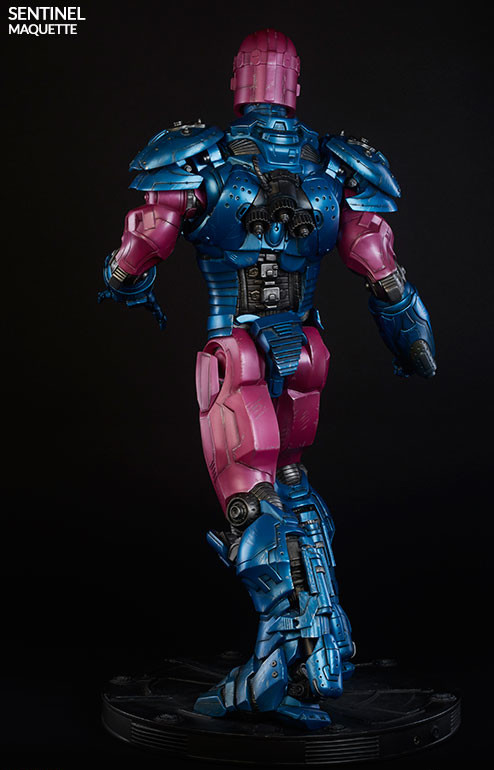 Typically I'm a classic guy all the way when it comes to statues of classic characters, but in the case of the Sentinel, I like both heads. As I'm a long-time fan and gamer, I actually think I prefer (and will be displaying) the modern Sentinel head, as that head more closely matches the look of the head in the Capcom fighting games like Marvel vs. Capcom.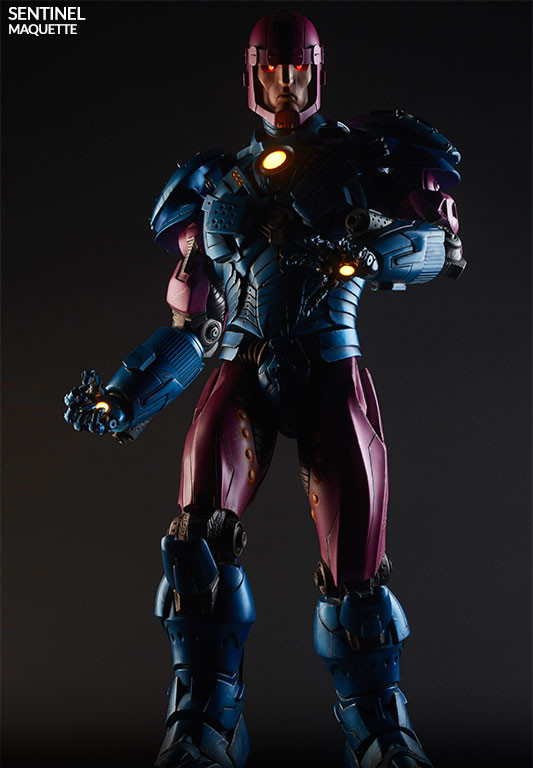 Of course, the piercing light-up red eyes of a four foot tall statue staring at you in the basement in the dead of night may also induce a heart attack if you forget you've left the Sentinel's lights on, so do use caution.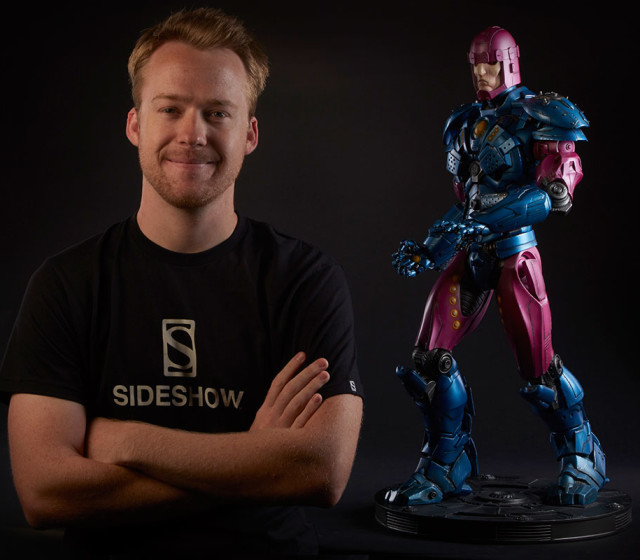 The biggest thing in favor of this Sideshow Sentinel Statue is definitely its size, in my opinion: if you want a Sentinel statue that will tower over your X-Men statues and really make a statement, then this is the one that you've been waiting for!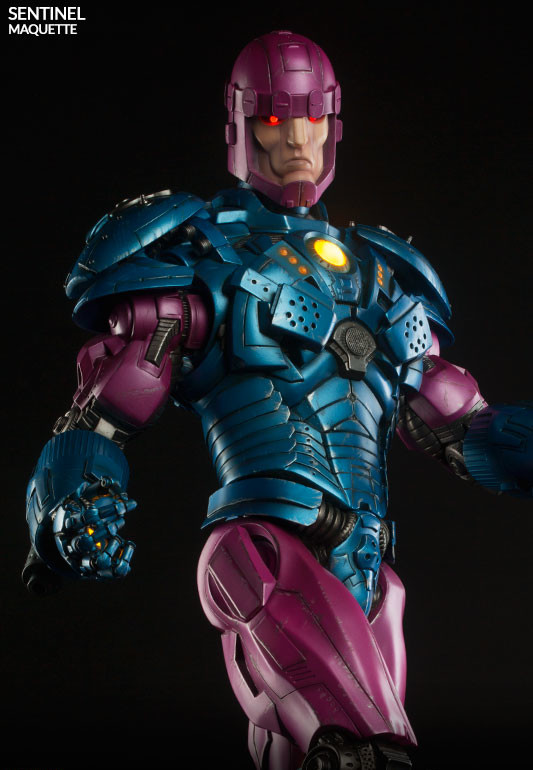 Standing 32″ tall, 15″ wide and 15″ long, this is the sort of item you really need to plan where you're going to display it (and moreover, where you're going to store the even larger box for it!).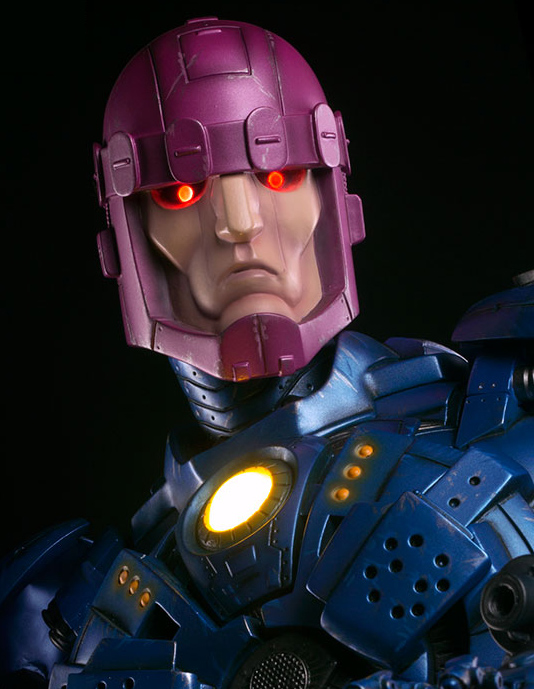 That said, the size comes at a heavy price: namely, the price. While this Sentinel maquette is not only as big as a child at 32 inches tall, it also costs as much as feeding a 32″ child for several months at a hefty price of $899.99!
Considering the massive size, complexity and limited-edition nature of this piece, I really don't think Sideshow Collectibles is out of line with the $900 MSRP that they've stuck on this behemoth. Even so, no matter how beautiful or worthwhile a $900 statue is, it's still a $900 statue that the bulk of Marvel collectors cannot afford.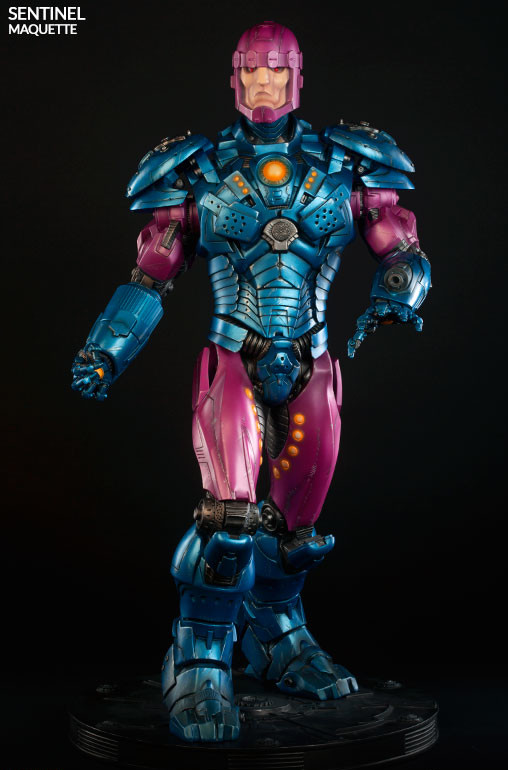 The 32″ Sideshow Sentinel statue is still available for pre-order, and is scheduled to ship in November/December 2015. With a LE of just 750 pieces, I'd be very surprised if this statue doesn't sell out this winter. If you want one but don't want to be hammered with a $900 invoice all at once, I'd suggest the Sideshow FLEXPay payment plans (which keep me from having a heart attack when I get my credit card bill in months where a lot of items shipped out).
Now that we've seen the final product photos, how do you feel about this Sentinel Sideshow maquette, Marvel collectors? Do you think this enormous item is worth its enormous price-tag, and if so, are you willing to pay it?