To put it mildly, the ThreeA Toys Marvel figures released up until now have not been for everyone. Many collectors just couldn't get past the duck feet and weird designs choices made for several of the characters thus far. But for those who wouldn't stand the previous figures, 3A Toys has something totally different-looking (but definitely still unique) lined up: the ThreeA Black Widow Sixth Scale figure goes up for order later this month!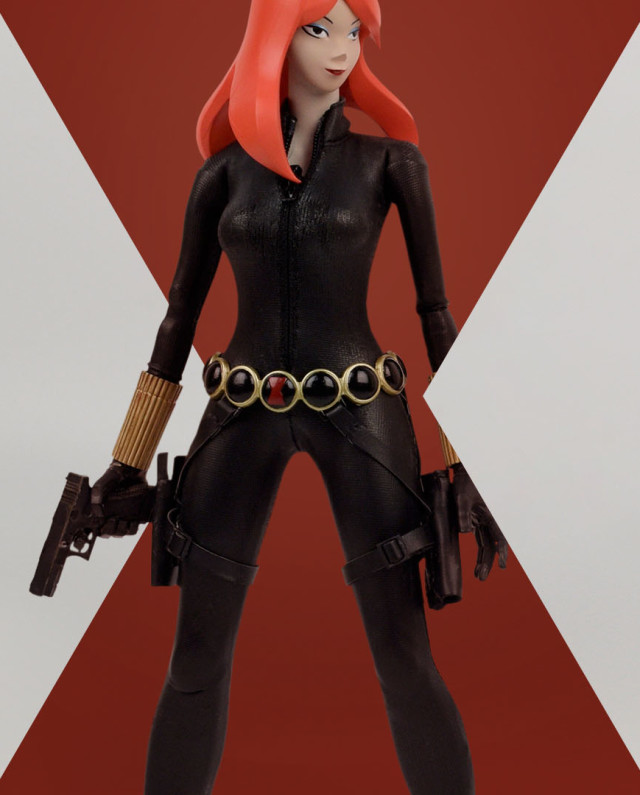 While I didn't love the 3A Toys Iron Man figure and the awful Ghost Doom that they released broke my heart, they won some favor back from me with
their really cool re-imagining of Spider-Man
that went up for sale last month.
And now, 3A Toys is going in a totally different direction with their latest figure, which is wholly unlike the others–Black Widow, their first female Marvel entry!
Make no mistake, as soon as I saw this new doll of Natasha, my eyes immediately darted down to behold the glory of her pair of… feet. Unlike every other Marvel Three A figure revealed to-date, Black Widow is not cursed with duck-shaped feet. Hallelujah!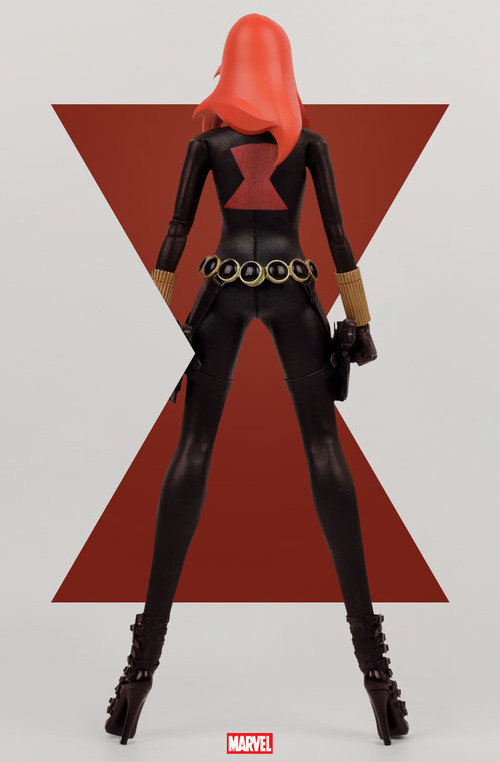 Of course, this Black Widow doll (and this is definitely more doll than figure in this instance) is worlds different stylistically from the male characters so far in other ways as well.
Natasha has impossibly thin proportions and a very artsy anime-inspired face. I daresay this is the friendliest looking Black Widow toy I've ever seen!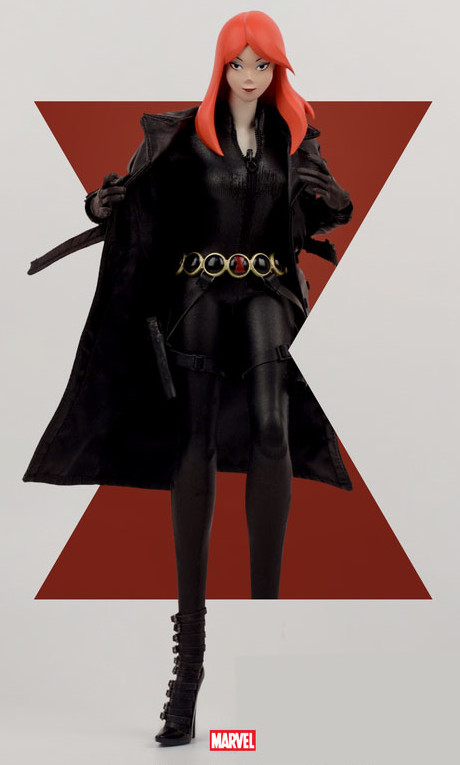 The belt, bracelets and high-heeled boots are easily the most visually compelling aspects of this figure, although I also really like the shape and sculpting of Black Widow's hair here (though I'm sure her hair will be divisive among fans).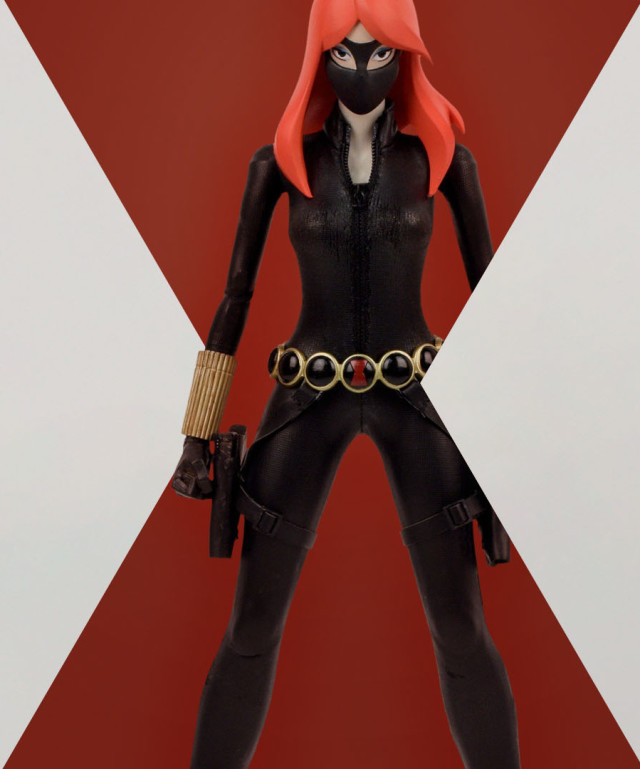 While not necessarily loaded with accessories, the ThreeA Black Widow 1/6th figure does include some great ones: an interchangeable masked head, a very neat-looking fur coat, twin pistols and interchangeable hands. It's not a bad loadout at all!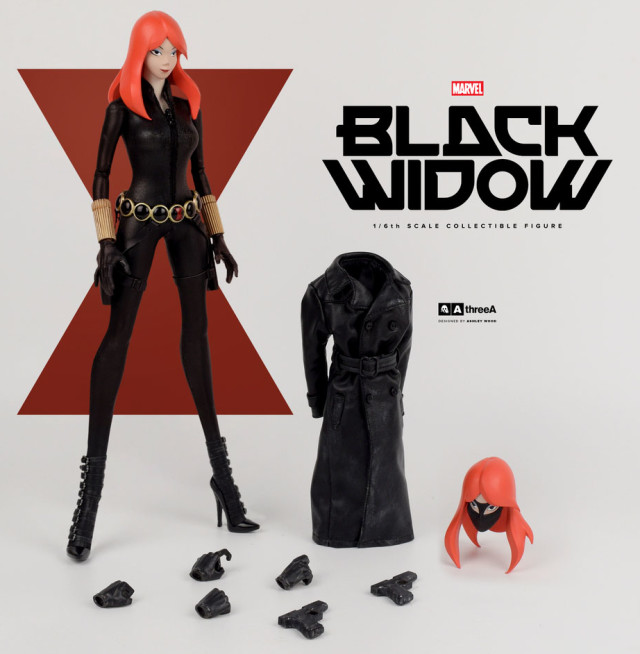 While all of the other Marvel 3A figures up until now have had at least one Bambaland exclusive color variant available, it appears that Natasha is going to break that streak–as of writing, no variant colorways for Black Widow have been announced. (What, no Yelena blonde Black Widow variant?)
Retail price on this figure will be $160 US. That's a bit rich for my blood for a 13″ figure of this type, but I really might snag this figure down the road if it gets discounted heavily like 3A's Iron Man did.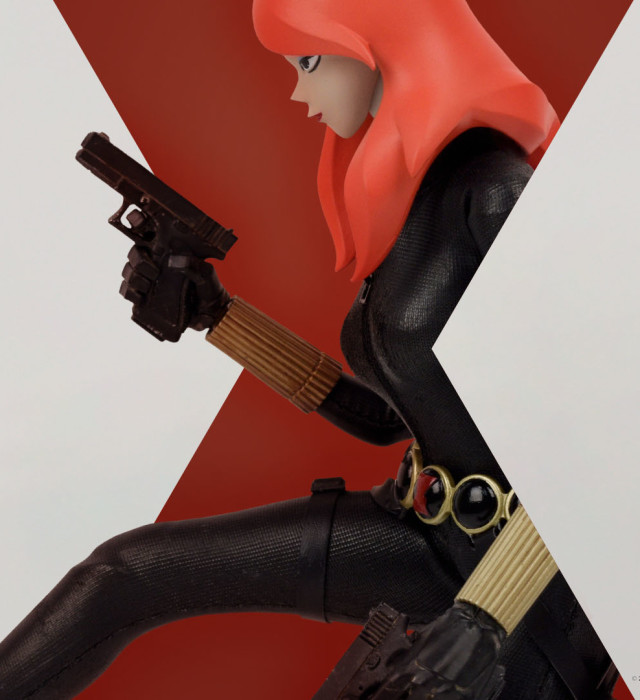 The ThreeA Black Widow sixth scale figure will go up for order at the end of August 2016, and is expected to ship out in early 2017. It'll be really interesting to see how well this female figure of a completely different style sells compared to the more standard males we've seen up until now.
How do you like 3AToys' first foray into female Marvel figures, Marvel collectors? If you've collected any of the previous entries in the line, are you still interested in Black Widow? And if you've never bought a 3A Toys figure before, has Natasha caught your interest?