Fans in the United States have had to wait a little bit longer than folks in some other parts of the world, but finally the last of the 2016 Marvel Legends exclusives announced at New York Toy Fair 2016 have begun hitting stores in the United States! Don't pay the scalper prices on the aftermarket for it, because the new Walgreens Exclusive Marvel Legends Punisher figure is now arriving in stores!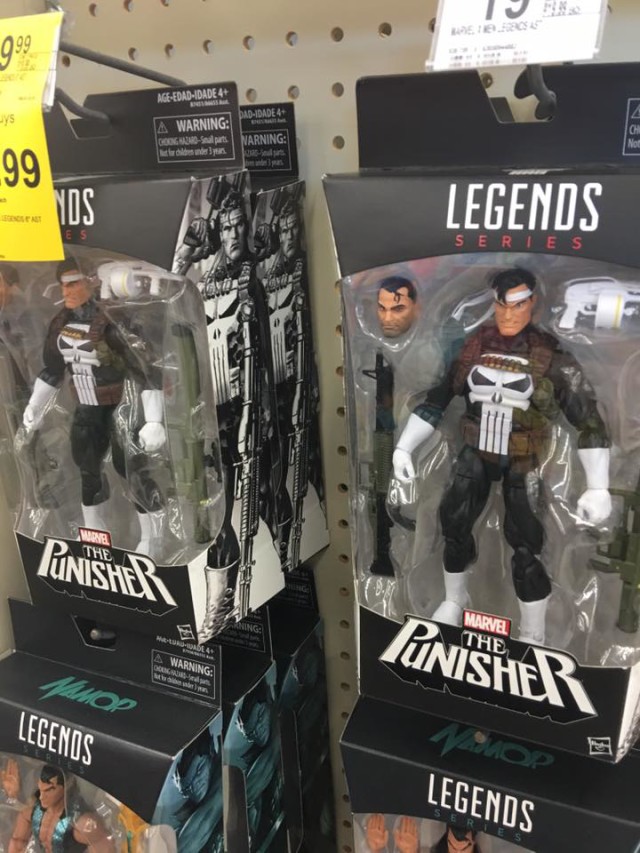 It's been a few years since Frank Castle was last available, but Hasbro surprised collectors in February at the 2016 New York Toy Fair by previewing the new Spider-Man Legends Punisher Walgreens exclusive figure!
Although this Jim Lee Punisher 6″ figure started hitting some stores overseas a couple months ago, we've been waiting for him here in the U.S. for what seems like ages–and now he has finally arrived!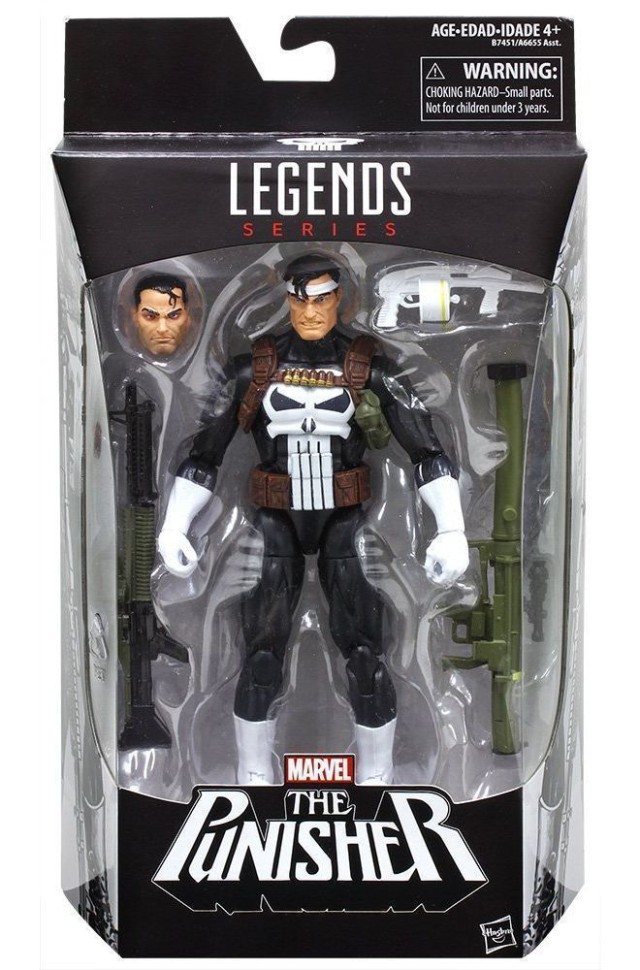 Although this figure is considered to be part of this 2016 Spider-Man Legends Wave 1 series, you wouldn't know it from looking at the front of the packaging–there's a big Punisher logo and guns on the sides of the package, and no logos or mentions of Spidey anywhere.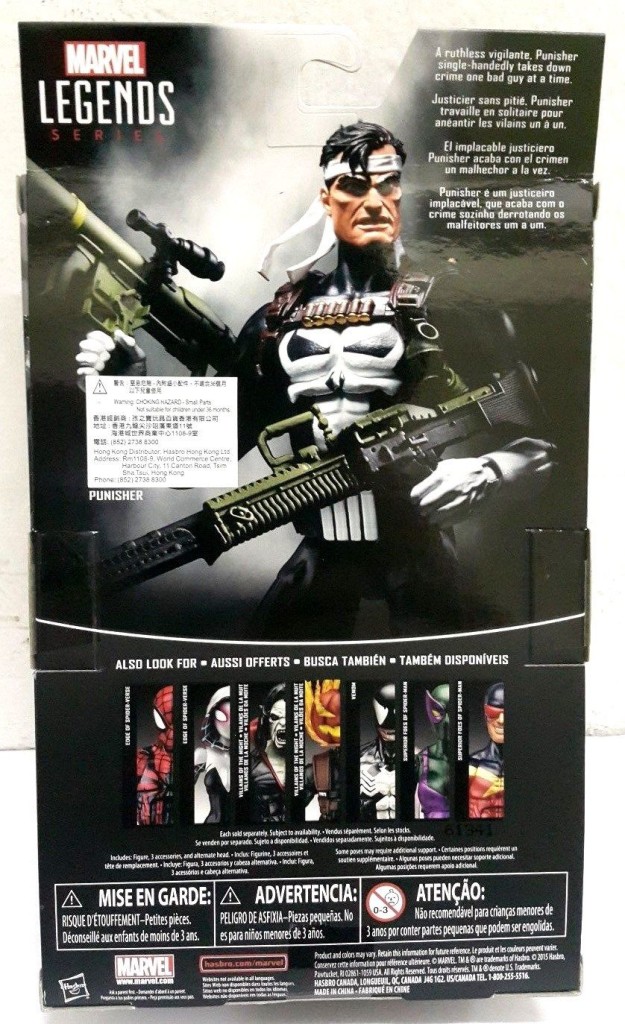 The back of the box, however, does show a little stripe of photos of the rest of the figures that were released in the Absorbing Man Build-A-Figure Series.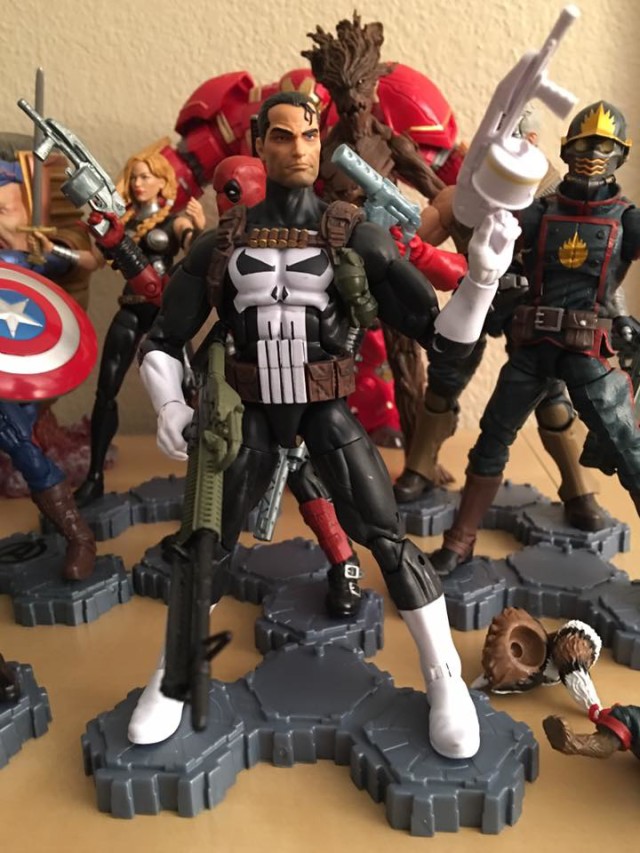 The biggest things that set this figure of The Punisher apart from past versions is the two interchangeable heads: Jim Lee inspired white headband-wearing Punisher and greasy-haired Punisher with strands of hair in his face. Both heads are totally unique sculpts and welcome alternatives to the standard style of Punisher head we usually get.
Also, this figure has some really nicely-painted webbing on his body that I can't remember ever seeing on a 6″ Punisher figure before (help me out, readers–can you?).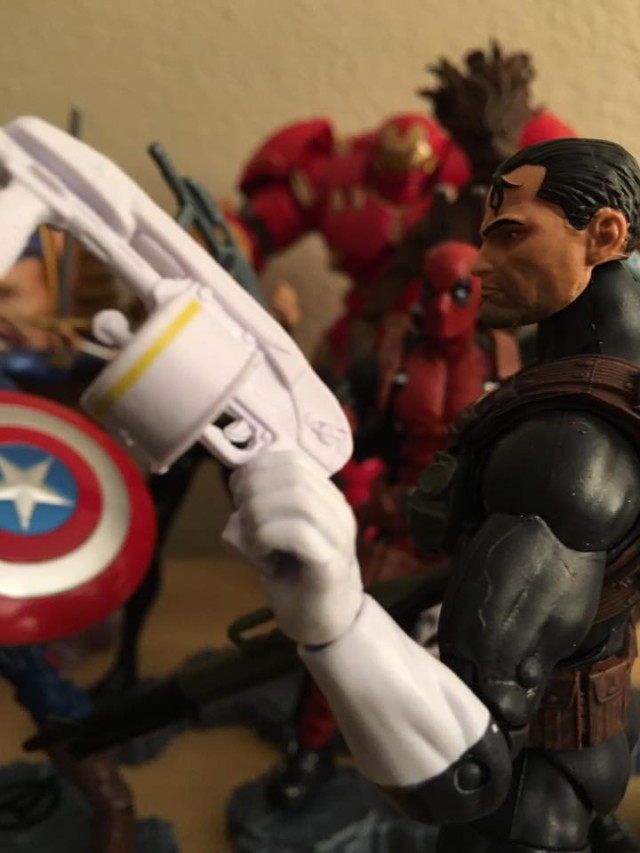 In addition, Frank is packing an arsenal of three weapons: two guns and a rocket launcher. The rocket launcher and shotgun-looking gun both have extra paint deco on them and look really nice, but that white gun is really garish and horrible. Oh well–two out of three ain't bad!
The only big failing of this figure is that Hasbro forgot to give this Punisher a trigger finger on his hands, so if you want him to hold the guns properly, you'll have to try to mod him yourself.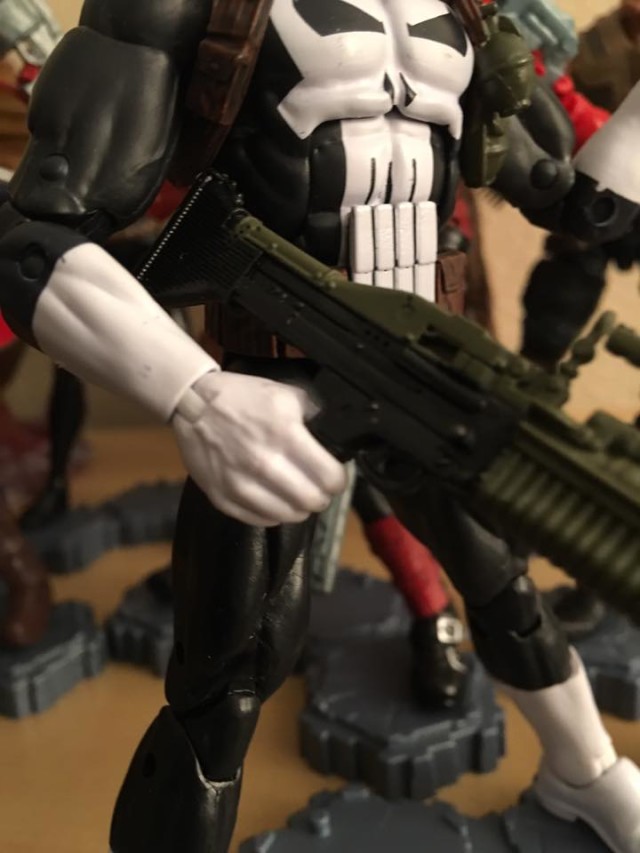 The Marvel Legends Spider-Man Punisher figure is now available on the aftermarket and in some Walgreens stores, and is expected to hit most Walgreens locations in the United States by the end of this month.
Though it's selling for $35 to $50 on ebay right now, I'd recommend waiting until you can find this figure locally, as it should be pretty common and widespread once it hits full distribution. The Walgreens website has also started carrying their exclusive toys, and I'd expect this six-inch figure to show up there as well eventually. Big thanks to James G. and Alex O. for giving us permission to run the photos they uploaded to Facebook of this new Punisher toy!
Now that it's officially out there and you've seen loose photos, what do you think of the Marvel Legends 2016 Punisher figure? Is this new version of Frank on your must-buy list this summer, or are you sticking with an older iteration?