Ordinarily I don't like ordering Marvel Funko POP Vinyls online, as I'm pretty OCD about paint applications. But, well, I was having trouble finding the Captain America The Winter Soldier POP Vinyls in my area, Amazon had the Funko Black Widow POP Vinyl for $9 shipped, and now she's sitting on my desk. Is this Black Widow Funko POP Vinyl a little $9 masterpiece? Read on…

The Right:
Sometimes Funko really irritates me with their character selection. The fact that they released an Avengers POP! Vinyls line that didn't include Hawkeye or Black Widow made me insane, so I was super-pleased to hear that Black Widow would finally be getting her due as a POP! Vinyls figure as part of the Winter Soldier lineup (which poor Falcon has been omitted from–shame on you, Funko!).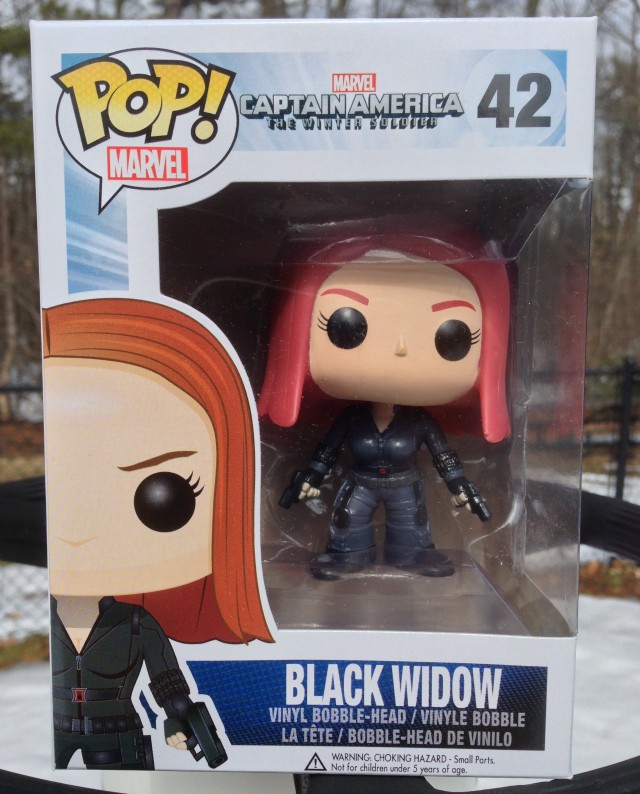 This is very clearly a Captain America: The Winter Soldier version of Black Widow, as it should be. If we get a shorter-haired variant as an exclusive I would love it, but if not, This will fill in just fine.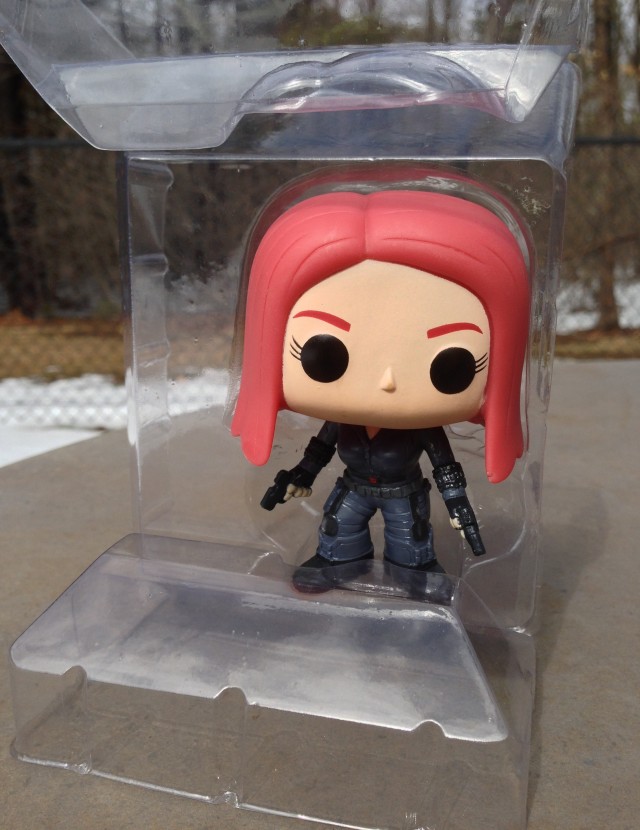 If you're looking for a screen-accurate Scarlett Johansson figure, you're obviously looking at the wrong line of toys. That said, I think Funko did a really superb job of capturing the basic look of movie Black Widow here in figure form.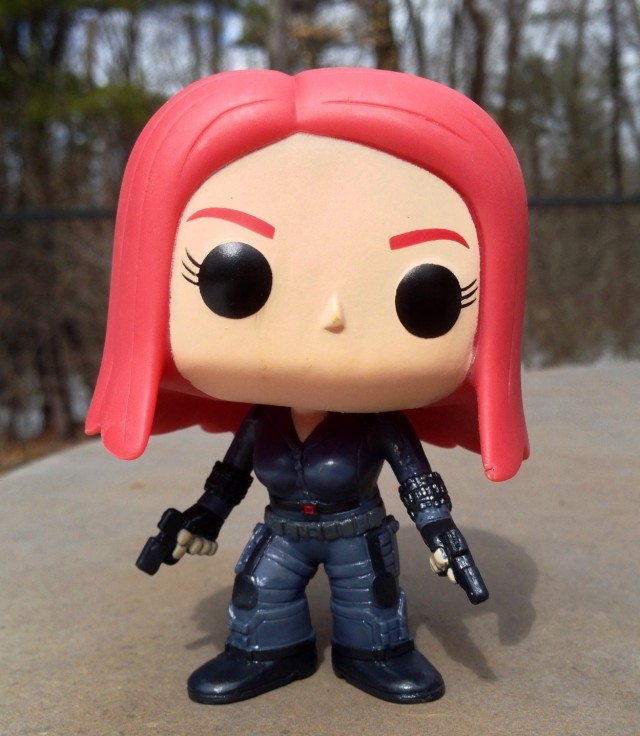 All of the sculpted pockets and zippers on the Funko POP Vinyl Black Widow figure look really nice, and this figure has far more sculpting detail than your average Funko Marvel POP Vinyls figure does. And to my surprise, the paint apps on this figure carry over to the back of Black Widow as well–I half-expected Funko to cheap out and only paint the front of Natasha.
The hair on Black Widow is proportionately the right length and straightness to match up with her Captain America Winter Soldier movie appearance, and the face is cutesy with an undertone of seriousness.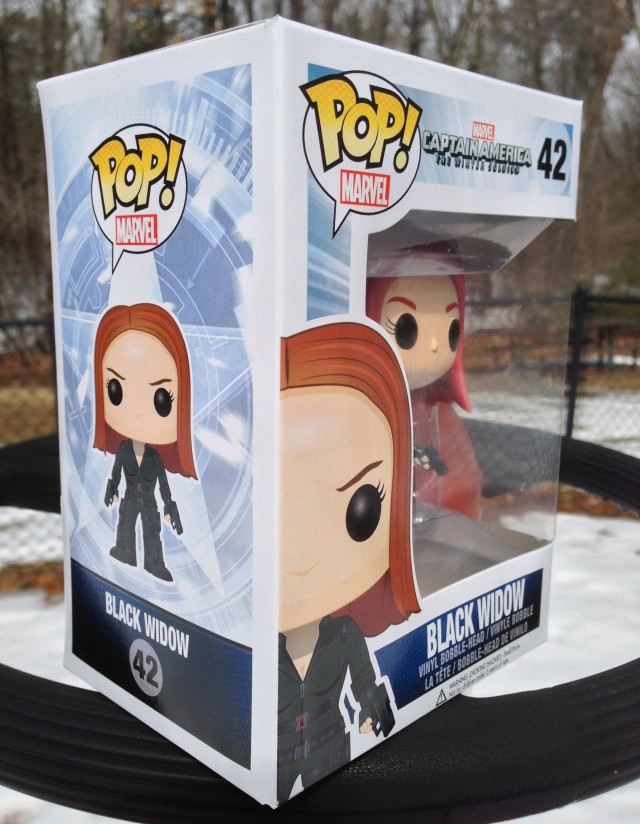 Obviously this Black Widow bobble-head doesn't scream "Scarlett Johansson" to me, but it also doesn't scream "not Scarlett Johansson". For a super-deformed version of the actress, it's perfectly cute and acceptable.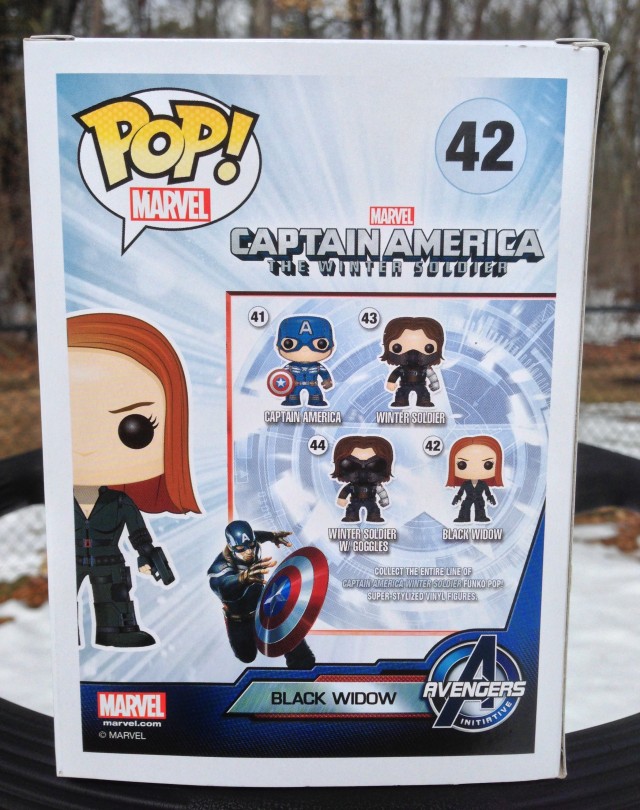 Also, I appreciate that Funko posed Black Widow dual-wielding pistols–this is a deadly woman who means business, and I'm glad she looks tough instead of like some babe just standing around passively.
The Wrong:
The true downfall of Funko for me has always been their questionable paint deco quality, and I was especially concerned since I ordered a random Black Widow POP! Vinyl online. On the bright side, this Funko Black Widow's paint apps are far, far better than I feared they would be. Seriously, they're worlds better than the horrific QC on the Funko Metallic Red Hulk POP Vinyl I reviewed last year.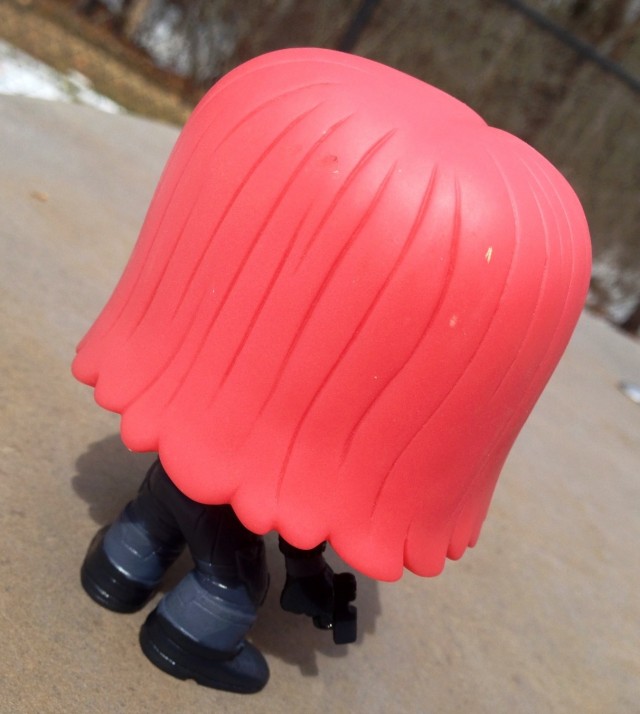 That said, they're still not as good as I'd like. There are big chips and scratches on the back of Black Widow's head/hair, straight out of the package. In addition, she's got little black smudges on her face in a few spots that make poor Natasha look "dirty". These aren't a huge deal and are certainly lesser issues than I've had with Funko in the past, but the quality control here is still not as high as that of KidRobot or Disney Vinylmation.
I ordered my Funko Captain America The Winter Soldier Black Widow POP Vinyl online for about $9 shipped. You may be able to find her in your local specialty stores for $10-$12 plus tax if you want to cherry-pick for the best paint job, but I've had a surprisingly tough time finding most of the Winter Soldier Funko POP figures locally myself.
Overall: One of the most-requested and essential movie Marvel characters has finally arrived, and Black Widow comes perilously close to exceeding all of my expectations for her. The sculpting and design of the figure are both some of the best seen in the Funko Marvel POP! line so far, and this is easily the cutest representation of Black Widow that I've ever seen. The paint quality on this figure is still not up to snuff, but it's an improvement over most of Funko's earlier efforts. Overall, I'm very satisfied with my sub-$10 purchase of the Black Widow Funko POP Vinyls figure. Highly recommended.
GRADE: A-