The masters of Marvel exclusives are at it again! Even though the hotly-anticipated Funko POP! Vinyls Dancing Groot figure isn't due to hit stores for a few more weeks, Funko already has the very first exclusive variant of the figure lined up. This one is definitely a niche exclusive that won't appeal to everyone, but if you're a Groot completist, the Funko Ravagers Dancing Groot POP Vinyl exclusive figure is now up for order!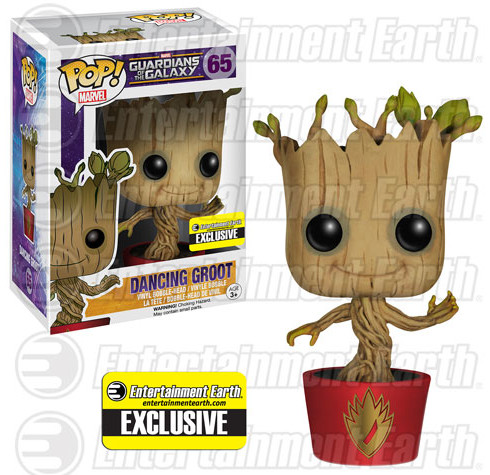 Earlier this fall, an Australian Funko retailer leaked word of a "Guardians of the Galaxy logo pot" Dancing Groot variant. I was really hoping that the listing was an error and that Funko wouldn't go for such an uninspired variant, but, well… here we are.
Basically, the Entertainment Earth exclusive Ravagers Dancing Groot Funko POP Vinyls is exactly the same figure as the regular version, other than having a red pot with the Ravagers/GOTG logo on it. It's a non-canonical variant, and sort of silly, but if you're committed to collecting all the Funko Guardians of the Galaxy toys (like me), then it's a necessity.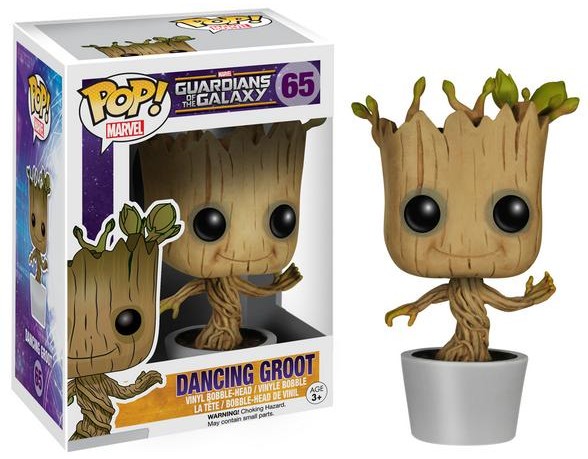 The red pot is sort of snazzy, I guess, but I feel like this is a pretty weak exclusive variant overall. Personally, I would have preferred a black-and-white Groot or even a crazy Glow-in-the-Dark Dancing Groot variant instead of this, but I suppose this is a benign enough variant that I'm willing to plunk down ten bucks for him to keep my collection complete.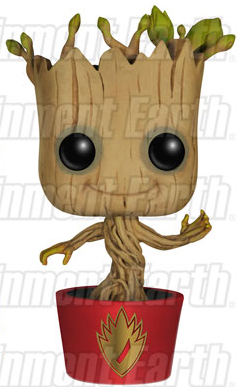 The Ravagers Dancing Groot Funko POP Vinyls figure is now available for pre-order exclusively from EE, and is scheduled to ship out in February 2015. Most of the Entertainment Earth exclusive POP Vinyls (like the Funko Dragon Ball Z Glow-in-the-Dark Goku POP! Vinyl) have been selling out months ahead of shipping lately, so if you want the exclusive Ravagers Groot variant, you'd be wise to plop down your money for him now.
Opinions on the Funko Dancing Groot Ravagers variant, Marvel collectors? Do you consider this a worthwhile variant from Funko, or a blatant money-grab?