This has been an unusually quiet week for Marvel toy news, but that's fine with me, as I've got a huge backlog of stuff to photograph and review. In fact, things have been so busy this summer that I never even got around to reviewing one of my favorite Funko figures of the entire year. It's the figure I liked so much, I bought it three times (once with flocked fur and once with an, uh, exclusive sticker): the Guardians of the Galaxy Funko POP! Vinyls Rocket Raccoon figure!
The Right:
I could open up by professing my undying love for the very concept of Rocket Raccoon, as well as my pure ecstasy that such a ridiculous (and amazing) character is now a household name because of this summer's Guardians of the Galaxy movie. But by this point you've all been there and read that, so I'll forgo my gushing adoration of Rocket Raccoon and jump right in to talking about the Rocket Raccoon Funko POP Vinyl figure.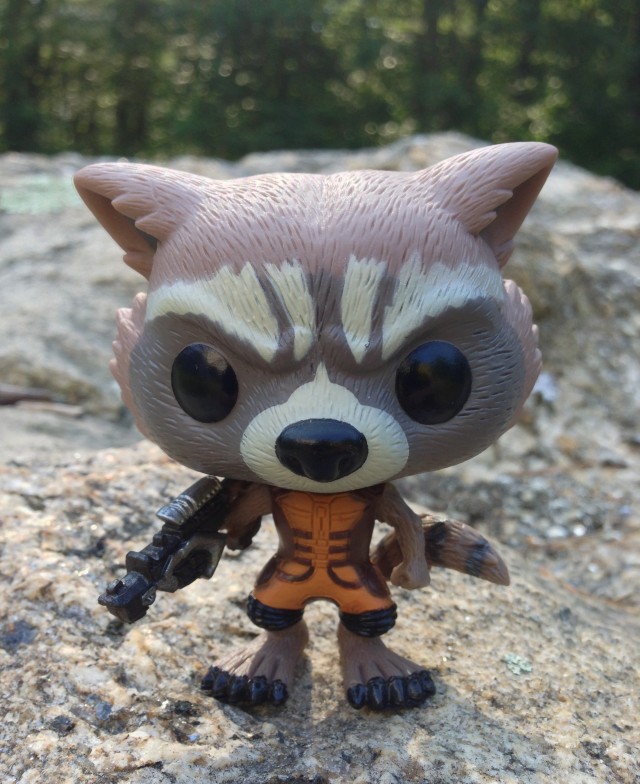 First, let's talk about scale. If you're building the entire Guardians of the Galaxy team lineup is any form, scale is absolutely crucial.
Funko doesn't always create smaller characters in a smaller scale than their comrades, but in this instance they do. The Rocket Raccoon Funko POP! Vinyls figure is about 3″ tall, whereas his teammates are all 4″ tall (and Groot even larger than that).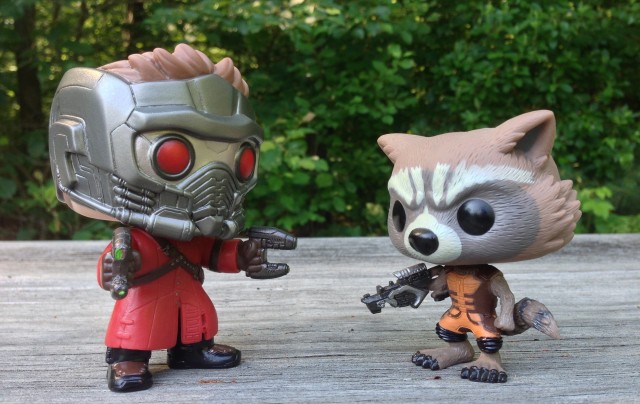 Scale doesn't necessarily sound like a big deal until you have all of the members of a team assembled at one time in one place, in which case it becomes a huge deal. And in this case, Funko absolutely passes with flying colors. The differences in size between the Rocket, Groot, and the other three Funko Guardians of the Galaxy POP Vinyls figures really makes the whole lineup shine even brighter. Good job, Funko.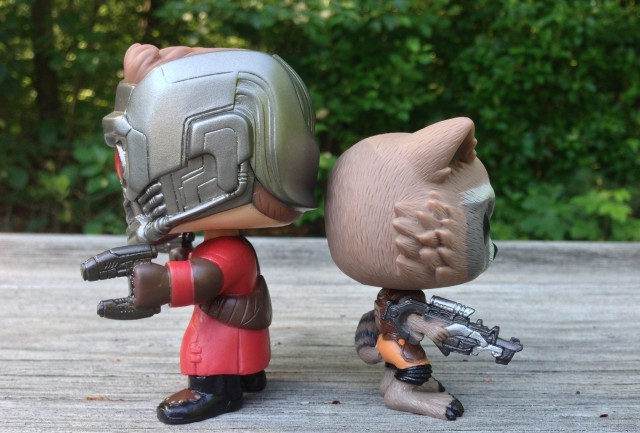 Seeing as how Rocket Raccoon is smaller than your typical POP Vinyls Funko figure, you might be worried about the level of detail on the Rocket Raccoon figure. Don't be.
Funko has absolutely packed sculpting detail on the POP Vinyl Rocket Raccoon figure, with a near-uncountable number of fur sculpting lines on his body and a surprising amount of intricacy on his jumpsuit. Make no mistake–the Funko Rocket Raccoon Bobble Figure is every bit as detailed as any other Funko POP Vinyls figure out there (and frankly, quite a bit more than most).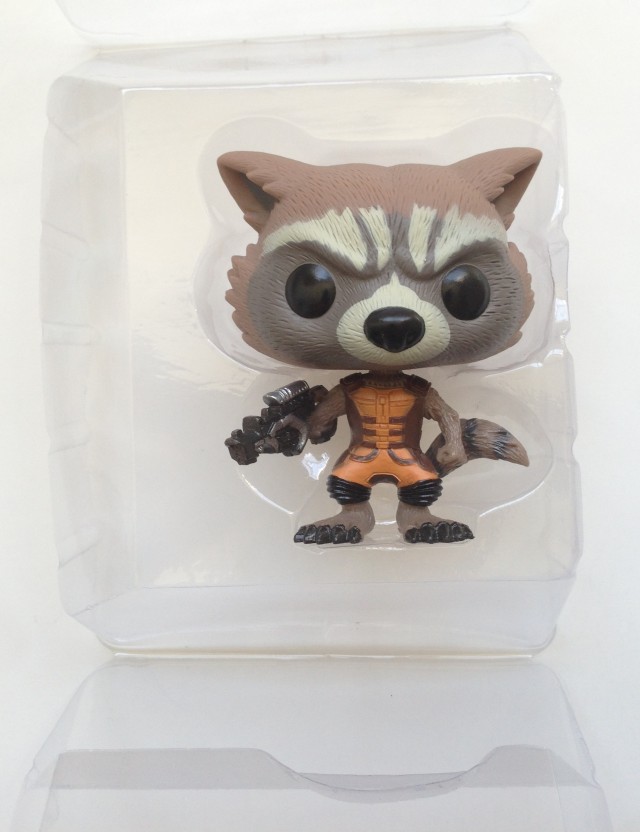 Sometimes Funko will cheap out and reuse parts from other figures for their Funko POP Vinyls line, but that's absolutely not the case here: Rocket Raccoon is a 100% new sculpt, just the way that he needs to be.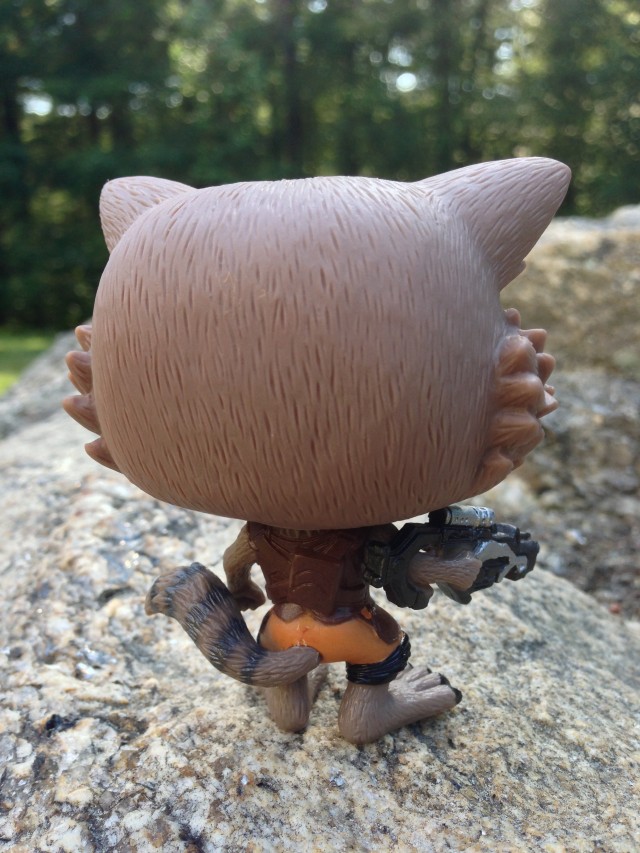 I had my concerns that the Funko Rocket Raccoon bobblehead wouldn't be able to stand up stably due to his smaller-than-usual body (with tail!) and large head, but those worries ended up being unfounded: I've had absolutely zero problems getting the POP! Funko Rocket Raccoon figurine to stand up, with not a wobble to be found.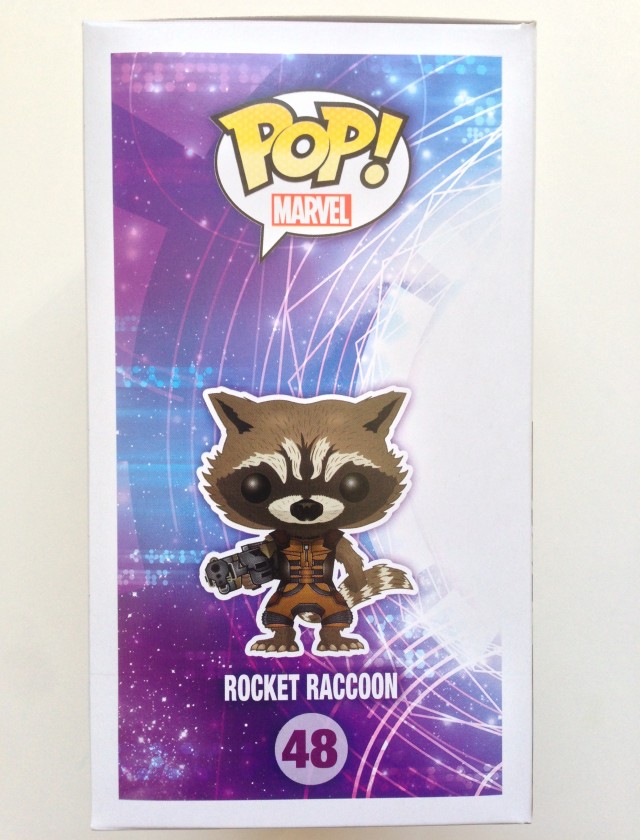 Finally, my biggest fear when it comes to any Funko product: paint deco. On its bad days, Funko can have absolutely appalling paint applications. This isn't one of those days. In fact, the paint deco on the Rocket Raccoon vinyl figure is absolutely masterful.
Funko's quality-control has been outstanding for almost every product from them I've bought this year, and Rocket Raccoon continues the trend. Whatever problems Funko has with QC in the past, those days seem to be behind them now.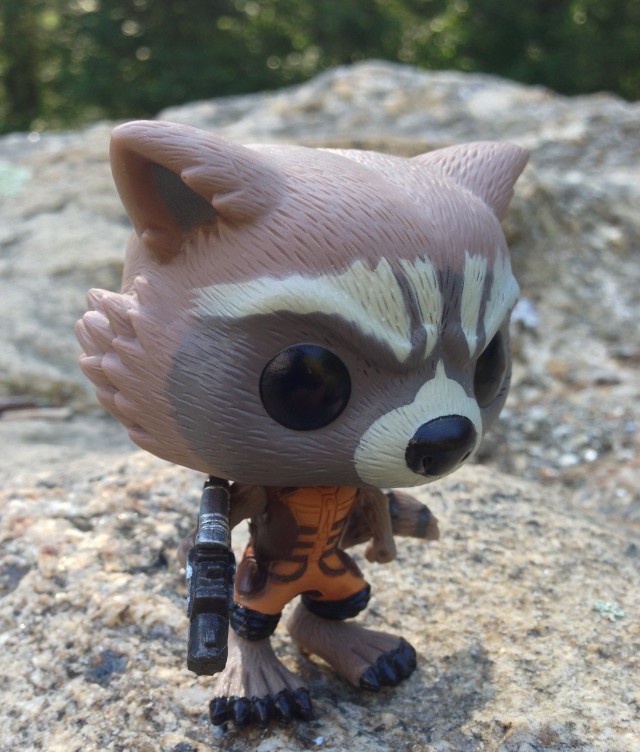 While Rocket doesn't necessarily have a ton of paint detailing on his jumpsuit, he has paint deco everywhere it matters on his head and body, and both his gun and costume have all of the most vital paint apps. Unless you're inspecting this POP Rocket Raccoon figure with him shoved right up to your face, he looks great for a $10 figure with a totally unique sculpt.
The Wrong:
I promise that it is not bias of any kind when I say that I've got no complaints whatsoever about this Funko POP Vinyls Rocket Raccoon Bobble Head figure. Quality-control has always been Funko's greatest vice, but Funko's paint applications are pristine. I've got nothing to whine about. Sorry, guys!
"Where Can I Buy It?!"
I got my Funko Rocket Raccoon POP Vinyl figure from Entertainment Earth, who have pre-orders up for the next shipment of Rocket Raccoon POP Vinyls right now for $9.99.
If you can't stand to wait (and I'm no role model for having patience, that's for sure), Amazon has the Rocket Raccoon POP! Vinyls figure in-stock right now with free shipping (though he'll cost a few bucks more than EE has Rocket marked at).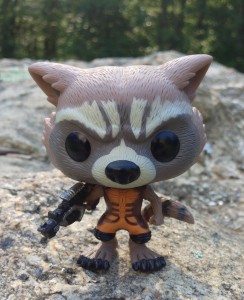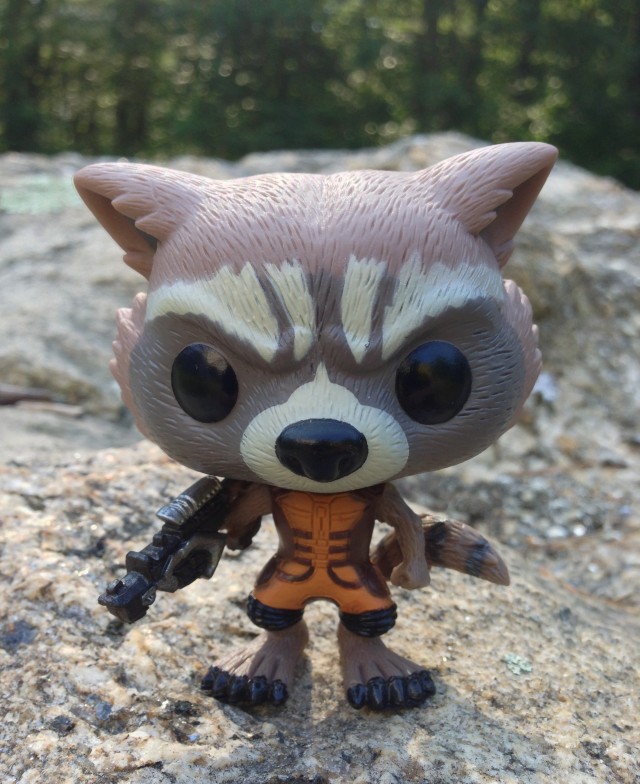 Overall: I love Rocket Raccoon, and I think Funko has captured the character better with this POP! Vinyls figure than Hasbro or Diamond Select Toys have with their previously-released Guardians of the Galaxy Rocket Raccoon toys. The Funko POP! Vinyls Rocket Raccoon figure is short and well-scaled, full of intricate sculpting detail, stands stably and is painted up expertly.
I don't know that I would call him a "masterpiece" or any other such hyperbolic thing, but for a $10 figurine, the Funko Rocket Raccoon POP Vinyl figure is excellent. Highly recommended and well worth the price.
GRADE: A