Earlier today, the Hasbro Marvel Brand Team held their inaugural Google+ Hangout session, and I had the extreme honor of being invited. Fanboy that I am, I spent basically the entire chat scribbling notes like a madman and taking as many screenshots as I could so that I could relate back as much of the news, commentary and photos as possible to the other crazed Marvel collectors who couldn't attend the hangout… including news on a just-revealed Marvel Legends Executioner and Enchantress two-pack!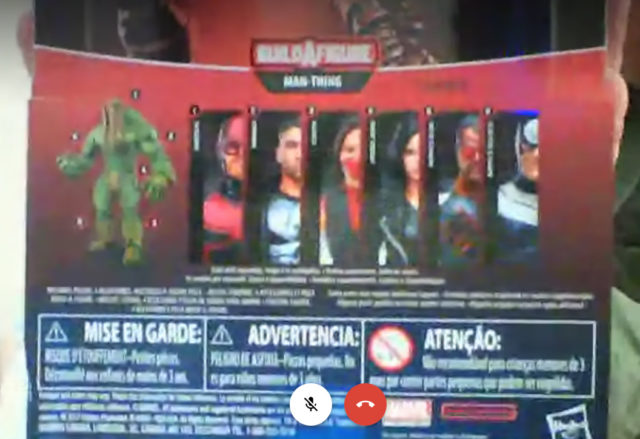 Although we weren't permitted to record the chat or take any video of the call, Hasbro did allow attendees of the first Marvel Brand Team Google Hangout to take screenshots and notes to their hearts' content to share with the world. And me being the king-sized dork that I am, I pretty much jotted down every word that they said while taking screenshots religiously.
It was a fast-paced presentation, but here are my bullet-points on the highlights of what was said (with more detail on the Thor Ragnarok portion of the chat specifically included in my earlier post about that series).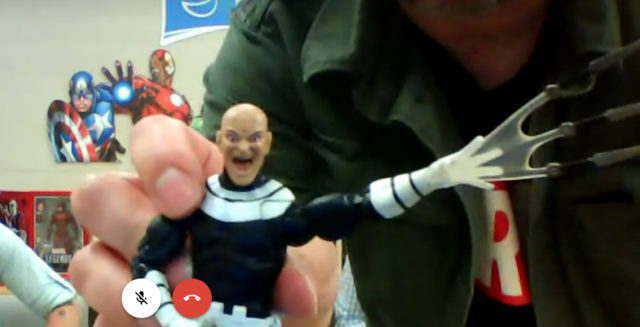 On the Marvel Knights Legends Series:
Blade is not the figure shown in 2012, as the prototype was based on an old and outdated body mold
The Toybiz Bullseye is considered one of the best figures of their era, which is why Hasbro has taken so long to revisit Bullseye
Bullseye features shoulder rockers and a finger-pointing hand; amazing tongue and teeth detail on unmasked head
Scarification Bullseye mark on forehead of unmasked head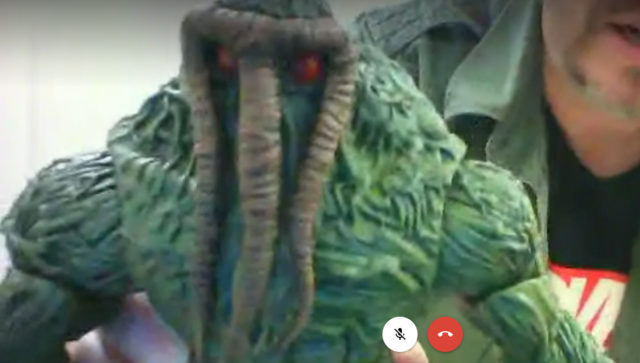 On Marvel Legends Man-Thing:
Man-Thing Build-A-Figure features an insane amount of muck and mire; one of Hasbro's most-detailed figures ever
Much more massive than the original Toybiz Man-Thing
PVC "skin" over upper torso for additional detailing
Range of motion allows bending forward for trademark "lurch" pose
Other characters such as Kingpin and Ghost Rider with Motorcycle were considered for the Marvel Knights Marvel Legends Build-A-Figure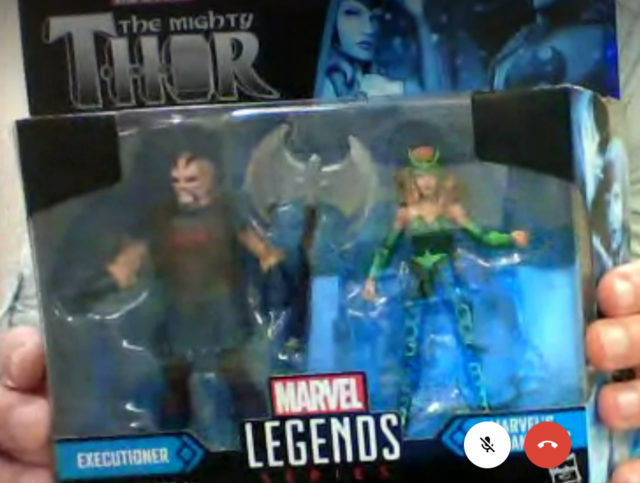 On the Marvel Legends Thor Ragnarok Series:
A new 3.75″ two-pack of Enchantress (redone and improved) and the Executioner figure that was delayed from several years ago will be included as part of the Thor Ragnarok movie toys rollout
Thor 3 Movie figures will be revealed soon; won't confirm Build-A-Figure or number of figures in the series today
Jarnbjorn Axe is much larger and more accurate with the new Young Thor figure than the original Jarnbjorn released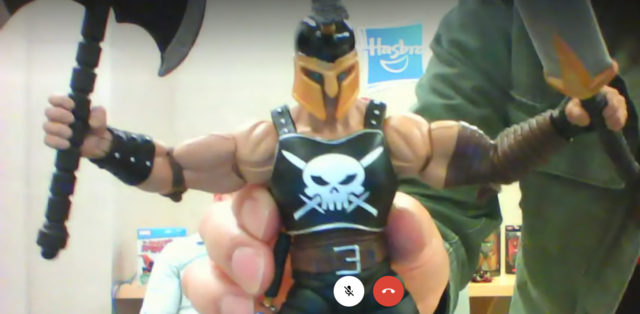 Ares is not a Build-A-Figure this time out; features updated paint deco and build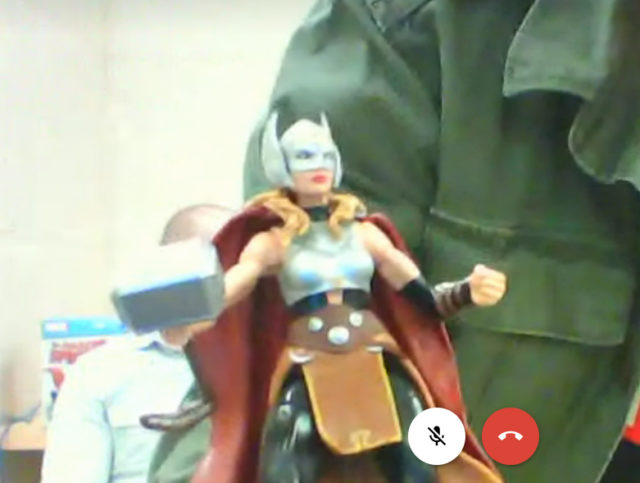 Lady Thor Jane Foster features a hammered steel pattern on her chest plate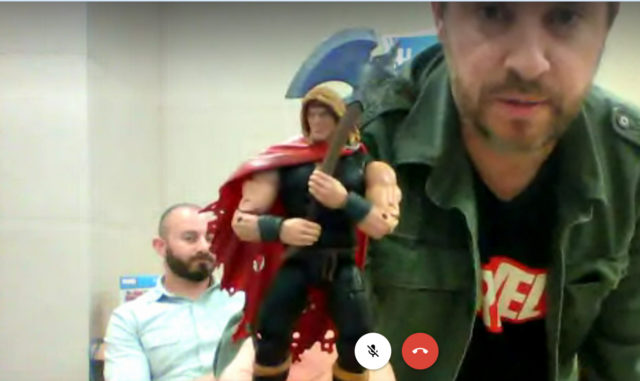 On the SDCC 2017 Exclusives:
The artwork for the SDCC 2017 Exclusive Marvel Legends box set is by Tyler Jacobson, who does a lot of the artwork for Magic: The Gathering.
The symbol artwork above each of the chambers in the Thor set corresponds to the character in each chamber
The Ulik Build-A-Figure is a similarly massive size to the Terrax BAF that was released back in 2012
This year's 6″ box set is much more compact and easy to carry than last year's The Raft set, so you can carry two–one under each arm!
The box for the 12″ Daredevil is phenomenal and features Joe Quesada artwork–there are also two thick cardboard prints of the art inside the packaging
12″ Daredevil was designed designed specifically for the Comic Con audience specifically, and will only be available at SDCC this year, but it's not impossible he may be available at retail in future years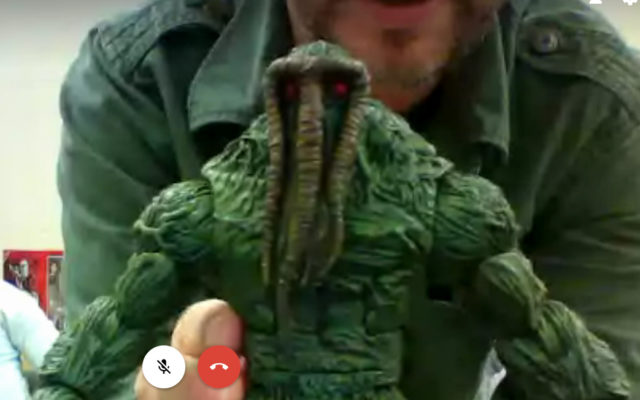 Various Q&A Topics:
Agents of SHIELD and Inhumans TV toys are "possible"–not locked out from being created if the fan support is there
Some adjustments to female arm articulation for some upcoming figures–Jane Foster Thor has a swivel biceps
The Marvel vs. Capcom Infinite two-pack is confirmed as 3.75″
Despite being 3.75″, Mega Man X "has it all" when it comes to articulation–and also has an awesome plugin Mega Buster accessory
Hasbro takes QC very seriously and is always trying to improve products and avoid breakage of figures
Thor Ragnarok Legends and Marvel Knights Legends figures will be on-shelf on August 1st, 2017
If anyone has any questions or needs clarification on anything from the above notes, please leave a reply and let me know. And huge thanks to Hasbro for holding this great event and inviting me to it!