Spider-Man Homecoming is still more than five months away from hitting theaters, but the hype for the movie and the demand for toys is already starting to build! And so, this week Hasbro announced their non-Marvel Legends Spider-Man Homecoming 6″ figures, along with some surprising larger items: not only is Spidey getting a new race car, but the Hasbro Spider-Man Homecoming movie toys will include not one, but two big 6″ scale figure playsets!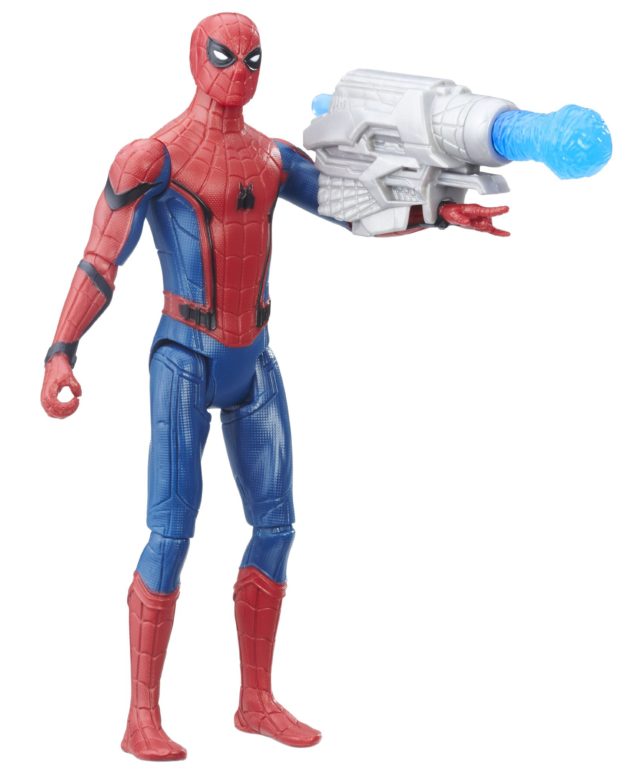 I know everyone is waiting to see what Hasbro has in store for us on the Spider-Man Marvel Legends Homecoming figures front, but I suspect it'll only be the Vulture Build-A-Figure and movie Spidey himself that we see at the New York Toy Fair 2017 next month.
Intuition tells me Hasbro is playing it safe and going conservative with Legends figures for this movie. Even so, Hasbro definitely has some fun stuff lined up for the kiddos in their child-oriented lines…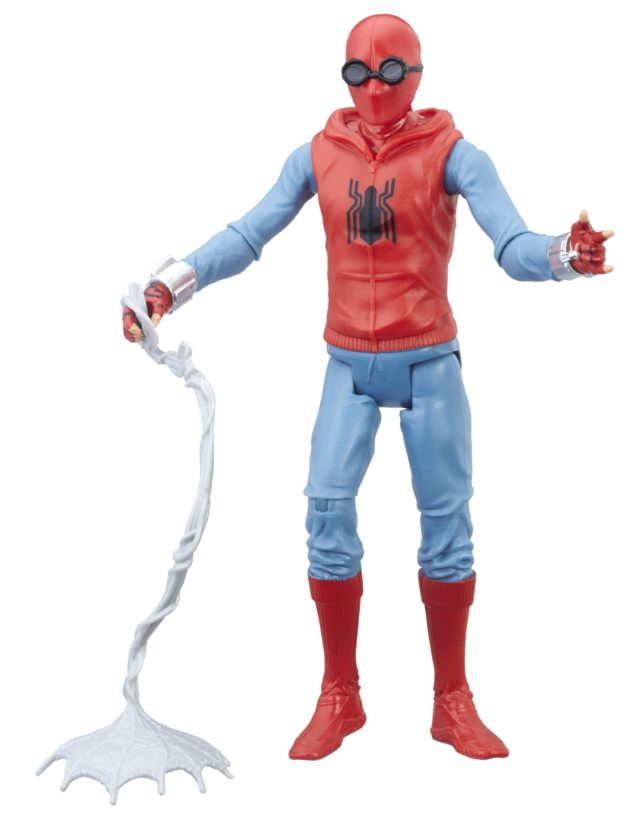 Probably the most interesting of the non-Legends 6″ figures is the Homemade Costume Spider-Man figure. With the red hoodie with Spider-logo on it and blue costume underneath, this is sort of like an inverse Scarlet Spider! I'm sort of sad Marvel Studios didn't opt for the blue hoodie and red undersuit, honestly, but I do think this figure looks fun.
For those who like their Spideys looking a bit more "professional", there's also a plain Spider-Man movie figure with a removable web-shooting rocket launcher. It's ridiculous, but also removable, so I'm not gonna complain.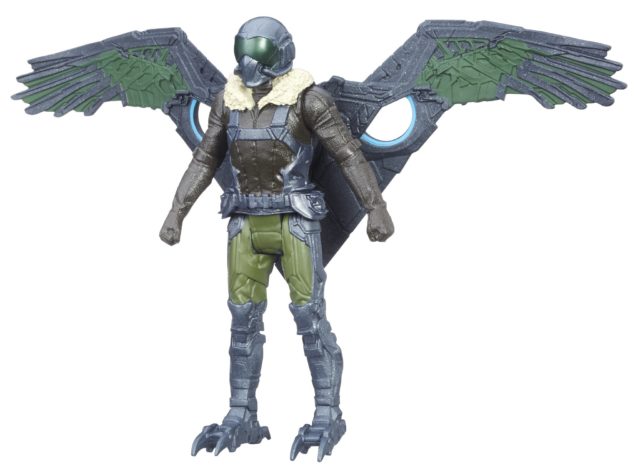 Rounding out the series is the movie Vulture figure, who I think looks decent enough to function as a stand-in and will be a good choice for collectors who don't wanna fork out for the massive Build-A-Figure jet pack wings.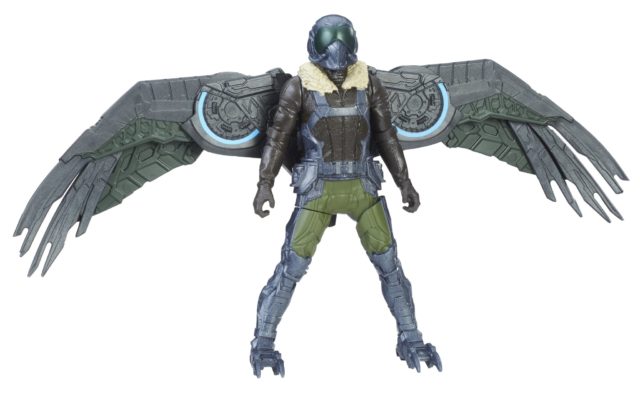 Hope you like Spidey and Vulture, though, because they're also coming in 6″ Feature Figure form with action features!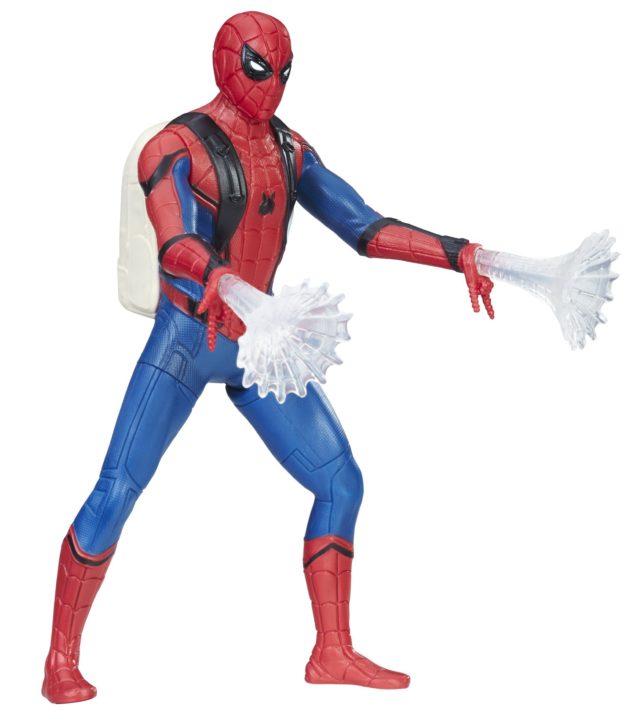 There's both another Vulture six inch figure with larger and more interesting wings, as well as Spider-Man with dual web-shooting action feature and… a… backpack? I mean, I guess Peter Parker is a high school student, right?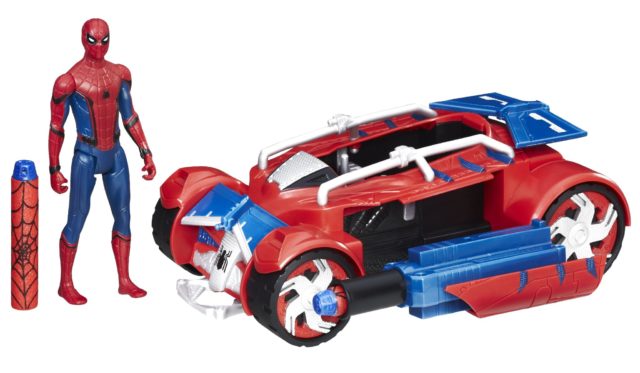 But wait–there's more! Just like in the comics, movies and every iteration of Spider-Man ever, Spidey has his own Nerf dart-shooting Spider-Racer! [/Sarcasm]
We adult collectors are absolutely not the target audience for this, so I'm not going to pass judgment on it. Young kids will probably really enjoy this.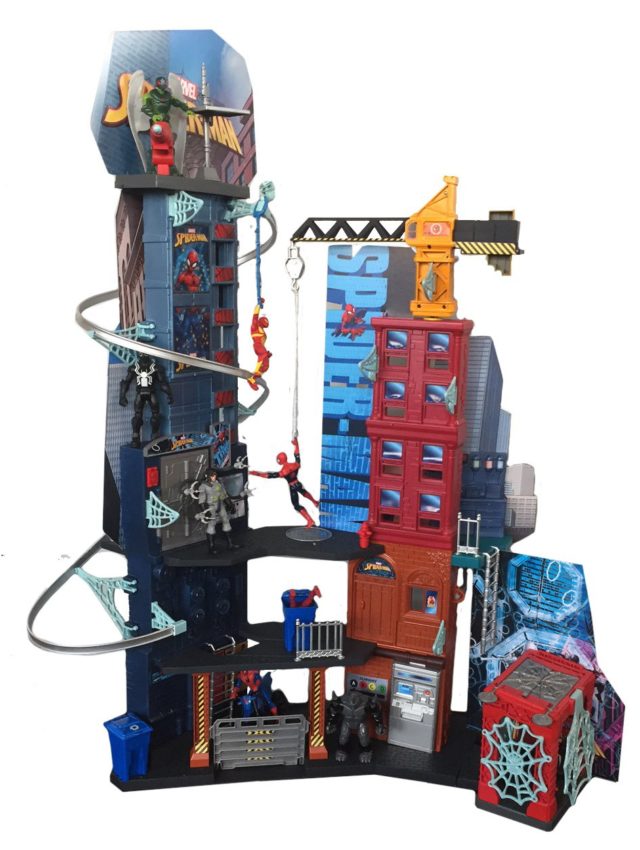 Finally, we've got a duo of 6″ scale Spider-Man Homecoming
playsets!
Marvel collectors have been begging Hasbro for years for large playsets, and after they've proven successful for Playmates and Mattel, Hasbro is finally taking the risk.
I'm not crazy about the "Spider-Man" text written all over the Mega City playset (and hopefully those parts are removable), but it looks like a pretty fun and crazy set regardless. And hey, when was the last time a four foot tall Marvel playset was released?!
Meanwhile, the smaller Vulture Attack playset building looks really amusing and I think a lot of adult collectors may end up scooping it up for their own collections as a display piece.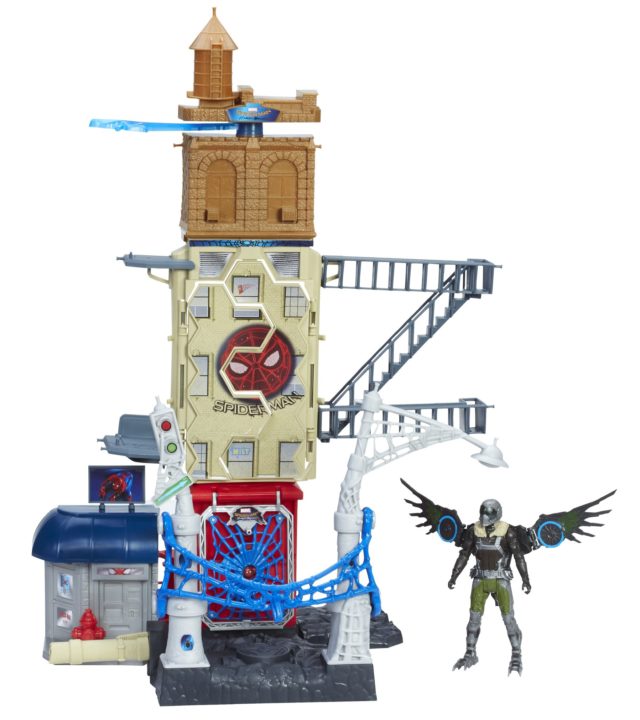 The Spider-Man Homecoming Hasbro toys are scheduled to be released in Spring 2017, with no exact release date or pricing information available at this time.
I'll be sure to take lots of in-person photos of these items at New York Toy Fair 2017 in February, so be sure to follow the Marvel Toy News Facebook and Twitter Pages if you don't want to miss anything awesome during the event.
What do you think of the kid-centric toys Hasbro has lined up for the Spider-Man Homecoming movie, Marvel collectors? Have any of these figures or complementary items caught your interest, or are you sticking with the adult-oriented Marvel collectibles for the film?