While Tony Stark may have billions of dollars to spend on building his fleet of forty-plus Iron Man armors in this year's "Iron Man 3" movie, most collectors are a little (okay, a lot) more strapped for cash. Even so, Hot Toys collectors have been willing to open their wallets again and again to add to the amazing series of Hot Toys Iron Man Movie Masterpiece figures. This year Hot Toys is raising prices and upgrading the Iron Man 3 figures to feature diecast parts, and the second figure in the new Hot Toys 1/6 Scale Diecast figure line will be the main "Iron Man 3" movie armor–the Iron Man Mark XLII…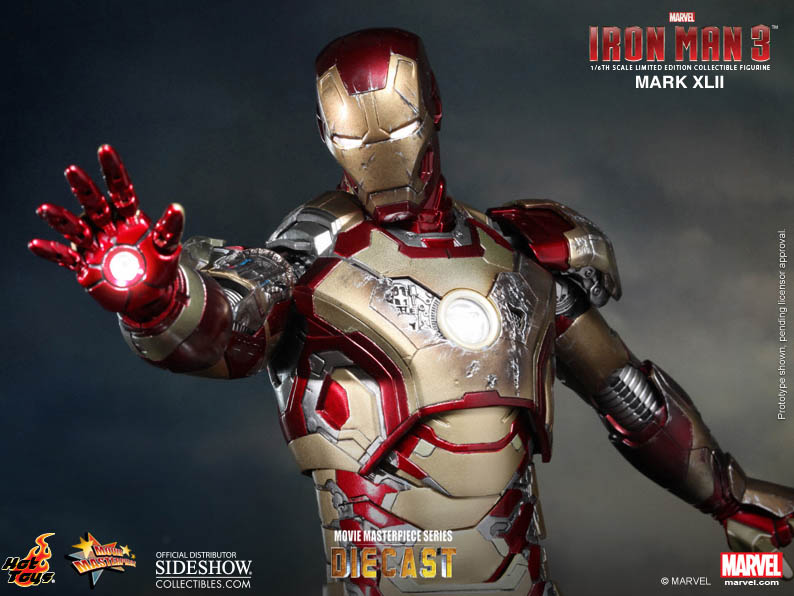 Iron Man Mark XLII will be the second figure in the Hot Toys Movie Masterpiece Diecast series, as the Iron Patriot figure that went up for pre-order a few weeks ago was the first entry in the line. The big deal with the Diecast Movie Masterpiece Series is that the sixth scale figures will now feature 40% diecast parts and 60% plastic parts, whereas up until now all Hot Toys Iron Man figures were 100% composed of plastic.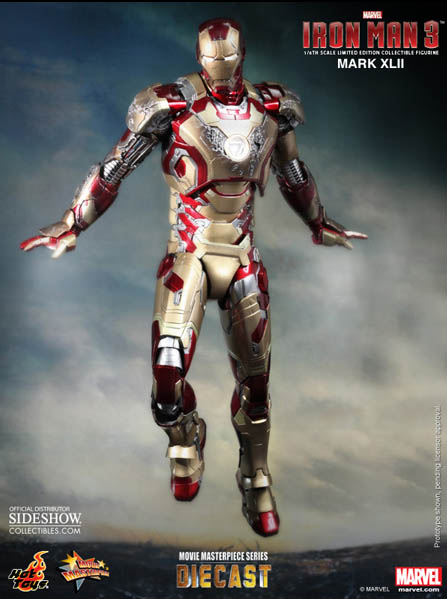 The diecast parts come at a high price though–literally! Whereas the Avengers Hot Toys Iron Man Mark VII figure being released in May 2013 retailed for $249.99, the Iron Man Diecast MMS Mark XLII figure will cost a hefty $309.99.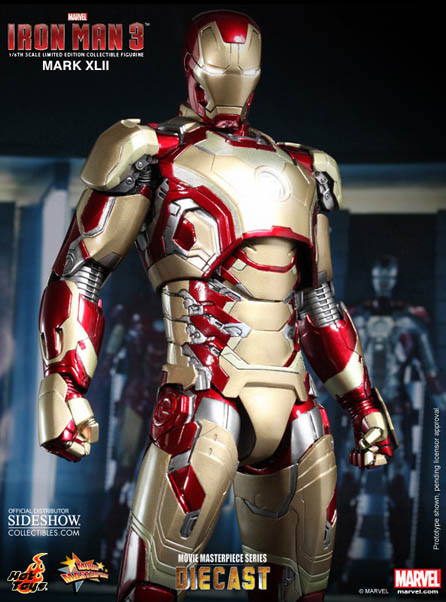 With that $300+ retail price, the Iron Man Mk XLII figure is a bit much for my budget. Thankfully, Sideshow Collectibles has payment plans available to let customers pay a more palatable $62 a month for the figure.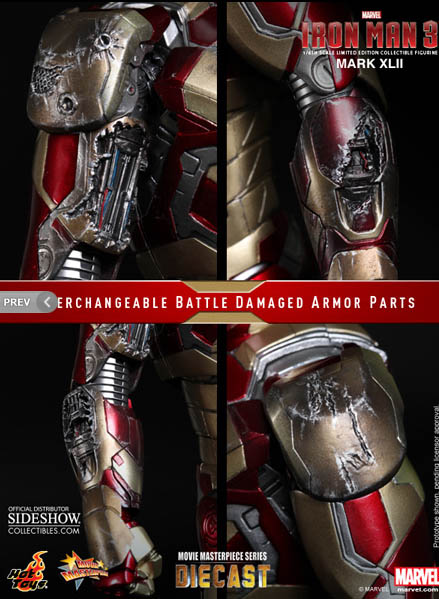 On the plus side, the Iron Man Diecast Movie Masterpiece series will continue to include all of the amazing details and features fans have grown to expect from Hot Toys. Iron Man Mark 42 will have the usual light-up features as well as interchangeable battle damaged armor parts, articulated air flaps on the back of the armor to deploy, and the great new repulsor blasting Iron Man hands.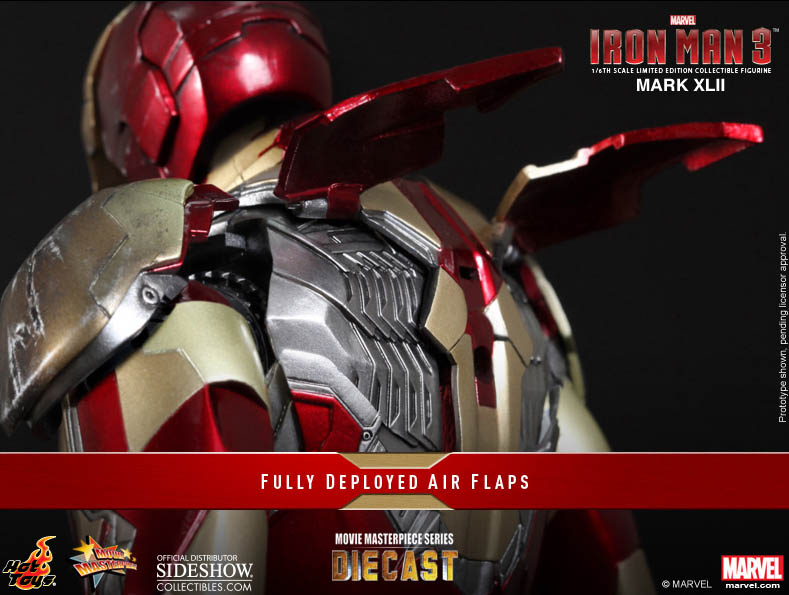 Fans have been asking for true Repulsor Blast alternate hands for the Hot Toys Iron Man Sixth Scale figures for a while now, so it's great to see them finally being included with upcoming figures,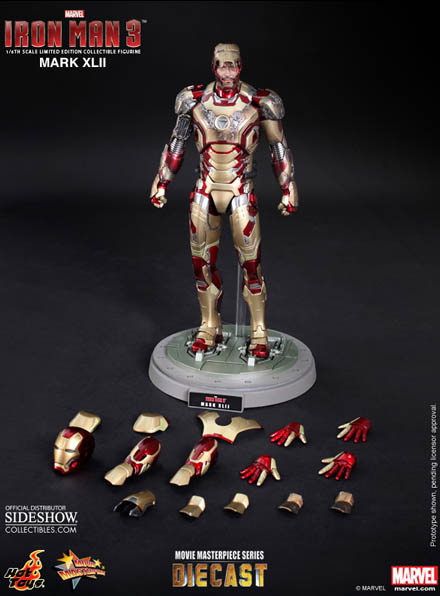 The Iron Man Mk XLII 1/6 scale figure will also include one of the ever-popular Tony Stark extra heads. This particular Tony Stark head is wearing the Iron Man helmet with the faceplate up, and has a trickle of blood on his face. This looks so realistic it's a little creepy–I'd almost swear that's just a photo of Robert Downey Jr. himself!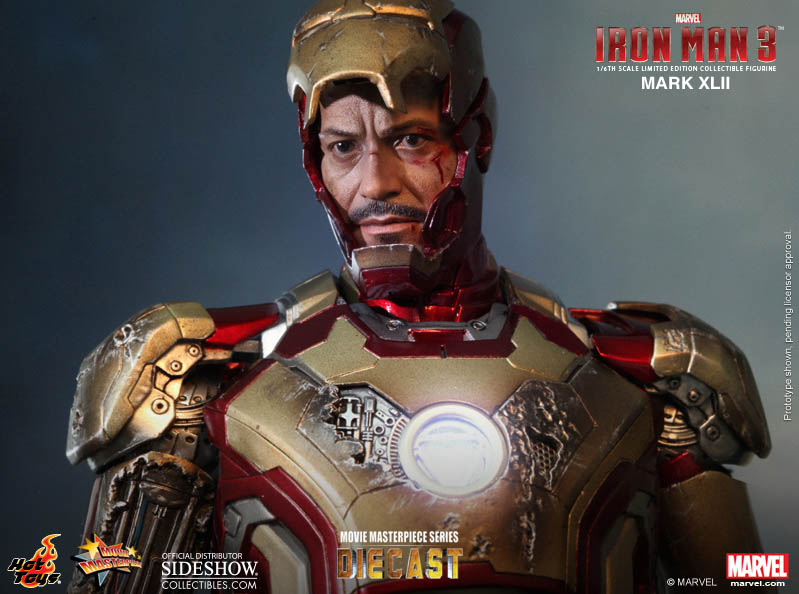 Hot Toys figures rarely seem to ship on time, but Iron Man Mark XLII should ship in early 2014. You can place a pre-order for the Hot Toys Iron Man Mark XLII diecast figure from Sideshow Collectibles now.