Although they don't release anywhere near the quantity of Marvel toys each year as Hasbro does, The LEGO Group has become one of the most consistently great manufacturers of Marvel figures over the last few years. And the set I'm covering for review today may be one of the single-best entries they've ever put out: the LEGO Spider-Man Ghost Rider Team-Up is available for $19 right now, and is a must-own for Ghost Rider fans…
The Right:
The amount of sealed LEGO sets that I have backlogged and sitting around unbuilt would probably make some peoples' jaws drop, but as much as I procrastinate on assembling my purchased brick sets, I just
knew
I was gonna have to build the 76058 Ghost Rider Team-Up set as soon as I got it in the mail.
And about an hour of building later, I knew I made the right choice not to wait: this set is positively outstanding.
The LEGO Spider-Man Ghost Rider Team-Up set contains 217 pieces for an MSRP of $19.99, which means it comes in below my ideal price-per-piece value of 10 cents per piece.
I've felt ripped off by a few brick sets this year, but this isn't one of them. Thanks, TLG!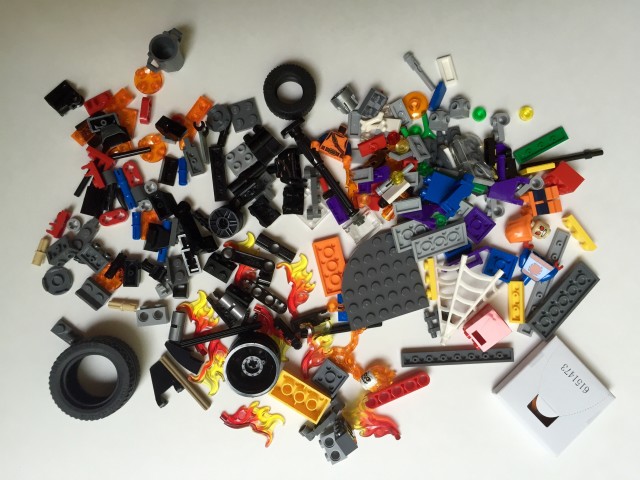 The actually assembly of the set can be done in around an hour (for me–and I'm a slow builder), so I doubt this set will pose many difficulties to builders of any experience level.
The set consists of three (awesome) minifigures, two vehicles, an environmental diorama piece and some accessories. That's a lot of variety for 20 bucks, especially when each and every single portion of the set is a total winner.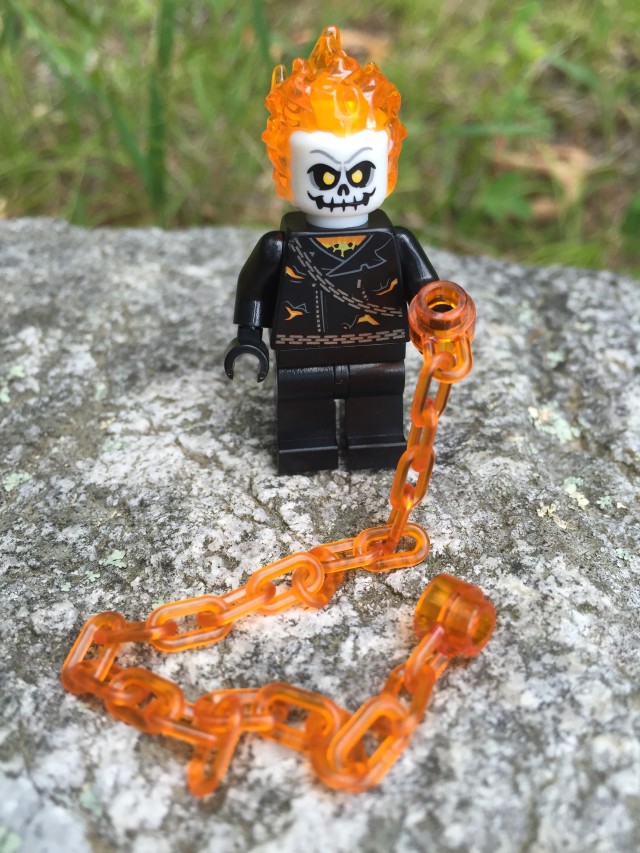 The headliner of the set is the first-ever LEGO Ghost Rider minifigure. I wasn't sure how TLG would pull off Ghost Rider's flaming skull head in minifig form, but they have come up with an exceptional one-piece head with translucent flaming "hair" molded on.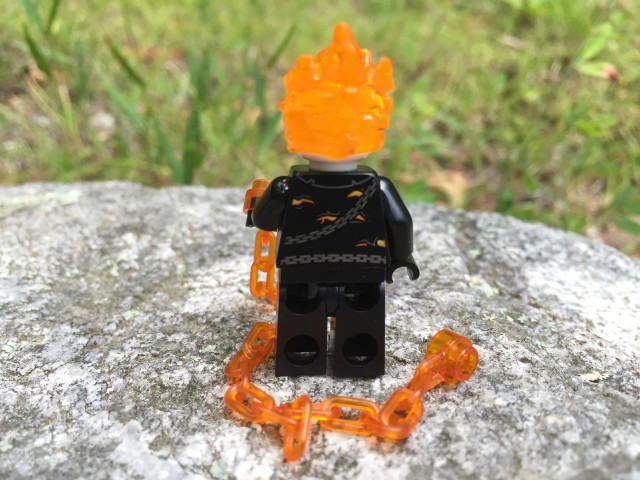 Even the back of the LEGO Ghost Rider figure is well-done, with little flames printed all over the back of the leather jacket.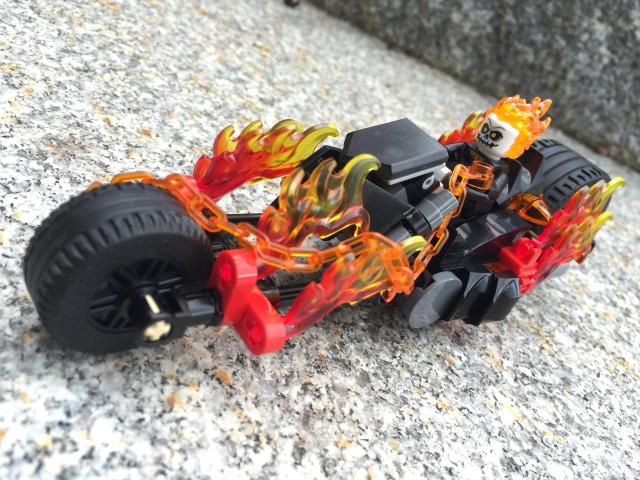 Of course, what's Ghost Rider without his iconic flaming ride, right? Ghost Rider's motorcycle is an enormous six inches long and looks absolutely spectacular.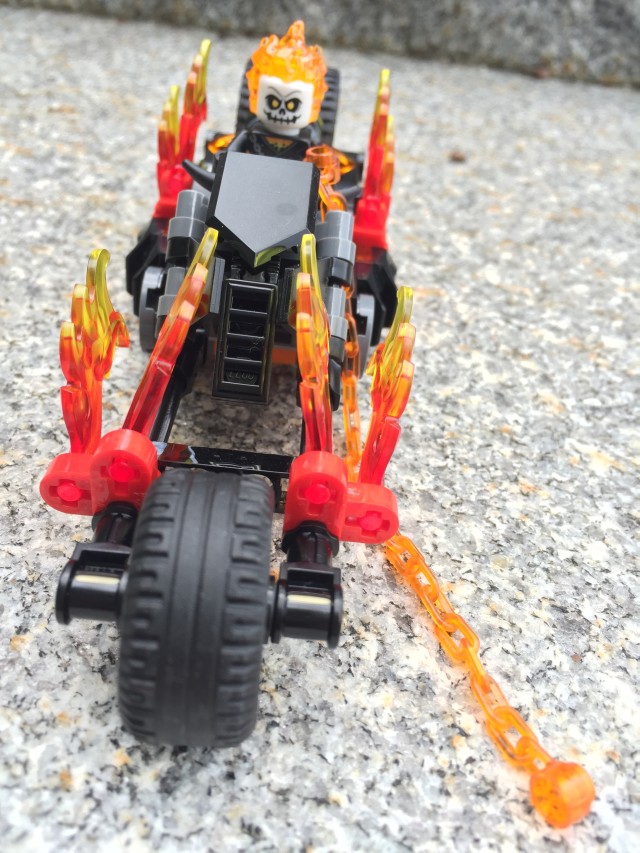 The bike doesn't really have any action features besides the moving wheels, but when you have eight fiery gradient effects pieces attached, do you really need action features?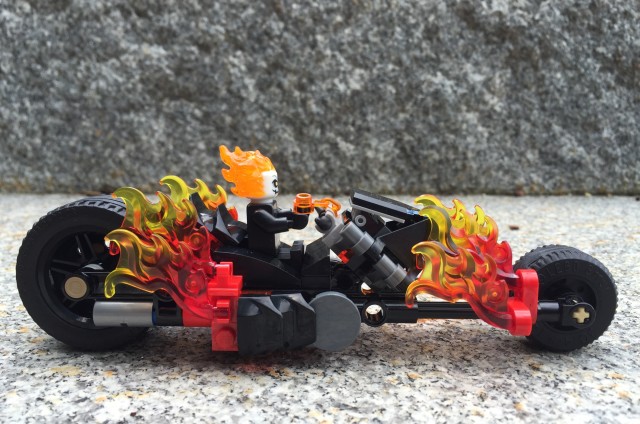 This bike looks hot, and far exceeds any motorcycle that TLG has ever released for any of their superhero themes. Love it.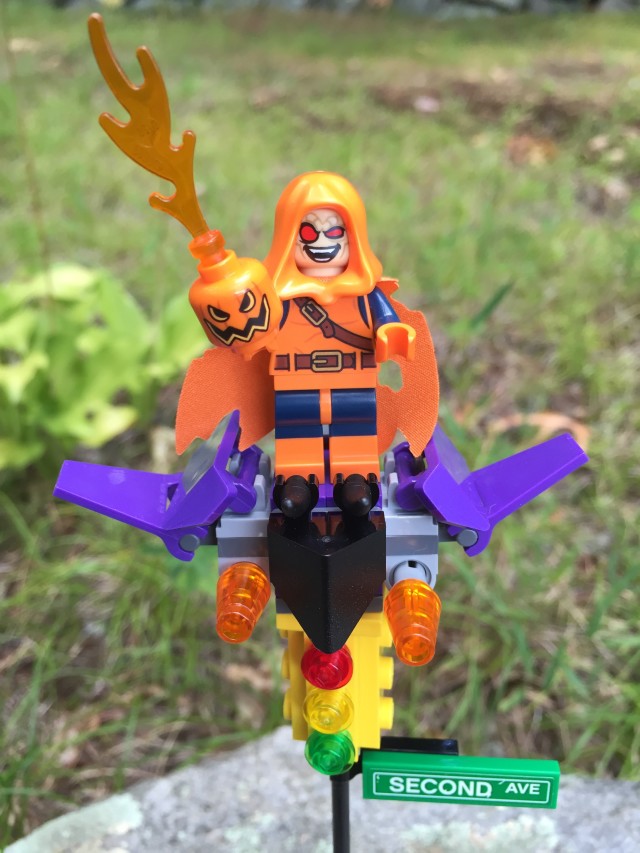 Next up, it's the debut figure of LEGO Hobgoblin! The Hobgoblin minifigure is the only figure in the head with a reversible head, as he has both sinister and worried faces.
For accessories, Hobgoblin features a removable hood and "tattered" cape, as well as a brick-built goblin glider, two burning fire effects pieces for the ground and a handheld pumpkin bomb.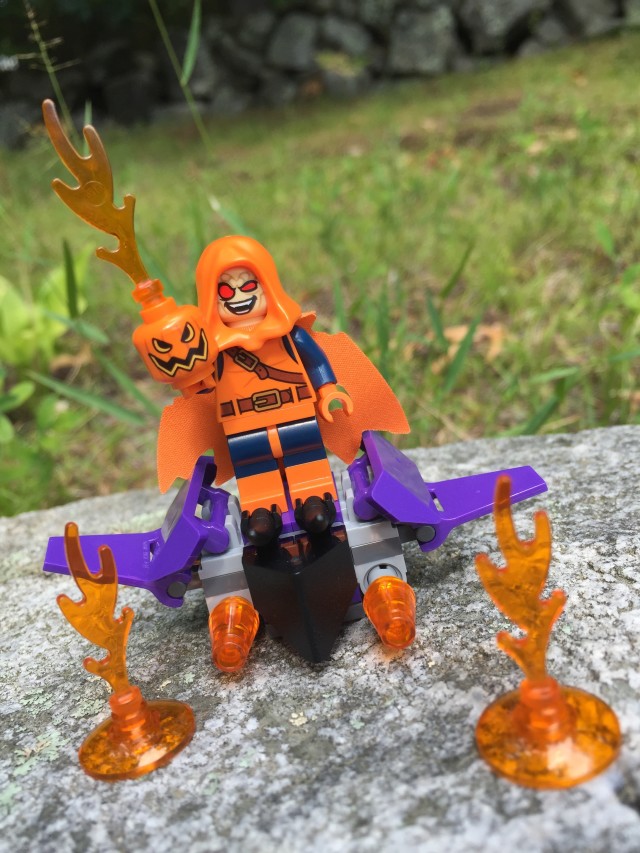 I think the flame effects for the ground add a lot of fun to this set package, as does the added detail of the cape being tattered. The purple Goblin Glider isn't especially thrilling on its own, but Hobby looks great riding in on it.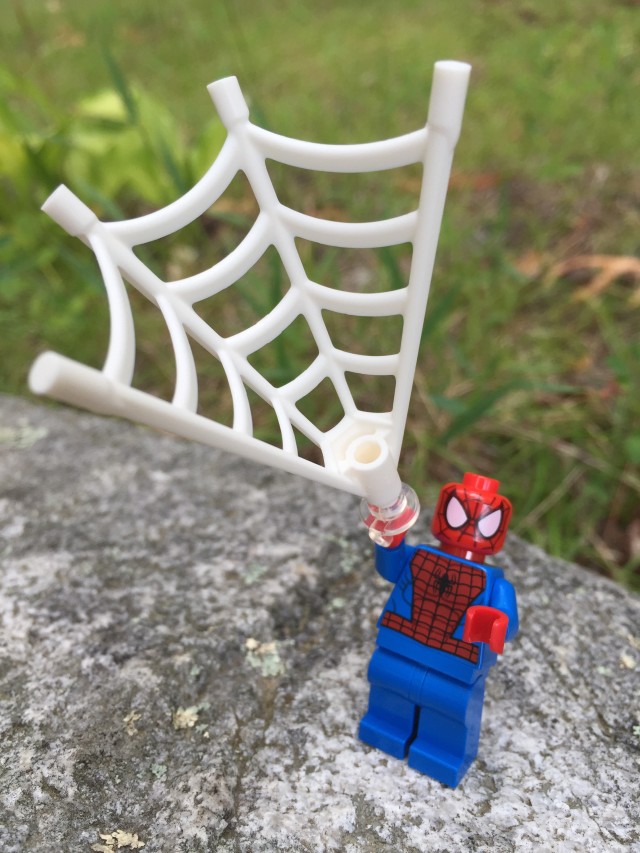 Finally, we've got the next in a long line of generic Spider-Man figures. While the Spider-Man minifigure itself offers basically nothing new as far as printing goes on the figure itself, something new has been included in the summer sets that fans will want: a plastic web-shooting effects piece!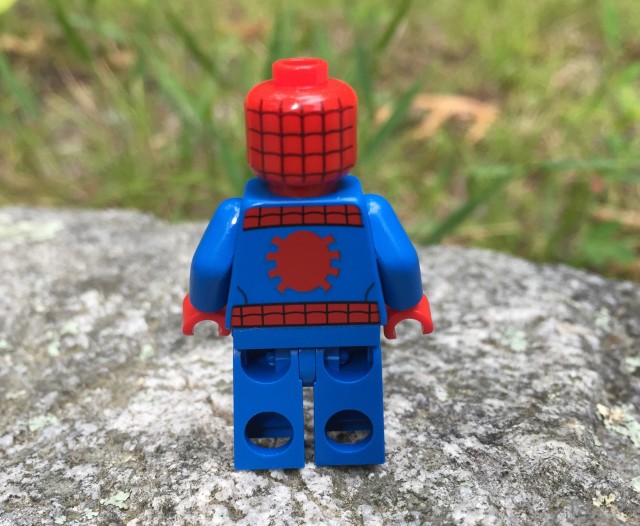 Spidey has a clear stud that fits into his hand grip, and then the plastic webbing effects element plugs into that and can be rotated however you wish. This is super-fun and really makes me smile at a LEGO Spider-Man figure for the first time in ages!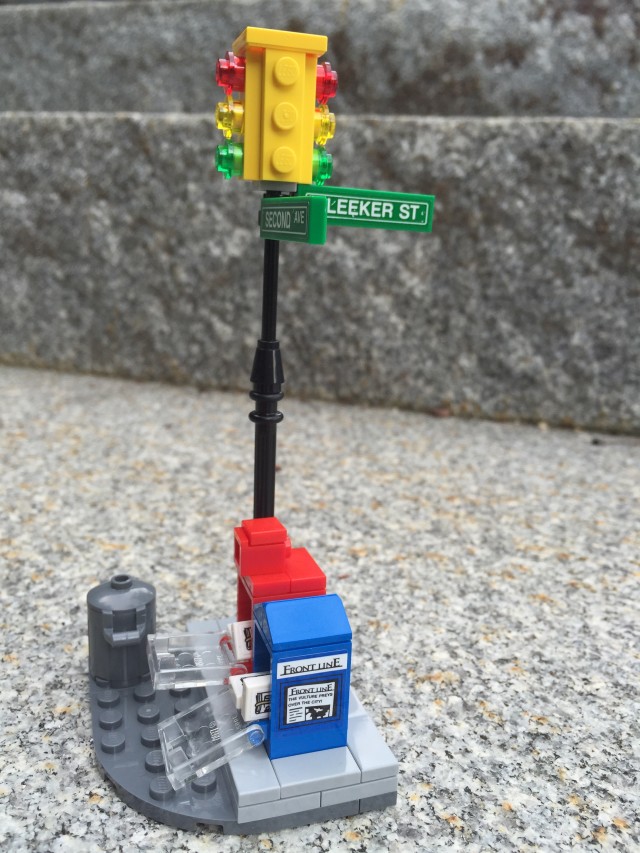 Last but not least, the set includes a little environmental terrain playset for dioramas: a street corner with street signs, trash can, and even newspaper dispensers with little "newspapers" inside!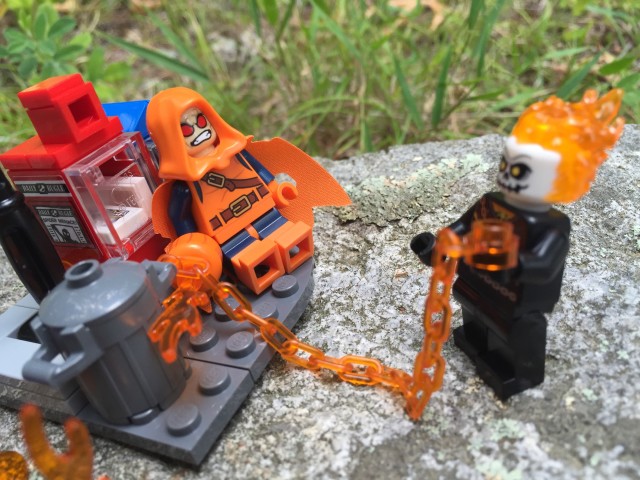 A whole sheet of decals has been included almost exclusively for the purpose of decorating up these environmental elements, but it's worth it–having the superheroes fights on and around the diorama set piece is loads of fun, and I love that each "newspaper' has its own "printing" decal on it.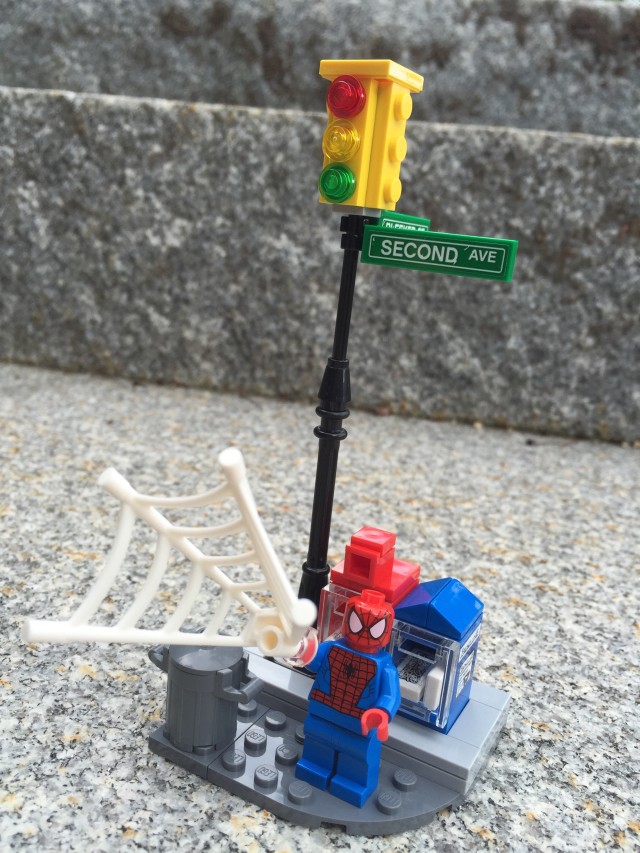 I  especially like being able to have Ghost Rider hurl his flaming chain at the environment and having Hobgoblin soaring above the traffic lights. Wonderful design.
The Wrong:
I won't be happy unless I find one thing to nitpick, so here it is: as ridiculously cool as LEGO Ghost Rider's head mold is, it's regrettable that his whole head is all one molded piece–flames and all.
It would have been a lot of fun if we could remove the flames and add them to other minifigures for customizing purposes.
Other than that, I got nothing to complain about. This set is a real gem.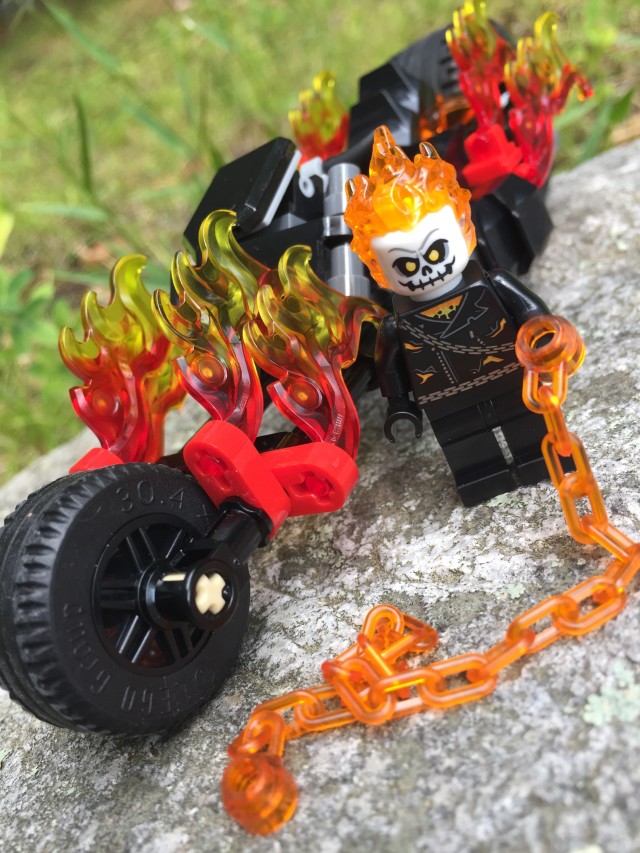 Overall: From price-per-piece value to minifigures included to detailing to the vehicles includes, LEGO 76058 is one of the most complete and impressive LEGO Marvel sets ever made (despite being a mere $20 set). Every element of this set is wholly impressive, and the web effects piece even makes it worth having yet another Spidey minifig. Anyone who has any love at all for Ghost Rider and/or Hobgoblin owes it to themselves to pick up the LEGO Ghost Rider Team-Up set. Highest recommendation.
GRADE: A+