I had the great honor this morning of beginning the New York Toy Fair 2015 with the LEGO Preview Breakfast Event–two hours in the LEGO booth… with free danishes! Free! Of course, as delicious as the danishes were, that wasn't the high point of the event. No, the high point was getting to see all of the summer 2015 LEGO Marvel sets in person–including the huge and awesome LEGO Marvel Rhino and Sandman Supervillain Team-Up 76037!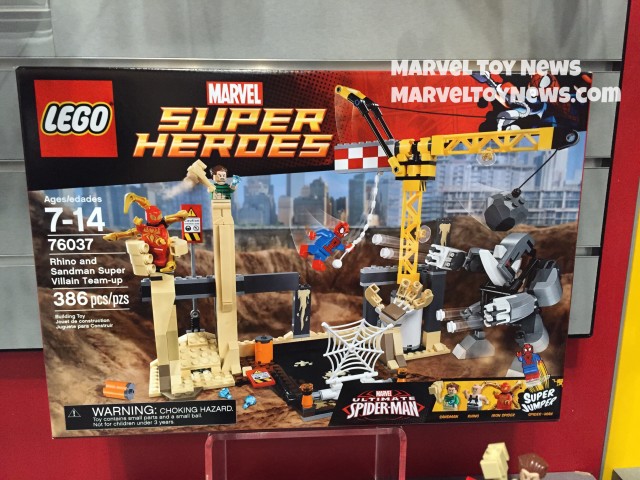 During the two hours of the LEGO Toy Fair 2015 preview this morning, I think I took more photos than I ever have before on any entire whole day of my life. Maybe whole week! The vast, vast majority of those photos (and videos!)
will be posted on my LEGO Blog, BricksAndBloks.com
.
This will probably include the LEGO Marvel Summer 2015 sets not posted here on Marvel Toy News–so if you're looking to see the classic Green Goblin LEGO minifigure, Carnage, Ant-Man and more–Bricks And Bloks is the place to look.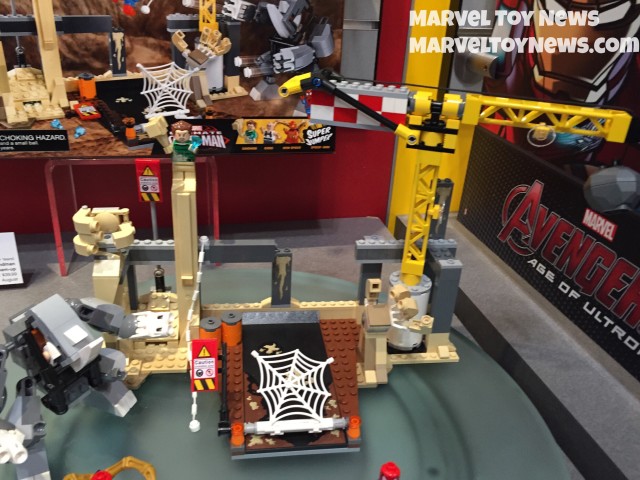 But the granddaddy reveal for the Marvel LEGO Superheroes 2015 summer sets was unquestionably the long-awaited 76037 Rhino and Sandman Supervillain Team-Up LEGO set. We first started hearing about this set before Christmas, but now we can finally see exactly what LEGO has created for us.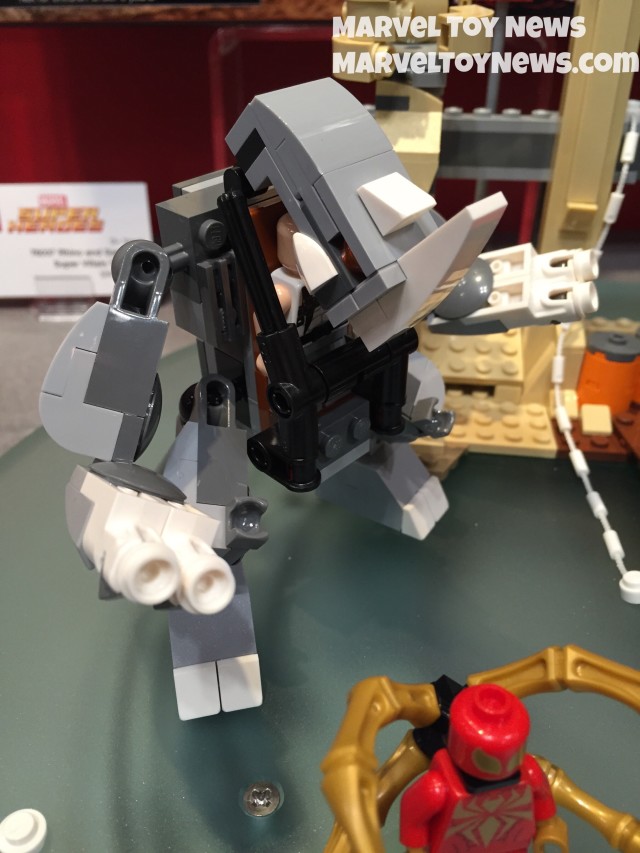 First off, we have the civilian LEGO Rhino minifigure… and exo-suit. Yes, as rumored, LEGO did opt to do the mech version of Rhino. I know the Rhino mech isn't terribly popular, so this is going to be a controversial choice, but it's what LEGO picked, and it looks pretty nifty (for what it is). I would have preferred a classic LEGO Rhino minifigure, but alas.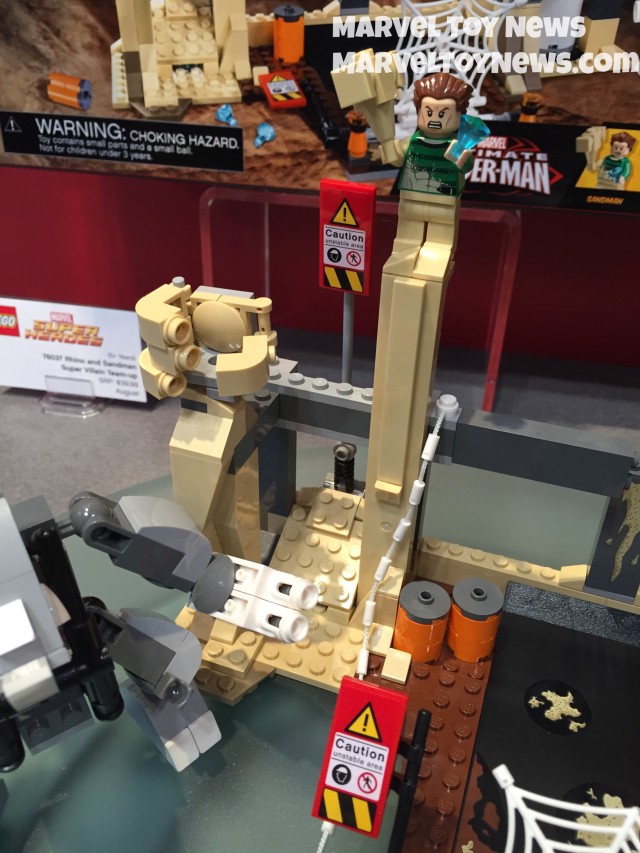 Far, far cooler than the Rhino is the LEGO Sandman minifigure! Sandman has been given "sandy" legs, so he can be attached to matching piles of sand from the construction playset diorama, giving the impression that Sandman is "part" of the terrain. This is executed really well, and is easily one of my favorite concepts that LEGO has come up with thus far in the LEGO Marvel Superheroes line.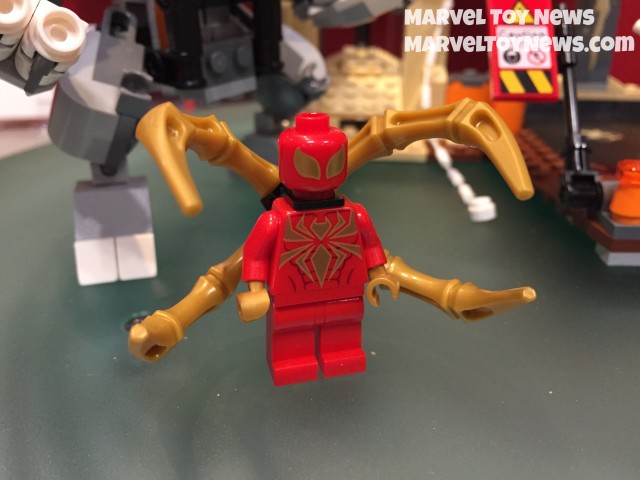 For some people, the true star of this set won't be the two new villains at all, however: it'll be the LEGO Iron Spider Man minifigure, making its first ever appearance! This is the Ultimate Spider-Man version of Iron Spider, so we can assume that it's Amadeus Cho under the mask. With all of his little appendages attached to his back, the LEGO Iron Spider minifigure looks terrific!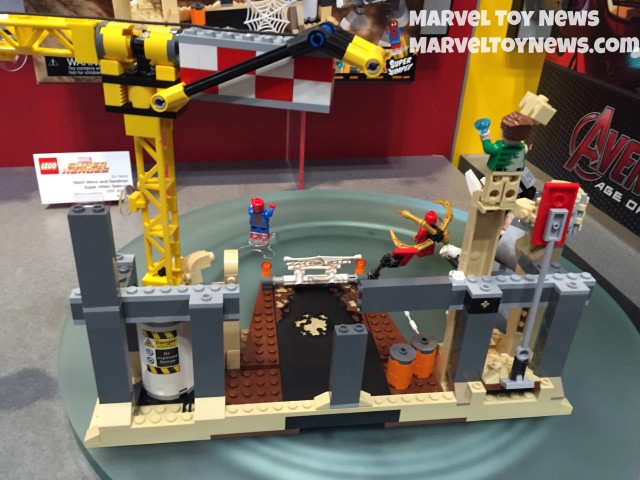 The construction site playset portion of the LEGO Rhino and Sandman Super Villain Team Up 76037 is also quite fun, with tons of buildable elements, a rotating wrecking ball, various caution safety signs and more. This is definitely one of the most unique and intricate LEGO Marvel Super Heroes sets LEGO has devised yet!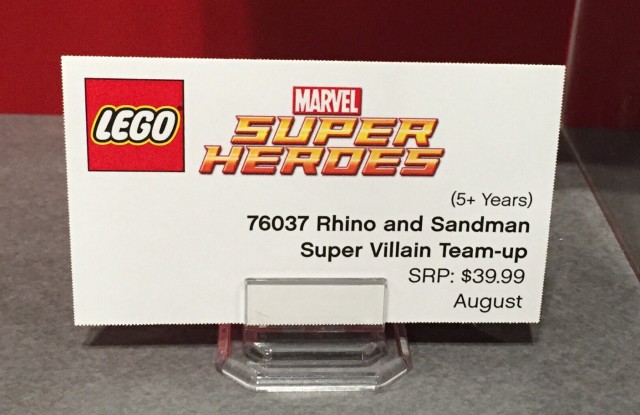 The LEGO 76037 Rhino and Sandman Super Villain Team-Up set is due to be released in August 2015, at a price-point of $39.99 for 386 pieces. That's almost perfect on my "10 cents per piece" value meter, so I'm pretty pleased about this set–especially considering the three very desirable minifigures included within!
What do you think of the 76037 LEGO Rhino and Sandman Super Villain Team-Up set, Marvel fans? Are you down with the first-ever LEGO Sandman and Rhino minifigures, or does the largest of the LEGO Marvel Summer 2015 sets fail to impress you?