Usually I can fit the entire name of a product into the allowed number of characters for an article title, but such is not the case with this year's single biggest LEGO Marvel Summer 2016 set: the LEGO Marvel Spider-Man Web Warriors Ultimate Bridge Battle 76057 (try saying that three times fast). I gained a new appreciation for the LEGO Doc Ock's Tentacle Trap set at New York Toy Fair 2016, but even so, that set can't even approach the sheer coolness of what is almost certainly my favorite LEGO Marvel set yet…
The LEGO Group (TLG) has released some outstanding Marvel sets over the last few years–including last year's gigantic UCS Helicarrier set–but I think the set that tops them all is due to hit retail stores this summer: the 76057 LEGO Spider-Man Web Warriors Ultimate Bridge Battle!
I was genuinely a bit giddy when I saw the first photos of the set revealed from Nuremberg, but I was even more psyched when I got to see and take hi-res photos of the Ultimate Bridge Battle over the weekend at the New York Toy Fair 2016!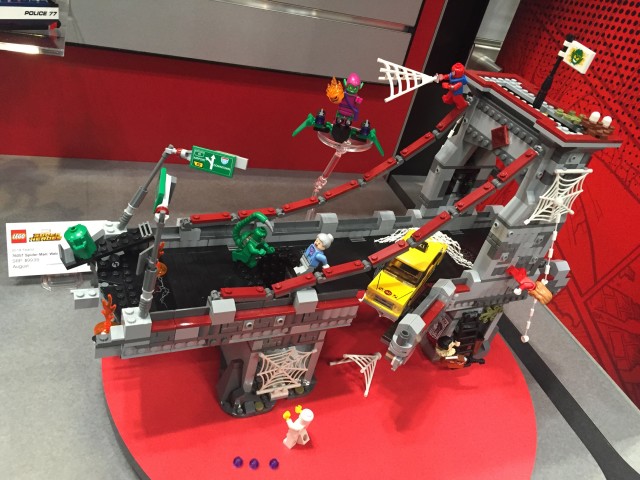 What you're getting here is pretty self-explanatory, but also pretty spectacular: a portion of a detailed New York City bridge, complete with spider-webs, flaming pumpkin bombs, traffic signs, a Goblin Nation flag, a brick-built taxi, a broken chunk of bridge for the taxi to fall through, and more.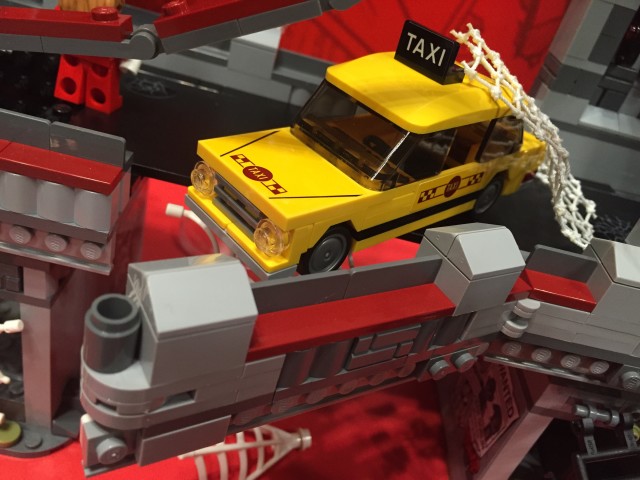 I really dig the little New York Taxi cab build included with this set!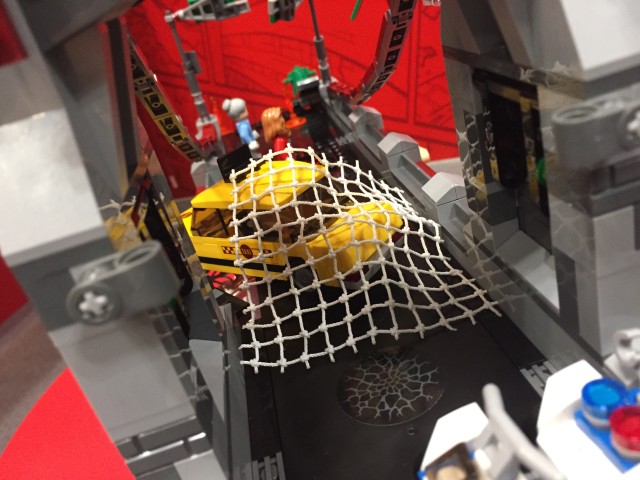 There's also a soft goods "webbing" net included to rescue the taxi cab with. Awesome.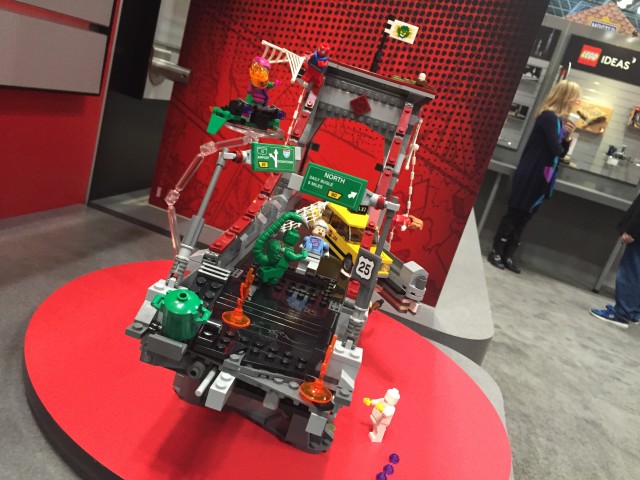 There's so many action features and so many little details to this huge playset that's it a bit overwhelming–it really is a lot to take in!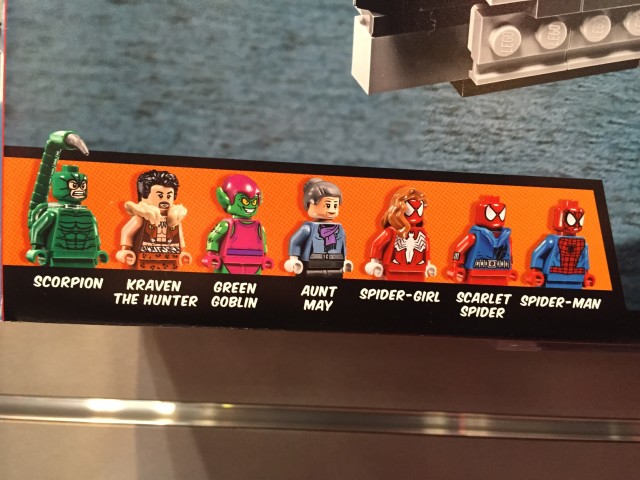 But as amazing as the Ultimate Bridge Battle playset itself is, what I think is really going to sell this set to fans is the seven minifigures included–six of which have never been included in a comics-based set before!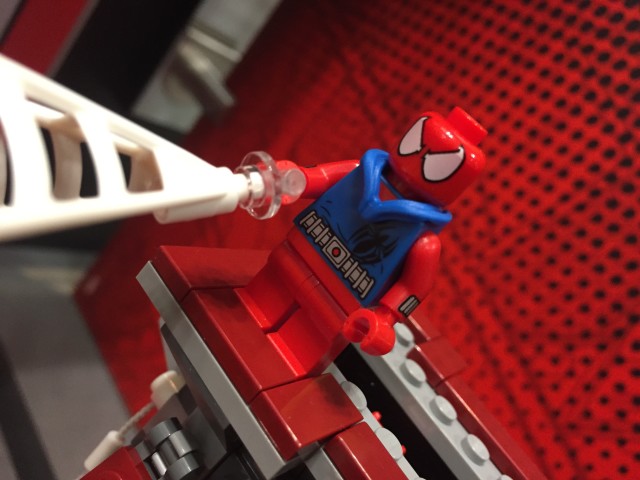 I grew up in the 90's loving the legendary Clone Saga, and means that my favorite Spidey character ever is Ben Reilly, captured for the first time ever in brick form with this LEGO Scarlet Spider Minifigure!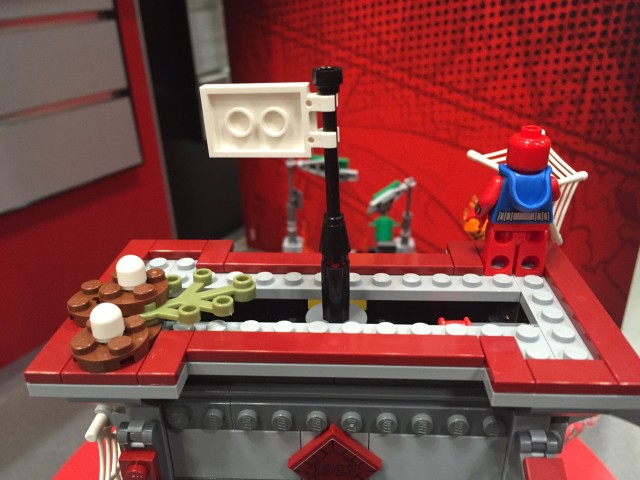 Scarlet Spider is wearing his iconic light blue hoodie, which has his logo printed on the front–and back– just the way that it should be.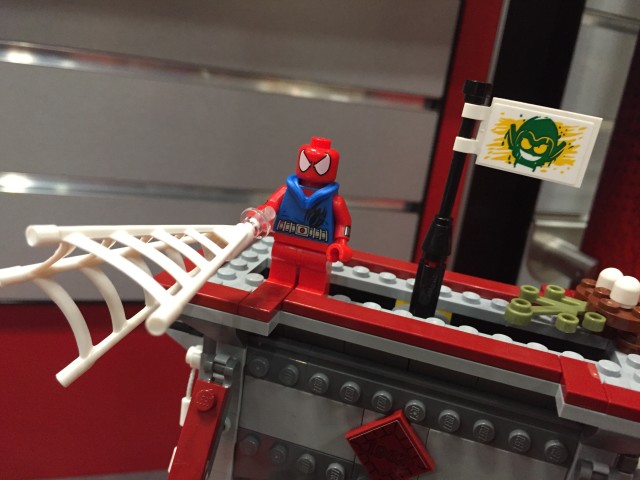 The "web-shooting" effects pieces that TLG developed for this year were a huge surprise and I absolutely love them. These are gonna make playing with and setting up dioramas of Spider-Man minifigures a ton more fun!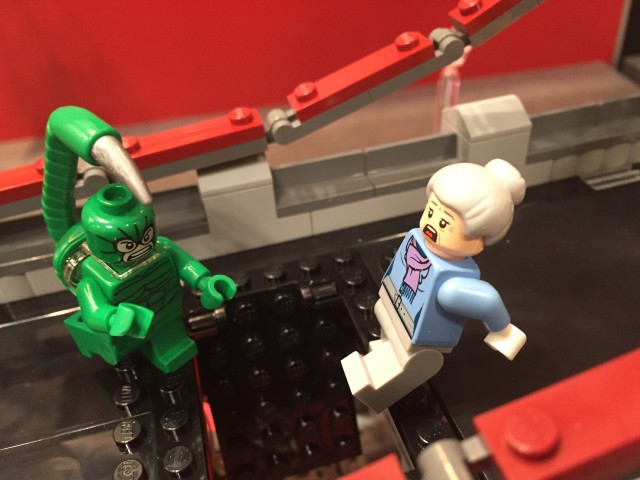 Aunt May makes her second LEGO appearance in this set as well (although it might as well be a first appearance, since her debut was in a movie-based set over a decade ago).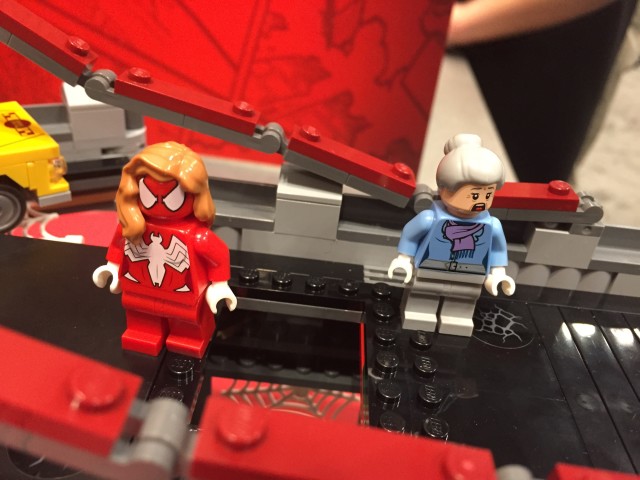 Since there's no Gwen Stacy here for Green Goblin to kill, I guess that makes the Aunt May Minifigure the civilian in peril! Aunt May looks suitably distressed, and I think having a civilian in a set like this really adds something to the set as a whole.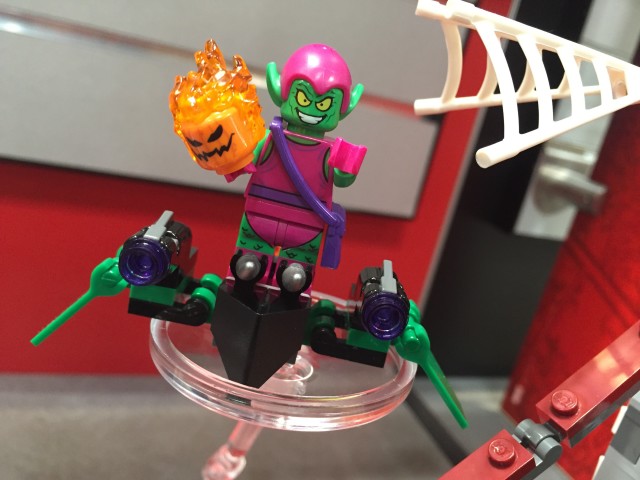 And speaking of Green Goblin, finally a classic comics-based Green Goblin Minifigure flies into a non-Juniors, non-Mighty Micros Marvel set with this release!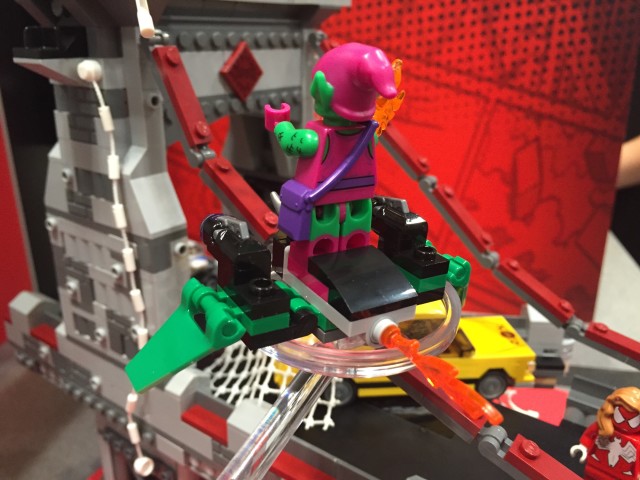 Norman (or is it Harry?!) is looking quite diabolical in brick form, and comes complete with a neat-o brick-built Goblin Glider, a satchel and translucent pumpkin bomb. We had to wait a long time for a LEGO Green Goblin, but he's definitely done right here!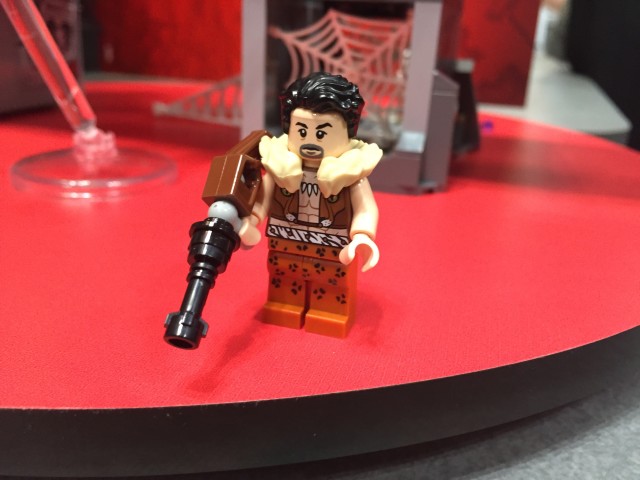 The appearance of a Kraven Minifigure here instead of in some sort of jungle-themed set seems weird to me, but we need him to complete the LEGO Sinister Six, so whatever.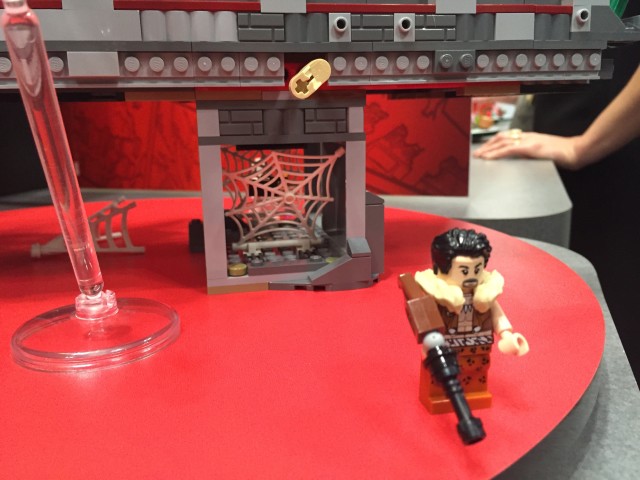 Kraven the Hunter's face print looks sort of, well… bored, but he's packing an especially deadly-looking brick-built high-powered rifle! Yikes!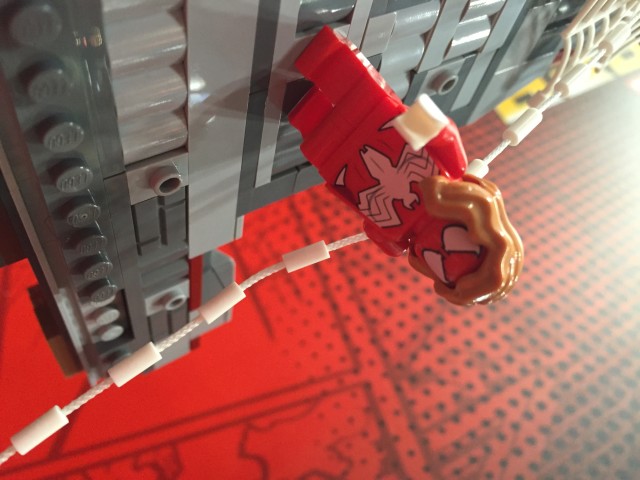 I don't know if she's called "Spider-Girl" in the Ultimate Spider-Man cartoon or what, but this character is definitely the Ultimate Spider-Woman to me.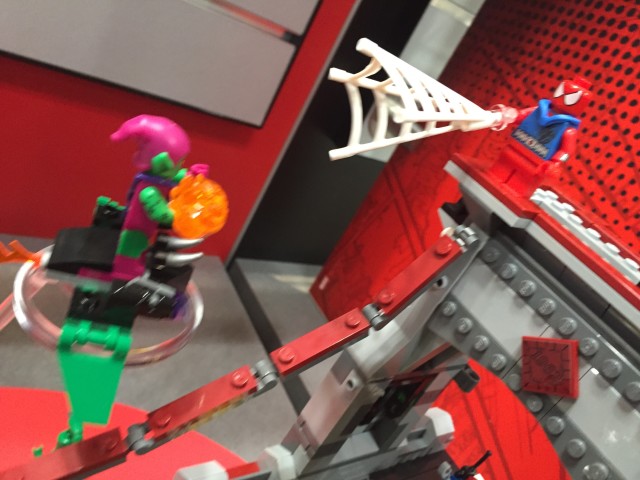 I honestly would have preferred a classic Spider-Woman (either of them) or a Mayday Parker Spider-Girl to this Spider-Girl Minifigure, but she is accurate-looking and a definite crowd-pleaser for Ultimate fans.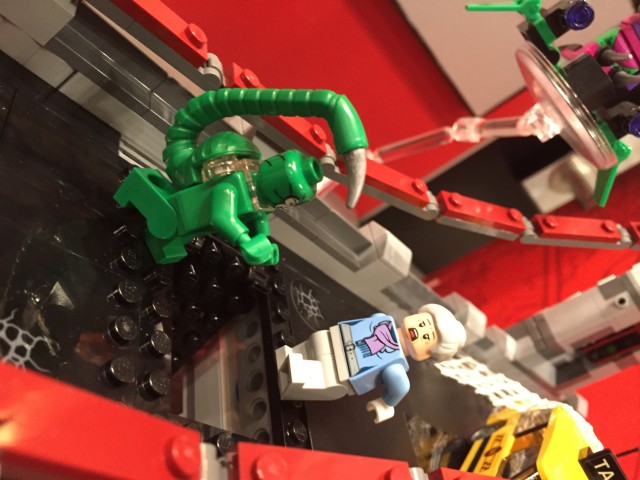 Last but not least, it's the premiere LEGO Scorpion Minifigure! Good ol' Mac Gargan was never the deepest or most interesting character, but he's endured the trials of time and become an iconic Spider-Man villain.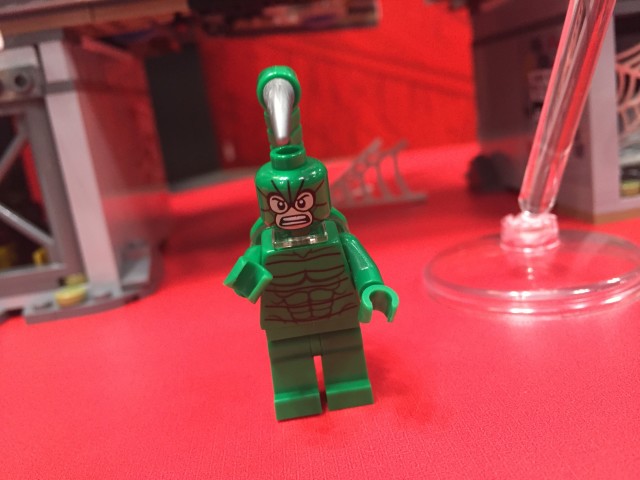 I wasn't sure exactly how TLG was going to achieve the look for this character, but the Scorpion figure's multi-piece tail actually looks really good.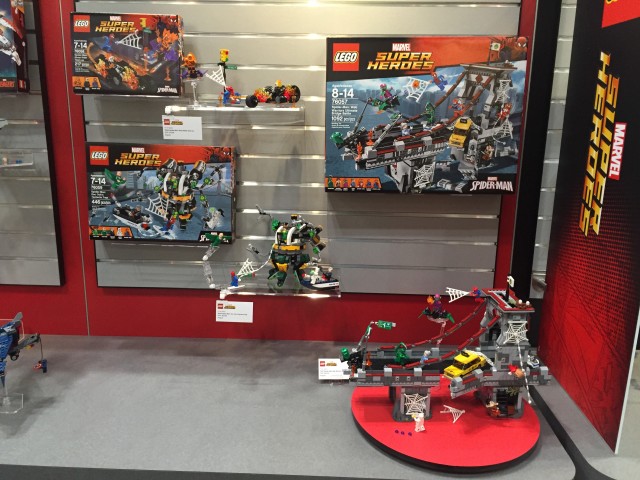 The final figure in the set is a generic Spider-Man minifig, but he wasn't on display at NY Toy Fair 2016 for whatever reason (although there was a stand-in blank Minifigure there to keep his spot warm!).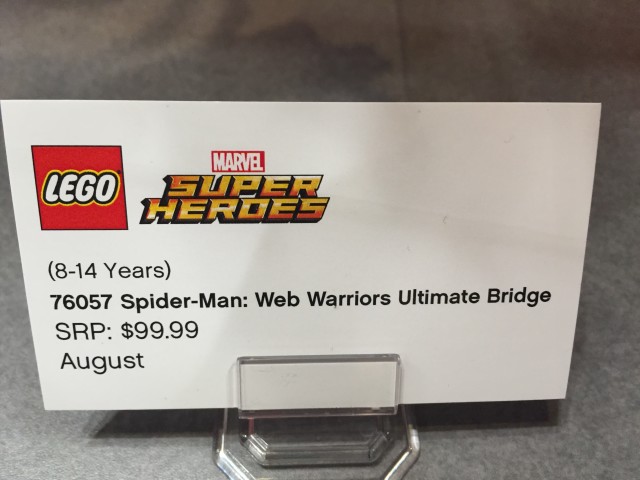 At a glance, I was certain that the price-tag on this extra-large set packed with desirable minifigures was going to be $120-$150. But surprise–! It's not! In fact, this set ends up retailing for $99.99, an excellent value for the 1,092 pieces included (only about 9 cents per piece)!
With the set being priced quite generously like that, I am seriously contemplating getting a second copy to connect the two bridges together and really make this the ultimate comics-based bridge battle!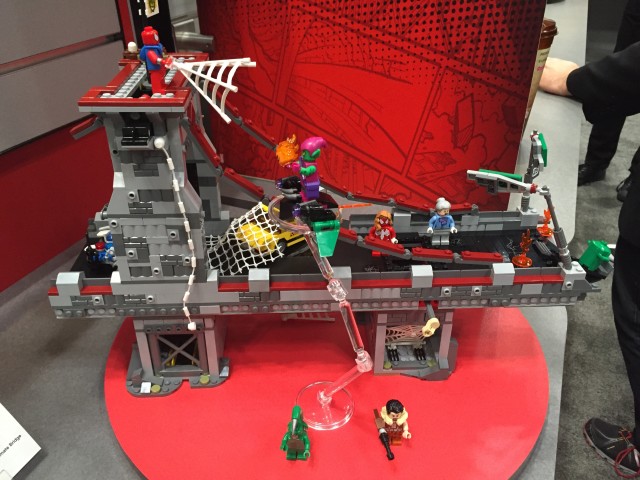 If you're interested in the new minifigures of Ghost Rider, Hobgoblin, Vulture and more, I'm posting tons of photos and discussing the other Summer 2016 LEGO Marvel sets on Brick Toy News.  While neither set is up to the platinum standard of the Spider-Man Web Warriors Ultimate Bridge Battle, both of them are worth checking out.
Now that you've seen plenty of hi-res photos of it from every angle, do you agree with me that this is the best LEGO Marvel Superheroes set ever? And more importantly, will you be picking up the Spider-Man Ultimate Bridge Battle set for your own collection?